Making the perfect cocktail consists of having good bar tools on hand, so we came up with our 10 must-have bar tools and what they're used for!
Here at Sugar and Charm, we love a good cocktail! We use our bar tools often to make delicious cocktails!
There are some fancy bar tools I like to use as well, but these are the essential and basic bar tools that every budding home mixologist or entertainer should have!
These are the tools I'm constantly breaking out when making delicious libations or hosting pretty parties like our Mix and Match Garden Cocktail bar!
Must-Have Bar Tools
Syrup Bottles
I use these Syrup bottles for homemade syrups and for fresh juice!
Mixing Glass
2. Mixing glass is used for cocktails that are stirred not shaken, like our Manhatten.
Cocktail Jigger
3. A jigger for measuring spirits, juice and other liquid ingredients that will go into the cocktail.
Muddler
4. Muddler to muddle fruit and herbs when they're added to the cocktail shaker. It releases the aromas, oils, and flavors.
Ice Cube Tray
5. Square ice cube trays we use to create beautiful, thick ice cubes that take longer to melt.
Separate Strainer
6. A separate strainer to strainer is always good to have if you're using a cocktail shaker without a strainer attached. This is used to separate the thicker berries and herbs and strain out a beautiful cocktail.
Cocktail Shaker
7. A good cocktail shaker is very important! There are 3 types and we go over them below.
Large Round Ice Cube Maker
8. Large round ice cubes for classic cocktails. Make a bunch of them and store them in a freezer bag sealed tightly. They're perfect for Old-Fashioned cocktails.
Tall Cocktail Spoon
9. A tall cocktail spoon for stirring ingredients.
Wine Bottle Opener
10. A wine and bottle opener is a must! Also, check out our easy and helpful tips for serving wine.
There you have it! Those are our top 10 essential tools. Furthermore, you can find bar tool kits online with most of these items too!
Frequently Asked Questions about Bar Tools
What are the bar tools?
Bar tools are tools and gadgets that help make cocktails. Things like strainers, shakers, and jiggers for measuring, shaking and mixing perfecto cocktail recipes.
They help with consistency and creating delicious cocktails.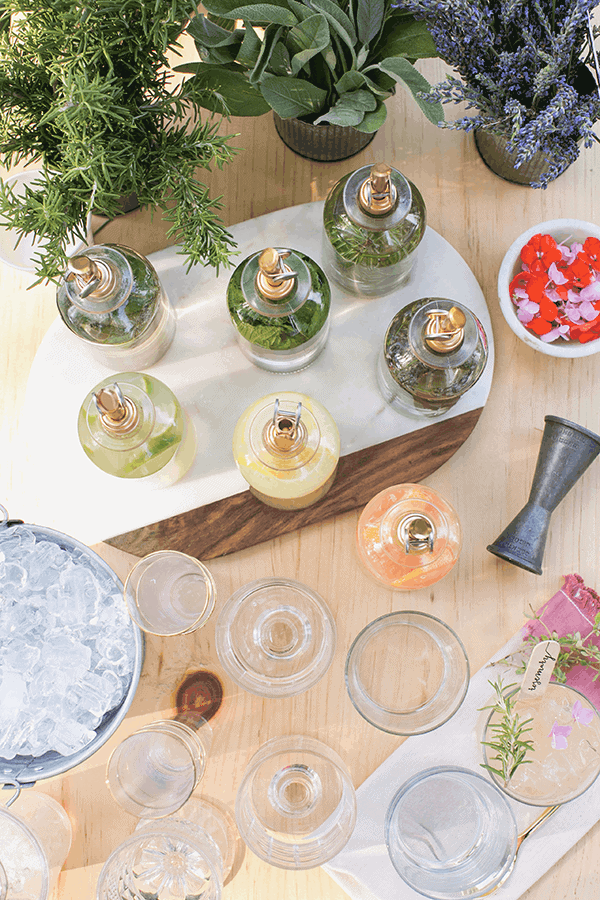 What equipment is needed for a bar?
We're sharing our 10 favorite bar tools that are essential for a bar. There are also bar tool sets you can purchase. See above for our list of equipment needed for a home bar.
What is a bar strainer used for?
A strainer is used over a cocktail shaker to leave anything that's not liquid in the shaker and only strain out the cocktail.
When you muddle berries or herbs in a shaker, you'll use the strainer to leave those large pieces behind and strain a flavorful cocktail out!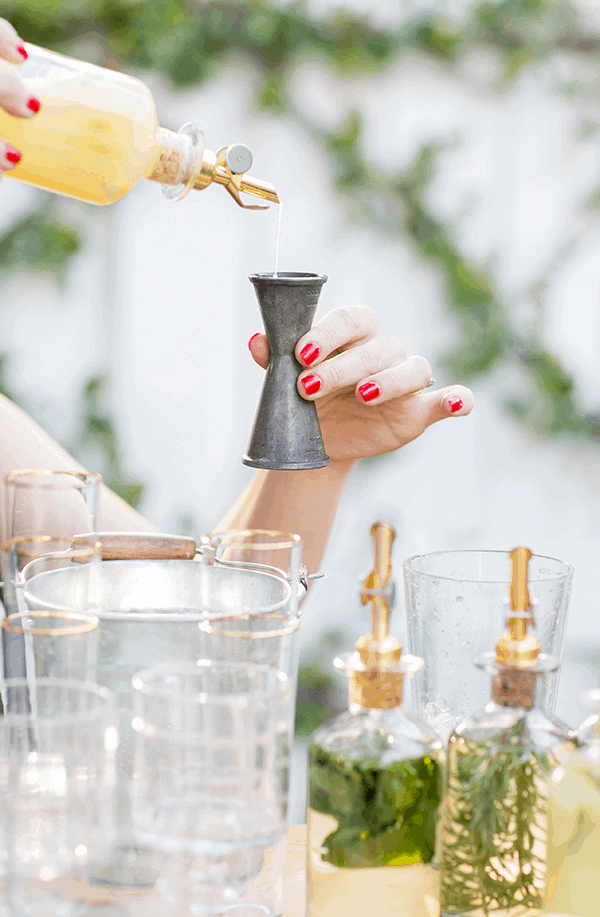 What is a jigger?
A jigger is an hourglass-shaped measuring tool for making cocktails. They contain two measuring amounts on either side. Usually for 1 ounce and 2-ounce measurements or 1/5 ounce and 1 ounce.
We use a cocktail jigger for every cocktail recipe we make on Sugar and Charm.
How many types of cocktail shakers are there?
There are 3 types of cocktail shakers you can use!
Cobbler Cocktail Shaker has three parts to it. Two lids with a strainer over the top!
Boston Cocktail Shaker has two pieces, a glass cup and a stainless steel cup that fit inside each other to shake. This is the one most professionals use.
Parisian Cocktail Shaker has a lid and the cup. You will need a strainer to use this one.
If you want to learn more about these 3 types of cocktail shakers, click here!
Cocktail Recipes to Try!
Here's a list of some of our favorite cocktail recipes to make with bar tools!
We hope you've learned a little something about bar tools and what you need to complete your own bar! Happy cocktail making and cheers!