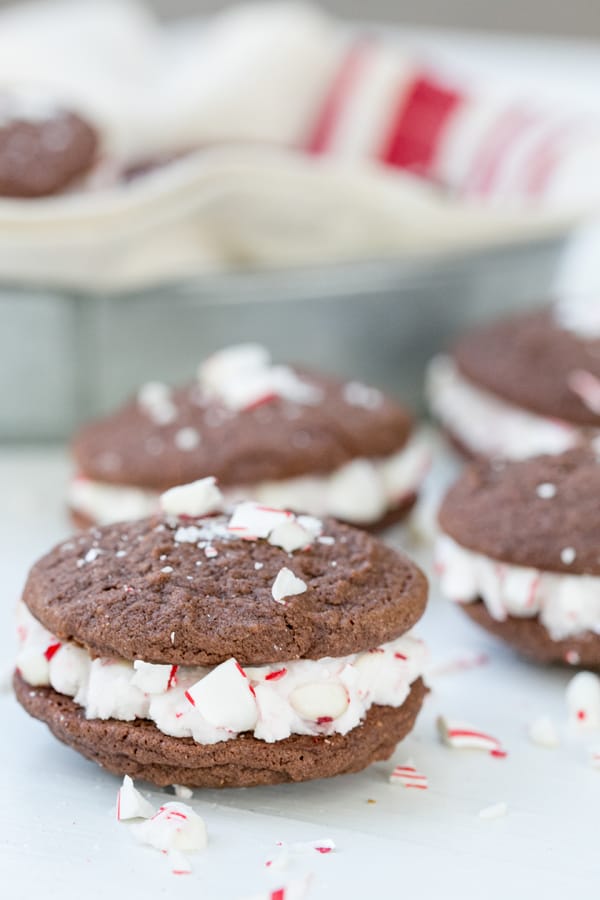 I love how festive this Chocolate Peppermint cookie turned out! The actual chocolate cookie is somewhat similar to a Whoopie Pie, but a little less cakey. It even has sour cream in the batter! The filling is inspired by a traditional Oreo cream, but with a whole lot of crushed candy canes. Like an Oreo, they're pretty sweet and rich so they do require a glass of milk ; ) These are fun to make for a holiday cookie swap. Recipe below!
Chocolate Peppermint Cookie Recipe
2 cups all-purpose flour
3/4 cup unsweetened cocoa powder
1 teaspoon baking soda
1/2 teaspoon coarse salt
1 cup (2 sticks) unsalted butter, room temperature
1 1/2 cups sugar
1 large egg
1 teaspoon vanilla extract
1/4 cup sour cream
3 tablespoons hot water
Directions
Add all of the dry ingredients in a bowl and lightly whisk.
In a stand alone mixer cream the butter and sugar. Add in the egg and vanilla and continue to beat until light and fluffy. Add in the sour cream and dry ingredients and mix on low. Then add in the 3 tablespoons water and beat until everything is incorporated.
Line a baking sheet with parchment paper and use a cookie scooper to make small size balls. Place 9 cookies on a sheet.
Cook in a preheated 350 degree oven for about 8 minutes or until cookies look done. I always take mine out undercooked as most cookies tend to cook while they cool!
Peppermint Cream Filling 
3 cups powdered sugar
1/2 tablespoon granulated sugar
1/2 cup shortening
1/2 cup crushed peppermint (and more for the sides of the cookies!)
Mix all of the ingredients on high until fluffy. Add to a piping bag with a large hole and pipe in the center of the chocolate cookies. This filling is thick so it won't look super pretty, but once you add the crushed candy canes to the side, it's festive and yummy!