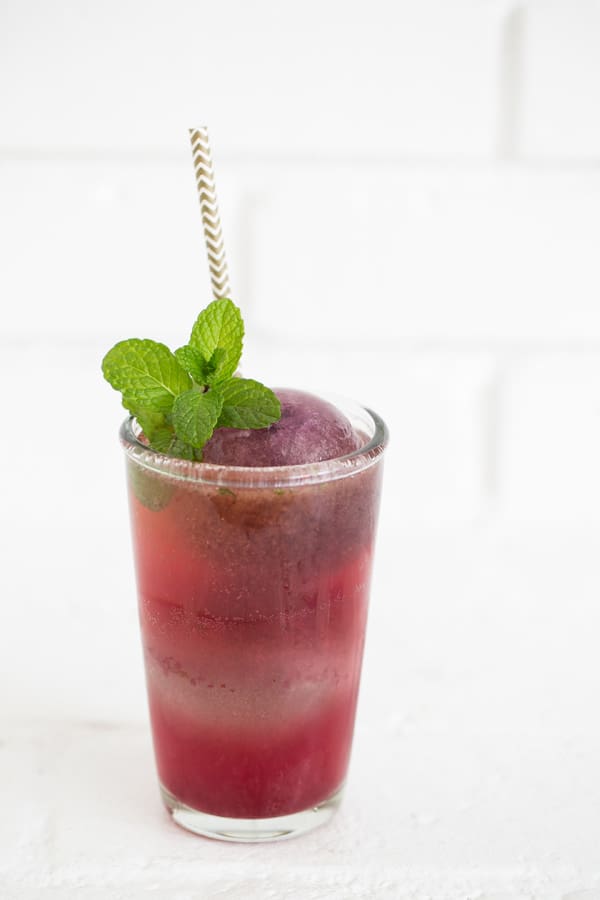 We put a little blue twist the classic mojito! What make this blueberry mojito unique are the giant round blueberry ice cubes, homemade blueberry syrup and just a little St-Germain. I absolutely love the presentation of these and think the ice cubes add such a fun touch! We used round ice spheres and just blended fresh organic blueberries with water to freeze! You could do this with any fruit for any type of cocktail. And just remember the key to a good mojito is a lot of fresh mint (I go overboard) and lime… keep those flavors bold, not subtle. Recipe below!
Blueberry Mojito (makes two)
Juice of one lime
BIG handful fresh mint (washed)
3.5 ounces white rum
1.5 ounces blueberry simple syrup (more if you like them sweet)
1/2 ounce St. Germain
8 blueberries
Club soda to top off
In a cocktail shaker, muddle blueberries with mint and lime. Add in the rum, simple syrup, lime juice and St-Germain with a handful of ice. Shake well for 20 seconds. Strain into two glasses, evenly. I strain because I don't like too much of the mint floating in the drink.
Add in the blueberry ice cubes. One cube if the glass is small or two if the glass is tall. Top with club soda, about 2 ounces or more for each. Then give it a stir, add in a beautiful sprig of mint and a straw. Enjoy!
Blueberry Simple Syrup
1 cup raw sugar
1 cup water
1/2 cup blueberries
Slightly muddle the blueberries, then heat in a small saucepan until the sugar is melted and the blueberries have made the syrup blue.
Blueberry Ice Cubes
1 1/2 cup blueberries
4 cups water
Blend the water and fruit in a powerful blender until blueberries are completely blended. The water will be blue. Freeze in these ice spheres.