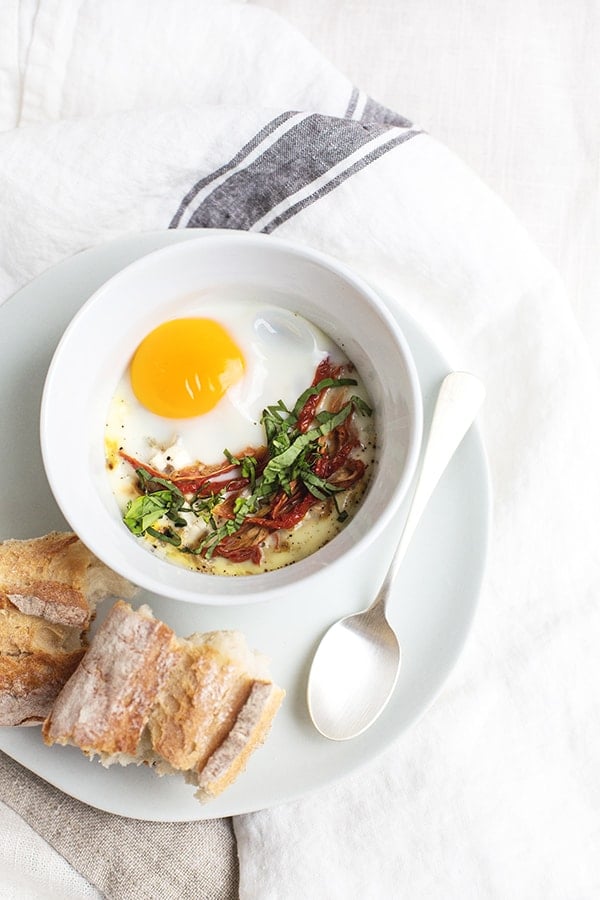 We have a new monthly food contributor! We're fans of Anjanee's beautiful blog Fig & Honey and love her clean and airy food aesthetic! She'll be popping over here once a month to share a savory recipe with you all! Take it away Anjanee!
I love going out for brunch on the weekends but sometimes staying in feels a bit more indulgent. Nothing beats being able to eat in your pajamas and not having to wait in long lines. These baked eggs are a perfect gourmet brunch option and are packed with so much flavor for so little work! The trick to Eggs en Cocotte is not to over bake the eggs so you have a little bit of runny yolk to mop up with your bread! Yum! Enjoy with a large french baguette and a side salad.
Eggs en Cocotte Recipe with Caramelized Onions and Sun-Dried Tomatoes (Makes 6)
2 medium onions, halved and thinly sliced
1 tsp olive oil
pinch of sugar
6 tablespoons creme fraiche
salt and pepper to taste
6 eggs
5-6 sun-dried tomatoes, thinly sliced
chiffonade of basil to garnish
Directions
In a saucepan over low heat, add the onions, olive oil and a pinch of sugar. Cook over a low heat with the lid on stirring occasionally until the onions are softened and lightly browned.
Preheat the oven to 350°F.
Evenly divide the caramelized onions into 6 large ramekins. Top with a tablespoon of creme fraiche in each. Add a touch of salt and freshly cracked black pepper to taste. Crack an egg into each ramekin and top with a sprinkle of the sun-dried tomatoes.
Place into a large baking tray or casserole dish. Carefully pour lukewarm water around the ramekins until about halfway up the sides. Bake for 15 minutes or so until the whites have set and the yolk is still runny. Add a few more minutes if you like yours firmer. Garnish with the basil and serve immediately with a crusty bread loaf.
Food styling, recipe development and photos by Anjanee of Fig & Honey.