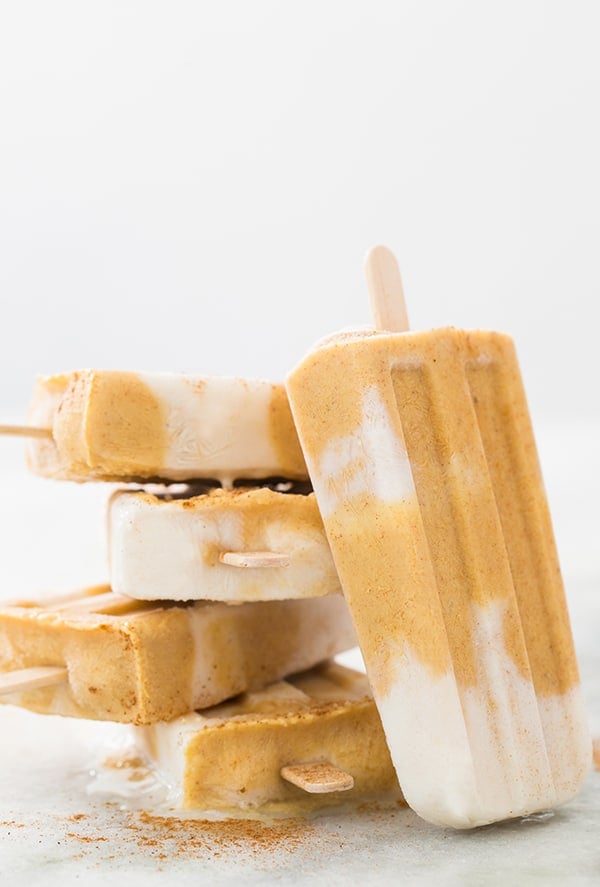 We're all about popsicles at Sugar and Charm, but also crazy for the flavors that fall brings. These delicious Peachy Mango Spice Protein Pops combine both pops and fall flavors into one healthy, fall-inspired treat so you can enjoy popsicles in the fall!!
We happily teamed up with our friends at OLLY to whip up some refreshing protein pops with their new OLLY Smoothies line!! I'm truly obsessed with their new plant-based proteins, packed with flavors like Salted Caramel, Creamy Strawberry and Chipper Chocolate. They're dairy-free and vegan too, which is a huge bonus. I also love the packaging and the little details like the scooper attached to the lid… how many times have you had to dig out the protein powder scooper?! Best feature ever!
For these pops, we used the Peachy-Mango protein powder, Greek yogurt, fresh peaches and fall spices! They deliver on flavor and health! PS they have 2 just-for-kids flavors that would make amazing protein pops too!!
If you're on-the-go and in need of a healthy snack or just treating yourself post-workout, try these pops for that extra energy boost during the day! They're a healthy version of a yogurt pop, packed with nutrients and they're not too gritty or overly sweet!
They're also hosting an awesome giveaway where you can win a 6 month supply, Target gift cards and more. It's SO easy to enter and you never know!! Just do it!
Enjoy and stay charming!
Peachy Mango Spice Protein Pops Recipe
2 cups Greek yogurt
2 juicy ripe peaches, with pit and skin removed
1/4 cup honey
1/2 cup almond milk
2 cups frozen mango
2 scoops OLLY peachy-mango protein powder
1 1/2 teaspoons cinnamon
1 1/2 teaspoons ground nutmeg
Directions 
In a blender, combine the peaches, yogurt, almond milk and honey and blend until completely smooth. Remove 1/2 of the "white" mixture and pour it into a separate bowl, preferably with a spout to pour.
You can pour a little into the bottom of each popsicle mold and freeze for a few minutes. This gives the layered effect and different flavors throughout the popsicle.
With the remaining mixture in the blender, add in the frozen peaches, protein powder and spices and blend until smooth.
Once the first layer of popsicles is a little frozen, add in the peachy-mango layer. Then freeze again. These don't have to be fully frozen, since it's a marbled layer look and not striped.
Put them back in the freezer for 5 minutes, then add in the remaining white and peachy-mango layers.
Put the lid on the popsicle mold, with the popsicle sticks and freeze overnight.
To remove the pops, run the bottom under lukewarm water for a few minutes.