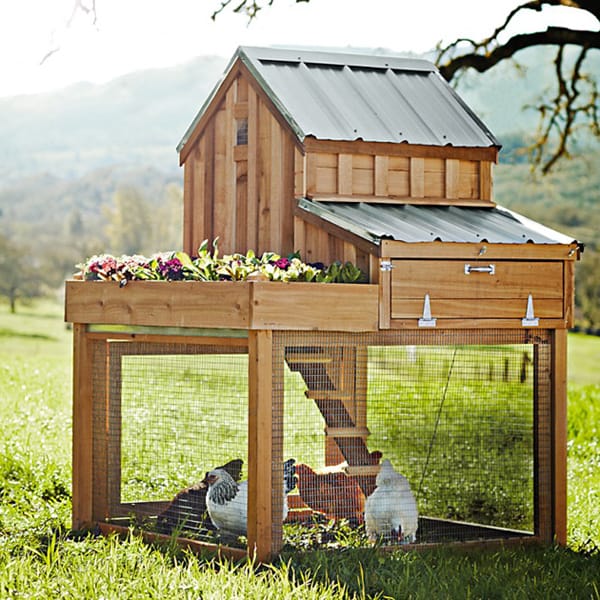 I've been thinking about buying (or building!) a chicken coop since we moved into our home last summer. The only reason I've been holding off is that we're wanting to revamp our backyard, so I want to do everything at the same time. But I've been pinning and looking at chicken coops this past year… there are so many charming ones! Yes, chicken coops can be charming! I also bought a few books on raising chickens and building coops. Apparently, a chicken coop on wheels is great for smaller yards since you can move it around and it's off the ground to protect the chickens. I've also read that before building a coop, if it's not on concrete, to put chicken wire on the ground under it to keep little critters out! Have any of you built chicken coops or have any tips? Below are 5 awesome chicken coops that have inspired me!
How adorable is this small wooden coop with a chic tin roof? You can buy it at Williams-Sonoma.
Heather's incredible farm style white coop has always been a favorite

. You can

buy plans for this one

!

The Art of Doing Stuff shared their modern black coop

and I'm in love. I mean, the chickens have their own lantern!

A rustic reclaimed chicken coop from Williams-Sonoma

. I love the chicken art on the side.

The versatility of this modern coop

on wheels is what grabbed my attention. It's a great concept, I think I would paint it white and change a few of the details. But I love the idea.