Create a stunning Christmas table setting that wows your guests and provides the perfect ambiance for good times and great conversation!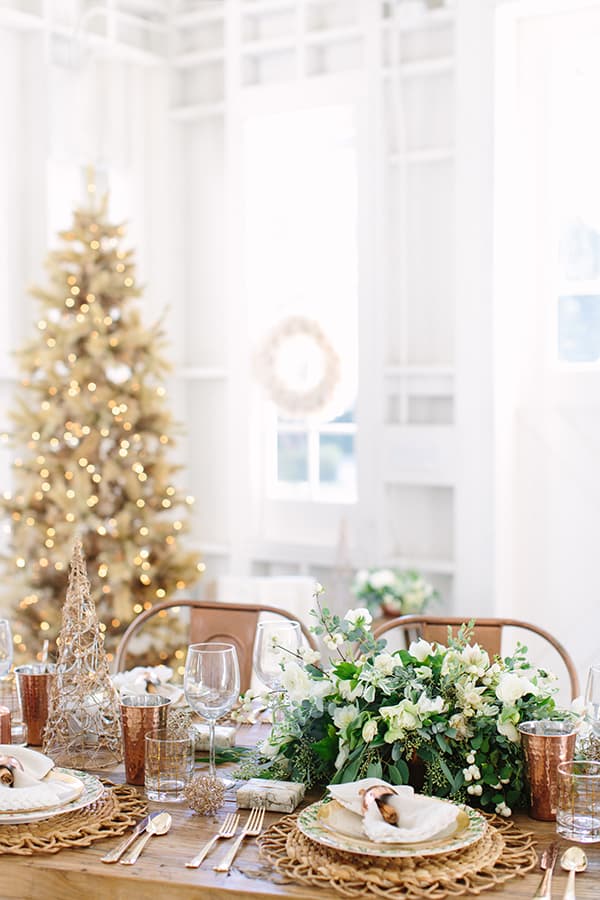 Creating a charming holiday table setting for Christmas has been a passion of mine since I was a kid! My mother would go nutty as a fruitcake, decorating the table and entire house around Christmastime, and a little of that was passed down to me, haha!
It's all about the company and the food prepared, but setting a gorgeous holiday table escape creates an unforgettable environment and experience for family and friends. I was thrilled to team up with Pier 1 this season to create a holiday table using their beautiful Christmas decor!
From a stunning gold Christmas tree (it's amazing!!), to mixing holiday plates and glasses to create your own aesthetic, I was in holiday decor heaven.
There are a few easy things you can do to really make your table extra festive and special. I'm sharing my table setting tips in this charming video, which will hopefully inspire you to create a unique table setting this season!
Also, see our buying guide for all of the items we used to pull it together!
How To Make This Charming Christmas Table Setting – Step By Step
Pick and color scheme and run with it! See the shopping list below for setting items ideas.
Make sure you have a table that's big enough for the amount of guests invited.
Use chargers as the foundation to your setting.
Mix and match holiday plates and glasses to compliment your theme.
Use mini trees as an alternative to candles.
Have a floral centerpiece for a touch of freshness and a pop of color.
Lay out personalized gift boxes at each place.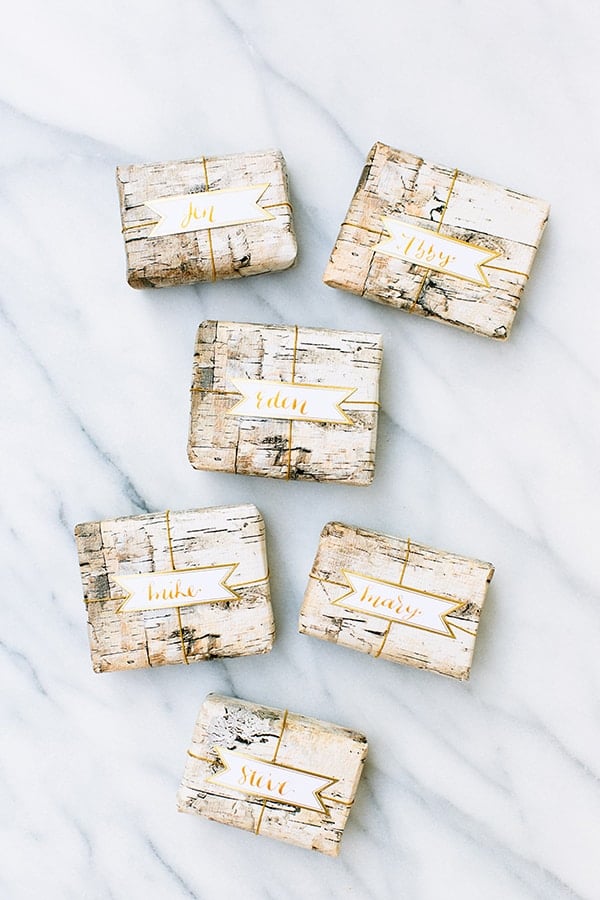 Christmas Table Setting
First check out how to set a table. We share three ways of setting your table based on what you're serving.
Laying Down Chargers
Chargers are the base of this table service. They act as the anchors to the table and provide a lovely decorative touch.
Set it on top of the table or place mat, in between the arranged flatware, and below the beverage glasses. Chargers should ideally be two feet from one another to give guests enough elbow room. A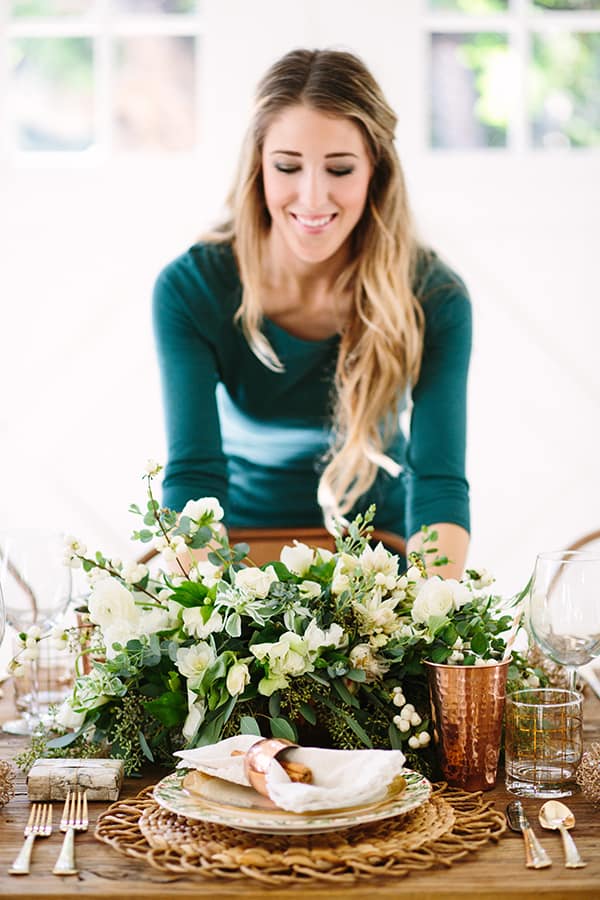 Floral Centerpiece for this Christmas Table Setting
A floral arrangement in the center of your table provides a lovely freshness and wonderful scent. Keep the floral centerpiece low, to allow the conversation to carry over it.
Incorporate traditional Christmas hues into your centerpiece with inspiration taken directly from nature. Like a sweeping pine branch garland adorned with red roses to create a classic holiday aesthetic.
Or how about a delicately-designed bouquet of white hydrangea, green viburnum and white-and-green parrot tulips makes for a fresh approach to classic holiday decor.
Be as creative as you like, but make sure it complements your aesthetic.
Dinnerware
Have fun mixing and matching your tableware. Again, make sure your aesthetic matches your overall theme.
For my gold Christmas setting I've mixed things like copper tumblers with gold old fashion glasses, it ties in perfectly!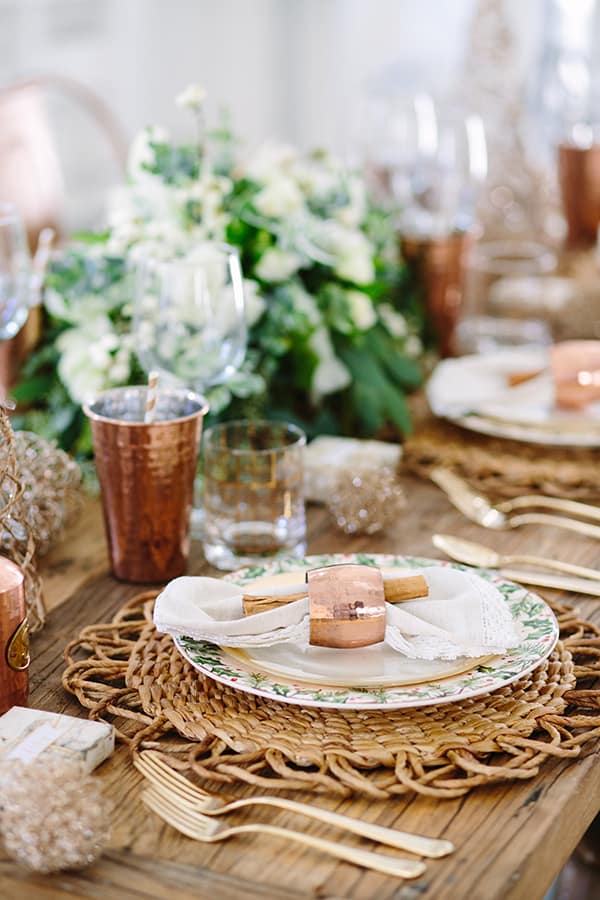 Here are some basic rules for matching dinnerware:
Establish a Color Palette then Stick With It.
Evolve Your Settings with Patterns.
Include Stemware and Flatware in the Mix.
Play with Different Shapes and Textures.
Include Different Metals in Your Design.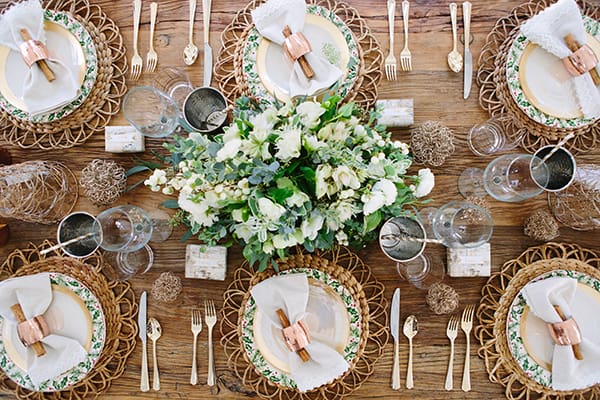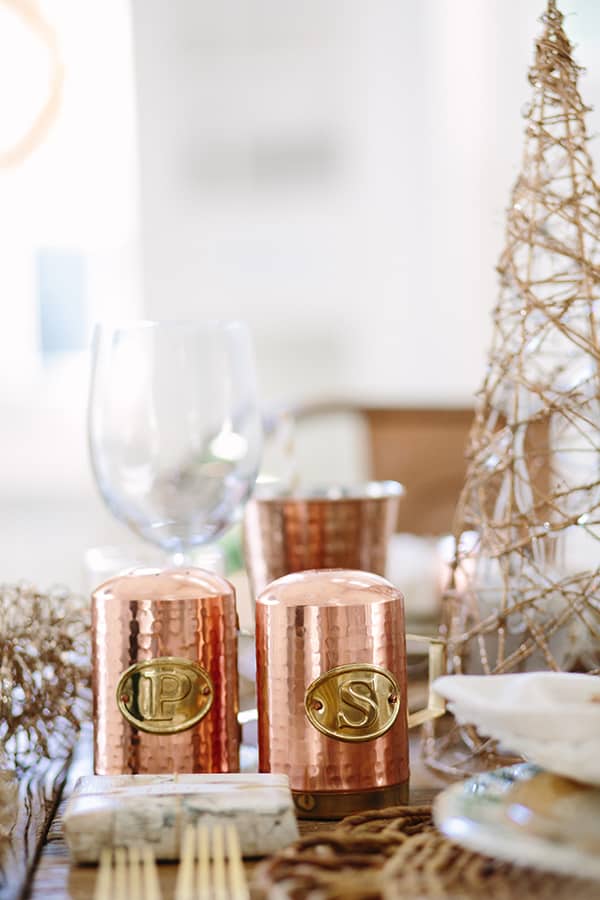 Top Tips For Christmas Table Setting
Make sure you have a big enough table to comfortably sit all your guests
Mix and match holiday tableware, and make sure it fits your theme.
Provide named gift boxes. These can also act as place name setting.
Holding your hands in front of you, touch the tips of your thumbs to the tips of your forefingers to make a lowercase 'b' with your left hand and a lowercase 'd' with your right hand. This reminds you that "bread and butter" go to the left of the place setting and "drinks" go on the right.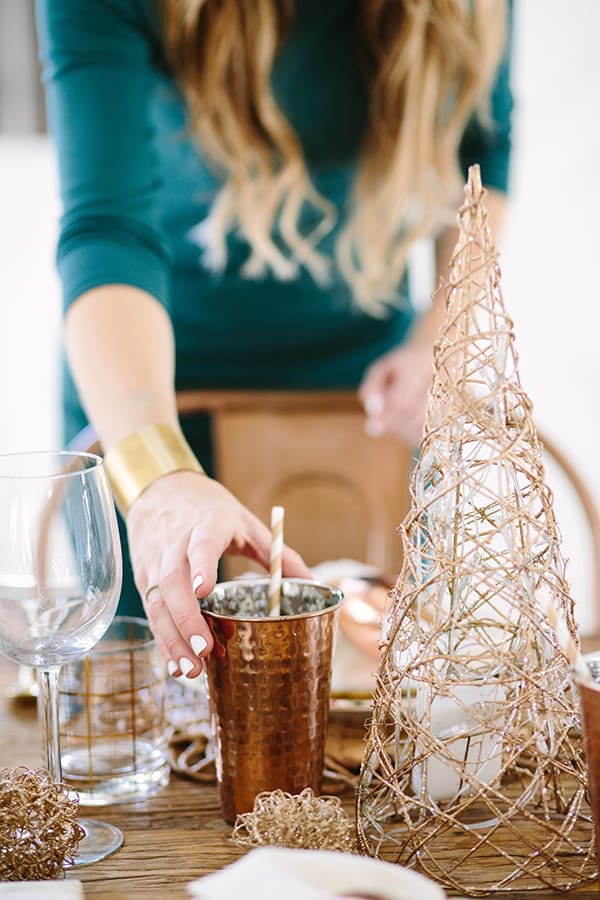 Check Out These Other Charming Christmas Ideas
How To Put Together A Charming Christmas Brunch
Modern Christmas Wreath and Garland
How to Host a Wonderful Christmas Eve Dinner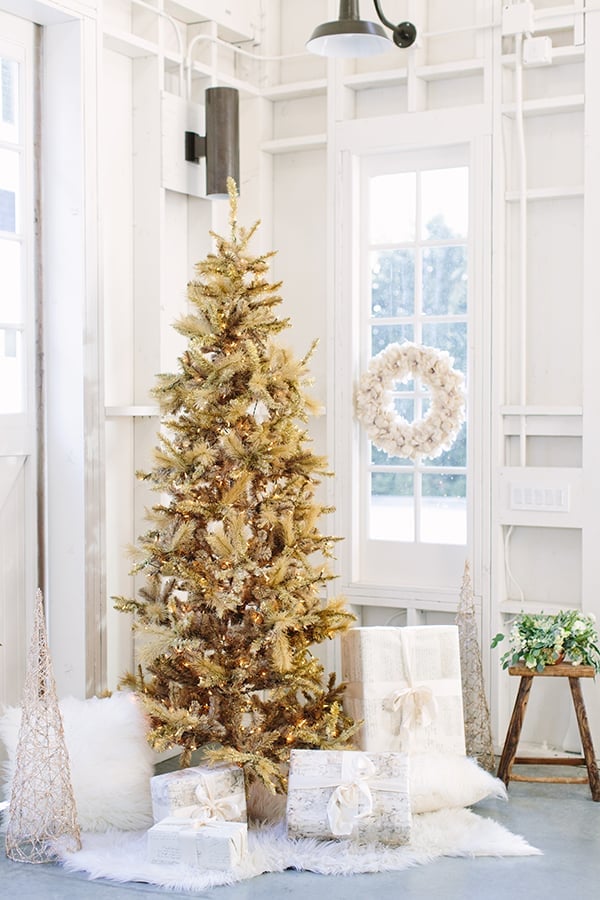 If you have tried this Christmas Table Setting or any other ideas on Sugar and Charm, then please rate it and let me know how it turned out in the comments below!
You can also FOLLOW ME on FACEBOOK, INSTAGRAM, and PINTEREST to see more delicious recipes, cocktails, desserts and party ideas!

Video by Cling Creative, Styling and Art Direction by Eden Passante, Flowers by White Fig Designs, Music by Ah2, Photos by Mary Costa