"© The J.M. Smucker Company. © 2017. DD IP Holder LLC (as to Dunkin' Donuts and all other trademarks, logos and trade dress of DD IP Holder LLC) used under license."
As the years have gone by, I've enjoyed taking on more responsibility as the host for each year's Christmas festivities. With our family growing, siblings getting married and parents getting older, I feel more inclined to help make and create those special holiday memories. From organizing dinners, buying and wrapping presents, stuffing stockings and then entertaining family in town, I pretty much depend on easy ideas that will add a little touch of holiday charm. This holiday coffee set-up is a great example of that. It's incredibly easy to set up in the morning as everyone stumbles into the kitchen for their morning coffee. And is there anything better than waking up to the smell of a fresh pot of coffee brewing?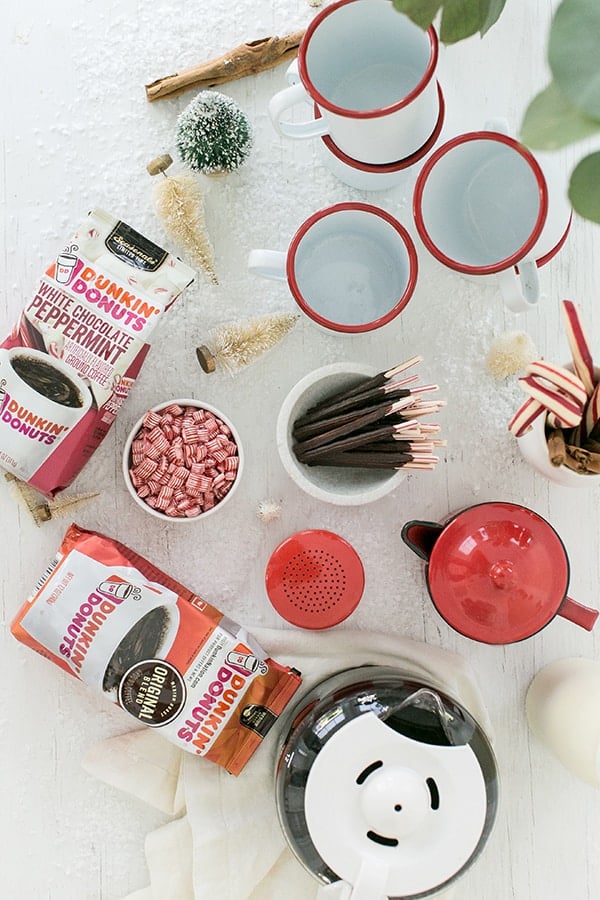 So, to add a little extra charm this season for your family, wake up slightly before everyone and start brewing a pot of delicious coffee. I brewed a mix of Dunkin' Donuts White Chocolate Peppermint and Dunkin' Original. While the coffee brews, set up a little coffee station on your kitchen counter, island or next to the coffee maker.
Have eggnog out as an option, along with cream and then fun little extras, like candy canes, cinnamon sticks, peppermints and anything else you like!
To keep it festive, add some Christmas greens and mini-trees! It's really just about adding those easy but thoughtful details that help make things feel extra special!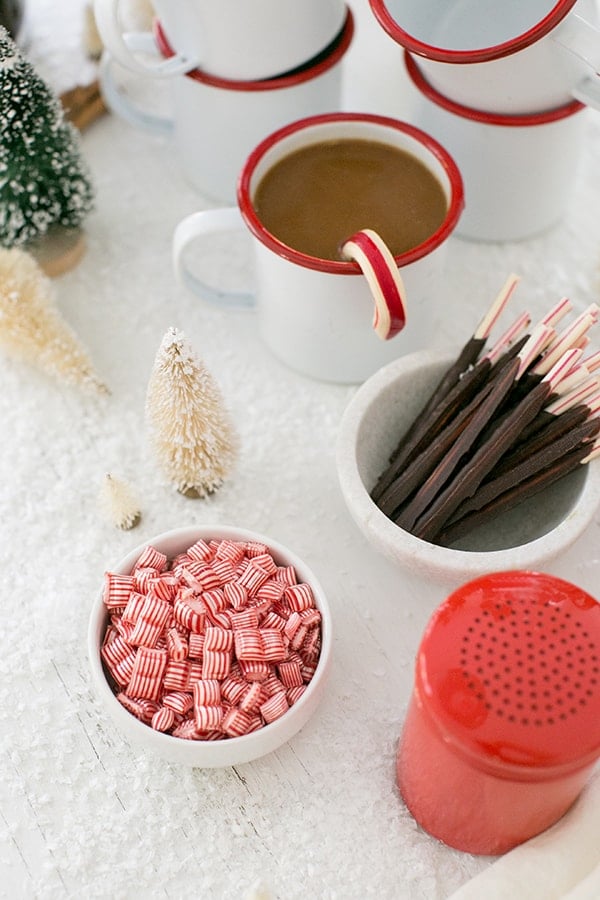 Brew 6 tablespoons Dunkin' Donuts Original Coffee and 6 tablespoons Dunkin' Donuts White Chocolate Peppermint Coffee with 12 cups water. This blend makes the perfect holiday coffee!
This post is sponsored by Walmart and Dunkin' Donuts