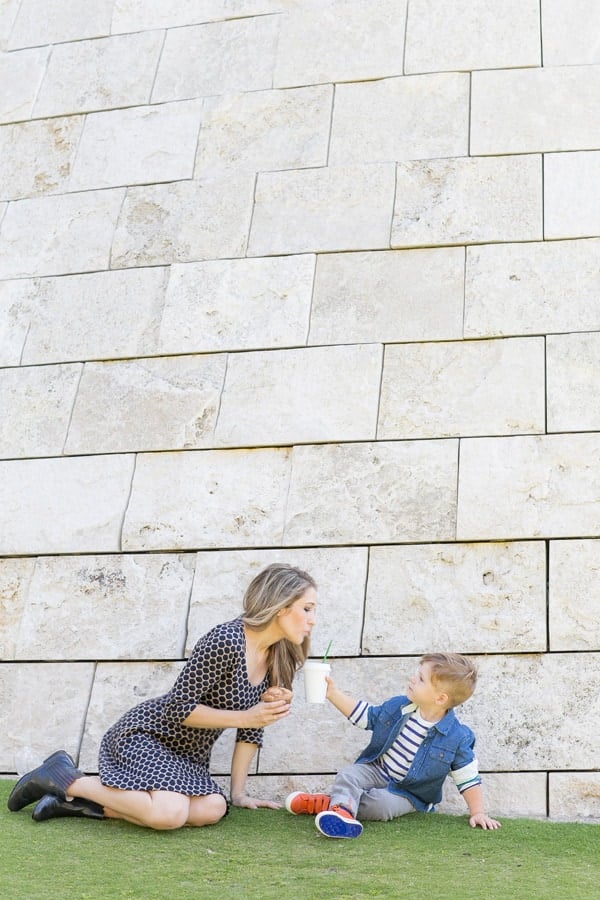 Can you all believe it's September?! In honor of back-to-school we teamed up with Boden USA and took Romeo on a little educational "field-trip" to The Getty last week! It's important to us that we immerse Romeo into art, culture and the fabulous surroundings we have access to here in Los Angeles. The Getty is a stunning museum destination with gorgeous and open modern architecture, beautiful gardens and spectacular art exhibits. We enjoyed the Family Room, an area of exploring for kids as well as the scandalous art of James Ensor. The rooms are so vibrant and it was such a great experience for Zan and I to see Romeo enthralled with the colorful sights. You can't take photos inside, thus the lack of art in this post, but nonetheless, we toured The Getty wearing our brand new fall Boden and Mini Boden clothes (how adorable are those orange boots?!) while eating muffins, milk and of course coffee for me.
It was always a tradition in our house, and I'm sure many of yours, that we do a fun back-to- school shopping trip right before school starts. Picking out a colorful, fall outfit for Romeo from Mini Boden brought back so many special childhood memories and the realization that I'm now shopping for my son! I remember laying out all my new school clothes on the bed and picking out my favorite outfit for the first day. Finding really cool clothes for kids isn't an easy task, but honestly Boden really created a line that blew us away. I ordered a super comfortable, everyday polka dot dress and the coolest patent leather booties for myself, too! Definitely my go-to items for fall! We had such a wonderful day and we can't wait to go back to The Getty! Oh and I should mention… it's FREE (just have to pay $10 for parking)! So if you're in LA, definitely stop by!
Also, Boden is giving Sugar and Charm readers 15% off your purchase now until October 15th! Just use the code CHRM at checkout!
Boden and Mini Boden Clothing Guide:
Me
Brogue Chelsea Boot
Jersey Jacquard Dress
Romeo
Slim Fit Jeans in Elephant Cord
Denim Shirt
Super Soft T-Shirt in Bone/French Navy
Leather High Tops in Lava
Photos by Zan Passante for Sugar and Charm