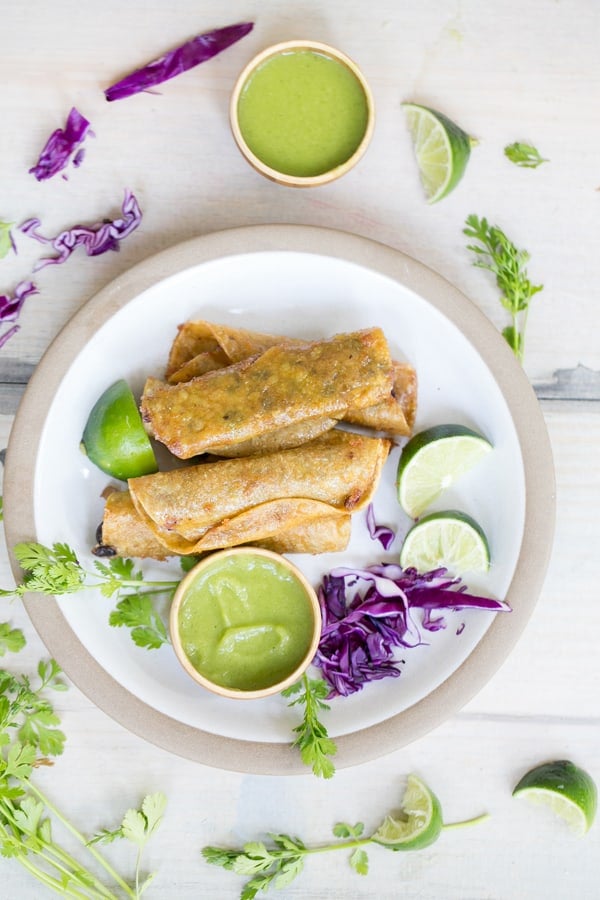 Growing up in California, Mexican cuisine is my absolute favorite. I know, not surprising! I could eat it for breakfast, lunch, dinner and anytime in between! When cooking Mexican, I lean more toward the tex-mex style, blending American and Mexican food together to create scrumptious dishes. With Cinco de Mayo coming up, I wanted to share my favorite recipe for bean and cheese crispy corn tacos with the most incredible cilantro lime sauce for dipping. I could eat a million of these mini fried tacos! I added red cabbage for color and a little nutritious value ; ) Jalapeños give the tacos a tiny kick. But the cilantro lime dipping sauce is what really makes these tacos extra special. The sauce is made from garlic, lime juice, onions, cilantro and jalapeño peppers and it's insanely delicious. It's also the perfect amount of spicy… just how we like it!
Bean and Cheese Crispy Corn Tacos
1 bag organic corn tortillas
1 can organic black beans, drained
4 ounces Mexican blend cheese
2 jalapeños broiled, skin and seeds removed, chopped.
1/3 cup chopped red (aka purple) cabbage
dash pepper and salt
oil for frying (I used vegetable oil)
toothpicks to hold the tacos together
Directions
Broil 3 jalapeño peppers until charred. Remove the skin and seeds and dice 2 of them. Save the other one for the sauce.
In a medium mixing bowl, combine the black beans, cheese, cabbage, jalapeño peppers and salt and pepper. Stir to mix.
Microwave 12 corn tortillas until soft and pliable.
Lay the tortillas out and scoop in a spoonful of the black bean mixture. Roll the tortilla tightly and secure with a toothpick.
Heat about 1/2 cup oil (whatever you prefer vegetable, canola, olive, etc) in a large skillet.
Place the tacos in the hot oil and cook until the shell is crispy and will hold its shape.
Lay them on a paper towel and remove the toothpick to eat.
Cilantro Lime Sauce
2 garlic cloves
1/4 yellow onion
1/3 cup cilantro
juice of 2 limes
1/2 – 1 jalapeño broiled, skin and seeds removed
Dash of salt and pepper to taste
Directions
Blend all of the ingredients in a powerful blender until completely smooth. It's spicy!