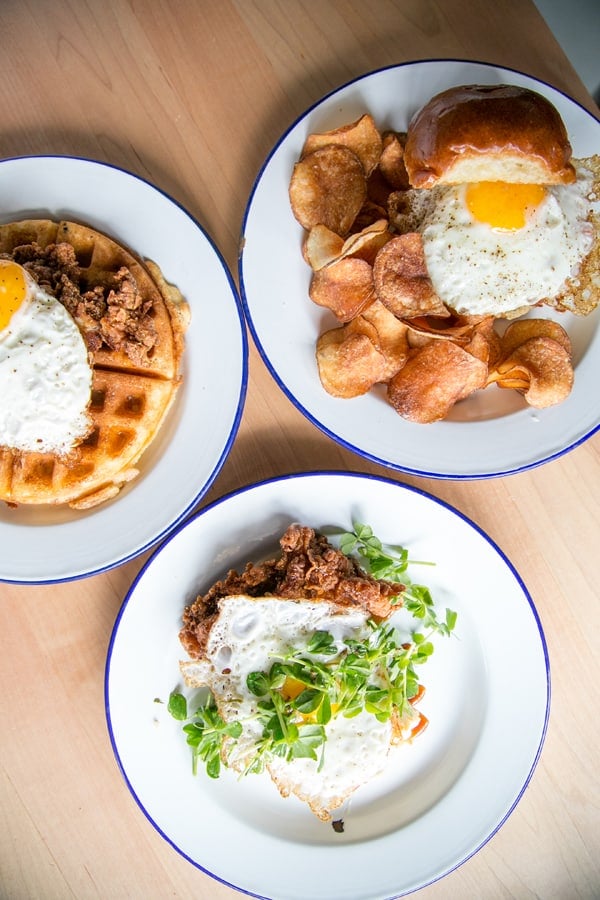 A few weeks ago Zan and I took a quick weekend trip to Chicago to visit my sister. I went to Chicago last year in the summer and fell in love with how clean, beautiful and thriving the city is. I wanted to go back with Zan, so we booked a trip that consisted of eating, drinking, more eating and a little sightseeing. I have to say my sister was an awesome tour guide because she took us to some of the best places in Chicago (even though we barely made a dent on the food scene) and we left believers that Chicago has some of the best food and drinks EVER! She lives in Logan Square which Bon Appetit named Chicago's new "Restaurant Row" and I definitely know why. In this one area there are dozens of hip bars and restaurants and they're all incredibly good. Once of my favorites was Parson's for their cocktails, laid back vibe, cool decor and incredible fried chicken! They're also home to the original Negroni Slushy… yum. I also have to say Billy Sunday was by far one of the best bars I've been to. The cocktails are fabulous, unique and beautiful and the decor is rustic and charming. We had dinner at Scofflaw one night and not only do they serve some seriously delicious food and sport a very cool ambience, but they focus on creating the finest gin drinks too! We also had breakfast at Bang Bang Pie & Biscuits and we were blown away by how good everything was!! The bacon, biscuits, gravy and pies… I'm still dreaming about it all.
Another place I really enjoyed for tacos and margaritas was Big Star. Next to it is a gourmet donut place that is out of this world good called Stan's!! There are a lot of shops and things to see around there as well.
Downtown we went to Eataly, which I thought was pretty awesome! A giant building made up of different Italian restaurants, a shopping market, a meat department and more! We also went to Garrett Popcorn which is the BEST popcorn I have ever had!! We stopped by the annual Christmas mart and had mulled cider and bought some cute German ornaments to take home. Then we ended the day at Three Dots and a Dash for a few of most beautiful and unique tiki drinks. Lucky for us, Paul Mcgee, Chicago's famed mixologist made our drinks on his last day there!! We made it just in time!
For sightseeing, we went to the Bean, walked around several neighborhoods, went to the Home Alone house (haha!) checked out the lake in 19 degree weather and drove through some spectacular neighborhoods to look at the giant houses and Christmas decor!
It was such a great (and filling!) trip and I left feeling so lucky to have explored this special city for the second time!! What an awesome place. If you haven't been there mark it down on your list to go!!
All photos by Zan Passante