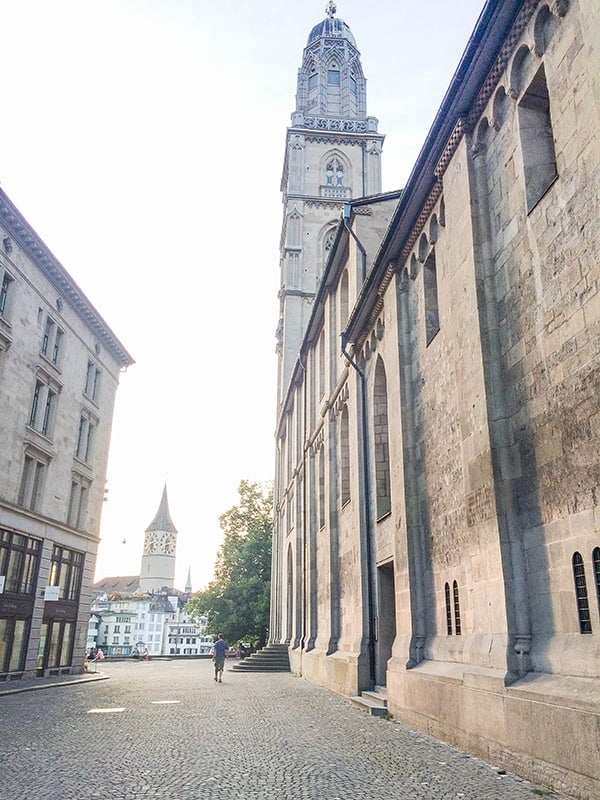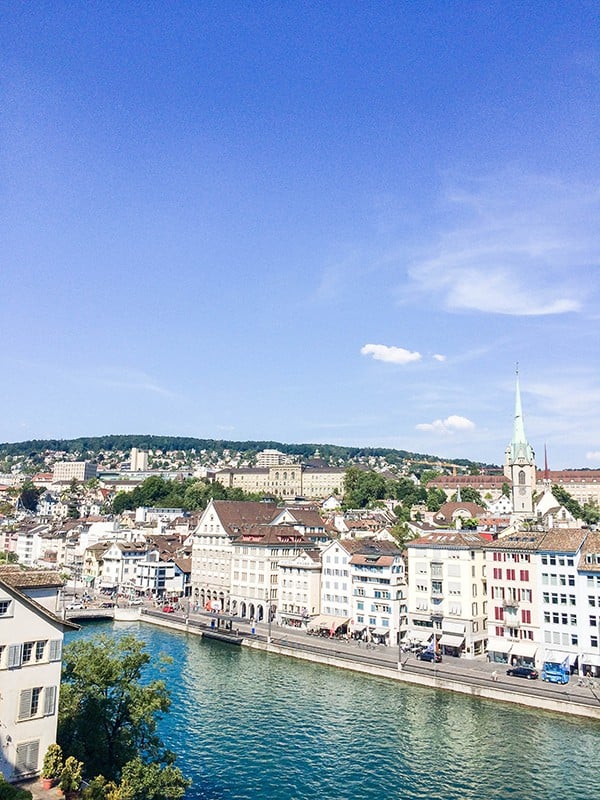 Last week, I had the most incredible opportunity to visit Zürich, Switzerland with Zürich Tourism! I didn't have Zan on this trip with me (my talented photographer and director!!) and since I knew we'd be walking a lot, I actually opted out of lugging the pro camera around! Instead, I captured the city from my iPhone and a lomography film camera. All of these photos are actually from my phone and I'll be developing the film soon to share as well!
I was beyond excited to explore a city that has been rated "the best quality of life in the world," 7 years in a row! After being there, I can honestly say that I 100% understand why! Zürich has this super cool, old world charm with a touch of modernness. It's ultra hip and the restaurant and bar scenes are pretty amazing. Lots of young couples zipping around cobblestone roads in their little Audis and Fiats. Zürich is one of the cleanest and safest cities I've ever visited. I was very impressed by the unique, stunning water fountains on every corner that you can fill water bottles with or drink straight from! The public transportation was extremely organized and easy to navigate. We didn't even have to leave the airport before we hopped on a tram that dropped us off to downtown Zürich. The country had 12,000 miles covered by bus, tram or train and the city is split into districts. Next time, I would love to take the Glacier Express to the mountains! You can also walk the city by foot too. We walked 7 miles one day through old town up to Lindenhof for a beautiful view of Zürich.
We stayed at the beautiful Hotel Ambassador located right across from the Opera House! It was the perfect location, wonderful service and air-conditioned rooms! That's a huge plus, considering Zürich had a heat wave the weekend we were there! We enjoyed wine and appetizers on the rooftop one evening with a gorgeous view of downtown.
One of my favorite things we did was paddle board on Lake Zürich. The water was a perfect temperature and we could see the Alps on the horizon. It was breathtaking. They have these awesome open-air, urban swimming clubs where locals hang, drink and swim (semi-naked!) in the lake. They builts decks over the water and created what looks like a swimming pool, but it's the fresh glacier water of the lake. It's very cool! During the day, they have women's and men's swim clubs that reopen at night to both women and men for dancing, live music, drinks and lounging. The Barfussbar was the women's club and is a barefoot bar at night. It was our favorite one. The Rimini Bar is the men's and is pretty neat as well.
The entire weekend we wined and dined… and wined some more! My favorite restaurant experience was at Fischer's Fritz, located on the lake. We took a small boat to the restaurant and had a long, family-style lunch overlooking the lake. It was a wonderful meal and the most charming location! You can camp there as well! We also dined and toured the first vegetarian restaurant in the world, Hiltl. The food was delicious and the building is stunning too. The outside is covered in a faux green grass and it's modern and fresh inside. Another outdoor area and restaurant we loved was the patio at Quai 61. Giant pots of pink flowers, turquoise picnic tables under a canopy of white umbrellas and market lights. Pretty much an ideal dining situation in my eyes! Another favorite restaurant was Restaurant Razzia. It's a restaurant, garden and bar and the design is spectacular! In the evenings there is live music on the stage in the most stunning dining hall. The chandeliers have colorful tassels hanging form them! Really, every part of Restaurant Razzia is perfectly decorated with impeccable details. And the chocolate… oh my goodness!! Those Champagne truffles from Sprüngli are the most decedent I've ever tasted! I spent $130 on chocolate to bring home… that's how good it is, ha!!
One thing we loved so much about Zürich, and all of Europe really, was the fact that we could walk down the street with our gin and tonics in hand, while we shopped! We popped into the Bovelli Cafe & Cocktail Bar for delicious drinks and lattes!! Highly recommend it!
Zürich West is by far the hippest and youngest area in Zürich. It's a former industrial zone, under railway bridges that has been converted to an urban party and shopping area for the most artistic people in Zürich! We went very early in the morning (about 1am) to check out the scene at Frau Gerolds Garten. It's an area of shipping containers stacked and made into stores, bistros and bars. Even at 1am, the scene was still spectacular. There was a large outdoor area covered with carnival tents, market lights and long tables to lounge around. There was also loud music, dancing and different bar stations, like a gin and tonic bar and a margarita bar. They like their Gin and Tonics in Zürich! I noticed a few tables of younger people drinking and playing cards around 2am in the morning. Something I would never see in the US… teens at a bar, drinking and playing cards?! It was one of the coolest bars and areas I've actually ever been to. We ended the night at the nearby Hotel Rivington & Sons… a bar trying to harness the vibe of New York City a bit.
I cannot wait to visit Switzerland and Zürich again! It was absolutely amazing and an experience I'll never forget!!