Gifting tickets is a special thing so we teamed up with StubHub to share a charming way to gift tickets! These balloons are filled with confetti and tickets, similar to our original money balloons! If you're looking for creative gift ideas, you've come to the right place!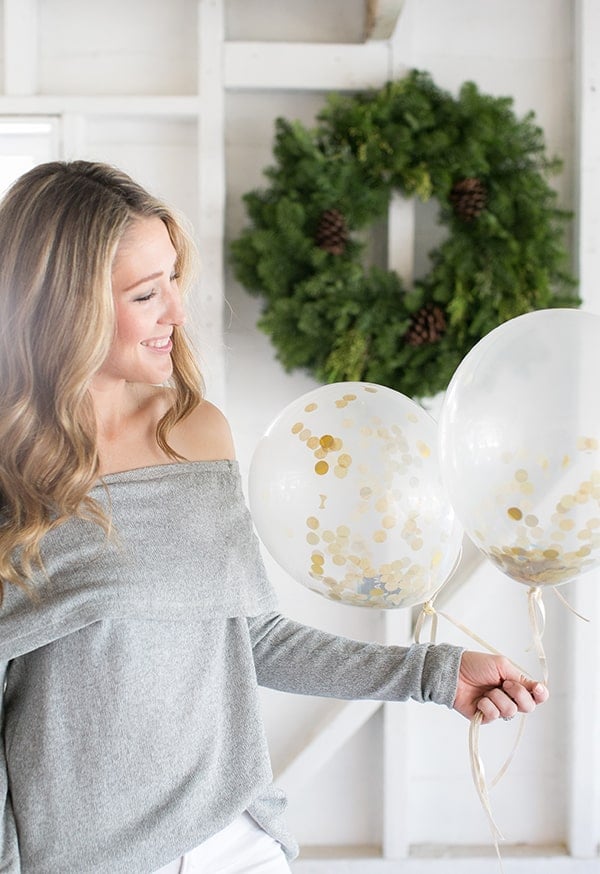 In all honesty, when Zan asks me what I want for my birthday or for Christmas each year, I always, without hesitation, tell him I want an experience. So, when StubHub reached out to me to team up with them for their Gifting Experience holiday campaign, I was thrilled!
For me the best gift in the world is an experience with someone you love. And it's funny how those memories provide so much happiness, even for years to come. I never need anyone to buy me things… I would take concert tickets, a little getaway or a new experience over a "thing" any day…. maybe along with a good bottle of wine, ha!
So, for years we've been gifting each other experiences and surprises and it's been the best decision ever! Last year, for my birthday, he surprised me with front row tickets to one of my favorite artists, Gavin DeGraw, and we had the best time EVER!
So this year for Christmas, I'm gifting him with a musical he's been wanting to see since its debut on Broadway!! Now that Hamilton has made its way to Los Angeles, I knew Zan would flip over tickets to see it!! I actually can't think of a better gift to give him.
For those of you who don't know, Zan is incredibly gifted in music and has a long history with songwriting and music. He is currently writing a Christmas musical for kids and was nominated for an MTV Movie Award for a musical spoof he created!
For me, we grew up seeing off-Broadway shows in San Francisco, since my father is such a fan. A few of my favorites are Phantom of the Opera and Les Misérables. To this day, the memories of seeing those shows are some of my favorites.
How To Make Gift Balloons – Step by Step
Loosely roll the tickets and them inside the clear balloon.
Using a funnel, add in the confetti to the balloon.
Fill the balloon with helium, make sure to fill it to the max so it will still fly in the air with the tickets.
Tie the balloons and add a string. Enjoy watching someone pop the balloon open!
Creative Gift Ideas They'll Love!
My plan was to gift Zan with the tickets in a special way and not just hand them to him in a card! I wanted it to be the ultimate surprise, so I turned to our very own Money Balloon project we did a few years ago that was such a hit!!
So I rolled the tickets up and added one to each balloon, with some confetti, then used helium to blow them up. I wrote "Rise Up" (if you listen to the Hamilton soundtrack, you know where that's from!) and then handed him the balloons to pop.
This presentation can even make a grown man smile! It's just so much fun and enjoyable to watch.
He popped the balloons as confetti and tickets flew in the air! His face LIT UP when he unveiled the Hamilton tickets!! He was ecstatic that I told him we have centerstage orchestra tickets for a December show!! I can't wait to experience Hamilton with him.
A Creative Gift Idea That's Fun For Kids Too
Now I'm searching for more tickets on StubHub to take Romeo to a show when we're in New York for Christmas!! Be creative with what you write on the balloon or put inside and of course with the type of tickets you choose!
If you have a specific show in mind for your kid, first check the show's official website for age restrictions. Typically, you'll find the information you need in the FAQ section, or where you purchase tickets.
If you are unsure what they'd like to see,you can get some guidance from the likes of Kid Critic!
Getting Fancy with Balloons!
For that extra special touch, you can get crafty with your balloons and splash them with some gold paint or even stick little poms poms on them! Get creative!
How about a nighttime balloon pop? Place some glow sticks in the balloons and you have glowing orbs packed with treats!
Top Tips For Creative Gift Ideas
Make a list of the person's interests and preferences.
Be observant
Consider how close you are to that person.
Consider giving the person a sentimental item.
Arrange an experience as a gift.
Donate your time as part of the gift
Check Out These Other Charming Gift Ideas
10 Charming Housewarming Gifts
43 Fun and Creative Gift Ideas by DIY Cozy Home
100 Great Ideas For Inexpensive Homemade Gifts by The Spruce Crafts
If you have tried any of these Creative Gift Ideas or any other ideas on Sugar and Charm, then please rate it and let me know how it turned out in the comments below!
You can also FOLLOW ME on FACEBOOK, INSTAGRAM, and PINTEREST to see more delicious recipes, cocktails, desserts and party ideas!
Ingredients
16

″ Clear Balloons

Helium Tank

Light Confetti

Tickets

Funnel
Instructions
Loosely roll the tickets and put 3- inside the clear balloon.

Using a funnel, add in the confetti to the balloon.

Fill the balloon with helium, make sure to fill it to the max so it will still fly in the air with the tix.

Tie the balloons and add a string. Enjoy watching someone pop the balloon open!