If you're feeling crafty and festive, you're gonna love this DIY candy cane Christmas tree! It's a fun craft and a pretty handsome Christmas decoration!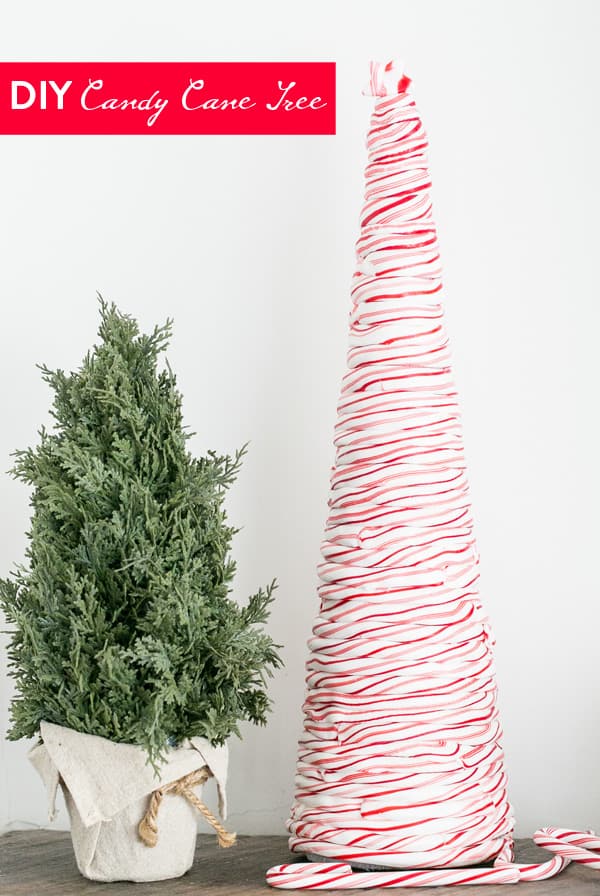 Did you know you can heat candy canes to a pliable consistency? I'm definitely making it on the naughty list as I'm sure Santa wouldn't appreciate me messing with his favorite peppermint candy!
I turned the heat to 225, placed my candy canes on a cookie sheet with some parchment paper and baked them for 10 minutes, right before they were about to melt, I pulled them out and placed them around a styrofoam tree!
The best part is that the candy canes weren't too hot to handle! And so it began, but two-hour candy cane tree extravaganza.
DIY Candy Cane Tree
Materials
Parchment Paper
Baking Sheet
About 55 unwrapped candy canes!
Styrofoam tree – There are several sizes to choose from!
Directions
Heat the oven to 225
Place 3-4 candy canes on a cookie sheet with parchment paper
Bake for 7-10 minutes just before they melt and are perfectly pliable!
Start from the bottom and work your way up the styrofoam tree.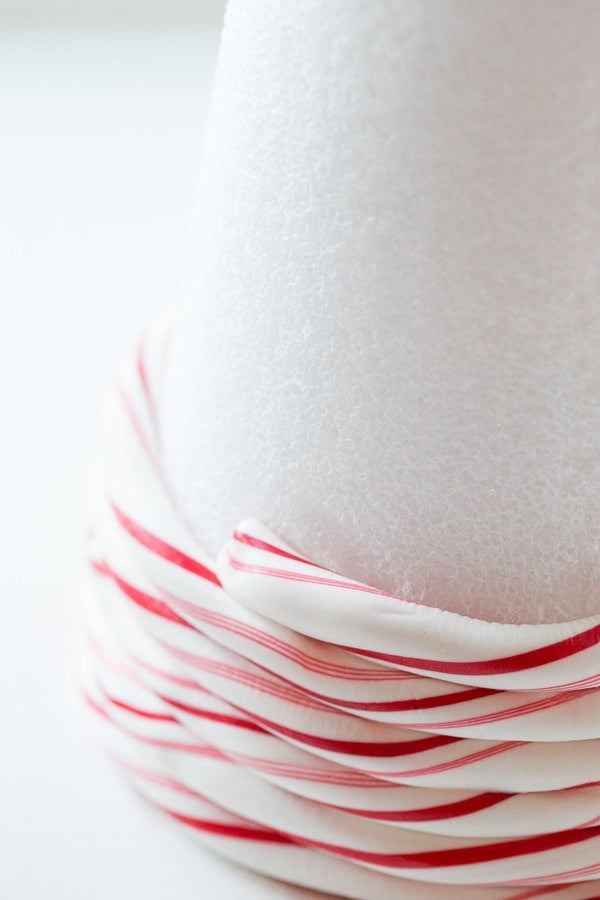 Tips for Making a Candy Cane Tree
You have to work fast with these because they harden quickly. Also, you can't melt too many at a time, otherwise they'll be cooled before you can get to them.
I would heat about 3-4 and work quickly. Pushing down the ends of the candy canes to make them flat for the next one to pair next to it.
It's not a quick craft, but I love working on things like this, even if they take a while. It lets my mind slip away and just focus on one project… a nice break!
If you want to skip the gingerbread house making and create a candy cane tree instead, I can vouch that it's a fun project and they look awesome on the mantel!
More Christmas Projects You'll Love!
Gingerbread Santa Hat Cupcakes
DIY Pipe Cleaner Snowflake Coasters
DIY Snowball Place Card Holders
Origami Christmas Trees
Happy holiday crafting! Let us know if you make these by leaving a comment below. Or tag us @sugarandcharm on social!