You didn't know snowballs are actually geometric?! Haha!! Okay, maybe not, but these ones (and the large snowman at Nordstrom!) are and I like them better! We're calling them DIY geometric snowball place card holders and they resemble snowballs for Christmas! They're made using Sculpey clay and a few tools… then they're baked and sanded smooth. I'm pretty smitten over the modern and festive snowball place card holders! See the how-to below.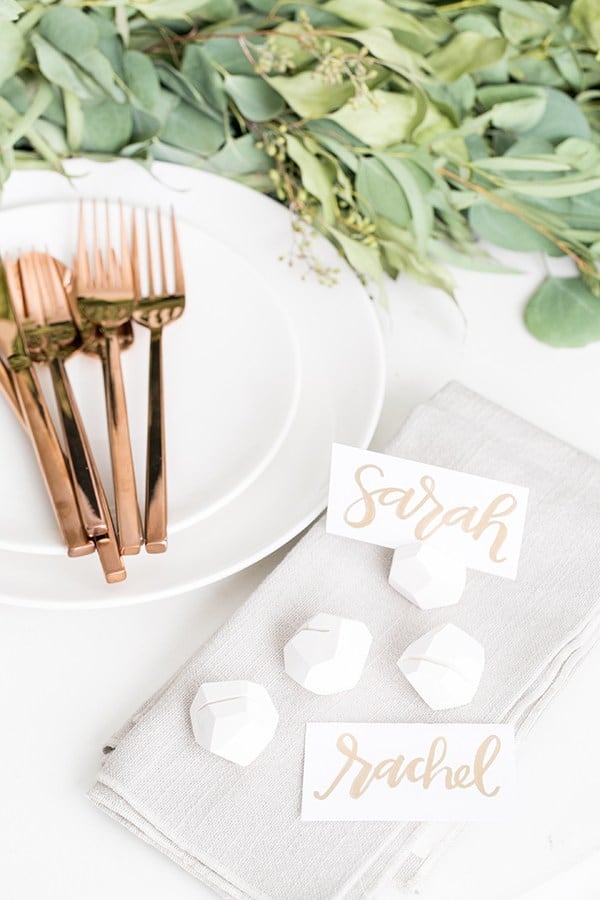 Materials
Sculpey
dough cutter or something similar
ruler
sandpaper (medium roughness)
mask
Directions
1. Roll Sculpey into a ball (slightly bigger than a golf ball)
2. With the dough cutter, cut facets into the ball. Easiest way to do this, is to push the ball down onto a flat surface, then slice into the Sculpey while holding it down with a ruler. Your hands/fingers can easily leave an impression on the Sculpey, so it's best to handle it as little as possible (hence the ruler).
3. Once you have a multi-faceted object, choose a side for it to stand on. Press the dough cutter into the Sculpey for the card.
4. Don't worry if your facets don't look perfect– they'll be sanded down later.
5. Bake the Sculpey using the directions on the package.
6. Once baked, let it cool. It hardens more once it's cooled down.
7. Place the sandpaper on a table or flat surface. Sand down each facet until even. Wear a mask! We also recommend working outside if possible. Enjoy!!