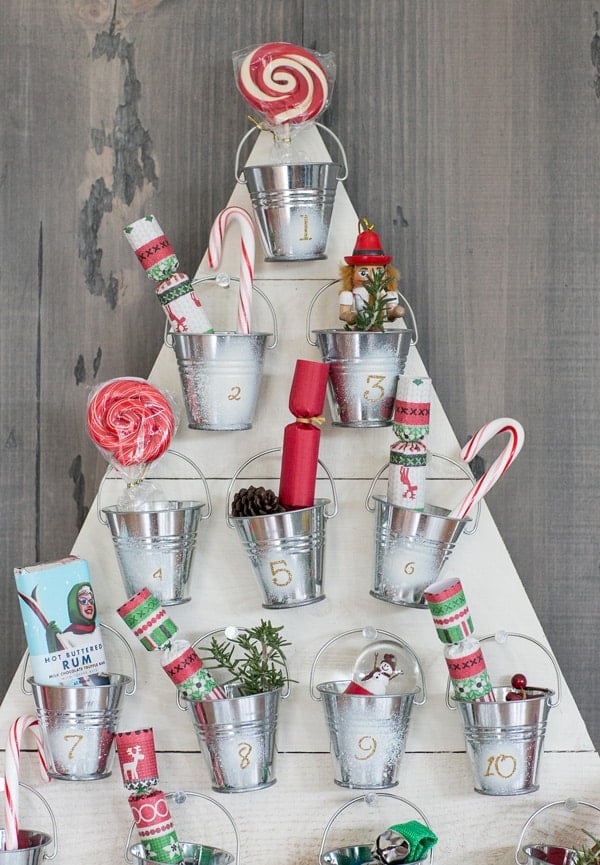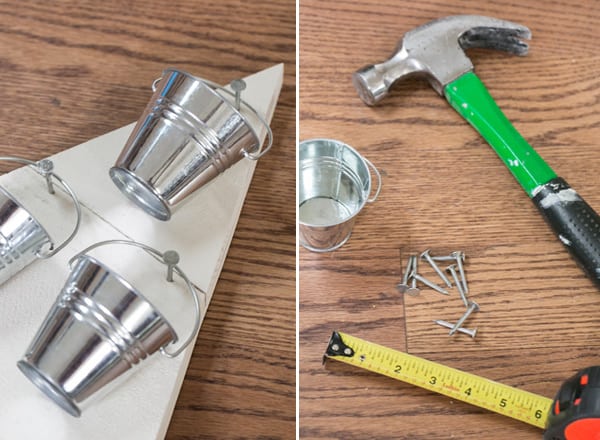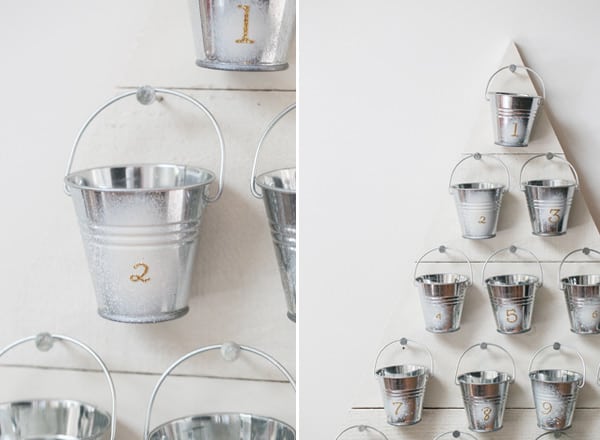 I grew up with the $2 Advent calendars sold at the grocery store with the really cheap milk chocolate stashed inside… I know it sounds tragic ; ) I was determined to make something extra special for Romeo to enjoy everyday until Christmas. Let's be real, Zan will be eating all of the chocolate! Since I don't own a power saw I had a friend's wood workin' hubby make the wooden triangle for me. And with his help, I was able to make my dream wooden Advent calendar come to life! I wanted it to be a classic Advent calendar with big enough bins to put fun nicknacks in, easy to store and something I could pull out every year. I had him make me a wooden tree-shaped triangle then I used a white wood stain and some white spray paint to give it a rustic, snowy look. I bought adorable 2″ galvanized buckets to nail into the wooden tree. Since, I had help with the wooden triangle, the rest was pretty easy! I stuffed each bucket with little treats like Christmas poppers, a mini snow globe, tiny Nutcrackers, candy cane lollipops and some other cute toys. I'm also going to print out 25 scriptures, telling the story of Christmas to add to each bucket to read every day. Below is a little recap of how to make this adorable DIY wooden Advent calendar. The countdown is almost on – only 10 days until December!
Materials
You need a wooden triangle. If you're skilled at woodwork, this would be easy to make. If not, have someone you know or a local craftsman create it for you. The dimensions:
Triangle sides are: 34-3/4″
The bottom of the triangle is: 28″
It's 1-7/8″ thick, but you can make it as thick as you want.
2″ galvanized buckets (25 of them) I bought these ones.
1-1/4″ Grip Rite galvanized roofing nails (25 of them). I bought a small box of these.
Wood stain: I did a white wood stain first, then did a light layer of white spray paint on top. You can stain it any color you want!
Number stickers to place on the buckets. I found some I liked at Michaels Arts and Crafts. Just look in the scrapbook section of your craft store. Just remember you need a lot of 1's (11, 12, 13, 14, 15, 16…) so get enough for each bucket. I had to make a second trip ; )
Directions
Once you have your triangle board, stain it the color you want.
Arrange all of the buckets on the board before you start to nail. You'll have seven rows of buckets (two of the rows have 4 buckets)
Mark each spot with a pencil to remember the placement. Make sure you leave room for the buckets to hang. They hang a little bit lower when the board is vertical.
Hammer the nails in place.
Mist the buckets with a dash of white spray paint to look like a snowball hit it : )
Stick the numbers (1-25) on each bucket, then hang them on the nails and stuff them with special treats! Yay for the holidays!!