Do you want to learn more about Halloween and how you can create a charming Halloween evening? This complete guide on creating the most charming Halloween is everything you need!
Some people never want summer to end. And others—well, you know who you are! You can't wait for October: the Halloween celebrations. The fun decorations. The hair-raising music, exciting parties, and costumes galore.
We're right there with you. We can't wait for those colder months, either, and especially the magical date of October 31st.
Are you considering hosting a charming Halloween party this year? If so, keep reading. We tell you everything you need to know about Halloween as a holiday, plus creative ways to celebrate and host a gathering.
Let's get spooky!
First: A Little Bit of Halloween History
It's easy to celebrate a holiday without questioning where it originated.
This year, we implore you to take a deeper dive into the history of Halloween!
What Is Halloween Celebrated For? How Did Halloween Start—And Why?
Halloween is no modern tradition. It began with the ancient Celtic festival, Samhain (pronounced Sow-in), about 2,000 years ago.
At this festival, people would wear costumes and light bonfires in an attempt to ward off ghosts. The Celtics believed that the spirits of the dead returned to earth on October 31st, and thus, they tried to keep them away.
By the eighth century, Pope Gregory III declared November 1st as All Saints Day, which made the previous day, October 31st, All Hallows Eve. All Hallows Eve eventually got shortened to Halloween.
Over time, the tradition developed into a day of celebrating and honoring its beginnings—fires, costumes, ghosts, and more. Although, with rigid Protestant belief systems in the US' early years, it took a while for Halloween to make its way to America. Thanks to a surge of immigration in the late 19th century, Halloween became a popular holiday.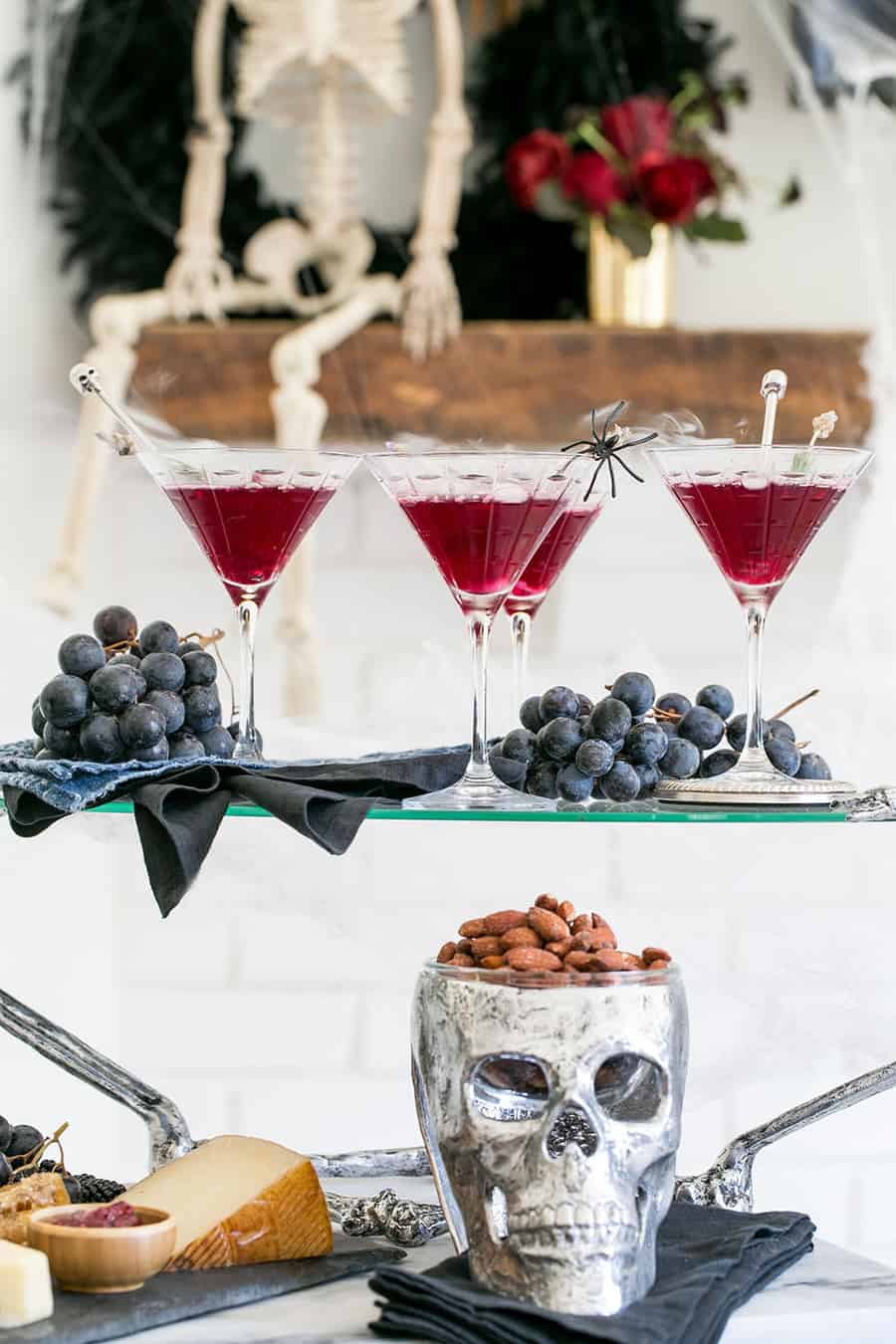 Which Countries Celebrate Halloween?
Halloween is quite a global holiday. Several countries celebrate Halloween, including:
Asia (China, Dubai, Hong Kong, Japan, Philippines, Singapore)
Australia
New Zealand
Several places throughout Europe, such as Greece, Germany, Ireland, Italy, Poland, and much more
North America, including Canada, the US, Mexico, and the Dominican Republic
Although it stemmed from religious beliefs, people of several different religious backgrounds celebrate the holiday. Other countries may celebrate Halloween differently than we do in the US, and also may observe on a day other than October 31st.
Where Does "Trick-Or-Treat" Come From?
"Trick-or-treating" used to have a different name: "souling."
In England, poorer individuals would knock on the doors of wealthier families, where they'd then receive "soul cakes." These pastries were given in exchange for a promise to pray for the souls of that family's dead relatives. The practice of souling was eventually taken up by children, who would also go door-to-door asking for gifts: money, ale, food, and more.
In Scotland and Ireland, children practiced the same tradition. They'd accept offerings from families, but instead of praying, they'd sing, tell jokes, or perform "tricks."
Trick-Or-Treating Ideas for 2020
So, your home is giving out some treats this year. What should you give the ghouls and goblins in your neighborhood?
To keep everyone safe, you can consider setting up a no-contact candy booth. Layout all your favorite candies on a table and let the kids pick for themselves. You can monitor from afar to wave and awe at the costumes, as well as see if you need to refill your supply.
You can do a "trunk"-or-treat and have your trunk open and filled with candy. Bonus points for adding cobwebs, fun signs, and spiders!
Other options include wearing a set of creepy gloves to pass out candy, or maybe even a spooky candy-grabber (think: a skeleton hand).
What Are Some Halloween Traditions?
Besides dressing up in costumes, having festive decorations, and going trick-or-treating, another significant tradition is pumpkin carving!
We can thank Ireland for the start of Jack-o'-lanterns. It all began with carving evil and mystical faces into turnips, not pumpkins, in order to scare away Stingy Jack. According to this myth, Jack was denied access to both heaven and hell and was forced to roam the earth—and the Irish weren't having that!
People from Ireland began immigrating to the US, where they kept this tradition alive—this time, they used pumpkins, something native to America.
Stingy Jack felt very in line with the Celtic's origins of Halloween, and so it was quickly integrated into the holiday. We've been carving pumpkins ever since!
Another tradition includes a scary house. Consider turning your home into a spine-chilling spectacle with dim lighting, plenty of spider webs, and maybe a skeleton or two.
Halloween Games
No Halloween party is complete without some Halloween-themed games!
You can keep your games traditional and classic, like cornhole, beanbag tosses, or bobbing for apples.
You can host a costume contest and have everyone attending vote for their favorites (you can even break it down into category, such as Best Couple, Scariest Costume, etc.).
One fun and creative game we like is the mummy race. Everyone's legs get wrapped together with some type of paper, like toilet paper, and they have to race as a mummy would!
For adults, consider a round of beer pong—but instead of standard ping pong balls, choose ones that look like eyes.
Halloween Movies
You can have your group of party-goers sit around a makeshift movie theater and watch a movie, or you can just play it in the background for some spooky vibes. Bonus points if you set up a large white sheet with a projector—it feels more fun!
Some fantastic Halloween movies that are great for kids and adults alike include:
Hocus Pocus
The Nightmare Before Christmas
It's the Great Pumpkin, Charlie Brown
Beetlejuice
Ghostbusters
Casper
Halloweentown
If your party is adults-only, you can consider scarier options such as Scream, Practical Magic, Halloween, and others.
You can also host a Halloween movie night for your friends and family! See all of the details on how to host the most charming movie night.
Halloween Drinks
One fantastic thing about Halloween? There are so many fun drink ideas to match the theme of the holiday.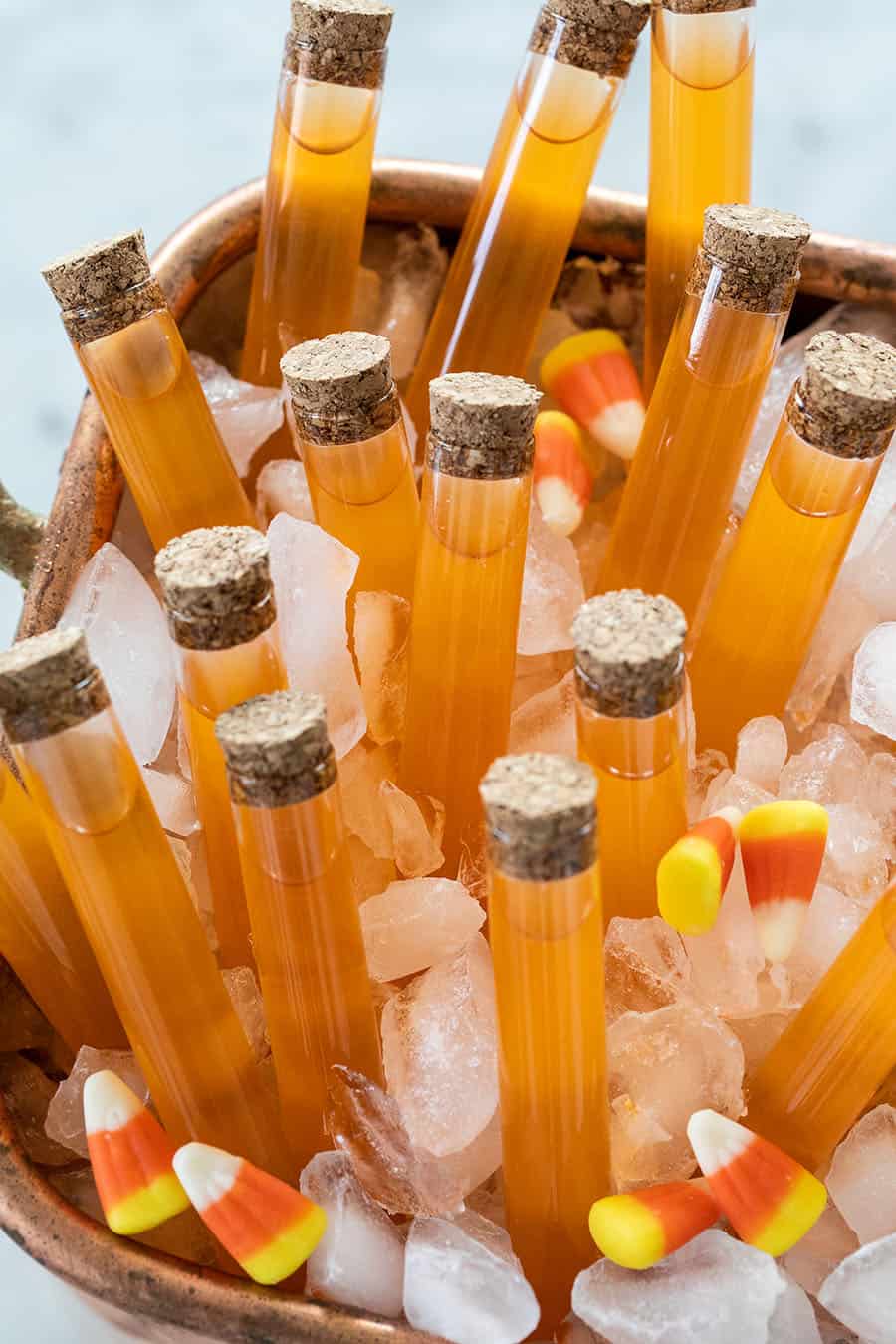 One recipe we really enjoy is the candy corn vodka shots. It's incredibly simple to make, too.
Infuse vodka of choice with candy corn for three days. Strain the mixture after a few days, and the result will be bright orange, candy-corn-flavored vodka. You can use the vodka for other Halloween cocktails, or you can put them in small test tubes as a shot (with a tiny cork for sealing).
To really up your spooky vibes, you can consider making smoking cocktails, too. We've got a great recipe for smoking lavender blueberry martinis.
Another idea is purple gin and tonics! Make it "smoking" by adding some dry ice! Your entire bar will become instantly eerie—but in a good way.
And of course, don't forget the kids. If you've got children coming to your party, consider creating a three-ingredient punch or monster cereal milkshakes. The adults probably won't be able to resist, either!
Halloween Costume Ideas
Well, part of the original Halloween costumes from back in the day included animals. You can keep that tradition alive by dressing up as your favorite animal, face of make-up included: deers, cats, tigers, leopards, bats—you name it!
You can also consider dressing up as a character from one of your favorite movies (bonus points if it's a Halloween movie!). Maybe you dress like one of the Sanderson sisters from Hocus Pocus, or perhaps you go for something like Wonder Woman. Think of your favorite film and see how you can embody one of its characters.
You don't have to choose a person, either. You can choose a theme, such as Victorian or 80s, and dress in whatever speaks to that era.
Hosting a party with your spouse and thinking about a couple's costume? If so, some fun couple costume ideas include:
Danny and Sandy from Grease
Barbie and Ken
Hippies
Honor the Stranger Things show by being Thing 1 and Thing 2
Cosmo and Wanda
#filter and #nofilter (one is glammed up, the other . . . not so much)
Bonnie and Clyde
Moonrise Kingdom
Bacon and Eggs
Starwars
This list could go on and on!
Choose your favorite power couple or twosome and become them for an evening. Or, you can make up your own idea and start a new trend.
Halloween Decoration Ideas
Since Halloween occurs during the fall season, you can decorate your home's foundation with fall-themed colors like oranges and browns, as well as plenty of pumpkins, gourds, and fall leaves.
If you want to make your house a little creepier, be liberal with your usage of cobwebs, skulls, bats, eyeballs, cauldrons, candles, and more.
The way you decorate all depends on how you want your party to be. For classier parties, choose vintage decorations, for example. If you're hosting a more fun and carefree party, you can incorporate decorations more on the flashy side.
For affordable Halloween decorating ideas, check out these 6 inexpensive ideas!
If you're hosting a party for the little ones, here are 10 charming kid Halloween ideas!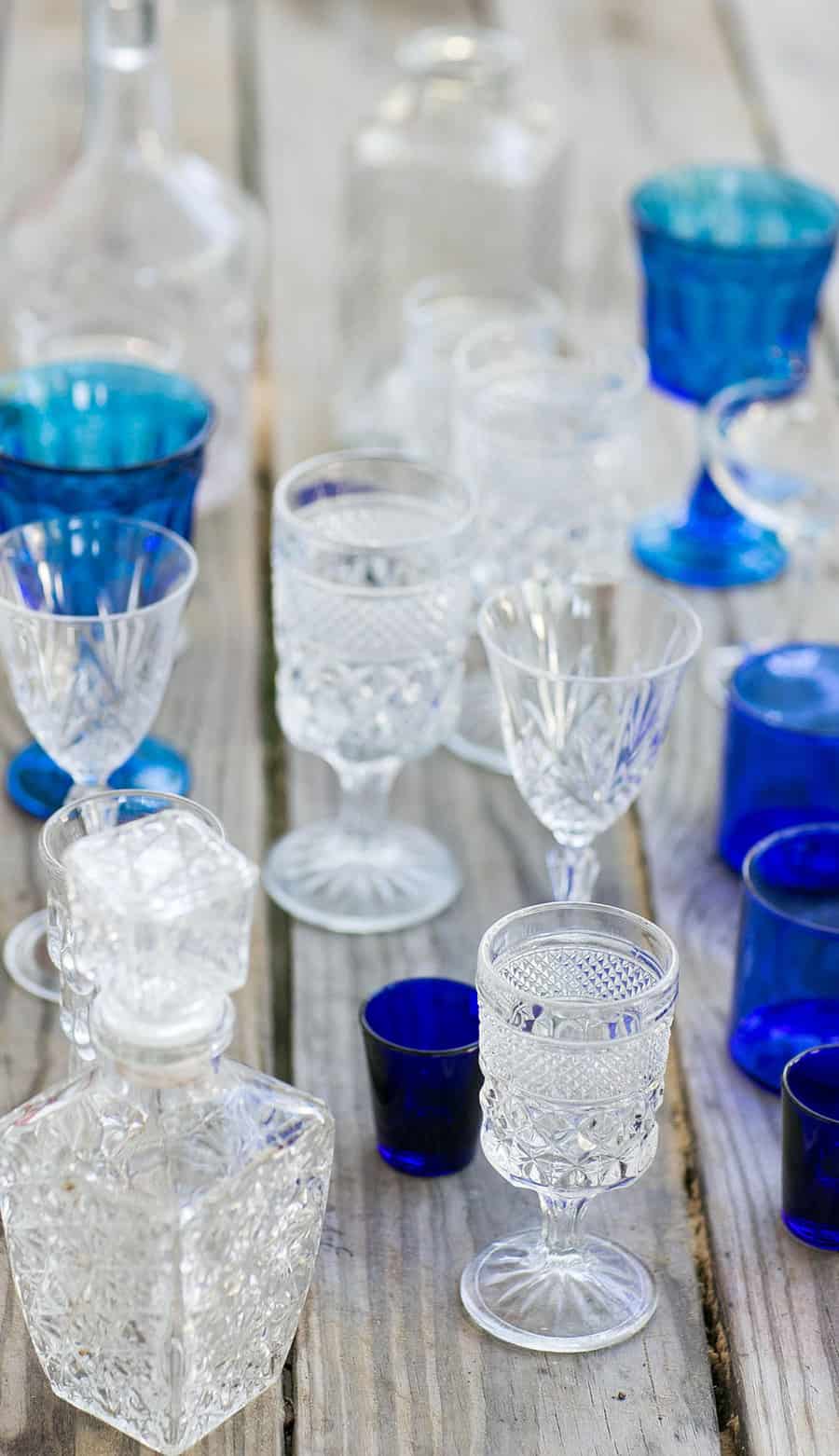 Best Halloween Stores Online for All Your Shopping Needs
Now, how can you get all these goods delivered right to your doorstep?
Consider shopping at one of these great Halloween sites online:
You can also buy decorations, products, and costumes from local thrift stores and Goodwill. Also, if you love near a HomeGoods or World Market stop in as they also have a great selection of Halloween decorations.
Halloween Food and Appetizer Ideas
The Best Halloween Desserts
How Do You Host a Good Halloween Party?
Well, after reading this definitive guide to a fantastic Halloween evening, now you know!
Implement all these ideas—drinks, games, costumes, decorations—into your party-planning, encourage everyone to dress up to the nines, and enjoy yourself. With all this preparation, your evening (and that of your attendees) is sure to be one to remember for Halloweens to come.
For even more exciting Halloween-themed content, click here. You'll find several more ideas, such as how to make skull-shaped jello shots (yes, really!), how to host an epic pumpkin-carving event, and much more.
And to end our complete Halloween guide, we'll leave you with 15 super amazing and fun Halloween party ideas and 10 tips for being the best hostess… highly encourage you to read We hope you have a wonderful and safe Halloween!
You can also FOLLOW US on FACEBOOK, INSTAGRAM, and PINTEREST to see more delicious recipes, cocktails, desserts and parties!