You might remember we sold our last house that we remodeled and purchased a smaller cottage home on a bigger piece of land. We're working hard to get our plans, permits and everything together to start renovating this entire property, starting with the studio/guest house first! But we're also redoing some areas in the house now to make it feel more like home!
Currently, we are trying to get our lives organized in this house since we have another little one on the way. The closet in our bedroom was a complete mess! The flimsy sliding doors were giant, so I couldn't reach any clothes in the middle of the closet. The doors would also fall off the track every time we opened them. There was no storage system at all and to be honest, Zan and I kind of just tossed everything in there since we moved in 8 months ago! A closet renovation was a MUST to get organized and make room for the baby!
We're very cautious of what we remodel in this house right now, since we'll be going through a total overhaul within the next year or so. That way we're not tearing down something we spent time and money on! We had a few things we needed to consider when designing this closet.
First, this is a temporary closet for Zan and me and then it will be Romeo's room… and maybe even a shared kids' bedroom later down the road. So we wanted to keep children and teens in mind and create a closet with 2 sides, no sliding doors and something we could add more shelves or bars to in the future, as needed.
Second, redoing the closet also meant cleaning out and organizing our clothes, shoes, random items, etc. We knew we still wouldn't have quite enough room for our things in this new closet, so we really did our best to donate a lot of clothing items we either haven't worn or just didn't need. We also moved all of our heavy winter jackets, suits and any fancy dresses into the front linen closet. That opened up a lot of room as well! There is no better feeling than getting organized and cleaning house!!
We hired an amazing carpenter, Rob, to build a custom closet for us! I gave him some ideas and inspiration photos and he went with it! Then we teamed up with HomeGoods for all of the finishing touches and to decorate the space!! I'm such a fan of HomeGoods and stop by weekly to see what treasures I can find, usually for less than you'd expect too!
For the closet I scored on all of the charcoal and gold hangers (gorgeous right?!), a new rug and teak bench for seating when putting shoes on. I also found a rustic modern frame to display one of our new family pictures in and some baskets for organizing!! I was so happy to find everything I needed there to revamp this area of our room, and at such an amazing price!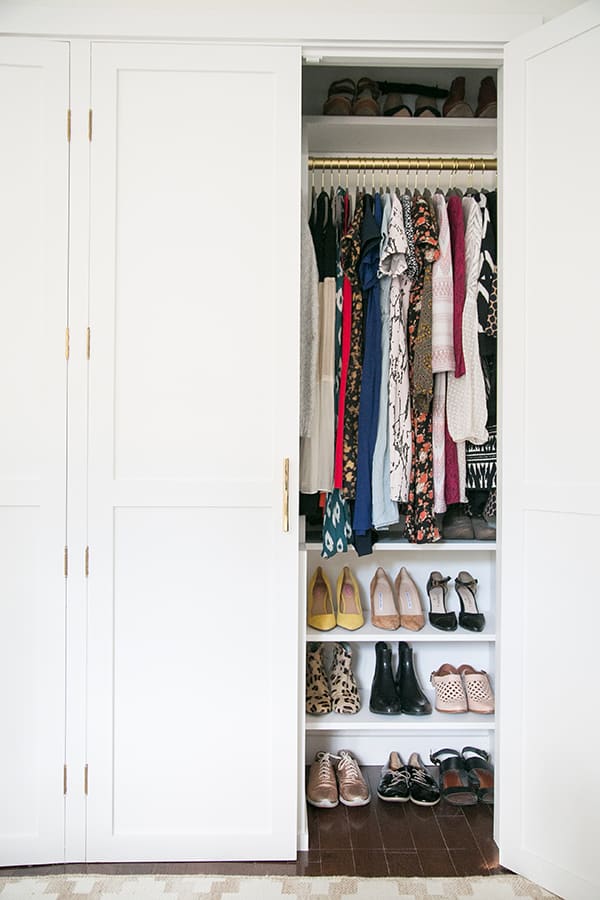 Hope you enjoy the pictures and are inspired to redecorate a challenging space in your home! It makes such a difference!!
Get inspired and check out this video with HomeGoods and Sutton Foster teaming up to make her dressing room feel like home!