Sharing all the charming details on how to make the perfect Halloween Meat and Cheese Board! The perfect appetizer for a Halloween party!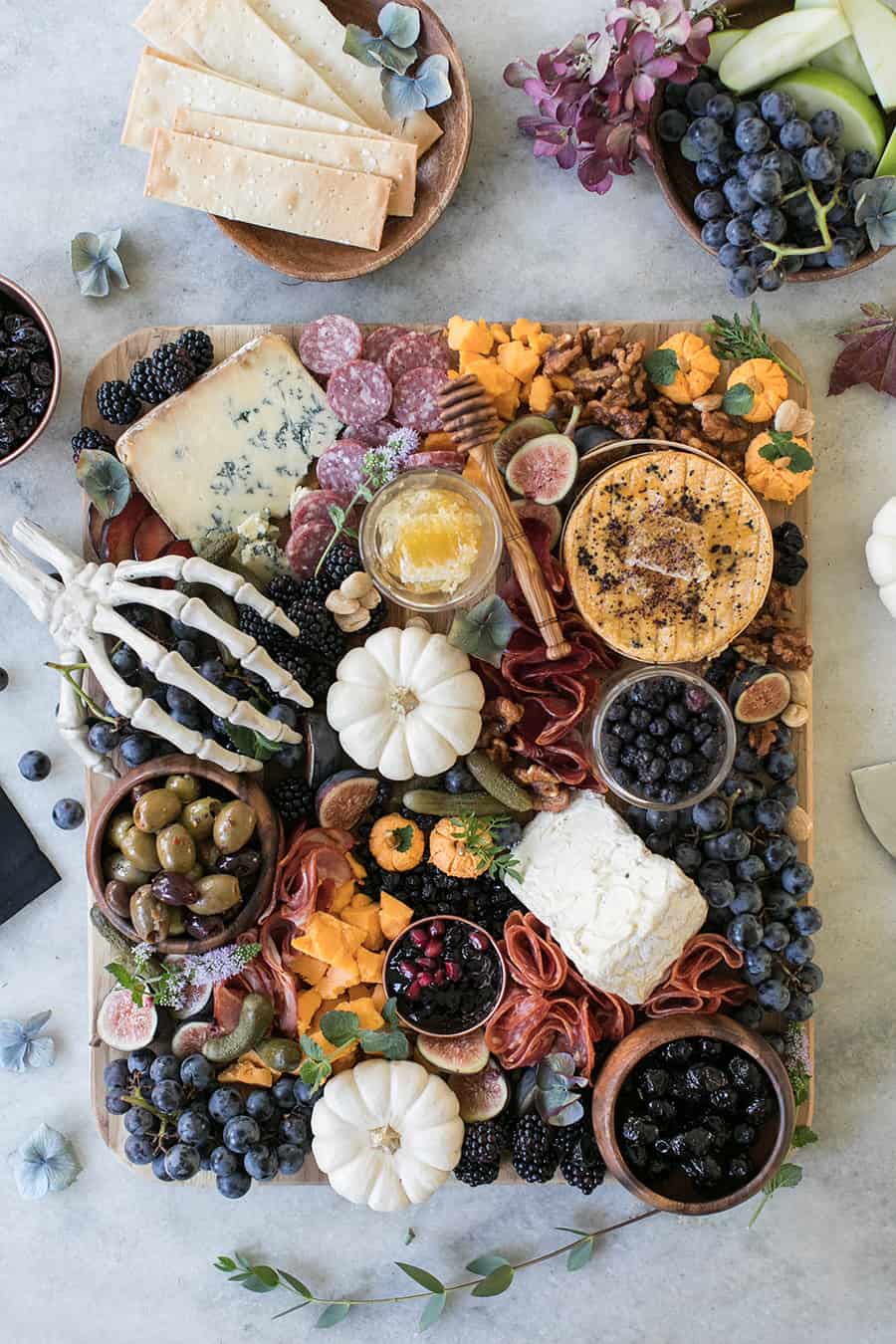 A Halloween meat and cheese board is absolutely perfect for a Halloween party or movie night! It actually feeds quite a few people and would be lovely for an appetizer-heavy menu.
Choose items with dark colors and a lot of texture, like the cornichons and oozy honeycomb. Only use black and blueberries and added a variety of both fresh and dried. The better the texture and odd shapes, the more Halloween-ish it looks.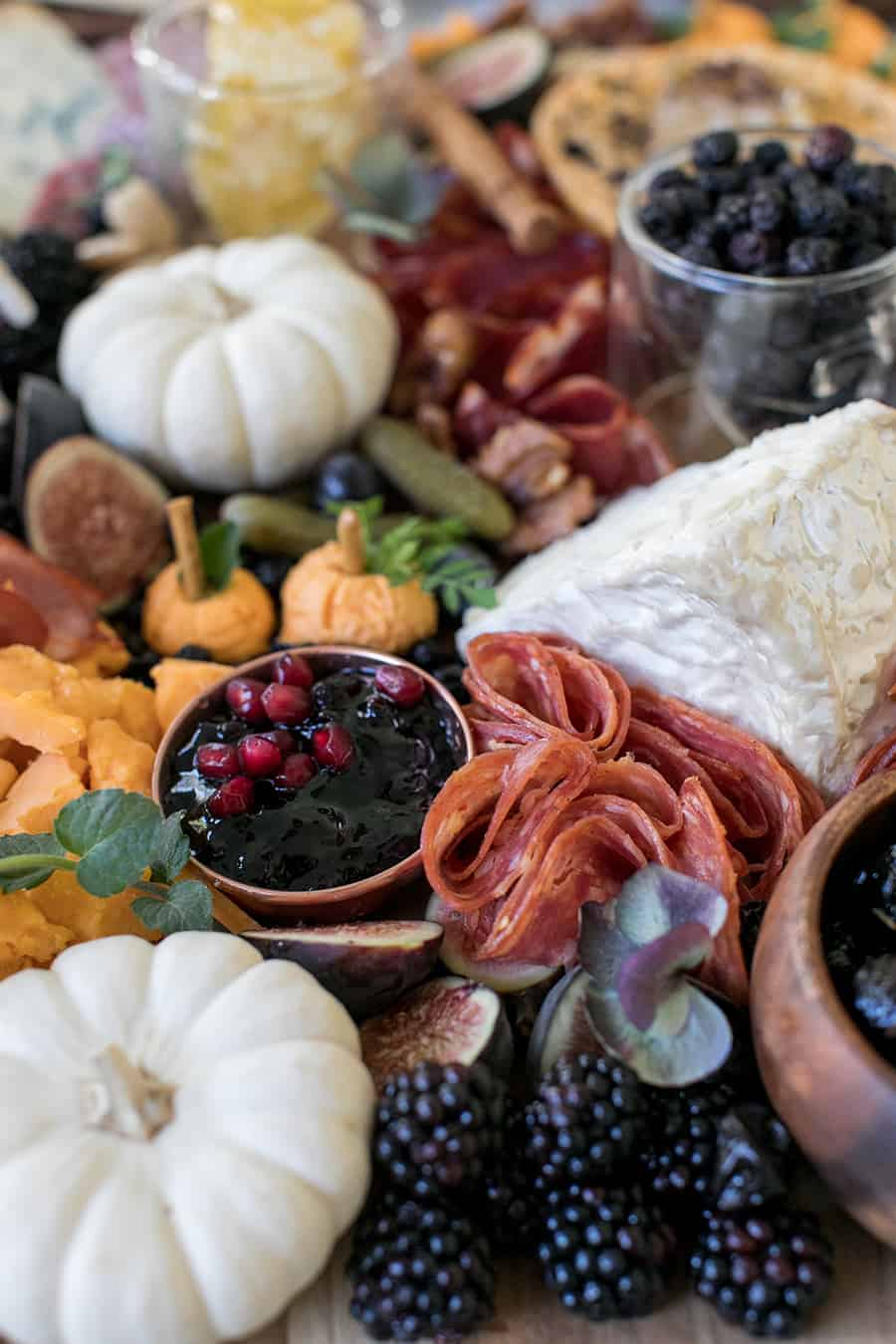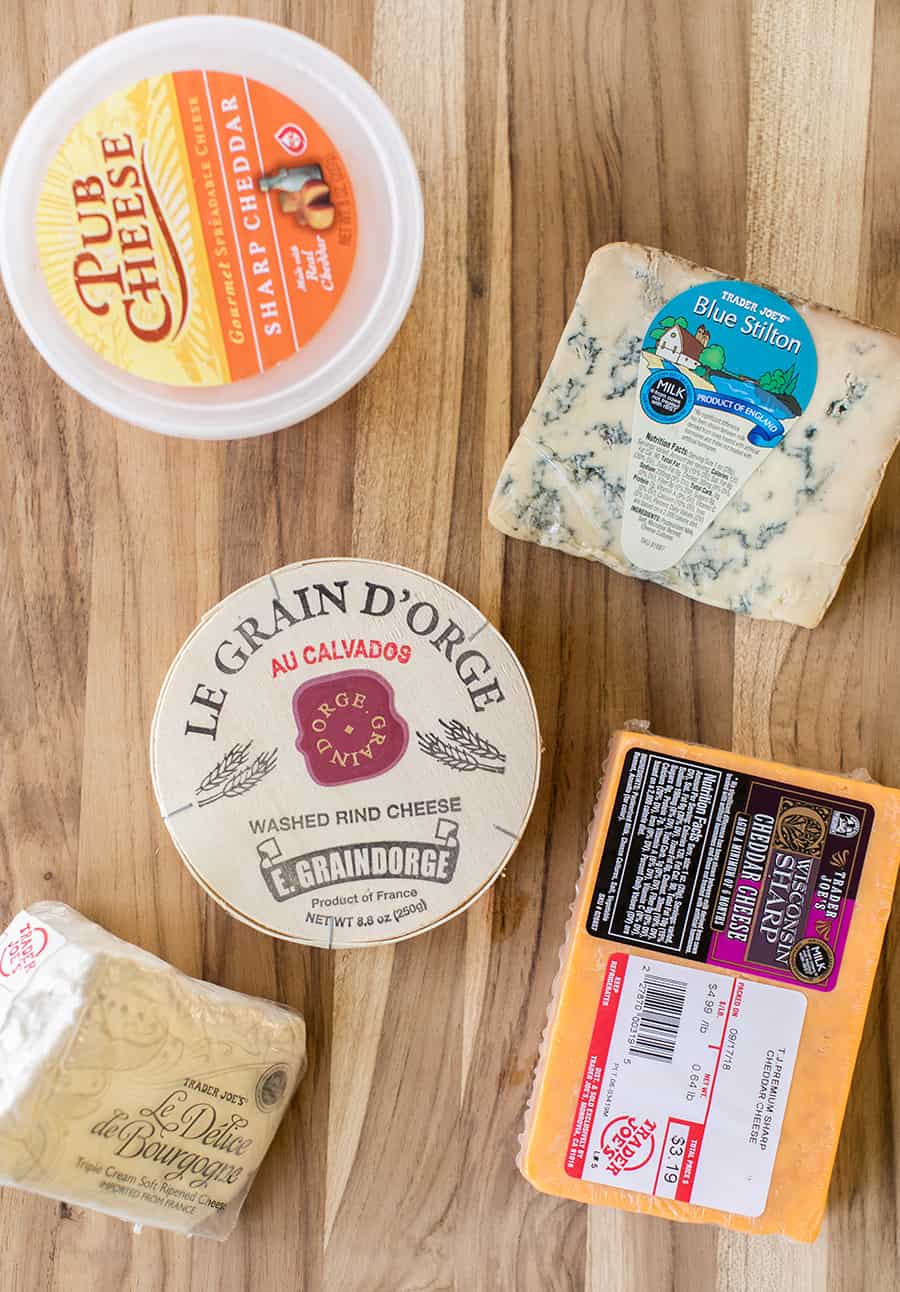 Where to Buy Affordable Cheese
To keep the board affordable, as cheese is pricey, I picked up most of the cheeses at Trader Joe's because of their collection and quality.
When I make a cheese board, I always choose at least 4 different varieties of cheese. They have to be different textures and flavors too, like soft cheese and harder cheese, cheddar cheese and goat cheese, etc.
For this I chose a triple cream, blue cheese because of the blue lines (very Halloween since they look veiny), Cheddar cheese (the color is on point!), a round rind cheese and then pub cheese (bought at Whole Foods), to make little pumpkins.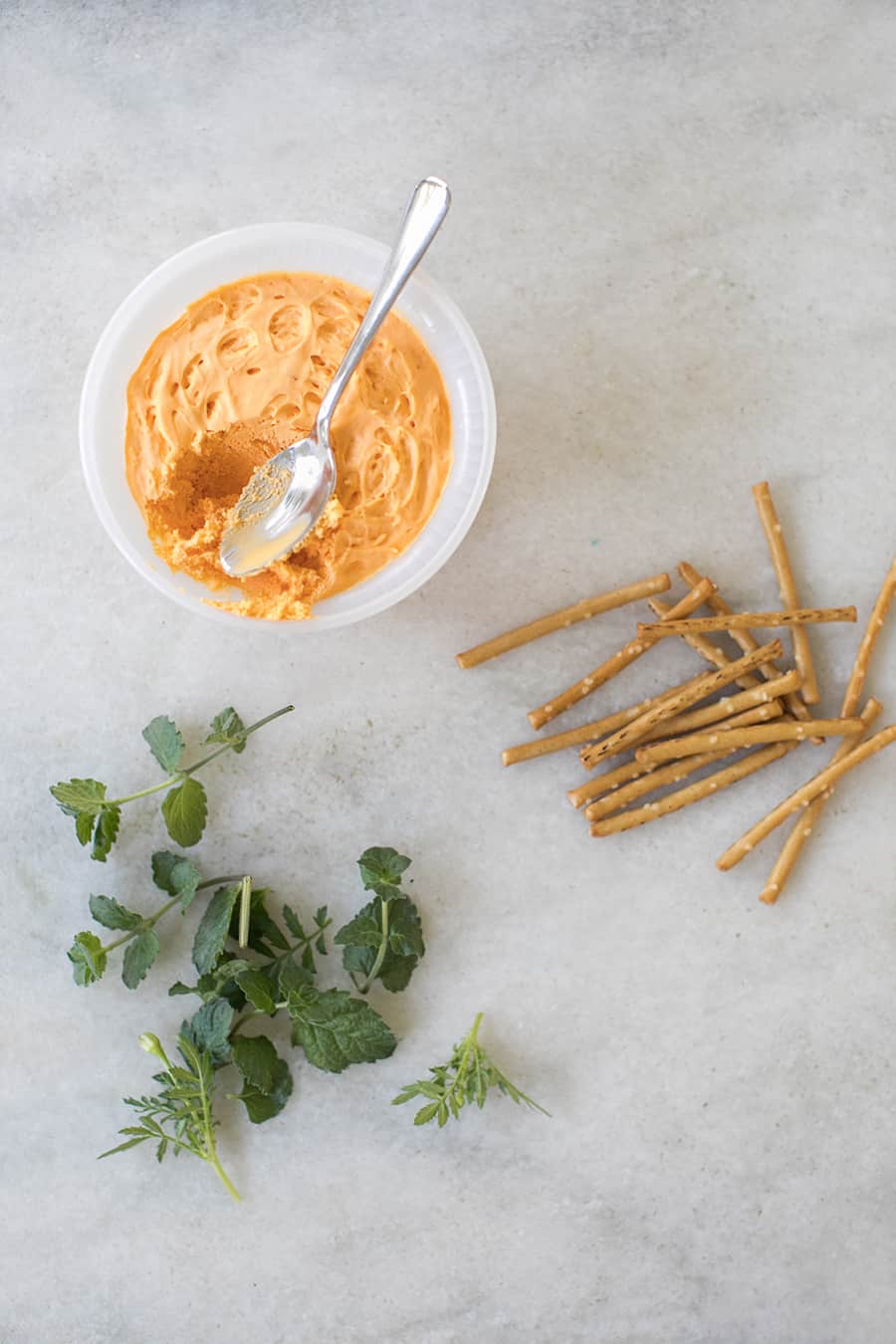 How to Make Mini Pub Cheese Pumpkins
To create the mini-cheese pumpkins, place the pub cheese in the freezer for 30 minutes to get really cold, not frozen!
Then take a spoonful and make small round balls. Break a pretzel stick in half for the stem and add a little green garnish, like cilantro, or whatever you have in your herb garden.
Use a toothpick to make little lines and then place it on your board. They're small enough to just scoop one with a cracker!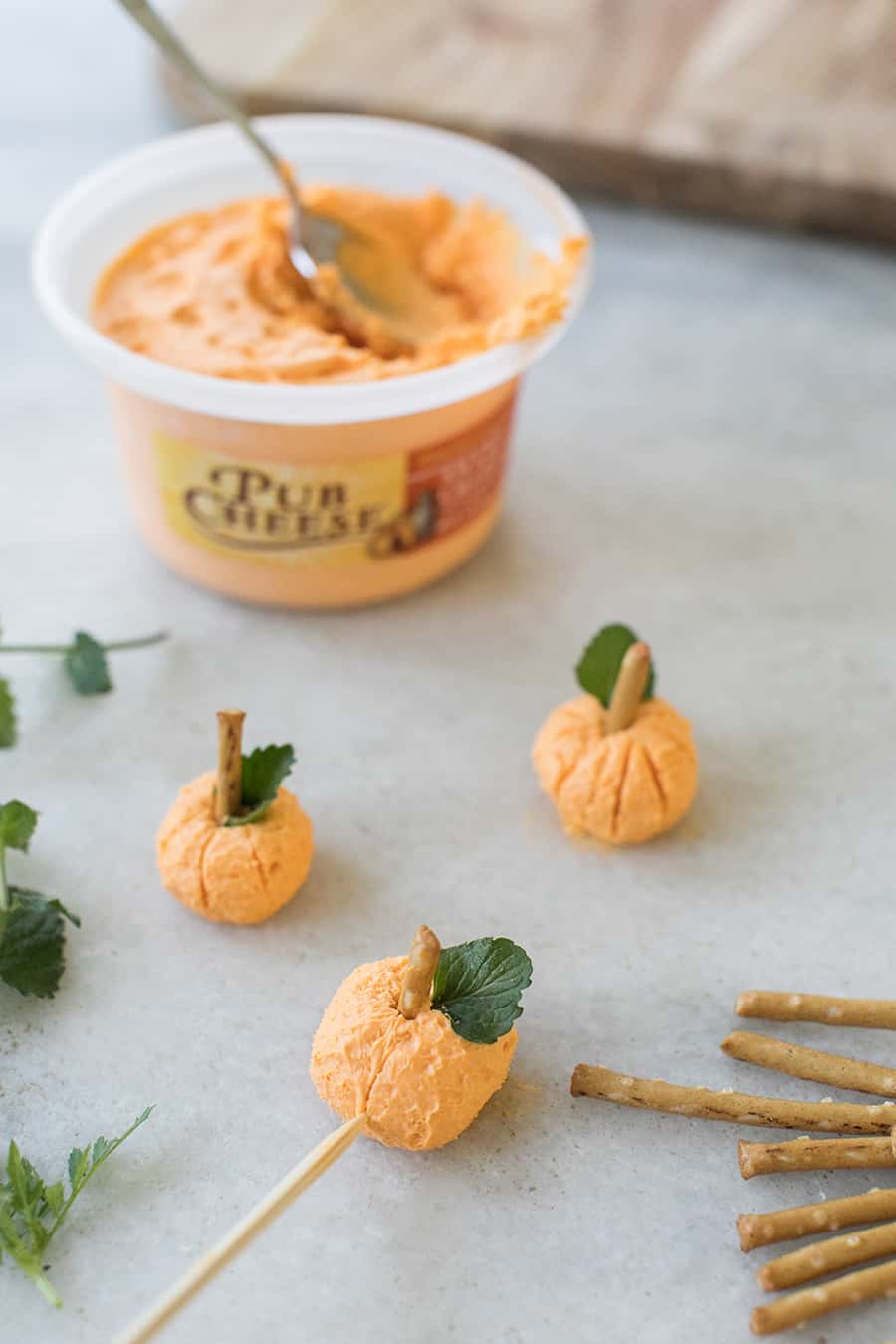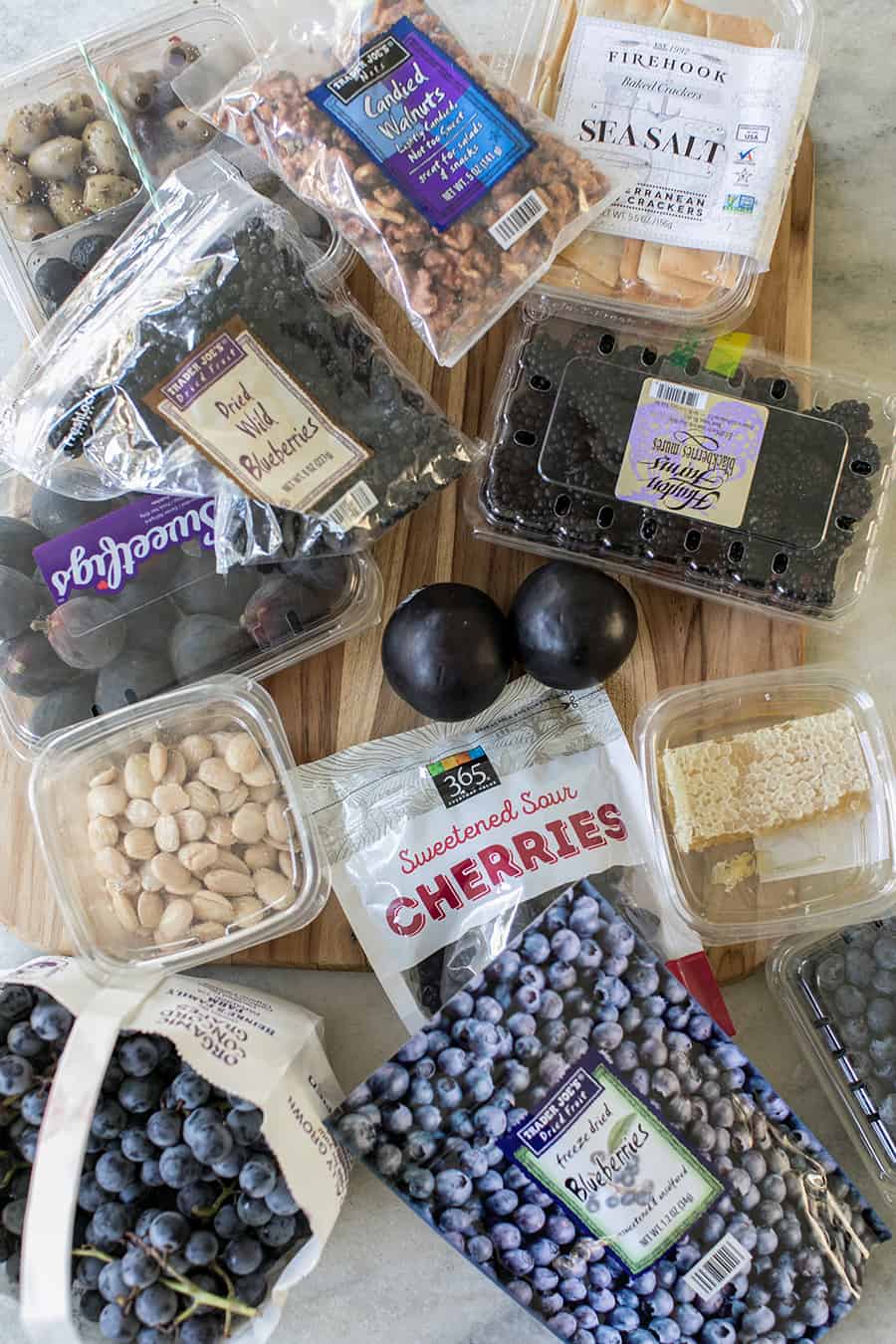 What do you add to a Halloween meat and cheese board?
When making your Halloween cheese board, choose all blue and black fruits and berries. Think of texture, color, and flavor.
Anything sweet and tart is great for Halloween! I used fresh blueberries, grapes, dried blueberries, fresh blackberries, dried tart cherries, freeze-dried blueberries, figs and plums.
Also add a mixture of green olives (I love the olive bar at Whole Foods for these!), candied walnuts and Marcona almonds. If I'm planning on filling the board full of cheese, fruit, and meat, I'll add the crackers and bread on the side.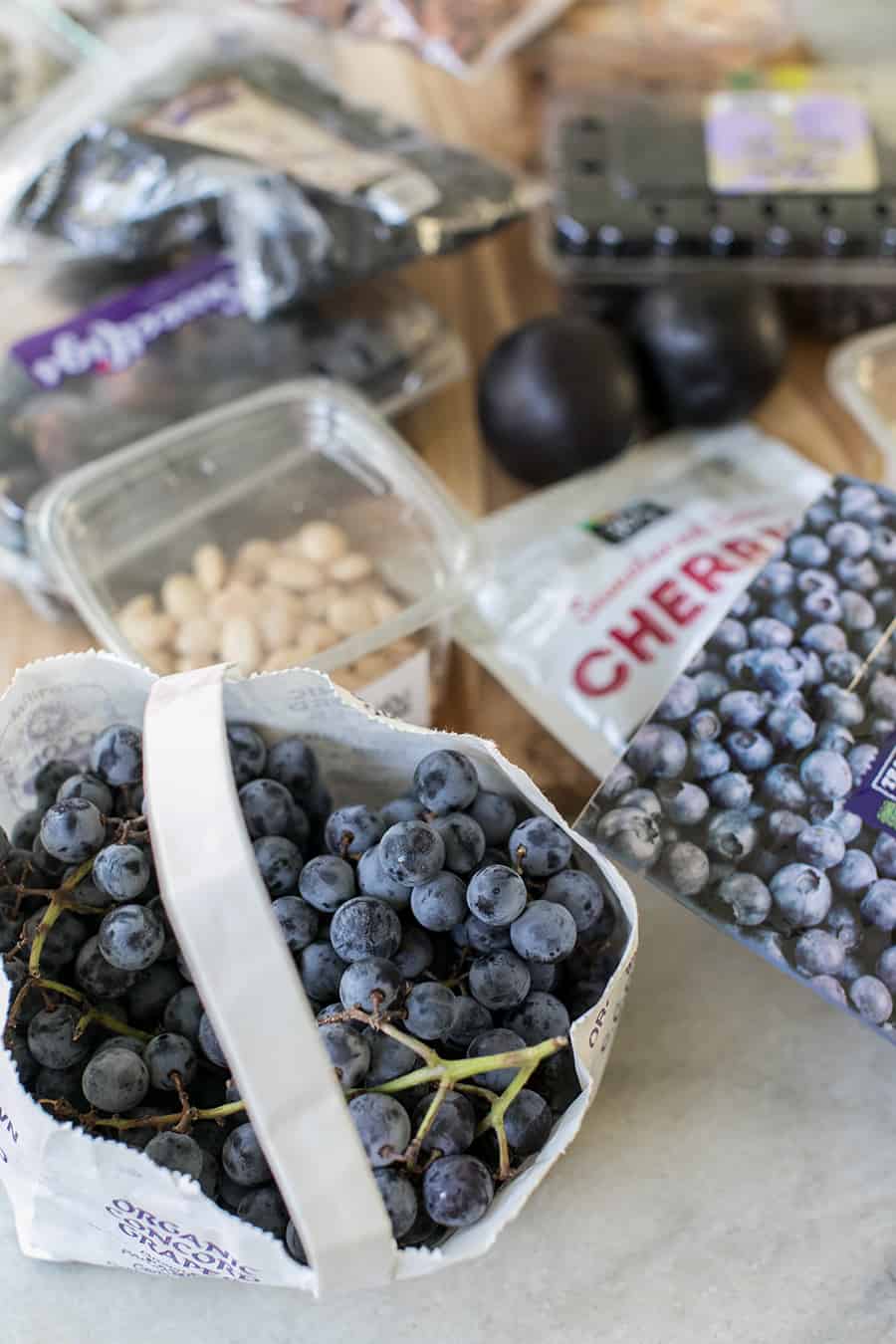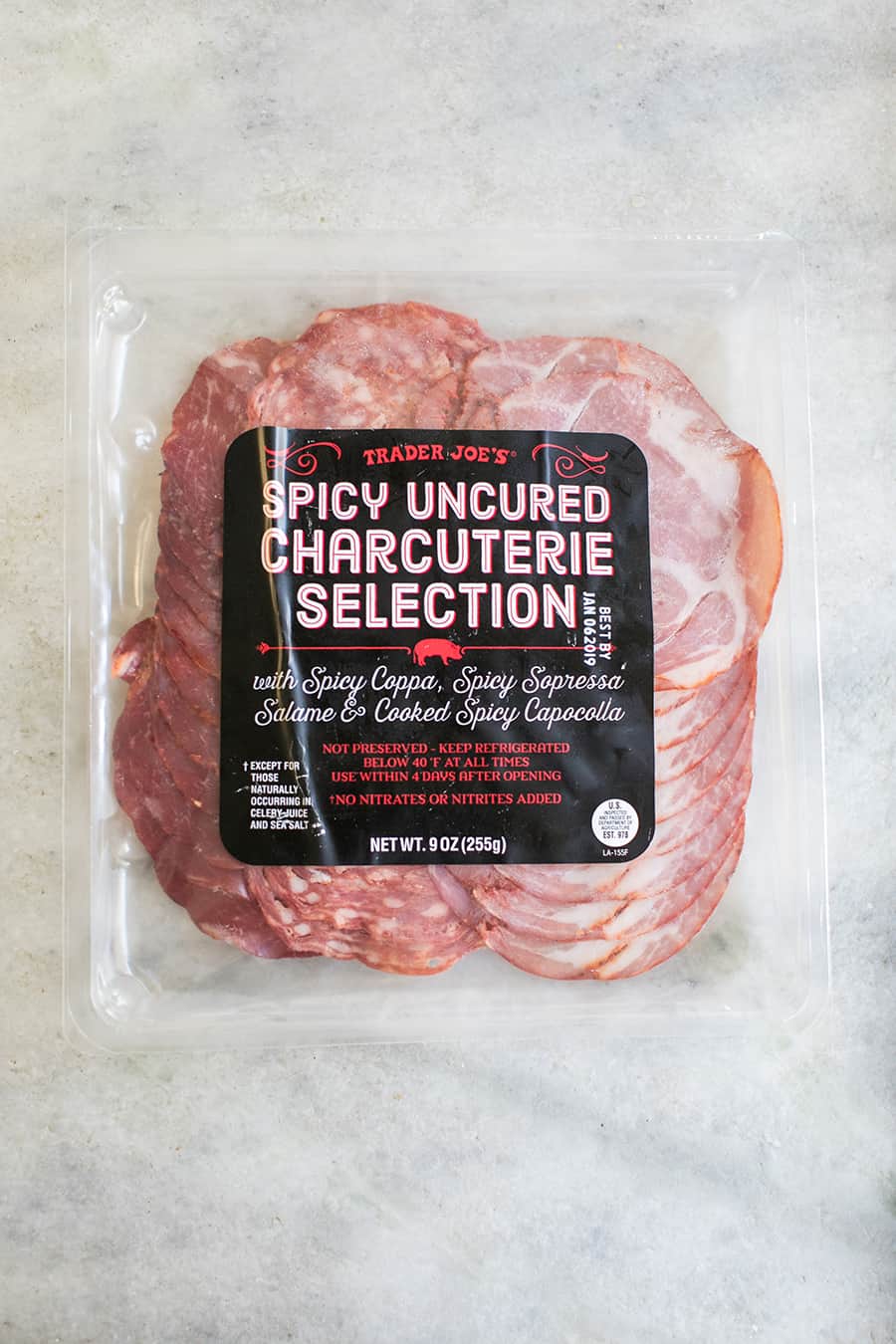 You'll want to add meat to the board so I picked up a spicy pack from Trader Joe's. It just reminded me of Halloween!
Also, bought some truffle salami and sliced that up. When placing the meat on the board, I fold it almost like bloom and then place it against something so it stays up and gives that pretty look.
How to Assemble a Cheeseboard
Okay, now you have all of your ingredients but where do you start? How do you actually make this cheese board?! Well, this is the fun part!
Get out a large cutting board or platter, this one is 18″ by 15″ cutting board. Start by placing the blocks of cheese wherever you want them.
Usually four corners and the middle, but kind of staggered. Then place a few small bowls where the olives and honey will go.
Then start adding the meat around and start placing the fruit. You can move things around, but once you have the placement of cheese and bowls, it starts to come together!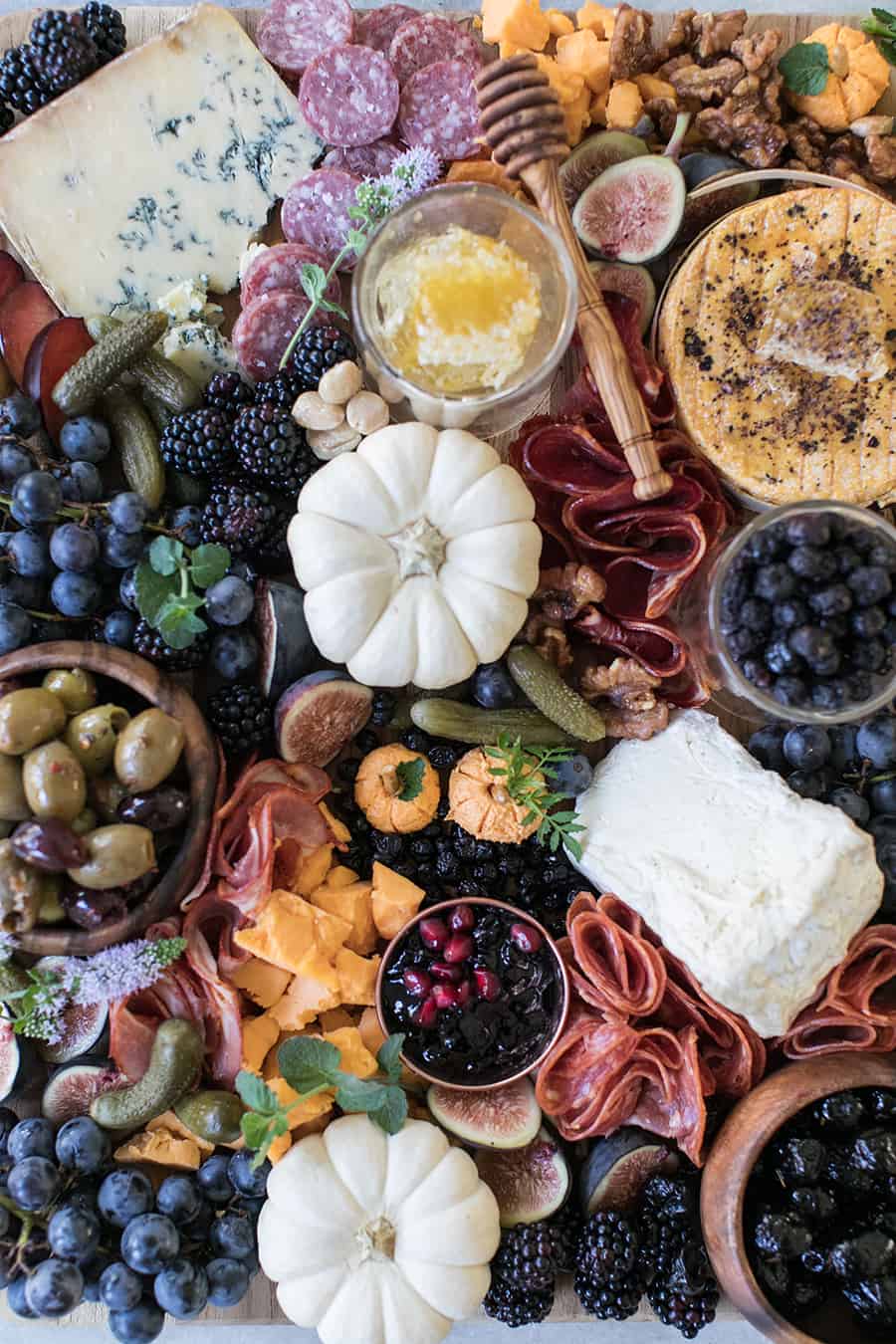 Starting with the large fruit is good. Place some grapes around, then take a handful of berries and fill in the blank spots, toss in some almonds, add some figs. This board will serve about 8 people.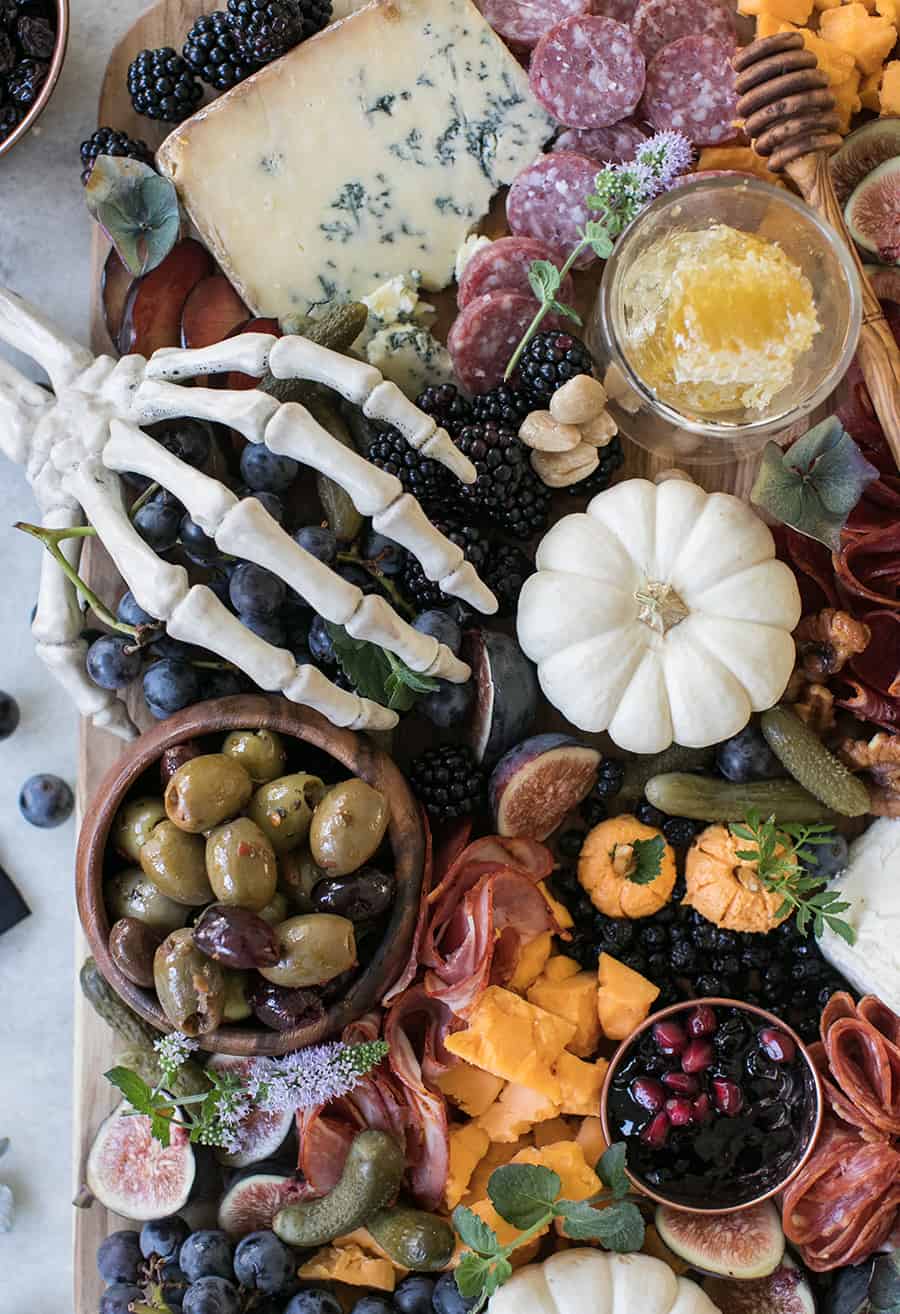 Our Halloween Meat and Cheese Board would go perfectly with our Black Sangria!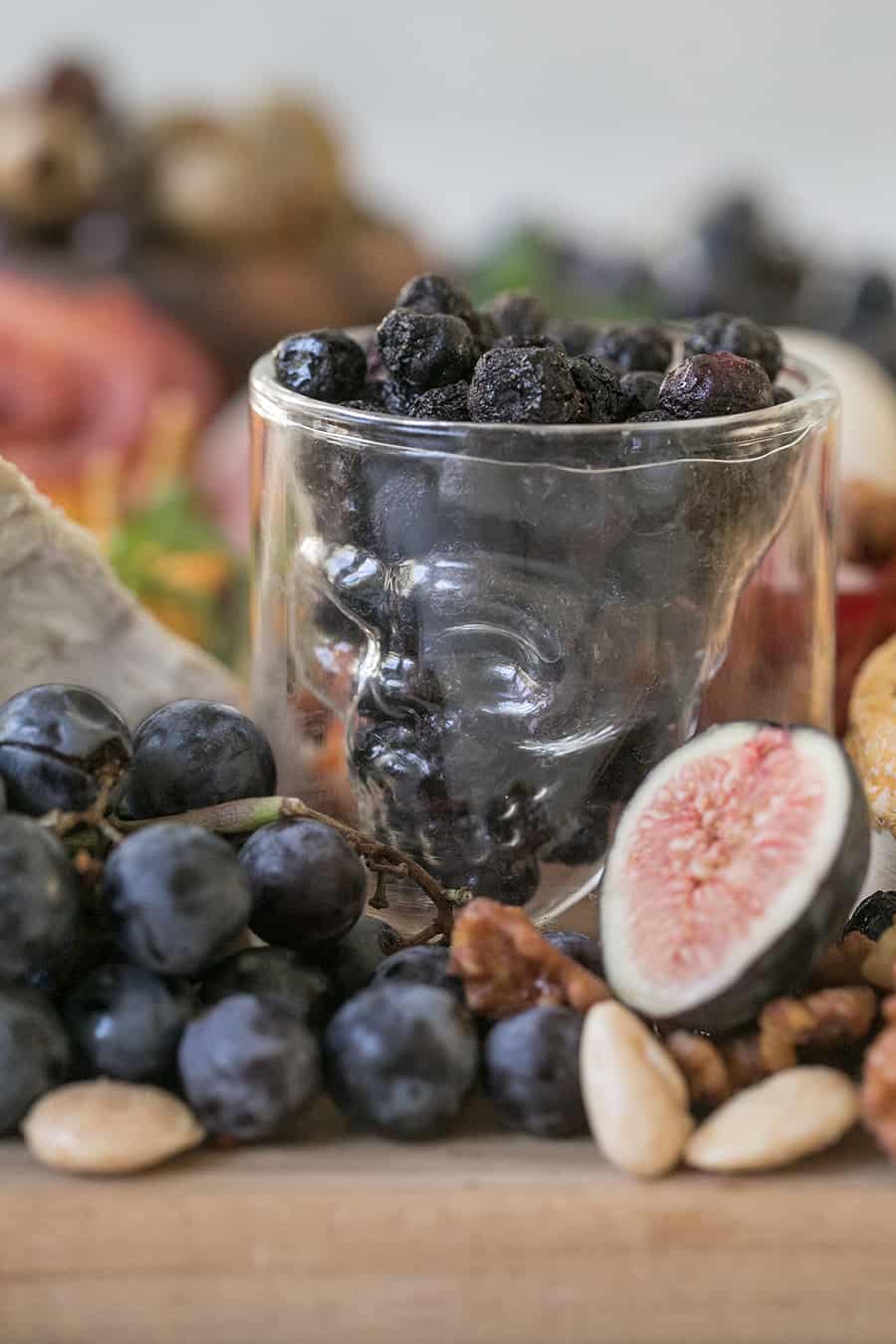 I use these glass skull shot glasses to add berries. They're great for Halloween!
This is a little pomegranate jam which is always good with cheese. I added some fresh pomegranates to give it a spooky look!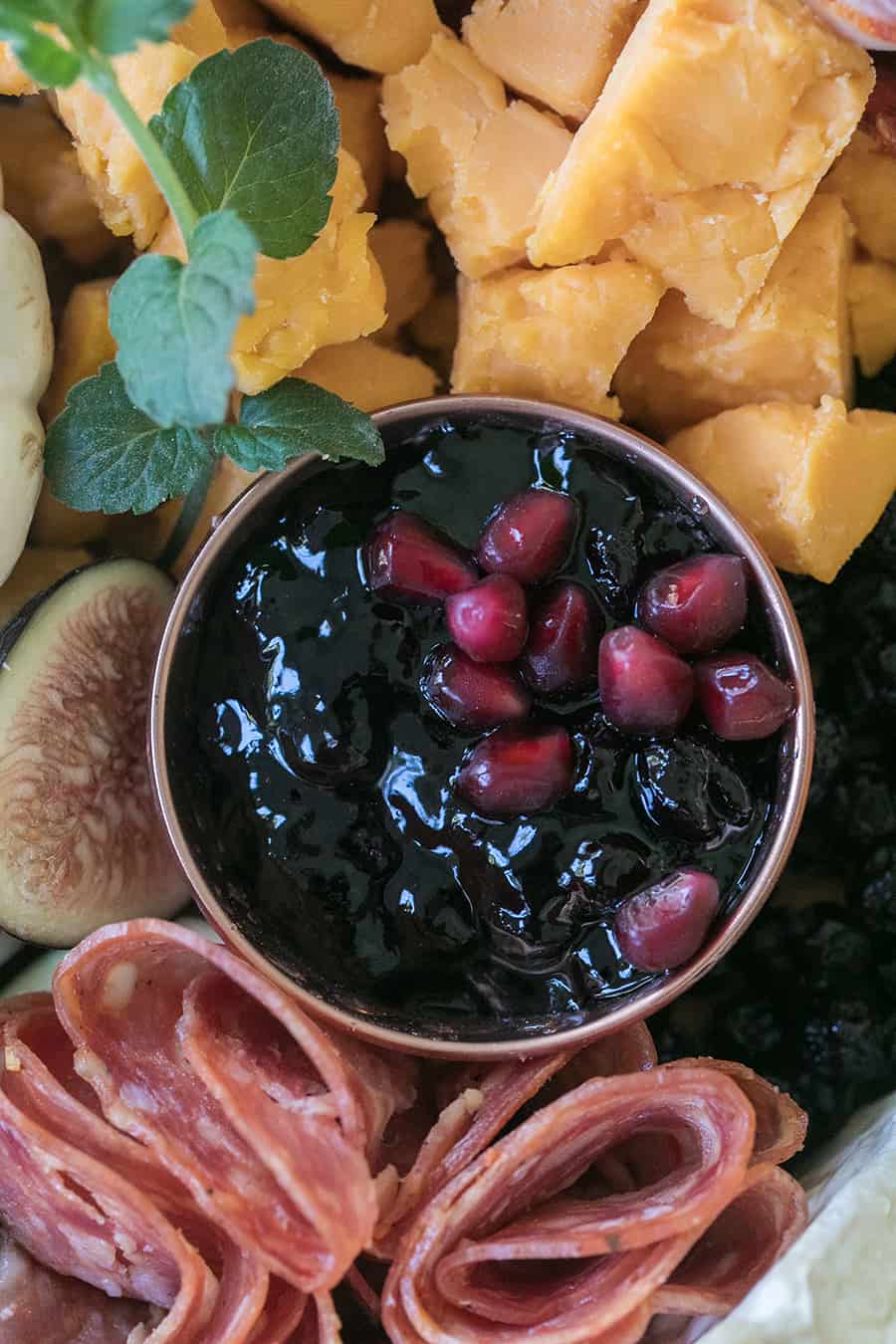 If you still need help creating a beautiful meat and cheese board, check out our step by step guide to making the perfect cheese platter.
Also check out some of our favorite Charming Halloween Drinks to make to go with your cheese platter.
More Halloween Party Ideas
There you have it! Please let me know if you have any questions in the comments and I'll be more than willing to help out. Happy Halloween!
You can also FOLLOW US on FACEBOOK, INSTAGRAM, and PINTEREST to see more delicious recipes, cocktails, desserts and parties!