Learn how to marble candy apples with this easy and fun method! They're perfect for parties and look gorgeous!
 After making these, we couldn't wait to show you how to marble candy apples! How gorgeous are these?! We're pretty smitten over the marbled candy apples and think they'll be perfect for a Halloween party!!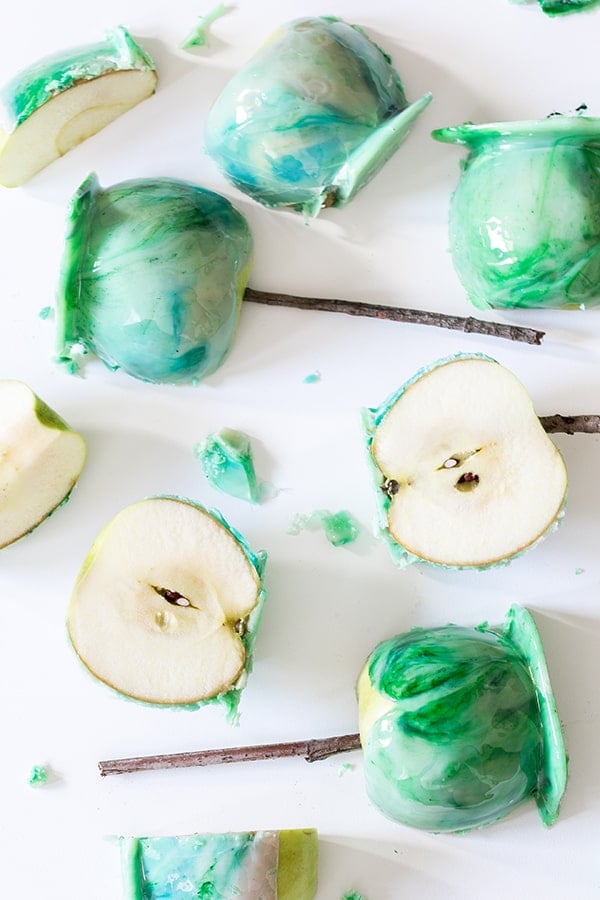 They're actually fairly easy to make, as long as you have a candy thermometer and you watch the sugar temperature! You can use any colors to achieve the marble effect and match your Halloween theme.
Using this method you can make candy apples any color!! You can do one solid color as well.
How to Make Marble Candy Apples
Supplies
Candy Thermometer
Parchment Paper
Baking Sheet
Medium Sauce Pan
Wooden Sticks
Gel Food Coloring
White Food Coloring
Rubber Spatula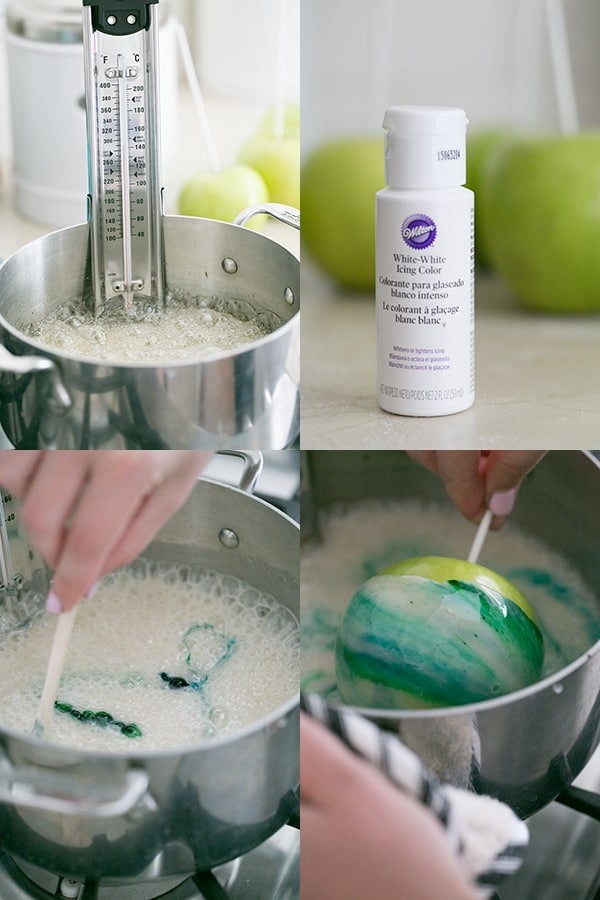 Have a baking sheet lined with parchment paper to place the apples once they're dipped.
How to make candy apples with glitter?
You will need to use food safe and edible glitter. You can add a little glitter into the mixture and it will show up when the apples are dipped. You can also sprinkle glitter on the apple as soon as you lift it from the mixture.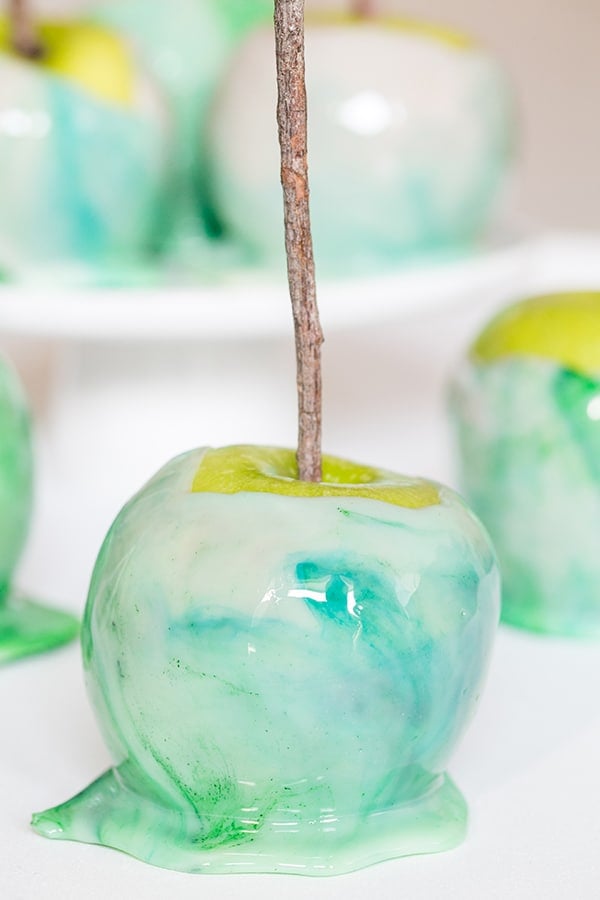 Candy Apple Flavors
Customize the flavor of your candy apples using extract. We used vanilla extract in this recipe, but here are some other ideas. Also these extrcats are wonderful for flavoring the apples!
Cinnamon candy apples
Orange candy apples
Almond candy apples
Butter pecan candy apples
Lavender candy apples
You can use wooden dowels or I love the look of rustic sticks, especially for a Halloween project. Let us know how these turn out for you in the comments below!
More Fun Halloween Treats
Marbled Candy Apples
A fun way to decorate apples for Halloween!
Print
Pin
Rate
Servings: 6 apples
Calories: 563kcal
Ingredients
6 Granny Smith apples
3 cups sugar
1 cup water
1/2 cup light corn syrup
1 teaspoon vanilla extract
2 additional colors of food coloring, we used teal and green gel coloring
Parchment paper
6 lollipop sticks, for dipping and twigs if you want to go with a fall look.
Instructions
Prep your apples by washing and drying them. Take the stems off and put the lollipop sticks in as far as they can go. Put your apples near the stove so they're close by when you need them. Prep a cookie sheet with parchment to keep close as well.

In medium a sauce pan, mix the sugar, water and corn syrup. Attach the candy thermometer to the side of the pot, but make sure it's not touching the bottom of the pan. Heat over medium high heat and let bubble without mixing, until it reaches 302 degrees.

Once it reaches that temperature, immediately take off of the heat and with a heat-proof rubber spatula.

Mix in the vanilla extract and the white food coloring until combined.

Quickly add a few drops of the two other colors.

Use a wooden skewer to gently stir the colors, but don't mix.

Just lightly move the colors around. Tip the pot to one side and dip the apple in the candy, coating it on all sides.

When you pull the marbled candy apple out of the sugar, give it a second to drip off the bottom, then place it on the parchment paper to cool and harden.
Notes
For easy clean up, put 2/3 cups of water in your pot and bring to a boil. Pour out water and give it a regular wash.
Nutrition
Calories: 563kcal | Carbohydrates: 147g | Protein: 0g | Fat: 0g | Saturated Fat: 0g | Cholesterol: 0mg | Sodium: 22mg | Potassium: 194mg | Fiber: 4g | Sugar: 140g | Vitamin A: 100IU | Vitamin C: 8.3mg | Calcium: 15mg | Iron: 0.3mg