If you're constantly trying to stay organized in your personal and professional life this is a must ready! Advice and tips on staying organized from a wife, mother and business owner.
I'm constantly trying to find a work/life balance. The past few months I felt like I've had no organization, with loads of work and a family to tend to. I know some things suffered and overall it just makes me feel totally stressed!
I personally wanted to seek some enlightenment from the one person I know truly does it all incredibly well. My friend Angel is a wife, a mother, runs her own design business and is truly a remarkable friend to many. I'm constantly amazed by her. I was going to email her for some suggestions for myself, but then figured it would be even better to have her share her tips for how to stay organized with you all!
One thing I'm going to start doing is making a weekly schedule, not just for work but even for laundry, errands, etc. I also love her idea of setting a timer and taking work emails off my phone, although I don't know if I'm ready for that one yet, haha!! Take it away Angel!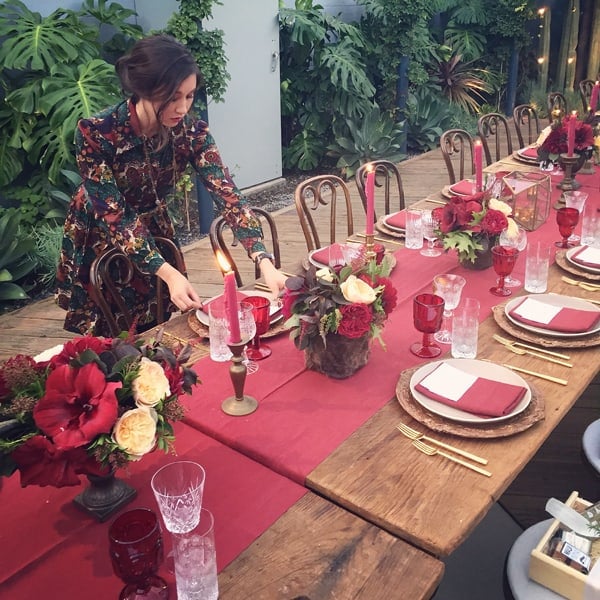 How to Stay Organized
Tips from Angel Swanson of Love & Splendor Events
I'm so honored to be guest-posting for Eden while she's in Hawaii. I'm a wife, mama (to a precious almost-three-year-old girl named Olive), and a wedding planner and designer. Needless to say, my hands are full and my time is always limited. I am constantly chatting with my mama friends about how to stay on top of everything (or whether it's even possible!).
Whether you are working at home, from home, or outside of the home, I think we all grapple with the mystery of work-life balance. It can seem overwhelming to consider all of our 'hats' and responsibilities: to our spouses, our children, our homes, our jobs, and ourselves. When Eden asked me to share a post about how I organize my life, I was a little intimidated.
As full disclosure, I want to stress that I do not have it "all together." I am not the perfect wife, mother, or businesswoman. But, I do strive (daily) to give my best and I think I've learned a lot from my own stumbles along the way.
Here are five ways I manage my life…
Make a Weekly Plan
Each weekend, I take some time to map out the week ahead. I pencil in any appointments, meetings and playdates, write a meal plan (I cook lunch and dinner 5 days a week), and put together a grocery shopping list. This 20-minute planning session saves me hours of stress later, and empowers me to approach each week with a sense of purpose and direction. I also save a lot at the grocery store when I know what I'm going in for!
In addition, I dedicate certain days of the week for specific tasks. On Mondays I do the laundry and grocery shopping. On Wednesday mornings I take my daughter to the library. I have two dedicated days for working (with additional work done during certain times on other days).
Although each week is different and I always leave room for spontaneity, my typical weekly plan gives my life a sense of structure. Organization doesn't stifle spontaneity; rather, it facilitates it! When I am on top of all my "must-do's," I end up with more freedom and time to enjoy the random outings and adventures.
Keep a Daily Schedule
I have a pretty regimented daily routine. It begins at 7:30a when I get up. I get Olive out of her bed and make breakfast for her. While she's eating, I unload the clean dishwasher. Then, she gets her bath and I get my shower. We get dressed and ready for the day together.
She will usually play on her own for 30-45 minutes while I scan my work emails and send out some replies. Then, we spend the rest of the morning out (usually at a park, museum, zoo, or running errands). We get home to prep lunch for Dad (my husband has the luxury of coming home daily!). Olive still takes a 2-hour nap daily (Thank you Lord!) so I can do dedicated work and household tasks during this time.
In the evenings, we play games, paint, color or read together, have dinner as a family, and enjoy lots of Daddy time before bed.
Because we keep a fairly regular schedule, I can anticipate what's "next" and really enjoy each part of our day. I don't have to check my phone for work emails while I'm playing with Olive (in fact, I don't even have my work emails on my phone) because I know I'll have uninterrupted time to tend to them in the afternoon. This allows me to stay in the moment. A favorite quote of mine is from Jim Elliot: "Wherever you are, be all there." It couldn't be more fitting for a busy mama.
Remove Distractions
Set yourself up for success by being focused whenever you're working, cleaning, playing, etc. I try to only check Instagram and FB a couple times a day, for no more than 5-10 minutes.
If I am on the computer and find myself clicking over to see what's new at Anthropologie, I catch myself and do something else for a while (like clear counters, put away toys and the five pairs of shoes I always find in the living room, etc.). In order to make the most of every minute, I really try to give undivided attention to every task.
Use a Timer for Household Tasks
This goes perfectly with #3. In order to stay on track, I often use a timer. Somehow the ticking down of a timer motivates me like nothing else. It's almost like a speed challenge: how much can I accomplish before the bell?? I always dread cleaning the bathrooms but with a timer going, I can go for it with gusto because soon I'll be done.
I set timers for checking email, random chores, and even "breaks" for surfing the web (because really, who can resist the black hole known as Pinterest??). Most of my timers are for 15-20 minutes. If you don't have a kitchen timer, use the one on your phone. Trust me on this one; it's life-changing!
Schedule Times for Rest and Recharging
Perhaps the most important task is to schedule times for rest and recharging. I used the word "schedule" very intentionally here, because somehow our downtime is the first thing to go when our plates are overflowing. Making sure that we set aside some time for recharging is essential for avoiding burnout.
A time of rest can be 15-30 minutes in the morning, for a time of journaling, reading, or praying. It can be an hour to head to the gym after the little ones are asleep at night. It can be a manicure twice a month, or a weekly "solo date" to the coffee shop on Sundays to sip an entire latte before it goes cold.
However, you like to refresh, make sure to set aside the time for it. When you make time to care for yourself, you are best equipped to care for others.
I hope these tips on how to stay organized give you a glimpse at my personal organization and inspire you for your own!
Angele has also shared 5 Tips to Help You Plan a Charming Wedding and 10 Tips for Planning a Wedding on a Budget.
Let us know in the comments how you stay organized? What are the things that help you in your life?
Featured photo by Ryan Ray