An inside look to the luxury chocolate bar company, Compartes, in Los Angeles California.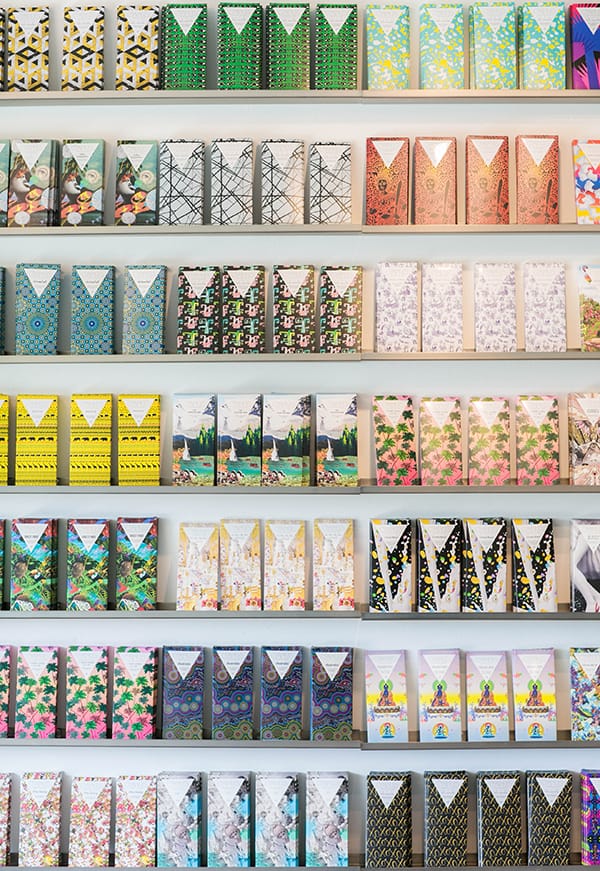 I've watched Willy Wonka more times than I would like to tell you and my childhood dream was to be a chocolatier. Not surprising, right? In my early twenties, I actually thought about going to school to learn everything about chocolate. Furthermore, even flying to South America to source out my own beans and starting my business…. you know, because it's that easy, ha!
Life took me in a different direction, but thank goodness Jonathan, owner of Compartes, followed his dream to build and continue a family legacy that started in 1950.
He purchased Compartes and continued to reinvigorate the brand, building it into the nation's hippest and trendiest chocolate shop!
Each bar is uniquely handmade with the freshest ingredients in their Brentwood shop. You can watch the magic happen as you shop for your favorite bar. It's an old-fashioned handmade technique that's truly noticeable when biting into a Compartes bar.
Chocolate Bar Combinations
Not only is the chocolate amazing, with combinations like donuts, breakfast cereal, bars topped with dried berries or edible gold, but each bar is wrapped in packaging that's just as beautiful as the bar itself!
The mix of incredible handmade chocolate, unique flavors, charming packaging, and innovative business plan landed him on Forbes' 30 under 30! Inspiring right?!
Compartes Shop
If you're in Los Angeles, you can visit the chocolate shop and pick up a few bars!
516 N La Brea Ave
Los Angeles CA 90036
Chocolate Bar Gifts
You can also order chocolate bars from their online shop. They make great gifts! The cereal bar is one of our favorites!
More from our In the Mix Series
You can also FOLLOW US on FACEBOOK, INSTAGRAM, and PINTEREST to see more delicious recipes, cocktails, desserts and parties!