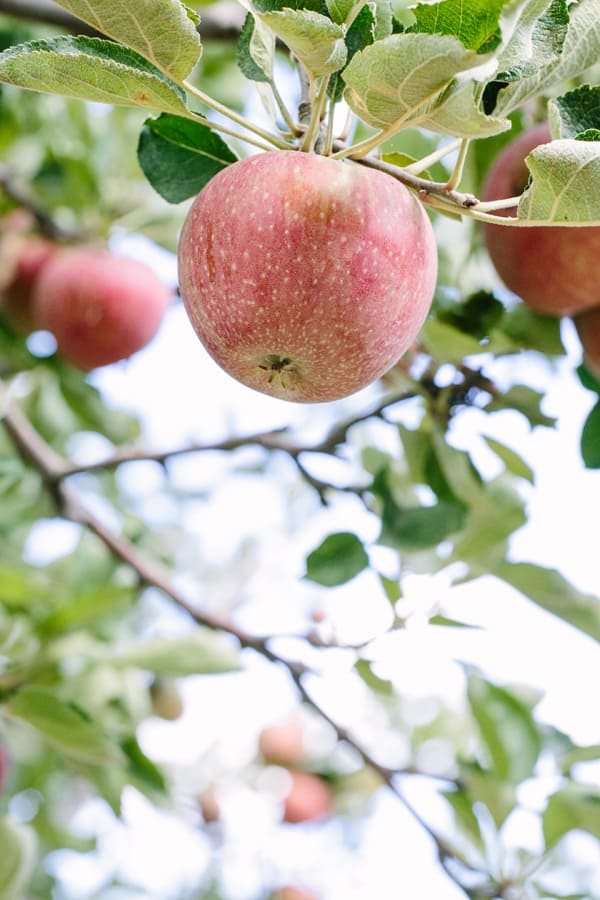 I'm excited to share another fun LA with Kids today! We took a day trip to Oak Glen, California which is a scenic little town an hour and a half outside of Los Angeles. It's nestled against the mountains and is home to the most charming apple orchards in SoCal.
It's the perfect fall day trip for kids and the fresh, crisp apple-filled air was exhilarating to breathe and run around in!
The town has a quaint village with antique stores, gift shops, a few country restaurants for lunch and enjoyable activities for kids like face-painting, music and crafts.
Our first stop along the main road was Snow-Line Orchard for the best mini apple cider donuts ever! The mini sugar-coated bites of heaven are homemade, hot and ready to be eaten right there.
The line was a little long, but after tasting a few, I understand why! We then drove further up and stopped at Willowbrook to press and make our own apple cider.
For activities like these, we always let Romeo be involved as much as possible and he helped every step of the way in making his own half-gallon of cider. He picked each apple, tossed them into the grinder while I spun the wheel, then helped press and pour the cider into the jug.
He was thrilled he had just made cider and requested we open the jug to taste it right then… I had to pry it out of his hands. Fresh-pressed apple cider is on my list as one of the best sweet, natural treats.
The flavor is nothing like a store-bought cider. It's refreshing, naturally sweet and tastes just like biting into an apple!
For apple picking, Rileys Apple Farm, Willowbrook Apple Farm and Los Rios Rancho are all great. They're located within a few miles of each other, so everything is fairly close making it easy to stop by 3 or 4 places during your day trip.
We thought it was definitely worth the drive and a great family day trip! Make sure you check the dates for seasonal picking and hours before you head up there. And do NOT forget to get some mini apple cider donuts!