These fondant decorations are so charming and fun to make. A Little slice of pumpkin pie, made from fondant! It's perfect the cake topper for Fall!
Mini fondant pumpkin pies on top of pumpkin cupcakes! How much do you just want to gobble one of these fondant decorations! I had to make them after seeing it here.
I made my pumpkin cupcake recipe with maple cream cheese frosting (I also added vanilla bean paste, which gives it a nice touch) and they turned out just as moist and dense as before.
Read below to see how to make the cute little fondant pumpkin pies!
How To Make This Fondant Decoration – Step By Step
Dye the fondant a beige/tan color for the crust and a brownish color for the pumpkin pie.
Leave some extra white fondant for the whipped cream!
Roll the brown fondant into small balls, the size of a chocolate Whopper.
Then shape into triangles. Pinch the edges together to define them.
Roll the beige fondant out to the thickness of a Fruit Roll-up (you like my candy associations?!)
Place the pie on top of the crust and then cut around the bottom.
Leave an extra flap on the top, so you can fold it over and make a crust.
Then using a tooth pick or a small ball tool and make little indentations so it will start to look like a real pie crust.
To make the whipped cream, roll a skinny line of white fondant. Keep it thicker on one end and taper it into a smaller point.
Then roll it up and place it on top of your perfect pumpkin cupcake!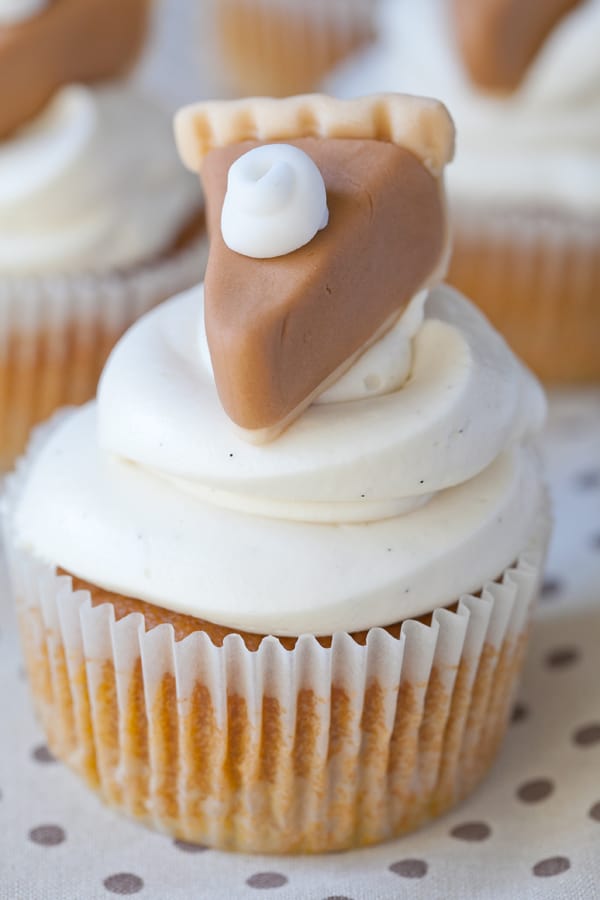 Using Gel Colors For Your Fondant Decoration
I found that using gel colors, in brown, orange, yellow and beige, I was able to achieve the shades I wanted. It took time, but eventually after kneading it together, the color would appear and I would adjust from there, adding more brown or whatever it needed.
Perfect For Thanksgiving Cupcakes!
That little piece of pie is edible if you like fondant, if you don't (I'm actually not a huge fan, but I love to work with it), then the pie slice makes for the most adorable presentation. They are the perfect Thanksgiving cupcakes.
Storing Your Fondant Decorations
If you want to make these in advance, here are some guidelines for storage.
Dry Them Well
For best results, let the fondant decorations dry overnight before storing them.
Keep the Air Away
Once the fondant decorations are totally dry, place them in an airtight container, like a plastic one with a lid.
Add Padding
Put foam or tissue paper into the container, especially if your decorations are delicate.
Fight Humidity
Put a slice of white bread in the container with the decorations so the bread absorbs any excess moisture.
Find a Cool, Dry Place
Control the temperature and humidity to keep colors from fading.
Try Not to Chill
You'd think the fridge or freezer would be the perfect spot to store fondant or gum-paste flowers. That's not the case
When you thaw them, condensation forms on the blossoms and makes them wilt.
The flowers can absorb the flavors from the other foods. And we don't know anyone who likes sugar flowers that taste like leftovers.
Kept in the fridge too long, sugar flowers slowly turn to syrup.
Top Tips For These Fondant Decorations
Find a fondant that's right for you! There are lots of brands and some may feel better suited to your hands than others. Buy some in small quantities and see which one suits your crafting style best.
Find a cool place to work your fondant, ideally put on the AC if you have it.
When rolling fondant, use cornstarch instead of confectioners' sugar to dust the surface. If your fondant is on the sticky side, it will absorb the confectioners' sugar faster than you might like. Cornstarch won't absorb in the same way, and will keep the fondant from sticking too much
When storing fondant, avoid the fridge. Find a cool dry place and use an airtight container.
Check Out These Delicious Cupcake Recipes
Santa Hat Gingerbread Cupcakes
Pumpkin Spice Sunflower Cupcakes
Ghost Halloween Cupcakes by Olivia's Cuisine
Super Moist Chocolate Cupcakes by Sally's Baking Addiction
If you have tried these fondant decorations, or any other project on my blog, then please rate it and let me know how it turned out in the comments below! You can also FOLLOW ME on FACEBOOK, INSTAGRAM and PINTEREST to see more delicious, healthy, family friendly food!