The most delicious recipe for olive oil ice cream, sandwiched between two pizzelle cookies!
I was at this adorable little Italian deli the other day when a box of cookies caught my eye. It said "The Original Italian Waffle Cookie." I instantly knew these thin, gorgeous waffle cookies, called Pizzelle Cookies, would be the perfect crisp cookie to make beautiful ice cream sandwiches with!
So I grabbed a few boxes and then searched for a delicious homemade ice cream recipe to pair them with. I've been a fan of Jeni's (without even tasting it… I'm a trusting person, what can I say?!) so when I saw that her Olive Oil-Saffron Ice Cream with Burnt Orange Caramel Swirl won the Food52 contest, and they posted the recipe, I had to try it!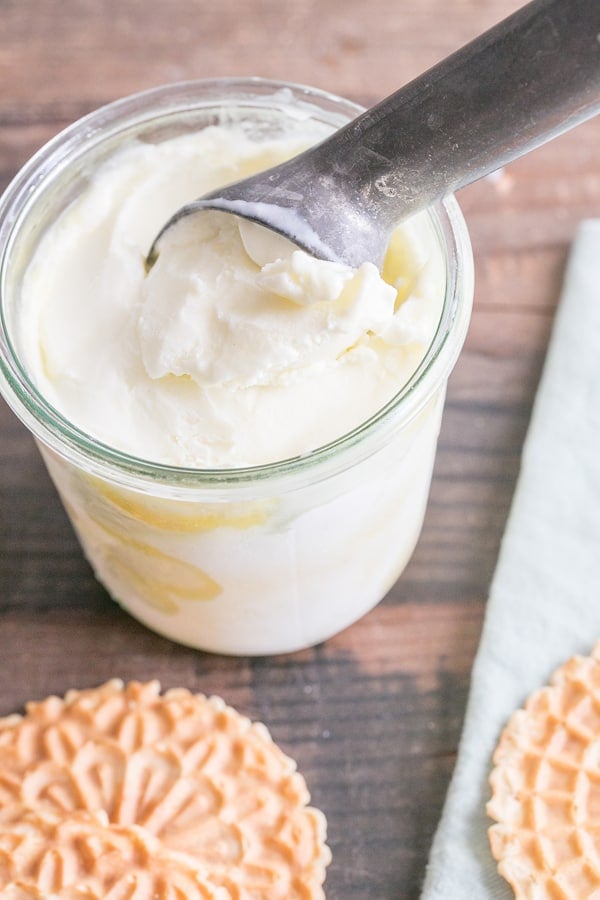 Yes, olive oil ice cream! It's amazing! Creamy, rich and full of flavor. My burnt orange swirl didn't turn out very dark though… it actually doesn't look anything like Jeni's!
Maybe I should have left it cooking a tad longer, but don't judge an ice cream by its color, as the taste was incredible. I was very impressed with the base of this ice cream and the fact that it was very simple to make.
Served in between a thin, maple wafer cookie… I  was in heaven! Oh and I also left out the saffron. It still turned out yummy!!
Recipe for Olive Oil Ice Cream with Burnt Orange Swirl