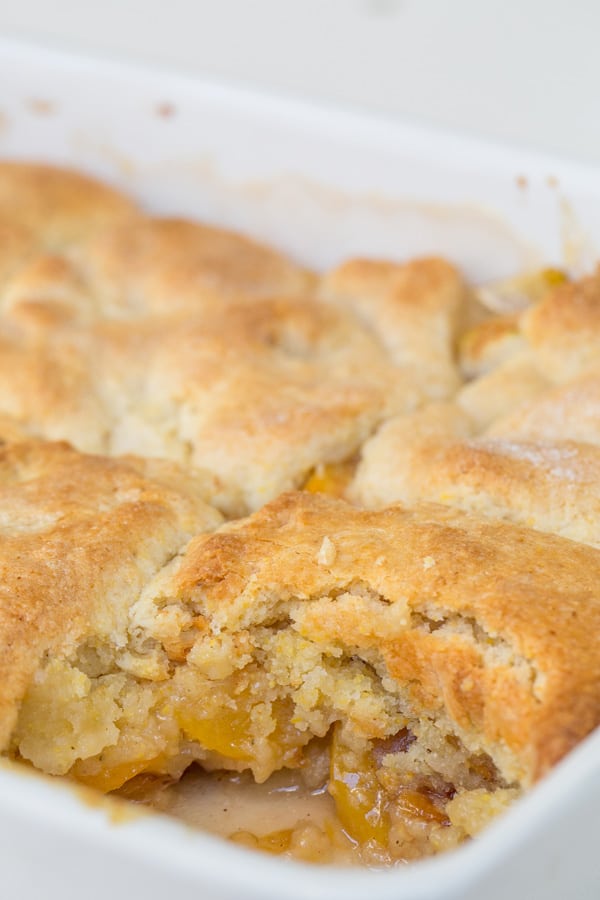 In general I am a chocolate lover through and through. I'm the person you'll find eating all of the leftover chocolate cake and cookies for breakfast. My family would vouch for that. But I also love a good fruit dessert too and wanted to try a new cobbler recipe using my favorite polenta (or fine cornmeal) for the biscuits instead of the normal dough. A quick lesson: Polenta is usually the name for the dish and different types of cornmeal are used to make it, but you'll notice packaging that says "Polenta" but it will be the cornmeal used to make it. That's what I used but you can use the same or just finely ground cornmeal. To me cornmeal brings this polenta cobbler to another level and makes it a perfect fruit dessert for brunch! Really, cobblers are easier than pies. Choose the fruit you want, toss with sugar, etc. then make the dough. I chose peaches and pears for this one, but you can use berries or apples too!
Peach and Pear Polenta Cobbler Recipe
Ingredients for the filling
4 peaches, peeled and sliced
3 pears, peeled and sliced
1/2 cup sugar
1/4 cup honey
2 tablespoons cornstarch
4 tablespoons butter, cubed
Juice of 1/2 lemon
1 teaspoon cinnamon
Ingredients for the biscuits
1/2 cup polenta cornmeal (or finely ground cornmeal)
1 1/2 cups flour
1 teaspoon salt
2 teaspoons baking powder
1/4 cup sugar
1 cup heavy cream
6 tablespoons cold butter, cubed
Directions
In a large bowl combine all of the filling ingredients and toss until combined.
Transfer them into a 12×9 baking dish.
In a separate bowl, combine the polenta mix (or cornmeal), flour, salt, baking powder, and cold butter in a large, cold bowl. Using your hands mix until the butter is broken up into pea size.
Create a hole in the middle and pour in the heavy cream. Then using the bread hook on a stand alone mixer, slowly mix until combined.
On a floured surface (flour your hands too!) roll the dough out into 1/2 inch thickness and then cut 6 rectangles. You can also cut 12 smaller ones if you want.
Place the rectangles over the peaches and pears.
Brush the top of the biscuits with heavy cream and sprinkle a generous amount of sugar evenly over the top of the biscuits. The more the merrier!
Bake in a preheated 375 degree oven for 45 minutes until the biscuits are a nice golden brown and the peaches and pears are boiling. Enjoy!