If an Easter egg hunt isn't enough for your young Easter brunch guests, we're sharing this adorable Pin the Tail on the Easter Bunny printable and a printable sheet of tails! It's a great activity for kids of all ages.
The older ones love it because they actually know how to play. i.e. blindfold, spin around and try to place the tail on the bunny's tush. But the little kids love it too. Even though most of them cheat with their eyes open, ahem my son Romeo.
He wouldn't let me blindfold him (understandably) so I said close your eyes and when he got close to the bunny he put the tail in the exact place it's supposed to go… every time.
Man, he's a pin pro. Regardless, he loved playing and I left it up to him to randomly play all day. I found tails all over the house!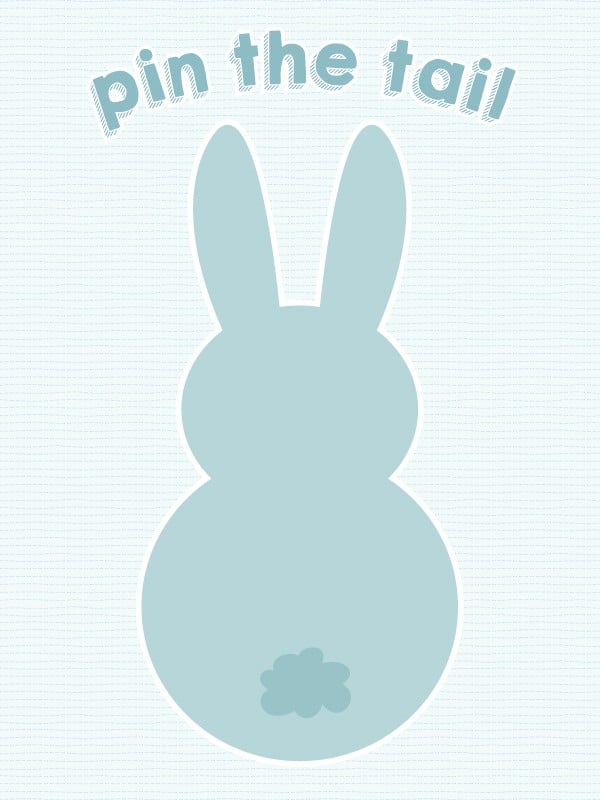 Pin the Tail on the Easter Bunny
Directions
Throw them on a flash drive and take them to your nearest office supply store, like Staples or Kinkos.
Have them print the bunny graphic and size it to 18″ by 24″ or larger if you prefer. I also had mine laminated, but that's up to you and how much you want to spend.
Have them also print a sheet of tails on white card stock. Laminate them too and cut them out.
You can also cut your own felt tails out if you like that better.
Tape the Pin the Tail on the Easter Bunny print to the wall and a place a small piece of tape on the back of each tail.
Pin the Tail on the Bunny Free Printable
Click the links below to print our FREE pin the tail on the bunny graphics!
More Charming Easter Ideas