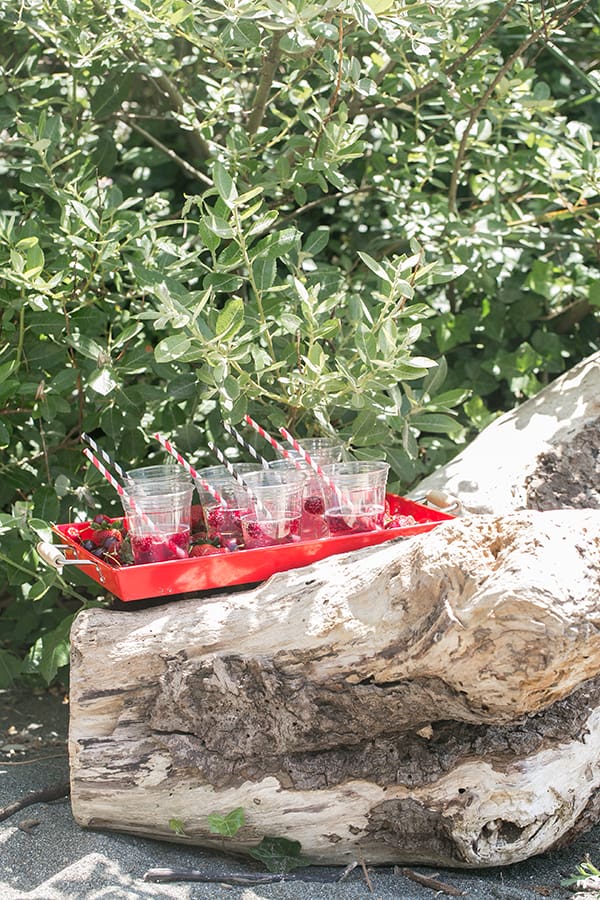 We adore these genius, hand-crafted parties in a box! Anything that makes entertaining easier, and even more charming, is always on our list! Seedling has created the perfect, themed party boxes that are stocked with decor, favors, essentials, and crafts for your party! We were ecstatic to use Seedling's Pirate Adventure Box for a beach party and to try out all of the fun items it had. It's a pirate party in a box! As parents, we usually spend hours creating details, buying favors, picking out paper straws and creating the perfect bunting, but with this box, it literally has it all and is already done for you. You can also order extra activity kits for the party if you need. We loved the Pirate Skeleton Excavation Kit! The only thing parents need to do is organize the food and invites… what a relief! It actually allowed time to enjoy the party and not worry so much about making sure we had everything!
For the food, we bought cupcakes, sandwiches, brought bowls of red fruit to snack on, hot chocolate with homemade marshmallows and made homemade cherry sodas!
I'm also a huge fan of the activity kits, especially in the summer. They're fun, creative and great to have on hand. They make wonderful gifts too! Seedling has included a 30% discount code so you can try some of their kits!
30% off promo code: seedling30 
Build, imagine, play! Seedling helps bring kids' ideas to life with beautifully designed, all-in-one projects that encourage children to follow their own creative initiative. Enjoy 30% off at Seedling when you choose your own adventure using the code Seedling30. Offer valid one per customer; discount does not apply to past purchases, packaging, applicable taxes, or shipping and handling. Expires July 17, 2015
This post was in collaboration with Seedling.