All the details for putting together a charming card box. This box will allow you to send thank you notes, birthday cards and cards to say congratulations! Never miss sending a card again!
It's always greatly appreciated to receive a handwritten note or thank you card from someone, especially ones that have a little humor that bring a smile and laugh to someone's day.
I'll be honest, lately I've slacked immensely on sending out cards and thank you notes. I actually feel terrible about it because it's not like me to not send someone a thank you note.
Part of the problem could be the fact that I have my cards in one area of the house, stamps in another and addresses somewhere else… I'm totally old school and I like handwritten address books, haha!
I finally decided to create a box just for cards! Keeping everything from fun cards, to stamps, to addresses helps tremendously to stay on top of writing notes!!
When I know everything is organized and in one place (including addresses and stamps!!), I'm more motivated to write them… thus my new card box is born!! YAY!!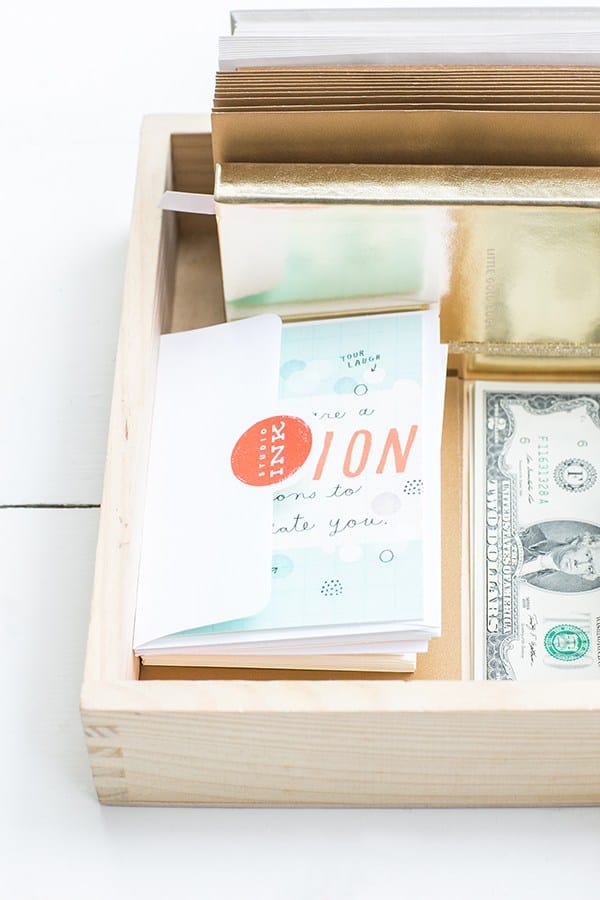 What to Put in a Card Box
Fun, quirky and charming cards for every occasion.
Stamps
Colorful pens
Washi tape, if I want to decorate or tape the envelope for fun.
Return address labels or stamps.
A monogrammed letter sealer with wax.
$2 bills. My husband always gives $2 bills in his cards and I think it's such a fun idea. You're only giving $2 but the surprise and response is always gratifying.
Address book if you don't use a digital one.
When buying cards, stock the box with weddings, anniversary, birthday cards, thank you cards, get well cards. It's also nice to have personal stationary for simple notes.
More Fun DIY Ideas
Also, if you like being organized, read these tips for staying professionally and personally organized.
Let us know if you make a card box! You will never regret doing it and be so happy when you're not running to the store last minute to get a card!
You can also FOLLOW US on FACEBOOK, INSTAGRAM, and PINTEREST to see more delicious recipes, cocktails, desserts and parties!