It's always greatly appreciated to receive a handwritten note or thank you card from someone, especially ones that have a little humor that bring a smile and laugh to someone's day.
I'll be honest, lately I've slacked immensely on sending out cards and thank you notes. I actually feel terrible about it because it's not like me to not send someone a thank you note. Part of the problem could be the fact that I have my cards in one area of the house, stamps in another and addresses somewhere else… I'm totally old school and I like handwritten address books, haha!! I finally decided to create a box just for cards! Keeping everything from fun cards, to stamps, to addresses helps tremendously to stay on top of writing notes!! When I know everything is organized and in one place (including addresses and stamps!!), I'm more motivated to write them… thus my new card box is born!! YAY!!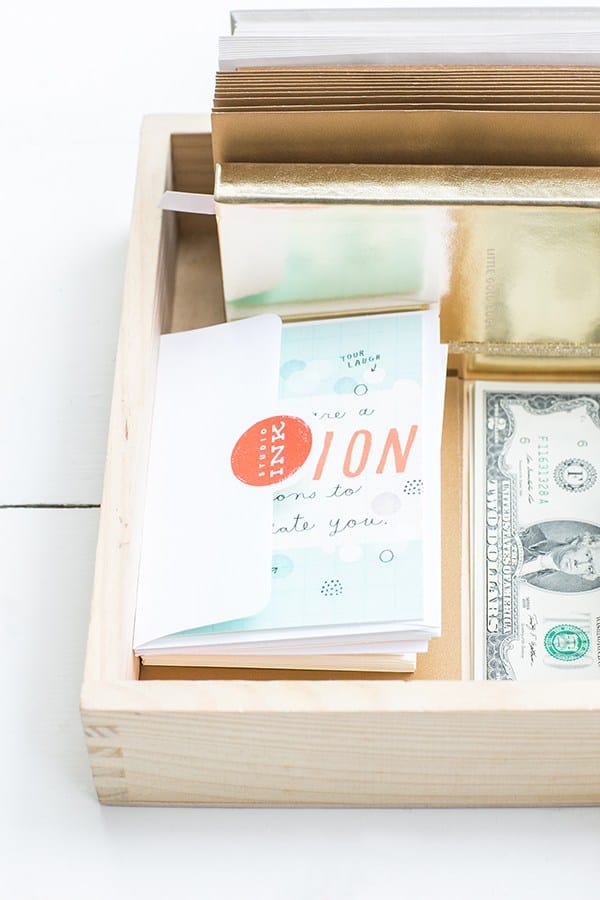 So what's in my card box…
Very fun and quirky cards from Hallmark Studio Ink! They're great for every occasion and I love their fun puns! Of course the "Eat More Hole Foods" with a donut is one of my favorites, haha!
Stamps! Important to always keep these on hand!
Colorful pens
Washi tape, if I want to decorate or tape the envelope for fun!
Return address labels or stamps
A monogrammed letter sealer with wax!
$2 bills… my husband always gives $2 bills in his cards and I think it's such a fun idea. You're only giving $2 but the surprise and response is always gratifying!! I'm taking on his tradition.
This post is in collaboration with Studio Ink.