A delicious, colorful taco salad recipe with ground beef and the most amazing citrus salad dressing!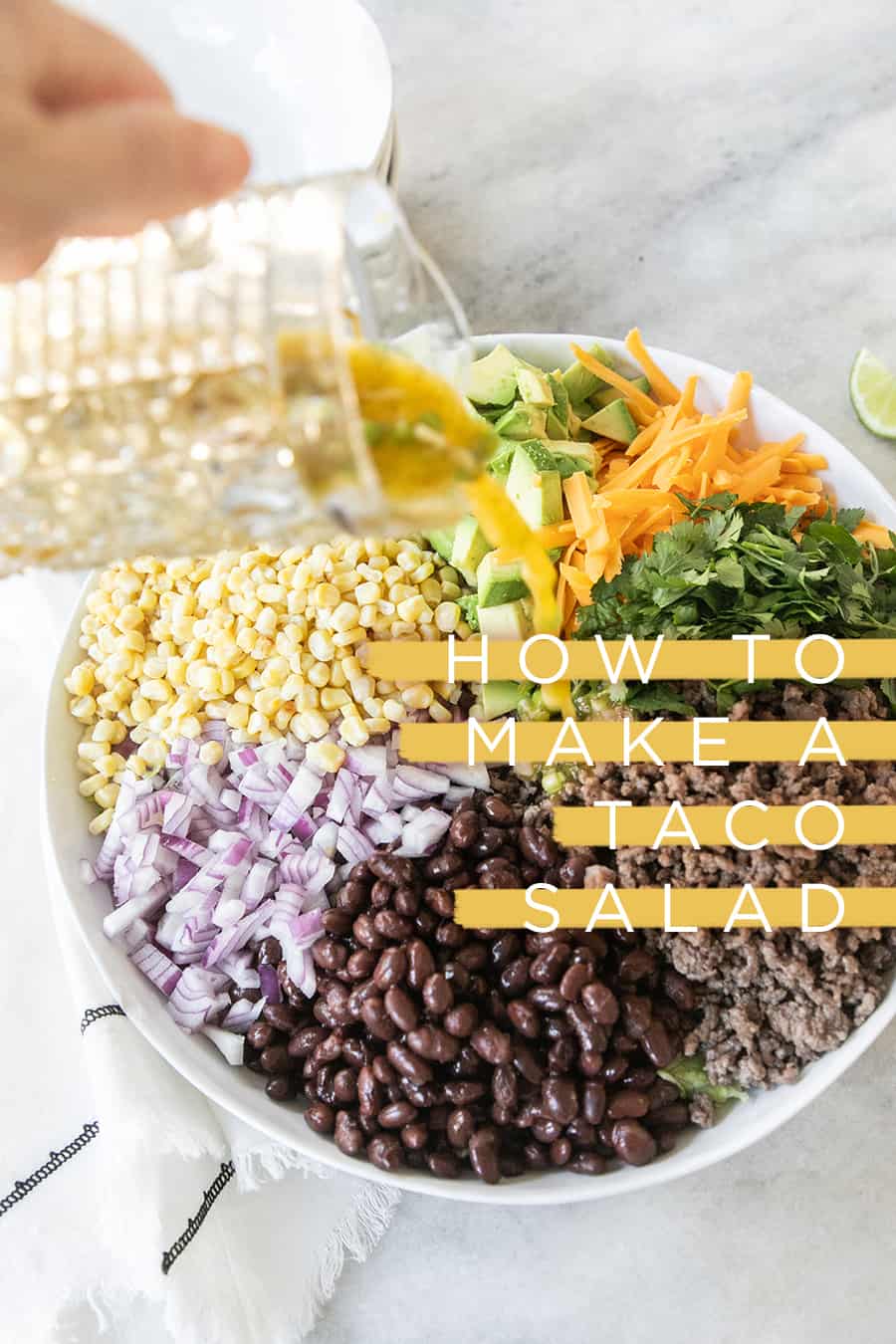 There is nothing better than a healthy weeknight meal that you can toss together! This taco salad is one of our favorite go-to meals for the weekday and a wonderful dish to serve when entertaining. It's colorful and filling. We serve it with a bowl of our favorite chips and hibiscus margaritas and everyone is happy!
I like Romain lettuce for this salad. I love when the lettuce is crisp and cold and I also chop it because for some reason, it just taste better chopped! I also add arugula to this salad because the peppery flavor compliments the other flavors. I toss the greens together in a large bowl then layer on the toppings!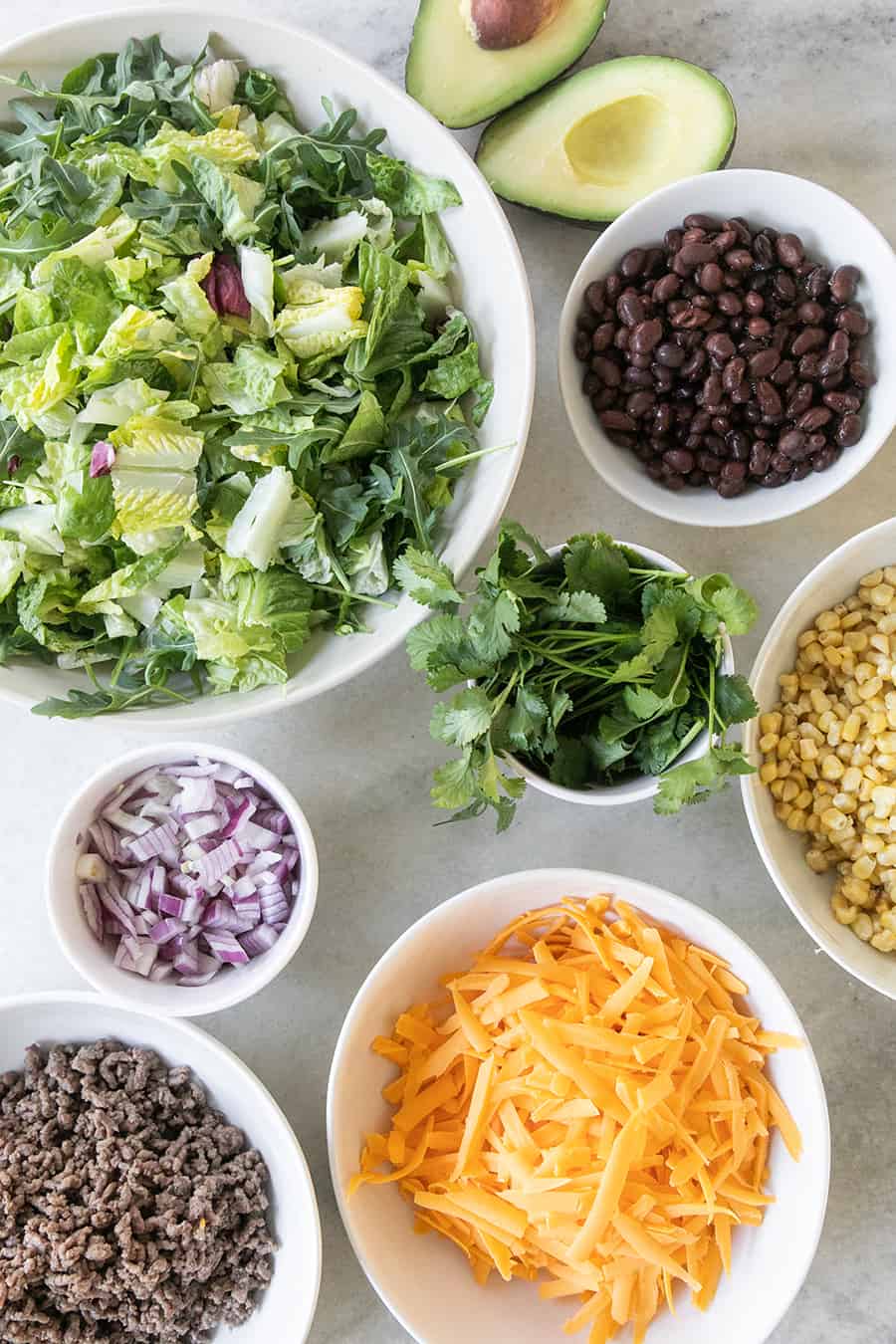 How to Make a Taco Salad
The best thing about making a taco salad is that you can customize it to what you like. Add black olives or more beans, green onions, tomatoes or maybe peppers… whatever you like on your taco you can add to the salad. For this recipe, we used purple onions, grilled corn, black beans, avocado, shredded cheddar cheese, cilantro and seasoned ground beef. I seasoned the beef with garlic powder, cayenne and Santa Maria seasoning. Super easy! The beef can easily be substituted with ground turkey as it's lower in saturated fat.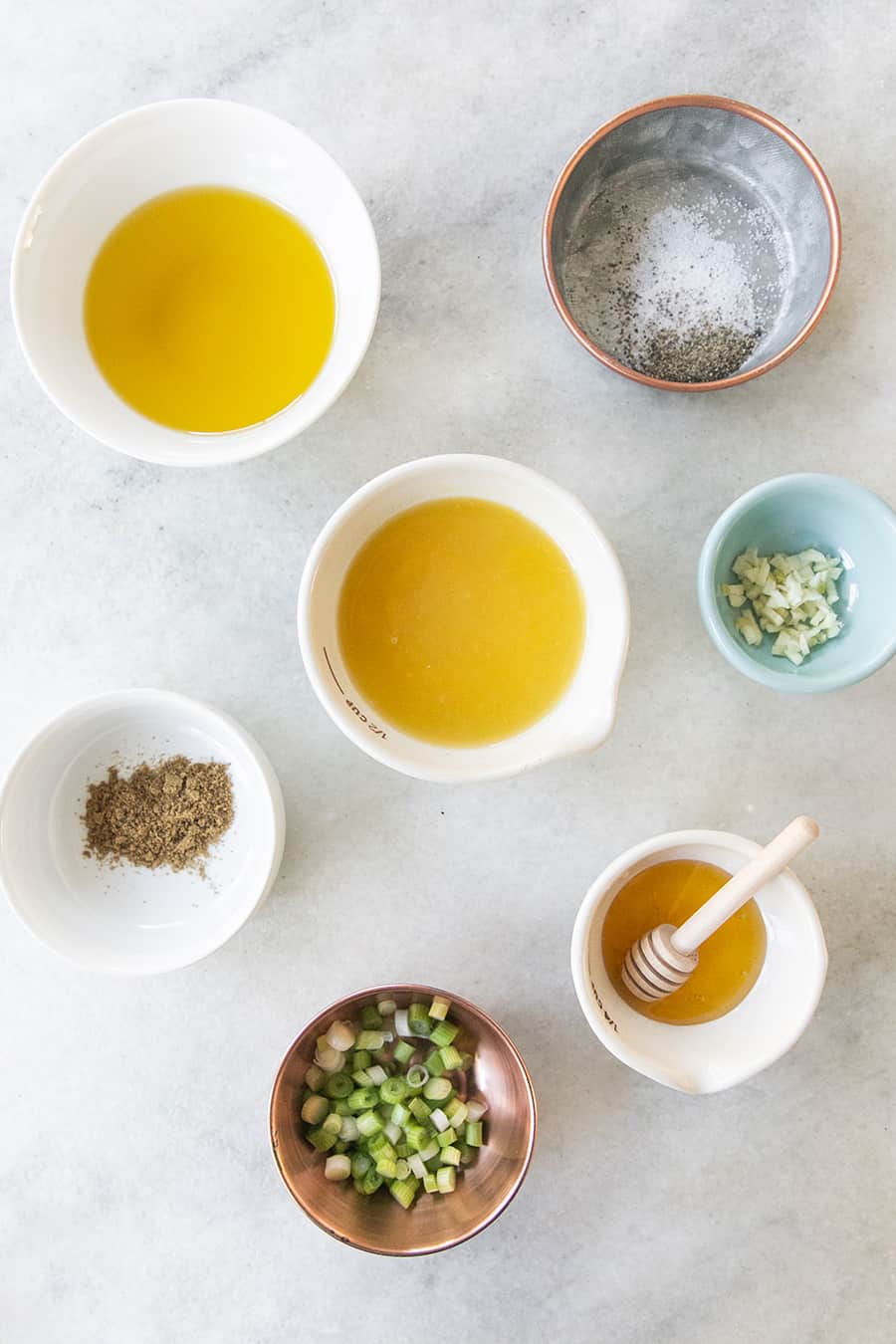 Citrus Taco Salad Dressing
The dressing is actually my favorite part of this recipe. It's incredibly flavorful and has orange and lime juice, cumin, olive oil, honey, scallions, garlic and lots of salt and pepper! Those flavors together is pure magic! It's the easiest dressing to make too. Just add all of the ingredients in a small container with a spout and stir. If you have a dressing container, it's nice to be able to shake the ingredients together.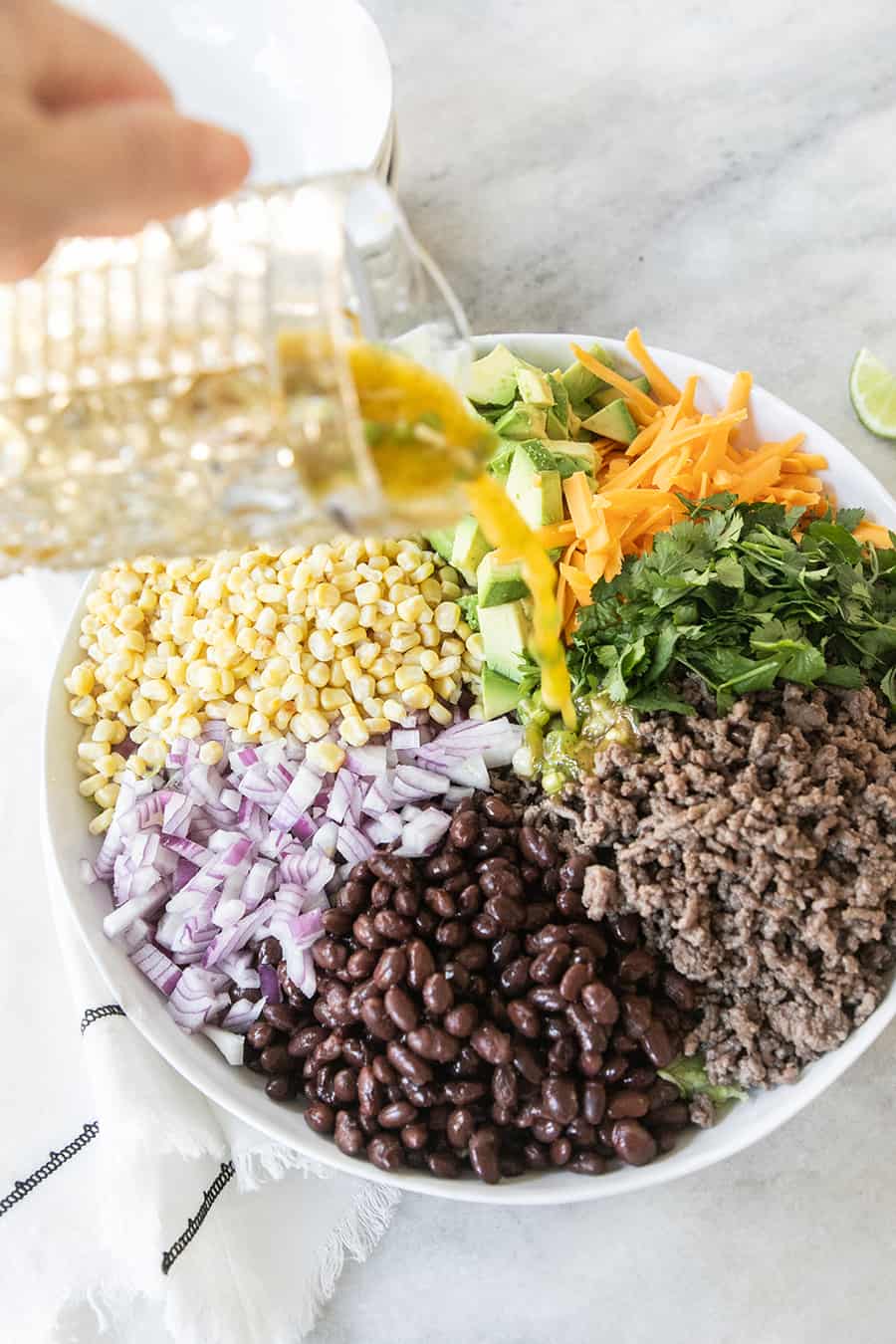 I like to wait to add the dressing to the salad until right before serving. Then you can mix it all up and serve right away.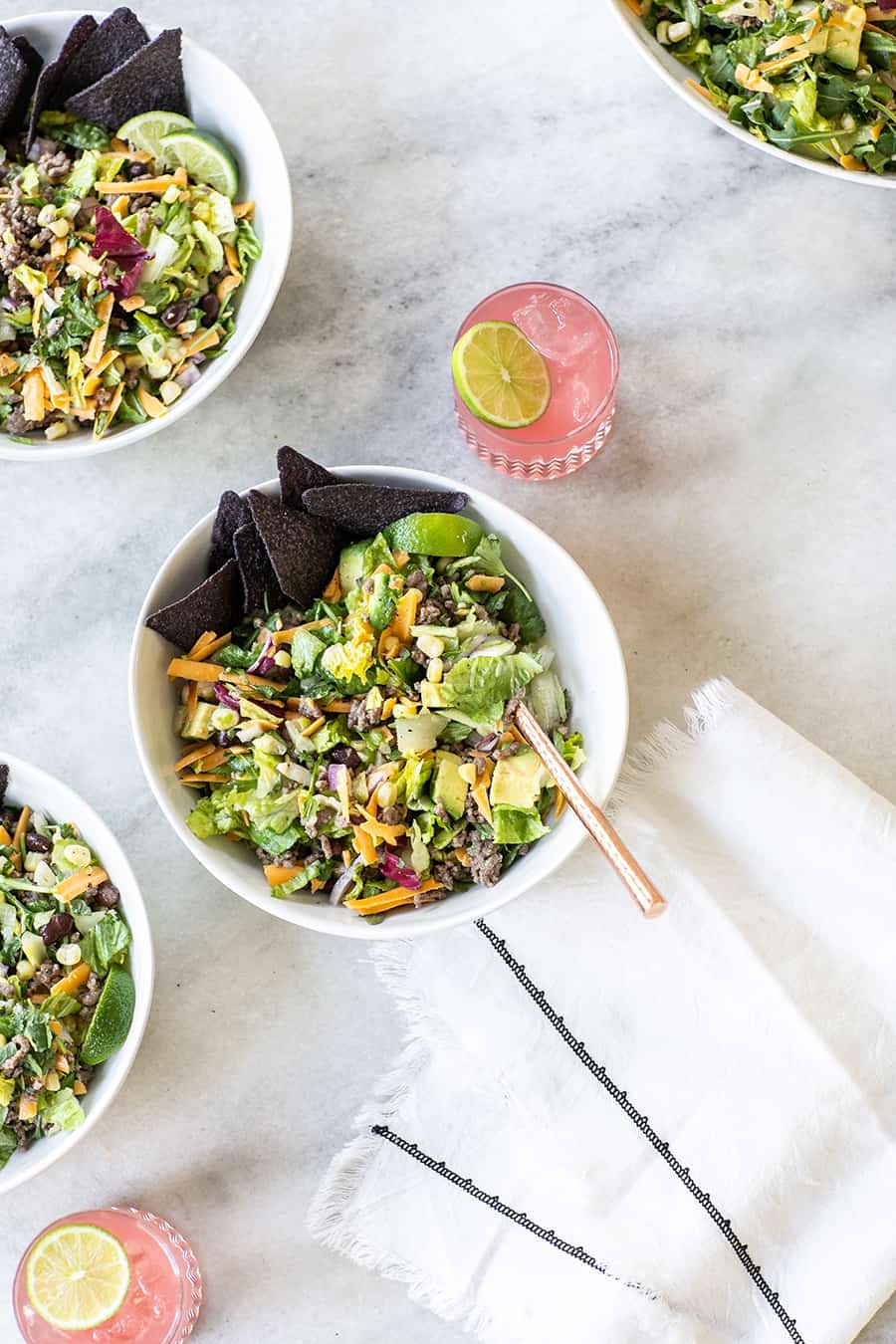 How to Cook Ground Beef for a Taco Salad
In a skillet over medium high heat, add 2 tablespoons olive oil. Sprinkle the ground beef with 1 tsp Santa Maria (this is my favorite seasoning and be purchased at most grocery stores in the meat section), 1/4 teaspoon garlic powder and 1/8 teaspoon ground cayenne pepper and pace in the skillet. Break it up with a wooden spatula and cook until brown.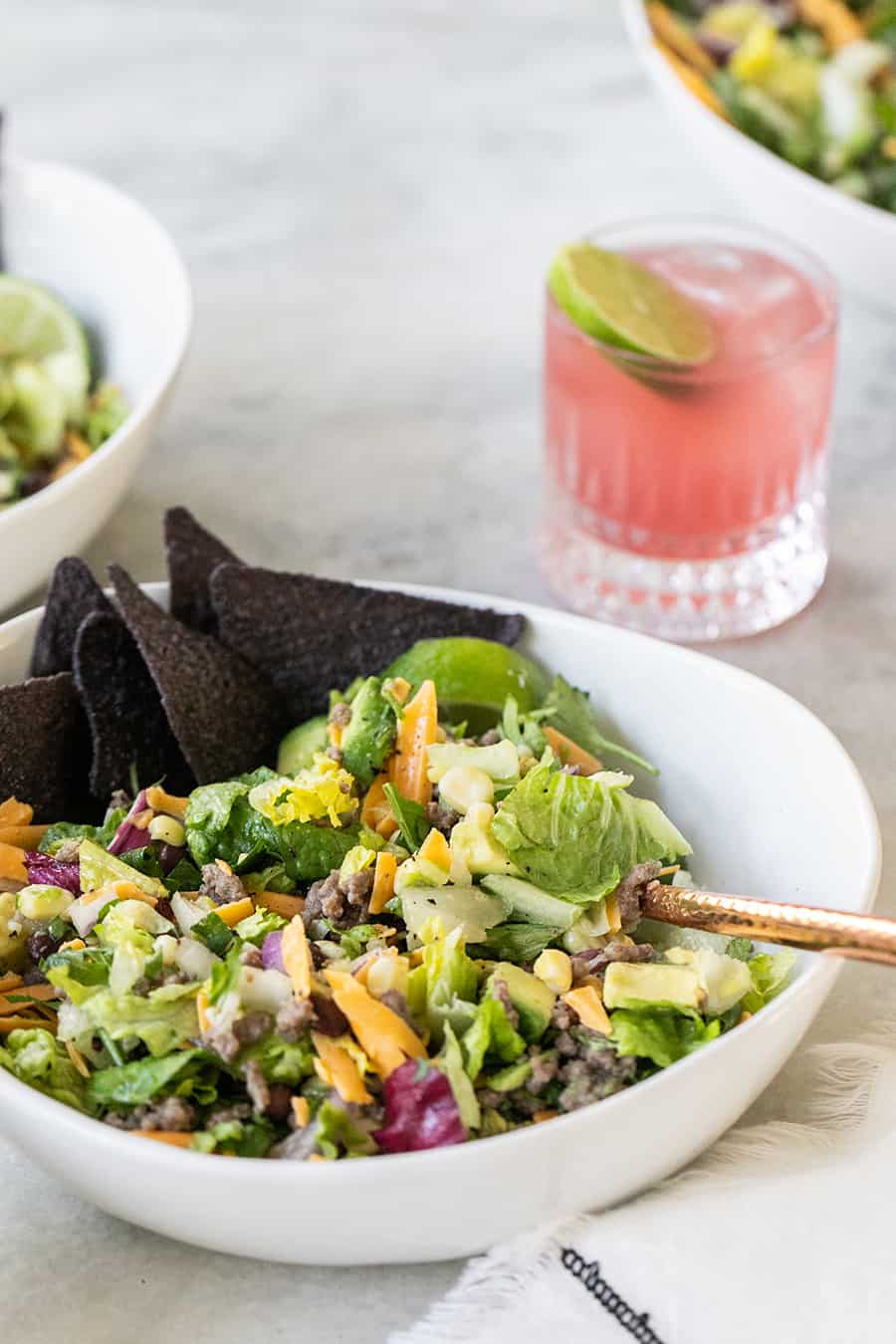 Serve with tortilla chips and margaritas or strawberry tequila sodas!
If you make this taco salad, leave a review below or share with us by tagging @sugarandcharm on our social channels! We love to see what you all make!