We love celebrating seasons here at Sugar and Charm and I've made it known that my favorite seasons are fall and winter. I love all of the activities a new season brings and for fall it means trips to the pumpkin patch, bonfires, pumpkin spice lattes and testing out seasonal recipes. I also enjoy setting the fall mood in my house with small details like switching out hand soaps to fall favorites, incorporating festive colors and charming décor and filling my house with scents of cinnamon, apple, ginger, pumpkin and yummy spices. As my husband can attest to, I have my pumpkin candle burning throughout most of the day, even if it's 90 degrees out here in Los Angeles!
Of course my favorite autumn activity is baking… who would've guessed?! I'm all about adding pumpkin into my beloved recipes and testing out new ones to see how I can make them even better. So this week I'm celebrating Pumpkin Week with a recipe inspired by Bath & Body Works' pumpkin fragrances! The Sweet Cinnamon Pumpkin fragrance comes in lotions, candles, room spray, shower gel, a fragrance mist and more delicious products you can see here! Also, we have a fun promotion below for a Free Signature collection item of your choice!
I've combined a few of my favorite fall flavors to create the Ultimate Pumpkin Pie! It's a creamy pumpkin pie filling, with a buttery and crunchy cinnamon graham cracker crust, topped with a thick layer of homemade marshmallow fluff, which is then toasted and topped with cinnamon. I promise the deliciousness is off the charts and this Ultimate Pumpkin Pie will beat out any other pumpkin pie on the table. It's not called "ultimate" for nothing! Recipe is below…
Cinnamon Butter Graham Cracker Crust
2 cups graham cracker crumbs, finely grinded
3 tablespoons sugar
6 tablespoons melted butter (3/4 stick)
1 teaspoon cinnamon
A pinch salt
Combine all of the ingredients into a bowl and mix. Then pour into a pie dish and press down along the bottom and sides of the dish. The crust should be wet enough to hold its place. Bake in a preheated 350 degree oven for 7 minutes.
Creamy Pumpkin Pie Filling
1 can Libbys pumpkin
4 oz cream cheese, room temp. and completley soft
1 cup sugar
2 eggs
1 teaspoon cinnamon
1/2 teaspoon ginger
1/4 teaspoon cloves
1/8 teaspoon salt
1 can evaporated milk
2 tablespoons melted butter
Whip the cream cheese until light and fluffy. Add in the eggs and continue to beat on high, scraping down the sides of the bowl. Continue to beat with the sugar and then add in the pumpkin and the spices. Mix until combines. Pour in the evaporated milk and butter and continue to mix. Pour the pie filling into the crust and bake at 425 degrees for 10 minutes. Turn the oven to 350 degrees, cover the crust with tinfoil so it doesn't burn and bake for another 20-30 minutes until the center cooked. Let it cool before adding the layer of marshmallow.
Marshmallow Fluff Recipe
3 large egg whites
1/2 teaspoon cream of tartar
2/3 cup plus 2 tablespoons sugar
3/4 cup light corn syrup
1 teaspoon pure vanilla extract
In an electric mixer with whisk attachment, beat egg whites and cream of tartar together until light and frothy. Slowly add in the two tablespoons sugar and beat until soft peaks form. So fun.
2. In a small saucepan, combine 1/3 cup water, corn syrup and remaining 2/3 cups sugar. Place over medium heat and cook until boiling. Cook and stir until mixture has been boiling for about 6 minutes or until it reaches 242 to 248 degrees on a candy thermometer. Remove from the heat.
3. With the mixer on low, slowly add the syrup mixture to the egg whites. Increase mixture speed to high and continue beating for 5 minutes. Add in the vanilla and beat for another minute until mixture looks like marshmallow cream.
Pile the cooled pumpkin pie with marshmallow fluff! Using a torch or broiler, toast the top of the marshmallow until golden brown. Sprinkle on some cinnamon and enjoy!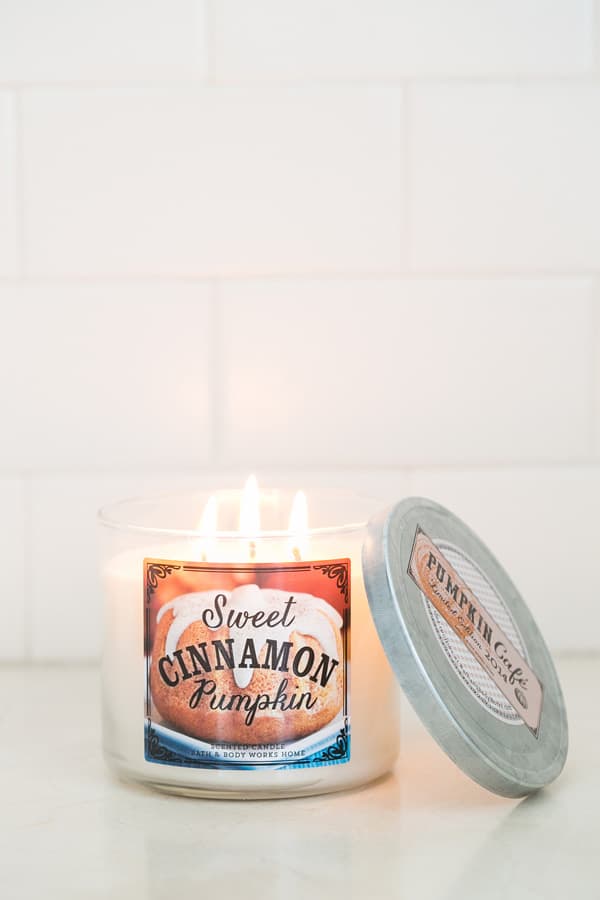 This post was in collaboration with and sponsored by Bath & Body Works.