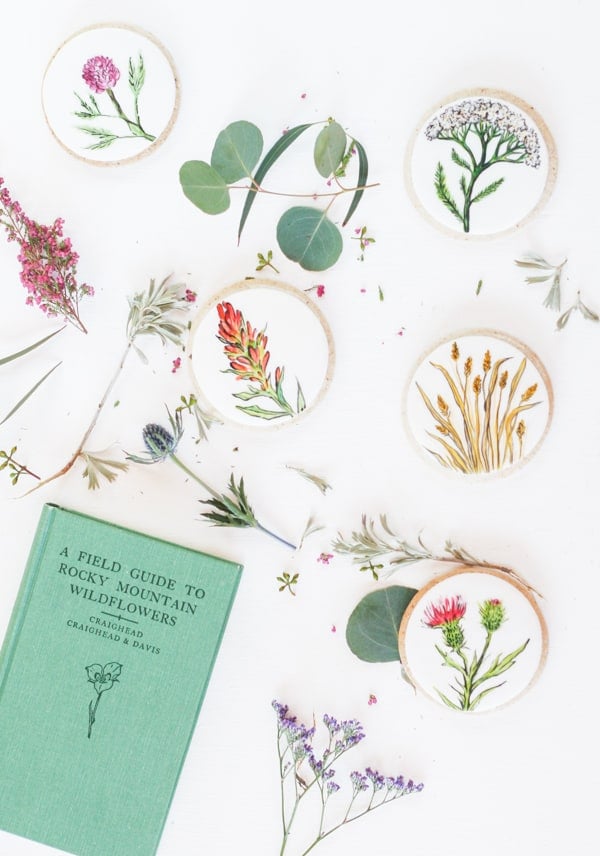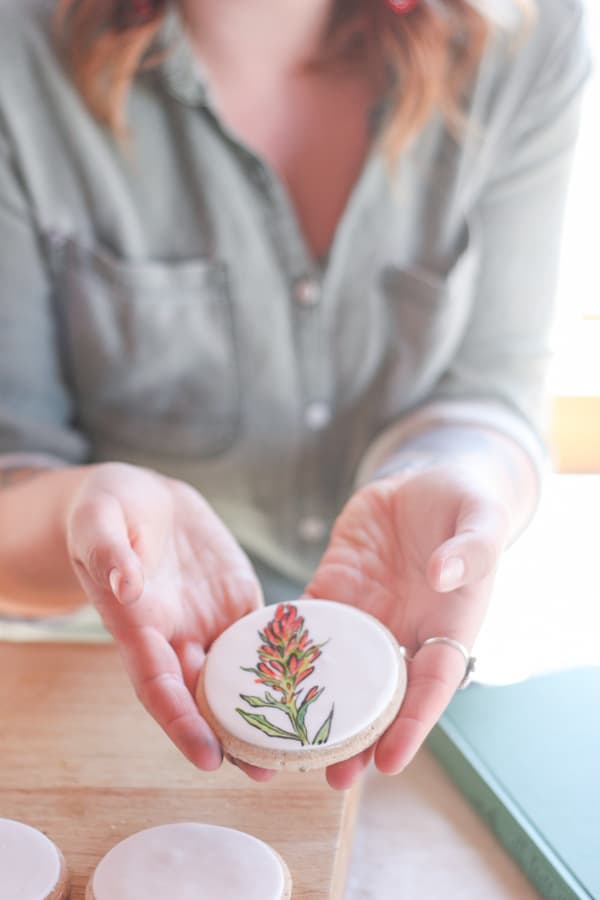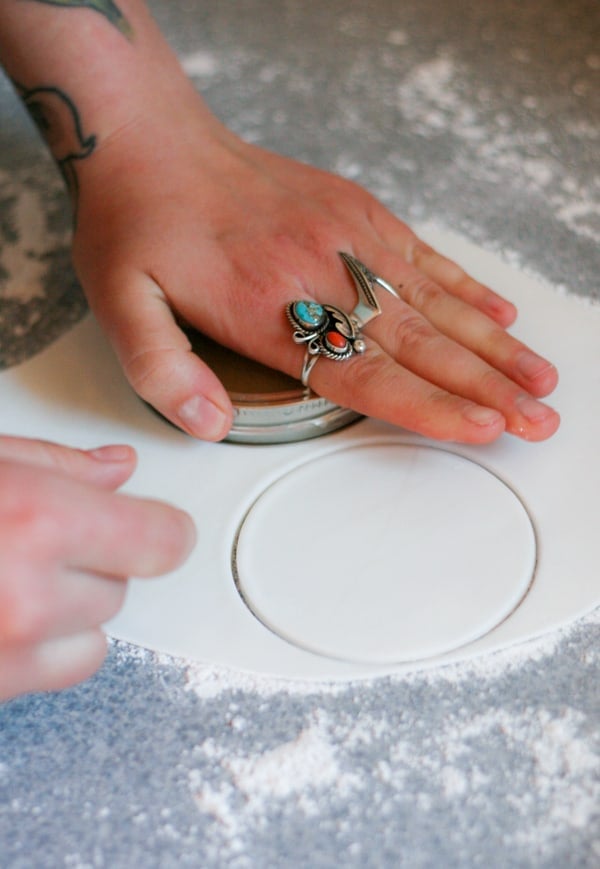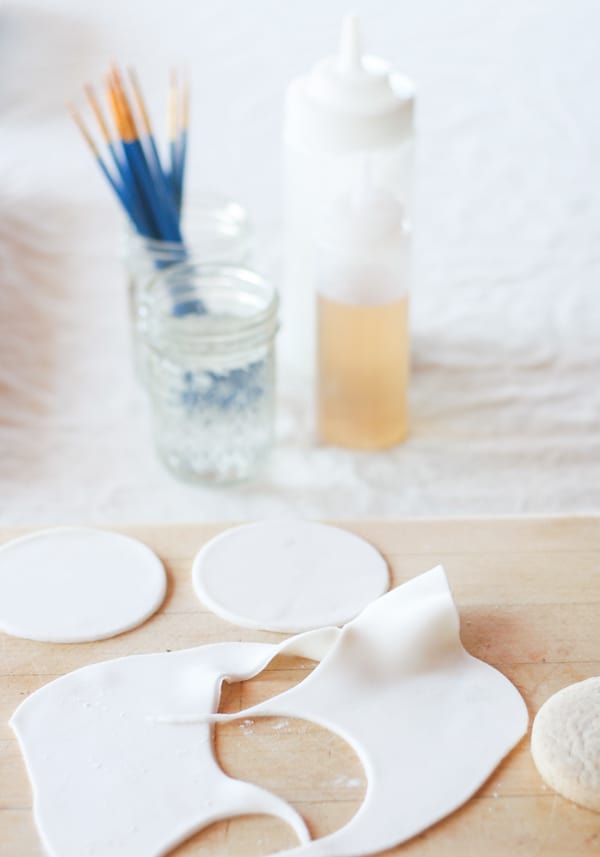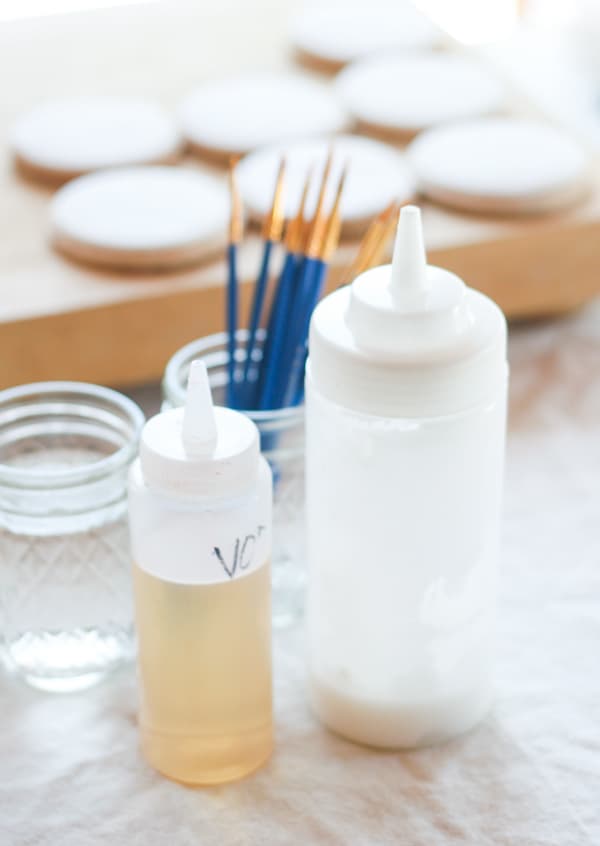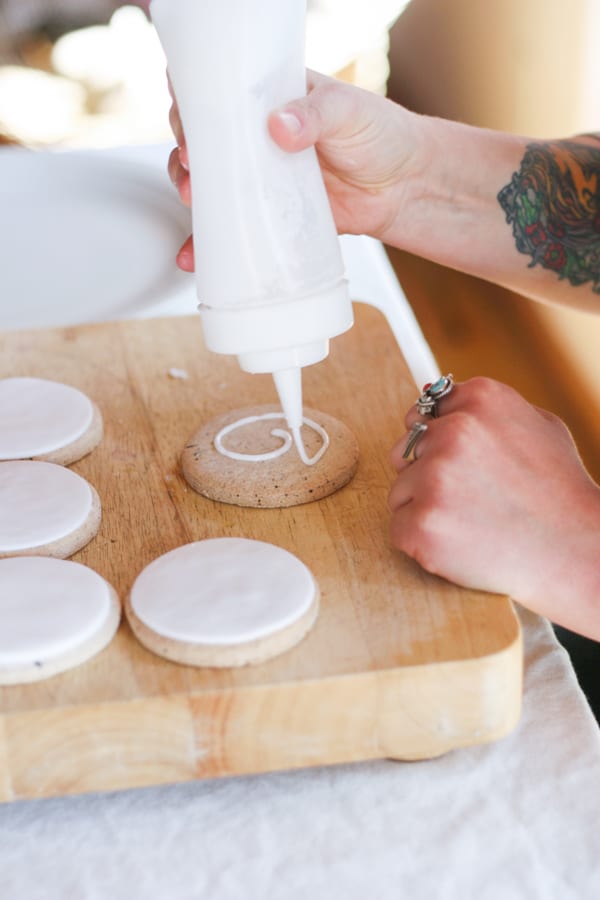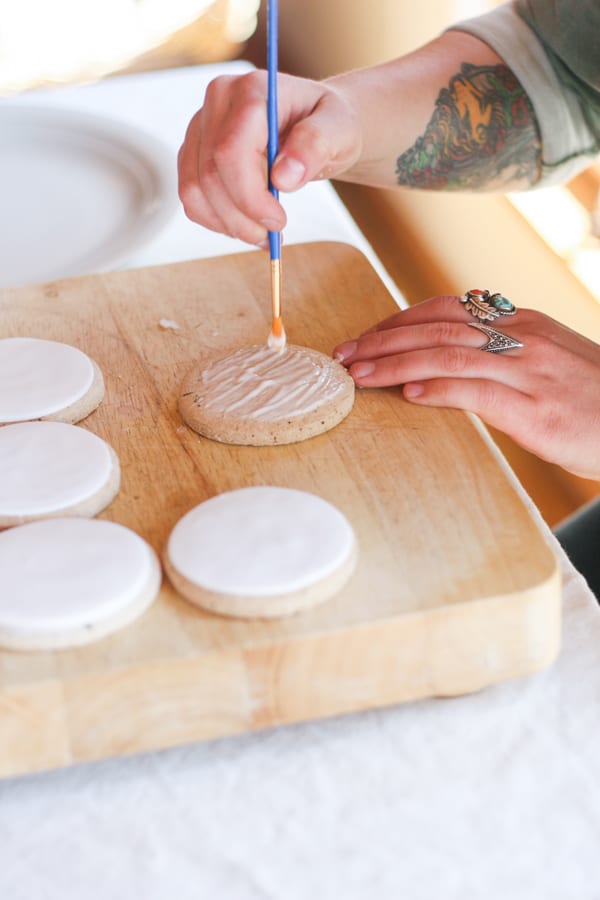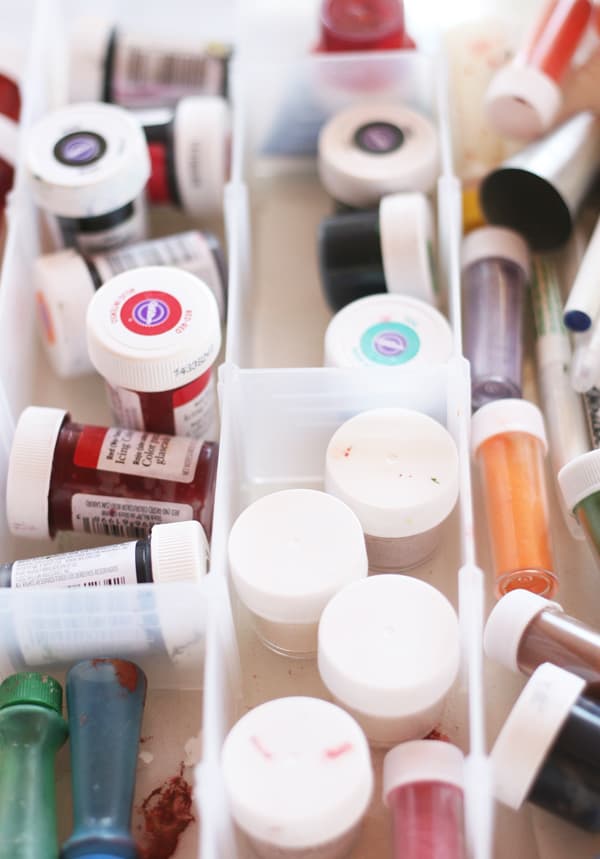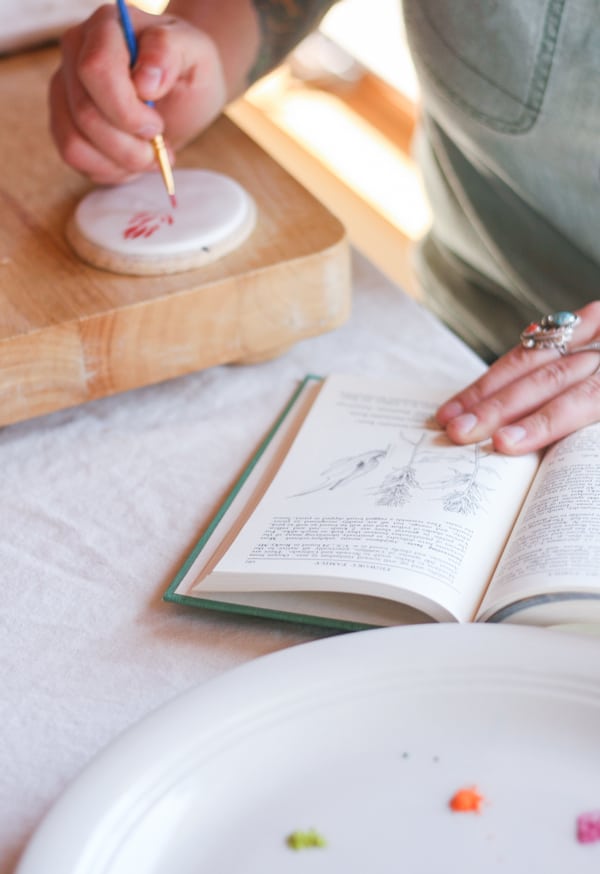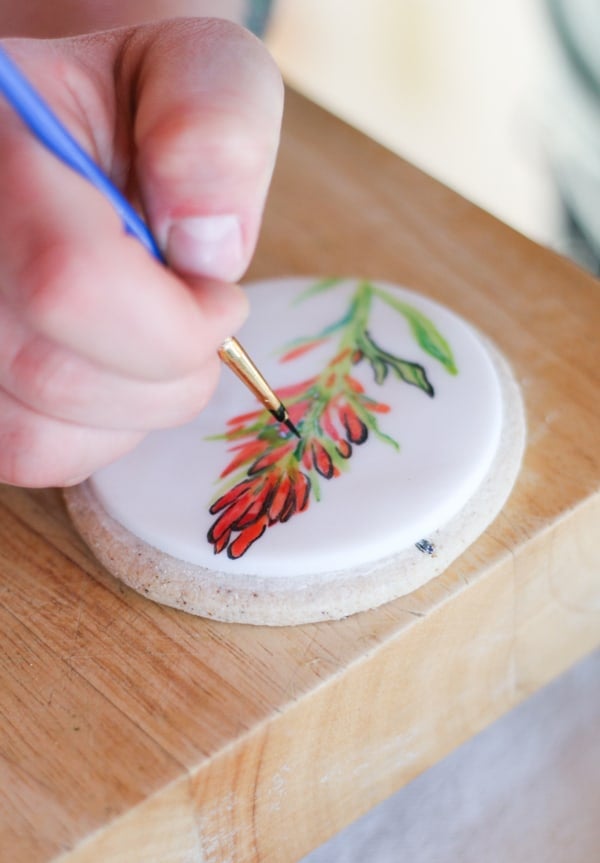 Mariah here! I recently met the crazy talented Jasmine of Whipped who has married her love of food with her skills in illustration, sculpture, and metalsmithing. Her work is like nothing else I've seen and when you meet her you'll see why she's one-of-a-kind! We wanted to get together and share our love for Montana, wildflowers, and art. So, we're here to share this tutorial on painting with food!
Photos by Mariah of Everything Golden
Wildflower fondant cookies
We wanted to get together and share our love for Montana, wildflowers, and art. So, we're here to share this tutorial on painting with food!
Print
Pin
Rate
Ingredients
For the fondant
16

oz

mini marshmallows

2

lb

powdered sugar

1

tbs

water

1

tbs

corn syrup

1

tsp

vanilla

,

optional
Instructions
Sprinkle water over the mini marshmallows in a large microwave-safe bowl and microwave on high for 2 minutes or until marshmallows are puffed up and soft looking.

Smear vegetable shortening on a wooden spoon before stirring the melted marshmallows (this is a sticky stage and you'll save yourself some frustrating clean up later on).

Add your extract (feel free to add in a different flavor: lemon and almond are lovely as weland corn syrup to the bowl. If you would like to color the entire batch, you can add some food coloring. For our purposes leave it white for good painting canvas.

Slowly sift your powdered sugar over the melted marshmallows and stir between sifting. Stop when it becomes difficult to stir with a spoon. If you have any powdered sugar left sift it over your work surface, and begin to knead the rest of the powdered sugar into the fondant. The fondant may still be quite hot so start slowly and be careful!

You are finished once all of the powdered sugar is incorporated, there are no lumps, and the texture is smooth. If you tear it and it seems very dry, you may feel it necessary to add a little bit more shortening.

For best results wrap your fondant in plastic wrap and/or a Ziplock bag and place it in the fridge overnight BEFORE using. Allowing it to rest means less tearing, bubbles, and lumps.

To roll it out: cut off a quarter of your fondant and knead to soften (especially if it has just come out of your fridge). Sift powdered sugar over your work surface and place a round of fondant down. Sprinkle a bit more powdered sugar on top and roll as you would a pie crust.

Roll your fondant to the desired thickness (for cookies I like to roll mine quite thin). With the cookie cutter, you used to cut your cookies, cut out the fondant (your fondant shape should be just barely smaller than your cookie thanks to the cookie spreading a bit while it baked).

To adhere the fondant to your cookies, make a simple icing with powdered sugar and enough water to create a sugary glue. Brush it onto your cookies and place the fondant on top. Use the fatty palm of your hand (where your thumb reaches your wristo smooth the fondant over the cookie and especially around the edges.

Letting the fondant set for at least one hour on your cookie will yield a smooth dry surface to paint on. Placing it in the fridge will speed up this process.

I like to use powdered food coloring, which you can often find at Michaels craft store, or else a gel food coloring will work in a pinch.
Notes
Here is a recipe for sugar cookies. We suggest replacing the gingerbread spice with a tsp of dried ground lavender and/or some lemon zest to compliment the vibe of the wildflowers.
Some pro tips!
I like to wear plastic gloves or massage some vegetable oil into my hands before kneading to avoid a sticky mess.
There are special plastic rolling pins that are reasonably priced and make for an incredibly smooth surface. If you do not have one of these handy tools, place wax or parchment paper over the top of your fondant and roll over the paper to preserve the surface. You do not want to get a wood grain finish on your rolled fondant!
To thin your food coloring you may use a high proof alcohol such as vodka or everclear, or an extract (vanilla, almond, and lemon are most common). Don't worry about alcohol content in your cookies: the reason we use alcohol is because it evaporates quickly allowing the food coloring to dry.
Nutrition
Nutrition Facts
Wildflower fondant cookies
Amount Per Serving
Calories 280
Calories from Fat 9
% Daily Value*
Fat 1g2%
Sodium 22mg1%
Carbohydrates 72g24%
Protein 1g2%
Calcium 1mg0%
Iron 0.1mg1%
* Percent Daily Values are based on a 2000 calorie diet.