There are several easy and creative ways to transform a bland backyard into a mini-oasis. Below are 10 simple ways to add a little charm to your backyard, without any major renovations!
These tips for a minor backyard makeover will help create a more serene environment. And what's better than starting the morning off outside with a cup of joe or ending the day with an evening cocktail in your own backyard retreat?!
Adding Charm to Your Backyard
1. Enclose a patio or porch area with curtains. This gives a cabana feel and cabanas conjure up thoughts of vacation! Image via HGTV/Rustic White Photography
2. Add large, rustic pots of vibrant flowers in the patio or gathering area. Potted flowers, you can buy at a nursery, aren't expensive and will give you a lot of joy throughout the season. They also give the yard a tropical vibe. Photo and Zinc Barrel via Shop Terrain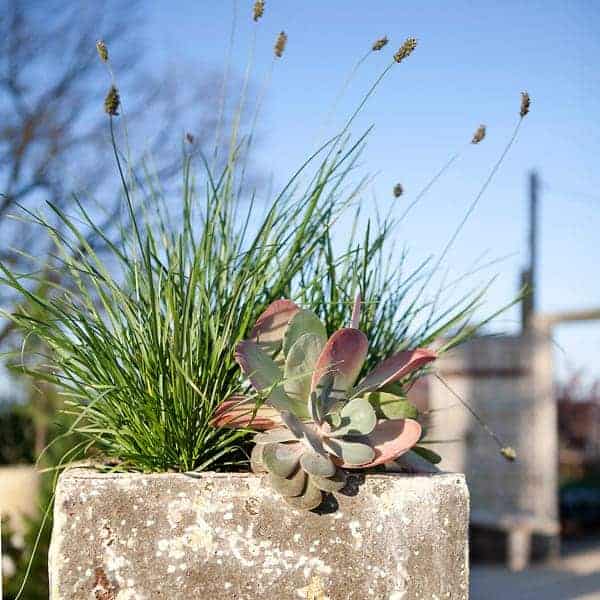 3. Funky pots and different types of plants or herbs are great to display as well. It adds an exotic feel to the area. You can also plant herbs like mint, great for making cocktails you'll sip on while enjoying your backyard. Photo and Barnacle Pot via Shop Terrain.
4. Throw down a rug and add some colorful pillows to existing lounge chairs or an outdoor sofa. This will help create a little living room setting like the photo… of course we don't all have the beach as our backdrop, but the setup of this is pretty charming. Photo and furniture via Serena & Lily.
5. Market lights are the best way to create a perfect and cozy atmosphere at night. The glow they give off is beautiful and really creates a warm and inviting atmosphere. Photo and market lights via Shop Terrain.
6. Replace outdated porch lights with charming lights. Photo and light via Rejuvenation.
7. A fire pit is a must during the summer and we're loving this canvas bin to store firewood in for endless s'mores roasting. Fire pit setups aren't expensive and add to the coziness of a backyard oasis. Photo and bin via Best Made Co.
8. If you have children, create a little whimsey for them with some adorable outdoor teepees. They're great for playing, camp stories, daytime book reading and evening naps! Kids LOVE them. Photo via Houzz.
9. An outdoor bar cart is a lovely touch to a backyard.
10. If you have a secure tree branch in your yard, add a charming swing to it. Swinging under market lights is pretty fun. Photo and tree swing via Shop Terrain.