Our favorite adult birthday party ideas for a birthday celebration! We're sharing unique and fun ways to make a birthday party special, including more than 25 party themes, our favorite cakes, and answering all your party questions below!
So make yourself a party hat, invite your favorite people over, and let's begin! It's going to be a great time!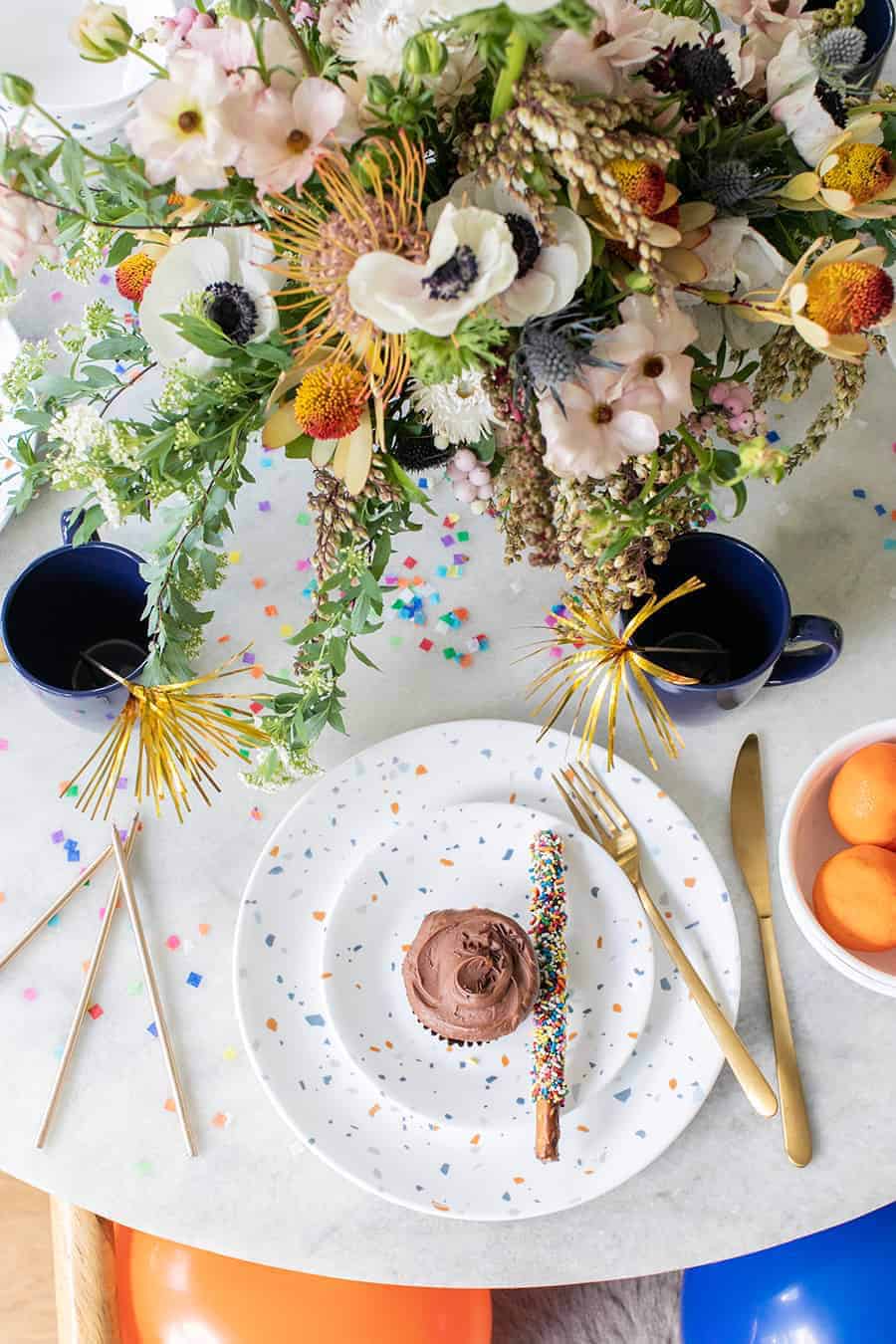 We take birthdays seriously in our house. It's a day to celebrate another year around the sun and the special memories you've made. It's a time to reflect on another year and be grateful for our life, all while celebrating with those we love.
So, if you're celebrating a last-minute birthday, see our guide to throwing a last-minute party, or planning a spectacular birthday party bash; here are some of our favorite ideas. I know these ideas will help you plan your next
Best Adult Birthday Party Ideas
Any of these adult birthday party ideas will make for a good time. Depending on the season, pick one that works best for you and your party guests!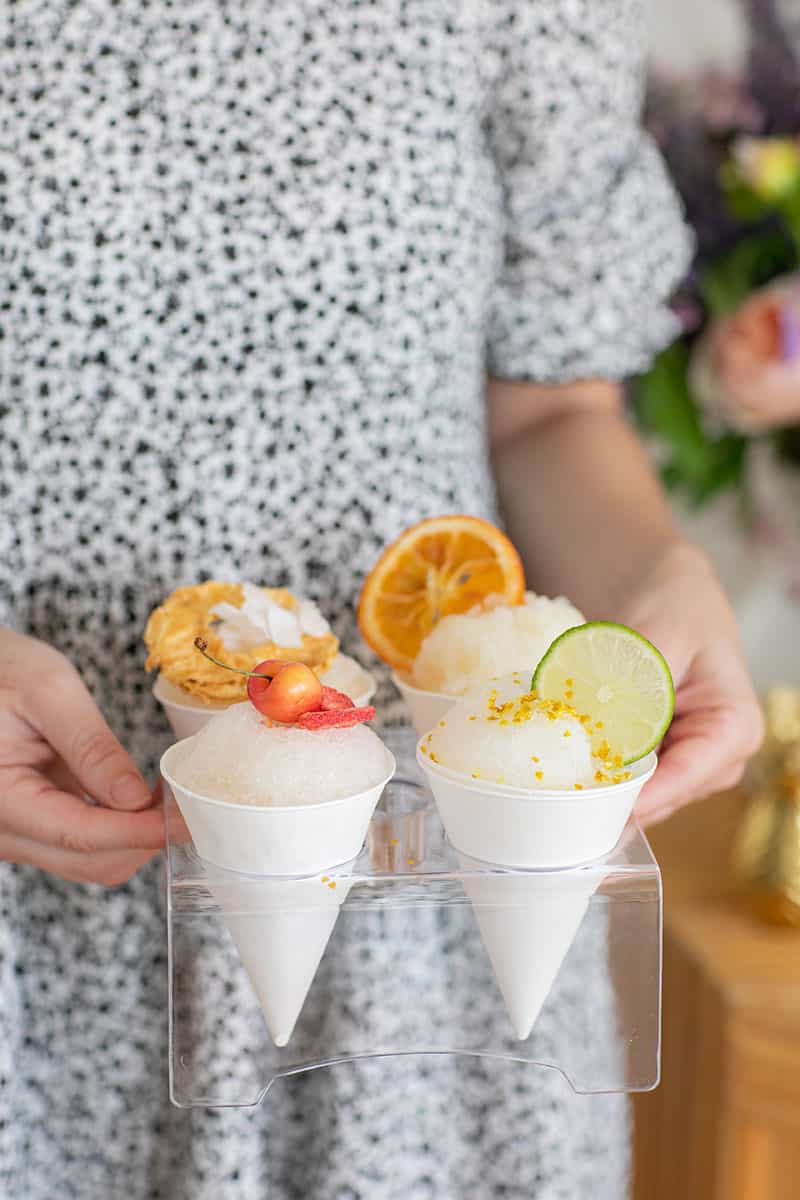 Create a Cocktail Snow Cone Bar
Create a cocktail snow cone bar that's perfect for parties! We share the best snow cone machines, mixers, spirits, and toppings!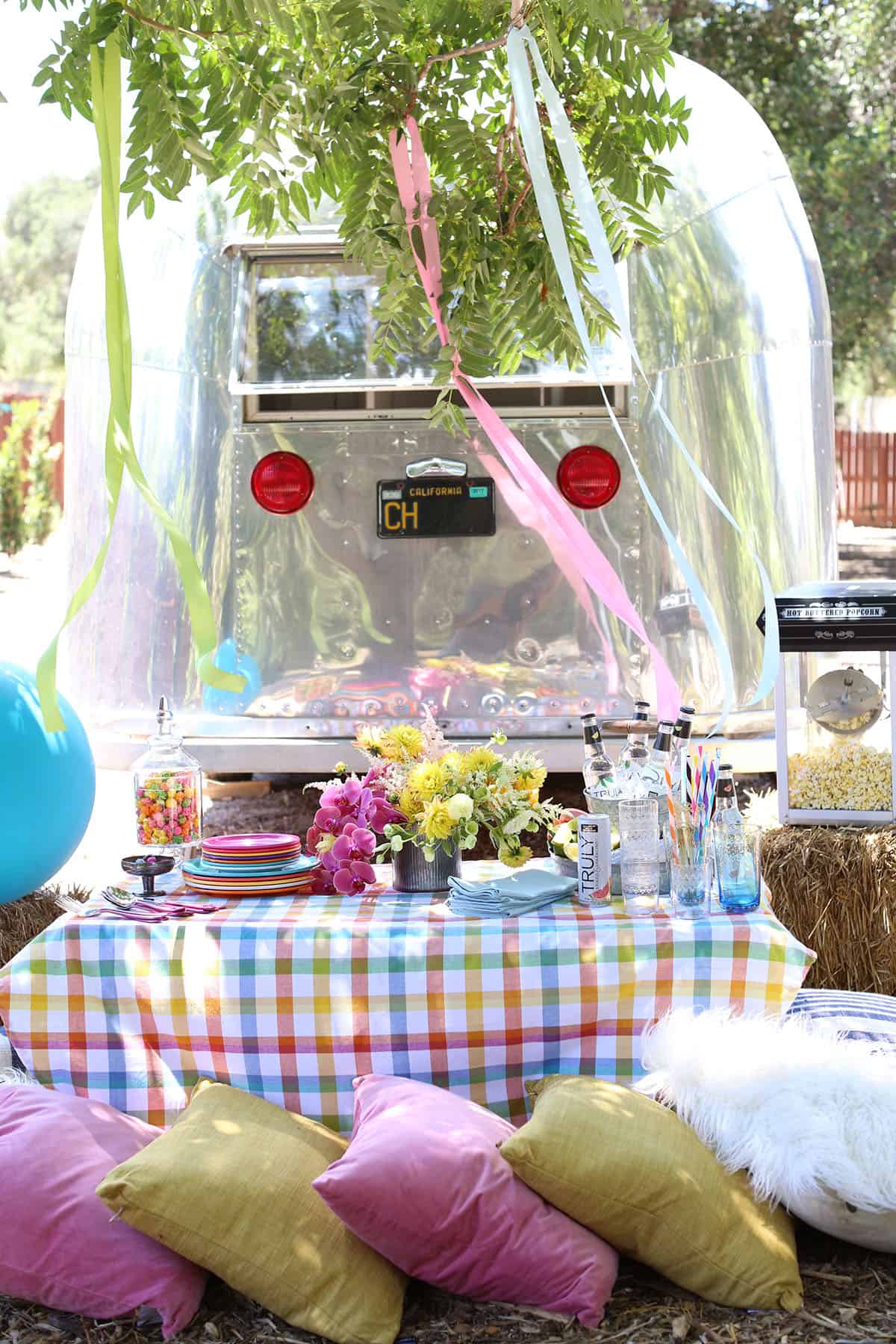 Host a Colorful Backyard Carnival Theme Party
Bring the carnival to your backyard and create a colorful, festive carnival-themed party! Check out this post, sharing carnival party ideas, supplies, fun food, and charming details for hosting your own! We love this idea for a 30th birthday party.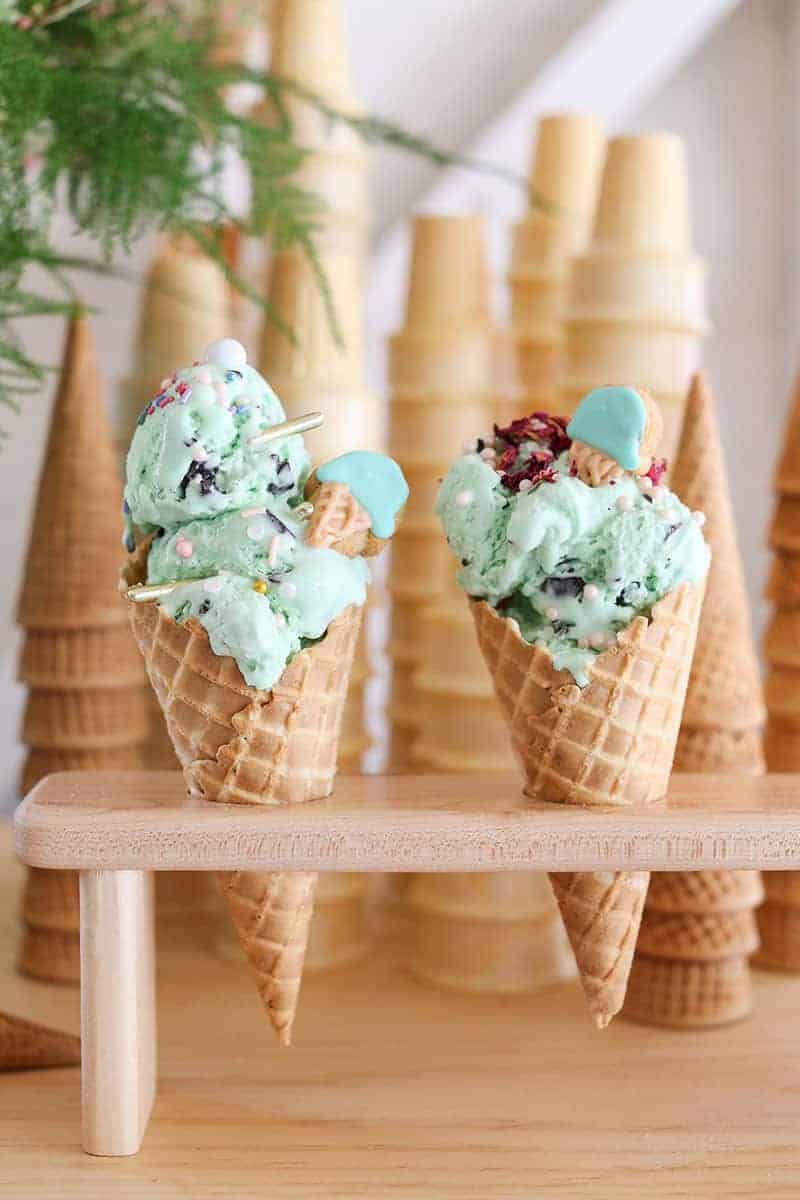 Create a Charming Ice Cream Bar
Birthdays and ice cream go very well together! Here are some of our favorite ideas for creating a charming ice cream bar! Adults love an ice cream bar just as much as kids.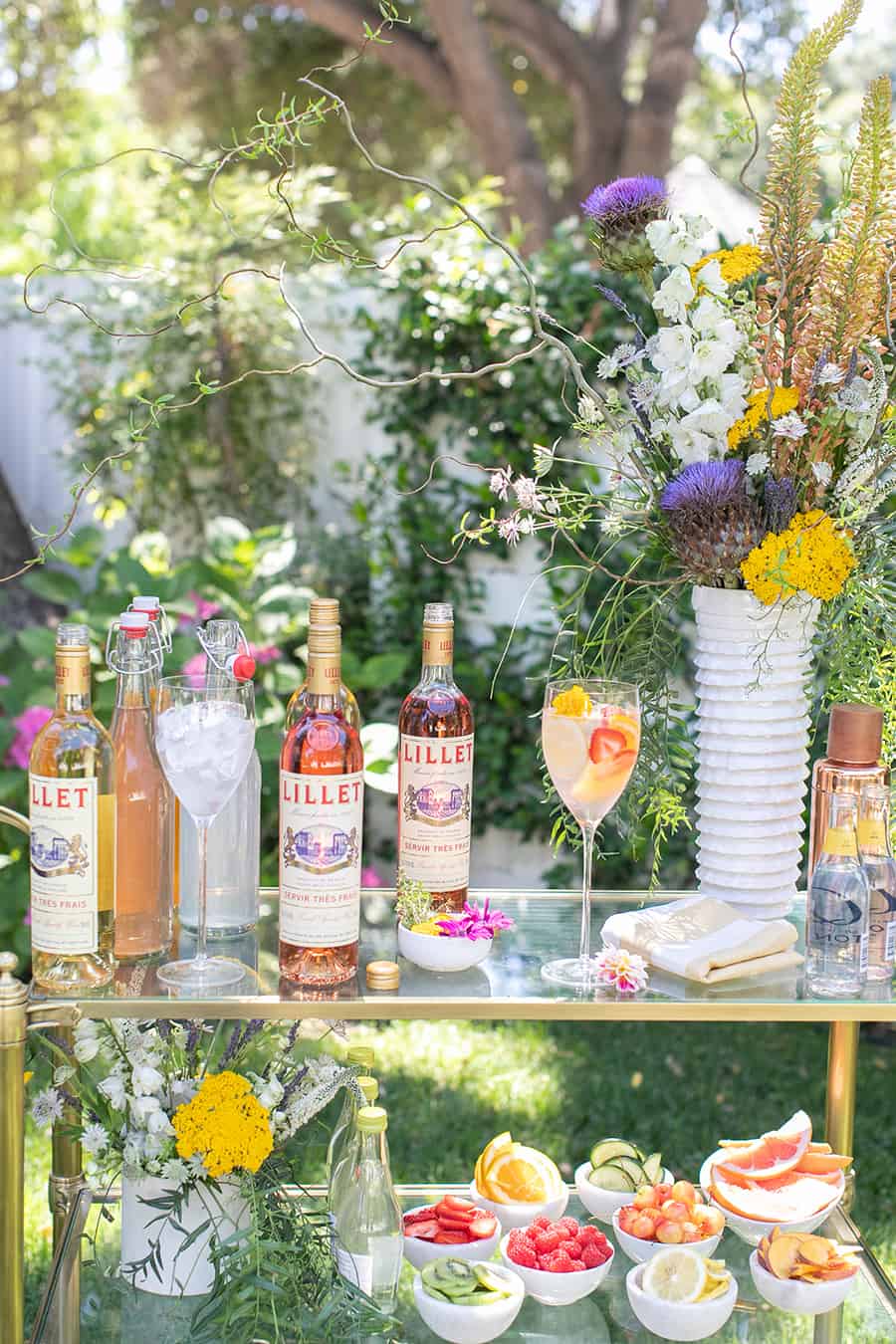 Make Your Own Spritzer Bar
Create a make-your-own spritzer bar for your next birthday party, perfect for any birthday brunch celebration. Let your guests mix their spritzer for a fun, sunny afternoon party idea. This is an excellent idea for all adult birthday parties!
More Bar Ideas
We love having a bar to the side where guests can make their drinks or dessert. Here are some fun ideas: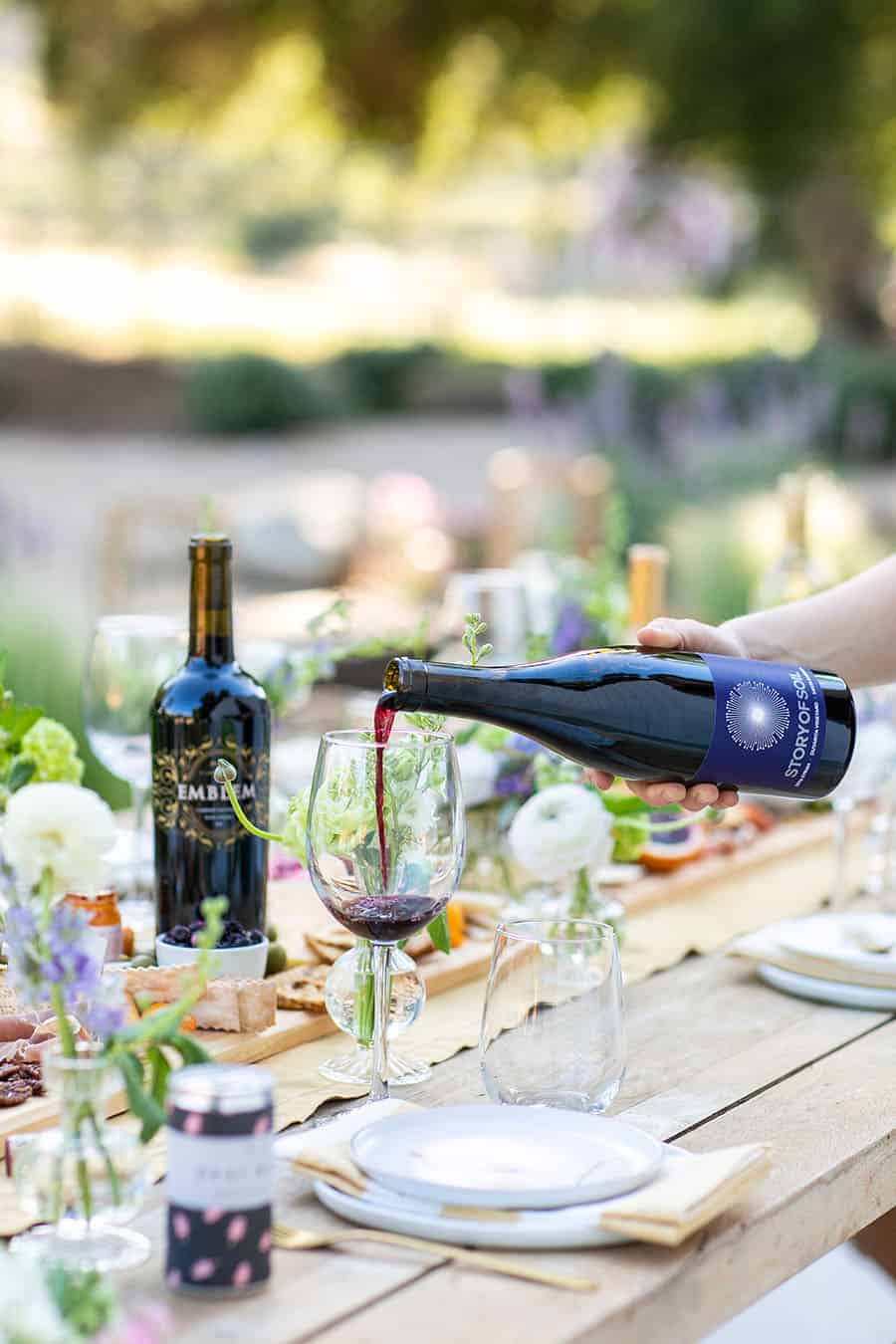 Have a Wine and Cheese Gathering
No cooking is involved in this wine and cheese party! The most accessible menu takes very little planning and works for birthdays. Here are some simple ideas for hosting a wine and cheese party and having your guests feel happy and full!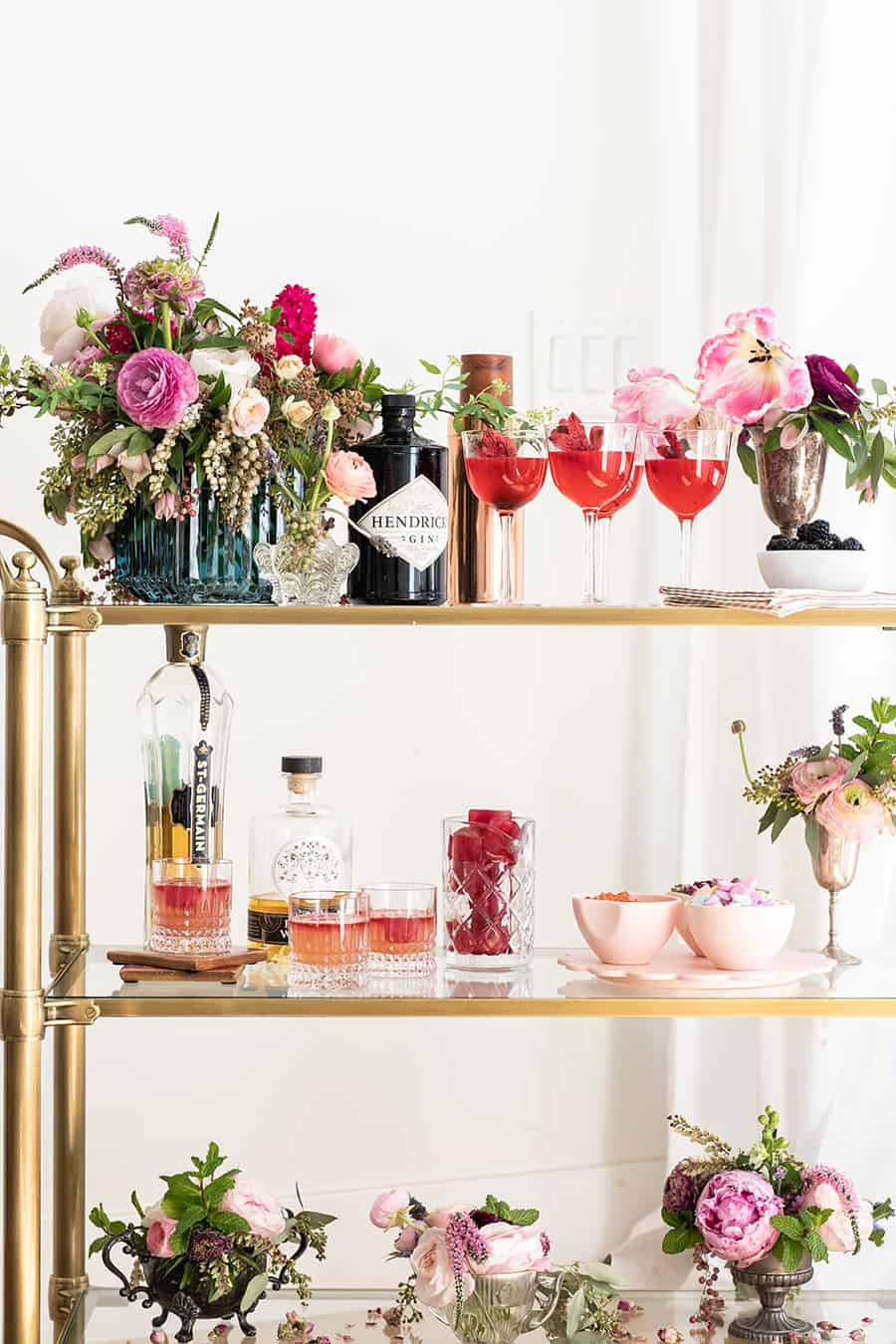 Flower and Gin Bar
Learn how to set up your own gin and flower bar. It's a perfect way to celebrate another year with your girlfriends.
Host an Outdoor Movie Night!
One of our favorite activities is watching movies outdoors. Hosting a movie night is a rewarding and fun pastime and great for a birthday. Here are some fun tips for hosting your own outdoor movie night!
Make your Floral Arrangements
I like to provide an activity for my guests to do during a party. It's a way for everyone to interact by creating and allowing them to hang out and meet! Create a floral station so guests can make their own to take home.
Lemonade Stand for Adults
Create a charming lemonade stand for adults with spiked lemonade, homemade syrups, and lovely details! This is a great birthday party idea for any gathering.
Try our Meyer lemonade, peach lemonade, watermelon lemonade, honeydew lemonade and strawberry lemonade. And remember, you can spike any of these with vodka or tequila!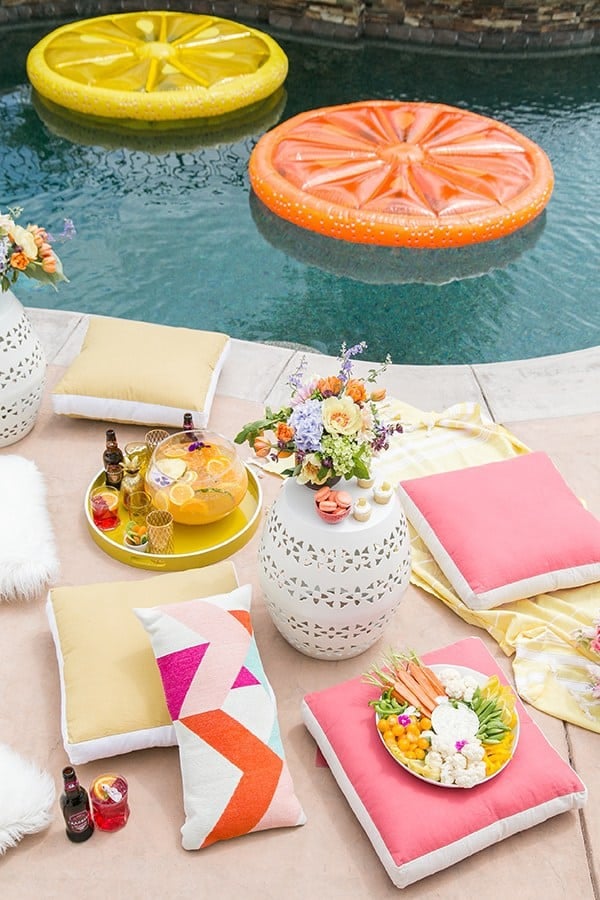 Host a Pool Party!
A pool party birthday sounds good to us! Here are some tips for hosting the best pool party ideas that will take it to the next level!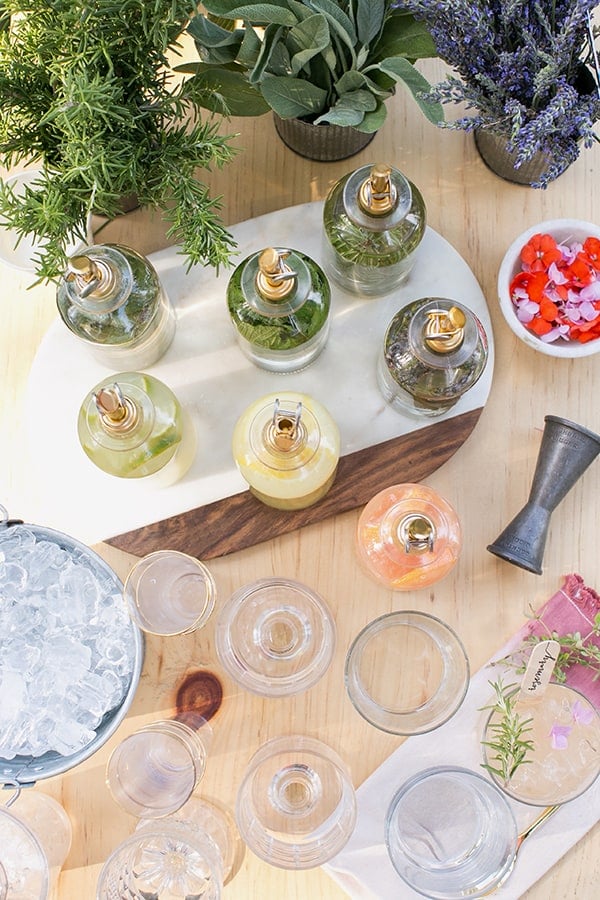 Mix and Match Cocktail Party
Host a mix-and-match cocktail party with appetizers and a stunning bar! Not only is this idea fun for guests, it also teaches them how to make a simple cocktail using three ingredients.
Get Whimsical with a Mad Hatter Party
This is a fun theme for a girl's party! Bring out your whimsical self and enjoy an afternoon of fun card games and tea! See our Mad Hatter tea party here!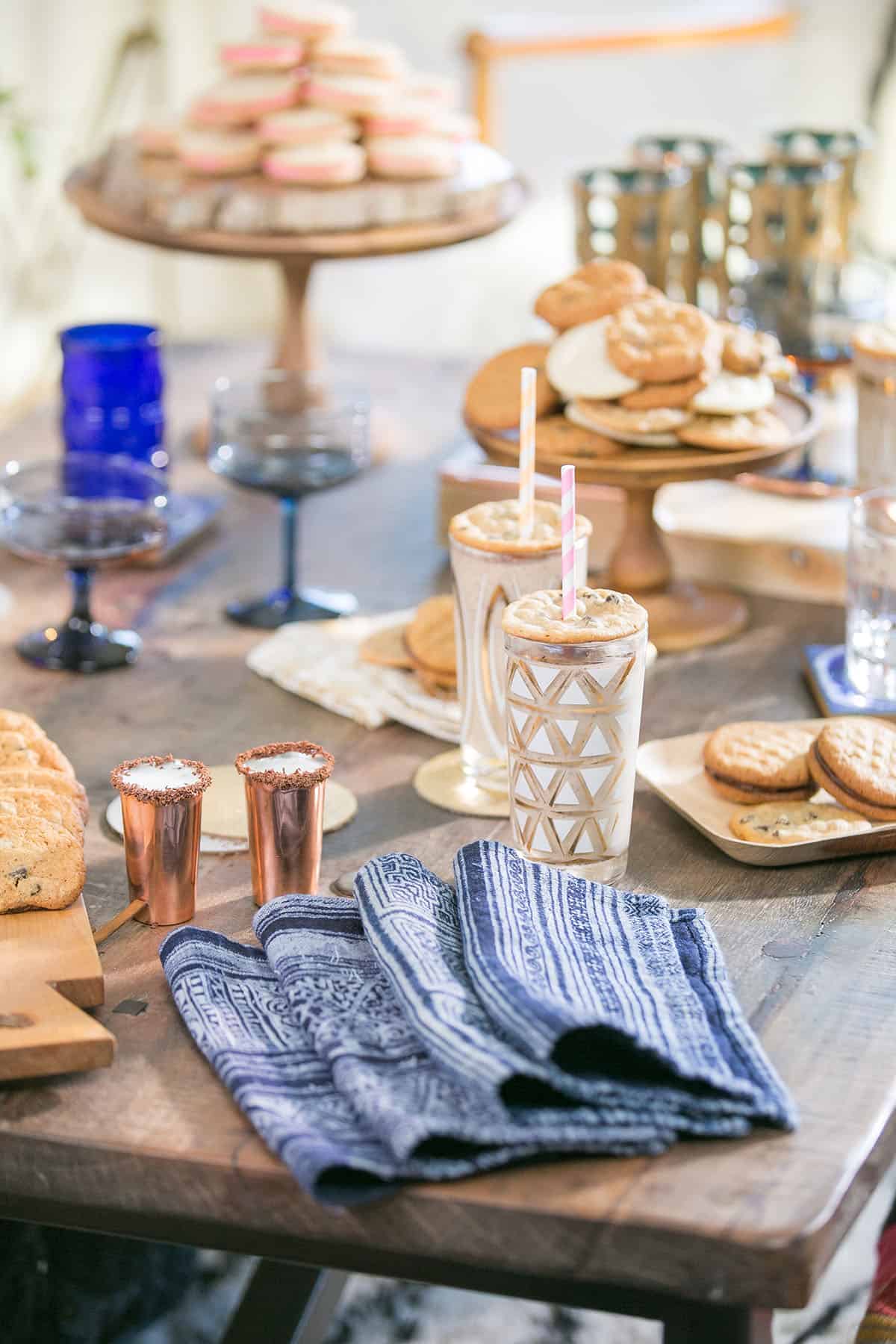 Cookies and Cocktails Party
Host a cookies and cocktail birthday party or a cookie swap. Enjoy a night of homemade cookies, boozy milkshakes, and Almond Joy shots all paired with cookies.
Beach Bonfire Birthday Party
If you enjoy the beach as much as we do, host a small beach bonfire gathering to celebrate a birthday. Here are some tips for making it special! Make some of our favorite campfire apple pies for dessert.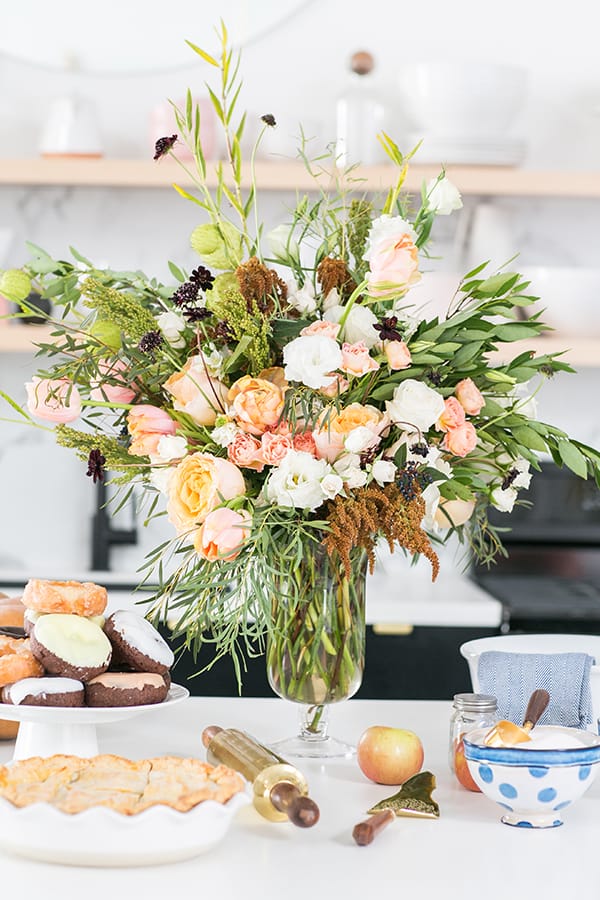 Host a Pie Making Birthday Party
Host the ultimate pie birthday party. Hire a professional baker to show you and your friends how to make an excellent pie, or print out a recipe you can all follow! Click here for my favorite kitchen tools, recipes, and provides printable pie tags!
Celebrate Another Year with a Tea Party
A tea party is a great way to be with friends and celebrate a birthday. Here is everything you need to know for hosting a beautiful tea party!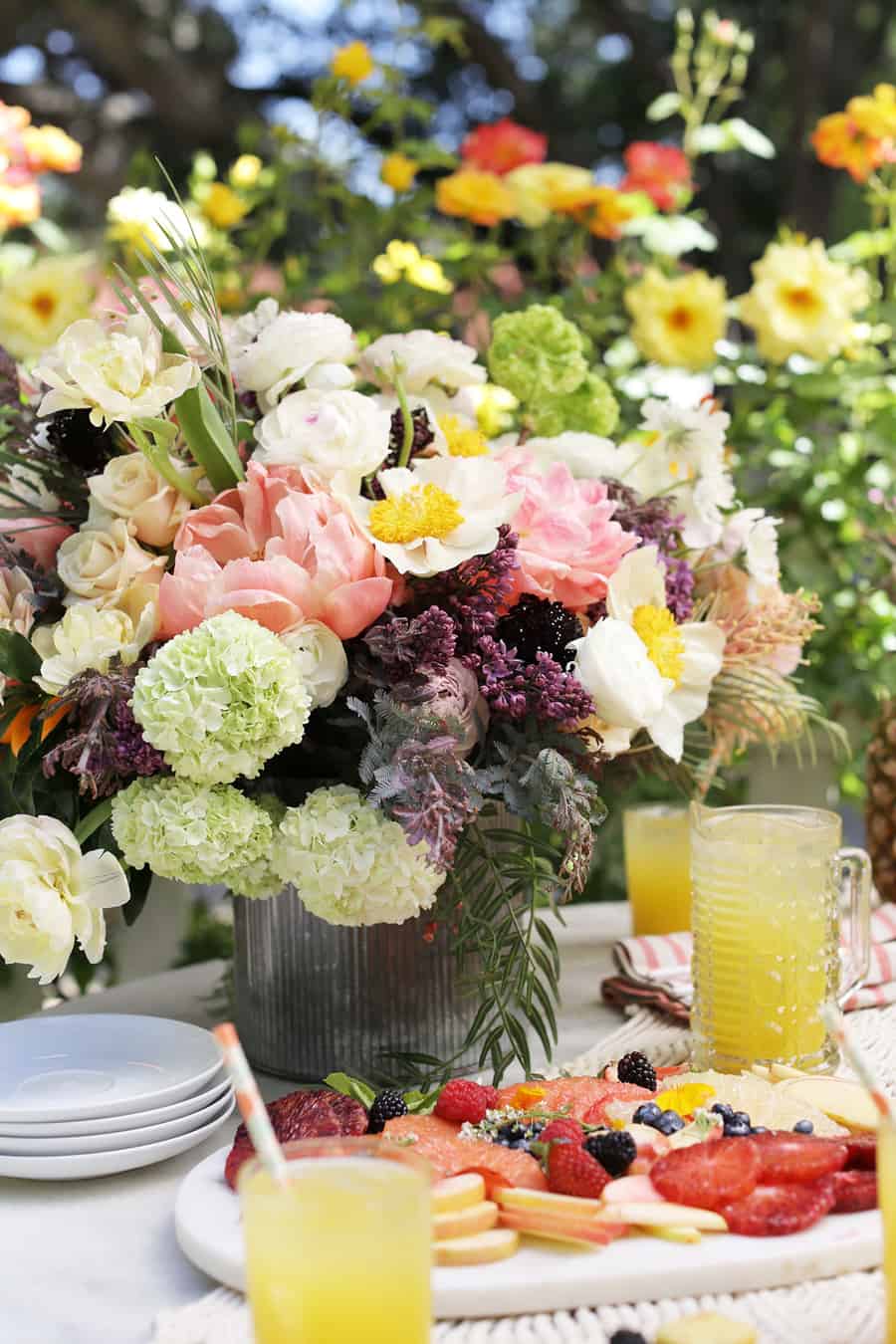 Garden Birthday Party
Host a garden birthday party for spring! Make all of our favorite lemon recipes and summer cocktails and enjoy a party in the garden.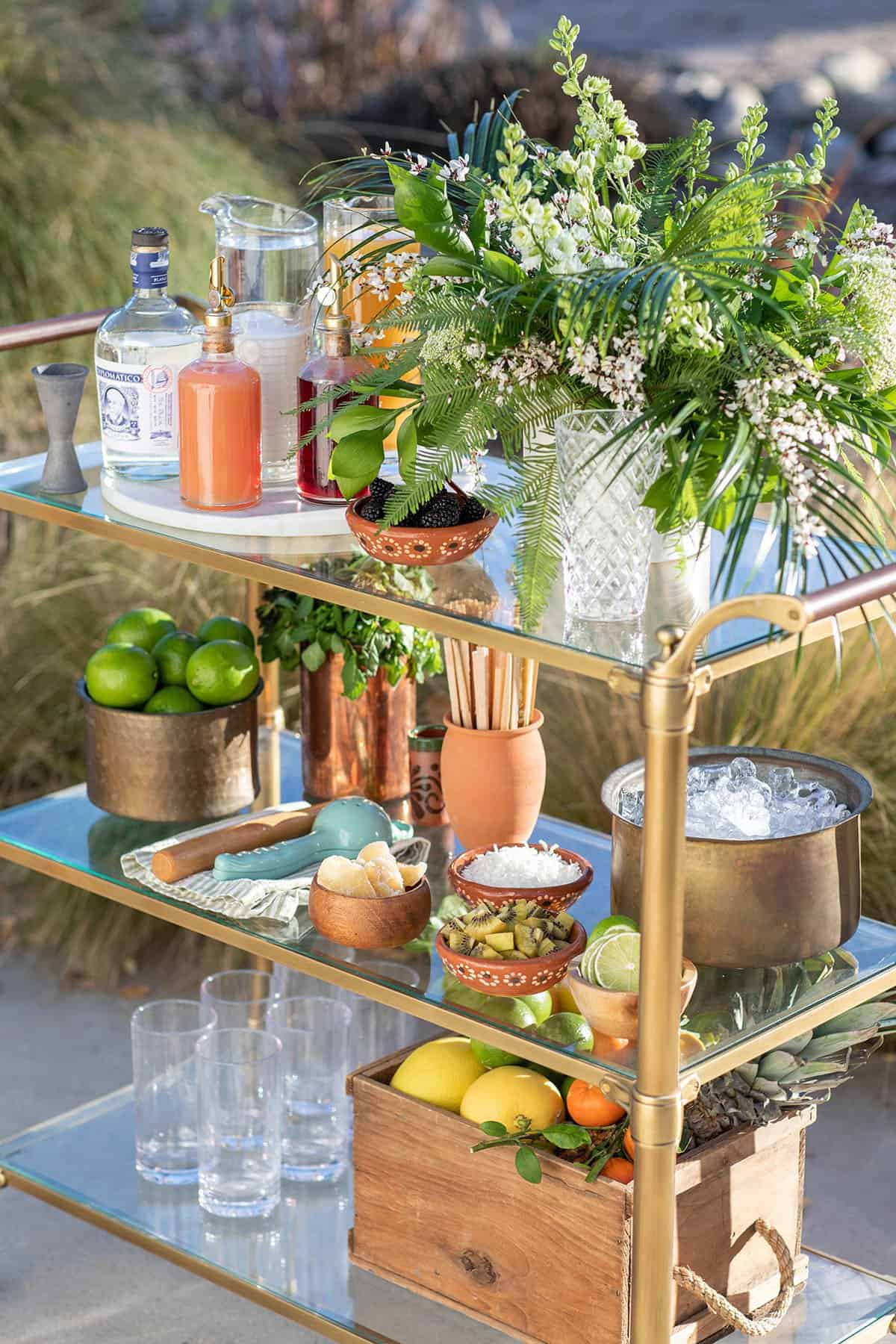 Havana Party and Mojito Bar
Go creative with a Havana night party theme and create a stunning mojito bar to go with it! Guests can make their own mojitos and dance the night away.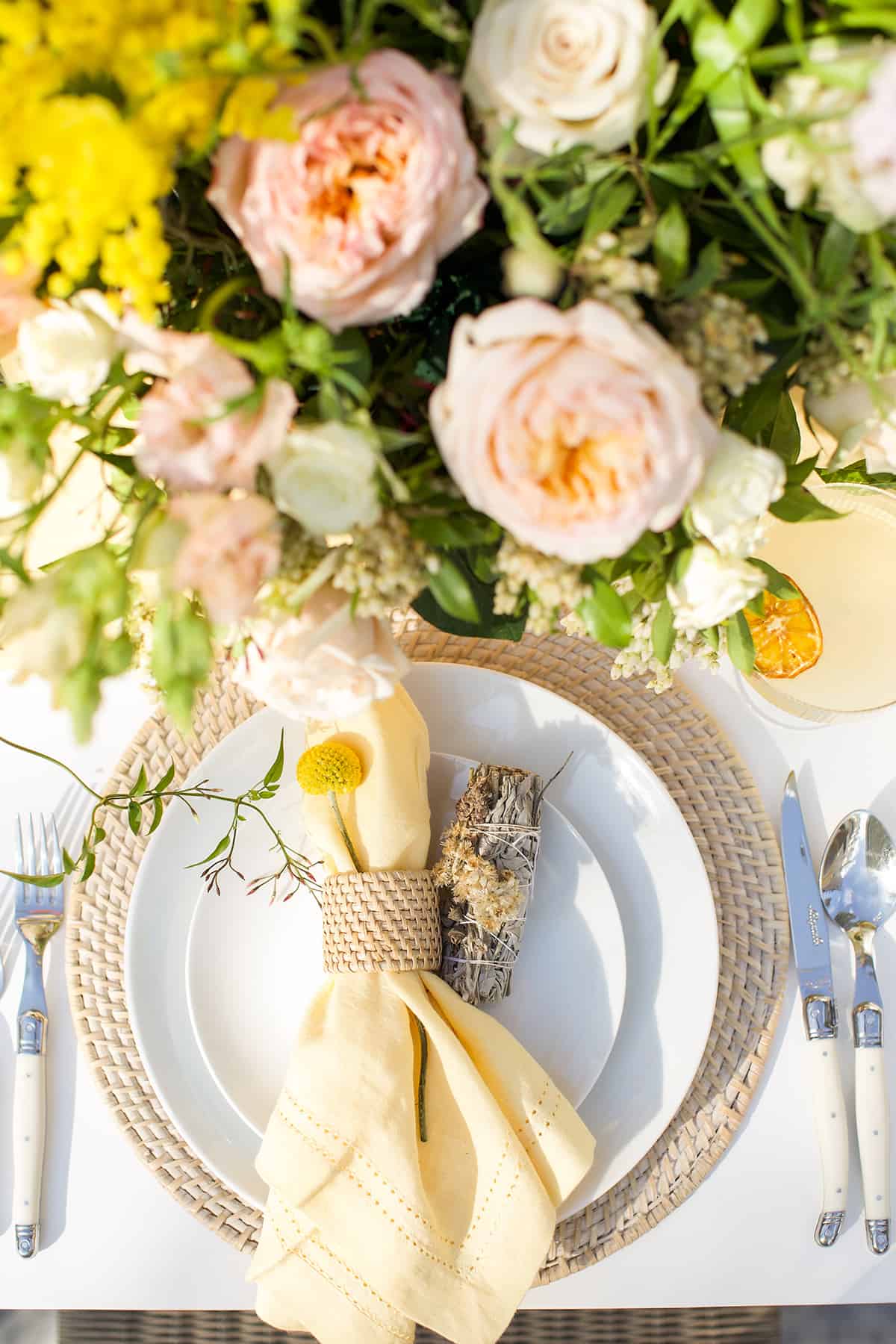 Host a Fancy Dinner Party
We do not often plan and host fancy dinner parties, but this is an excellent idea for an adult birthday party. Set a beautiful table with candles and flowers and have the event catered. It will be an enjoyable evening for everyone.
This idea is fun for good friends; you can pick a theme like Great Gatsby or lemons!
More Birthday Party Ideas
Need more birthday party ideas for your party guests? Check out some of these festive party themes:
Wine and Paint Party: Host a party where guests can sip wine and create their masterpieces.
Murder Mystery Party: Plan a murder mystery party where guests must solve a fictional crime.
Game Night: Host a game night party where guests can play board games, card games, or video games.
DIY Cocktail Party: Set up a DIY cocktail bar and let guests create their signature drinks.
Karaoke Night: Host a party where guests can sing their favorite songs. It's a fun way to get people up and have a blast!
Outdoor Movie Night: Set up an outdoor movie screen and projector and host a movie night under the stars.
Costume Party: Host a costume party with a specific theme, such as a decade or favorite movie.
Potluck Party: Host a potluck party where guests bring their favorite dishes to share.
Spa Night: Host a spa night party where guests can enjoy massages, facials, and other relaxing treatments.
Charity Party: Host a charity party where guests can donate to a cause and enjoy food, drinks, and entertainment.
Party Games for Adults
Party games are perfect for keeping the party going and keeping guests entertained. From the best card games to fun board games and party apps, check out all of the best adult birthday party games!
Here are some fun party games:
Pictionary: A classic drawing game where players draw a word or phrase and others have to guess what it is.
Taboo: A word-guessing game where players have to get their teammates to guess a word without using certain "taboo" words.
Heads Up: A mobile app game where players hold their phone up to their forehead and try to guess the word or phrase on the screen based on their friends' clues.
Two Truths and a Lie: A game where players take turns telling three statements about themselves, two of which are true and one of which is a lie. Other players have to guess which statement is the lie.
Cards Against Humanity: A hilarious and irreverent card game where players fill in the blanks to complete outrageous sentences.
Party Drinks
Since these party ideas are for adults, here are some of our favorite cocktails to serve at birthday parties. Add a festive ice ring to these punch recipes to keep them cold and charming!
Birthday Cake Shots – Is there anything better than a birthday cake shot for an adult birthday party? We think note! This shot tastes like a slice of birthday cake!
Lavender Gin and Tonic Punch – A gorgeous purple punch recipe.
Watermelon Tequila Punch – Beautiful pink punch filled with watermelon.
Watermelon Lemonade – Add vodka to this refreshing punch
Ranch Water with Topo Chico – This is an easy cocktail to make and is made with three ingredients.
You can also make pink ice, strawberry ice and blue ice to add even more fun and color to each drink.
Also, check out more great cocktail recipes, the best-mixed drinks, tequila cocktails, gin cocktails, vodka cocktails, and cheap drinks to make at home!
Birthday Party Appetizers
Here is a list of our favorite party foods and appetizers to serve at an adult birthday party: 
Looking for more? We've got you covered! Here are 60 of the best easy party appetizers!
Cake and dessert Ideas
No birthday is complete without a cake! Celebrate with one of our homemade birthday cake recipes! Serve these cakes with our homemade caramel sauce for extra sweetness.
Are you looking for more desserts? Try these easy party desserts and our favorite chewy vanilla brownies with sprinkles.
Birthday Party Ideas for Decorations
We always have a few items on hand for a last-minute birthday party. Simple decorations that create a charming party:
Frequently Asked Birthday Party Questions
What are the best birthday party ideas?
The best birthday party ideas are ones that are perfectly planned for the special birthday girl/boy! Ideas that are personal to the person, things they love, and ideas that show you care. All of our 15 ideas above are perfect for a party!
How do you pick a party theme?
Choosing a party theme is the best part! Once the theme is in place, it's easier to plan a menu and buy decor. Pick a theme by the season, a holiday, or something special to the special birthday girl/boy.
What should I do for my 35th birthday?
Plan a weekend getaway: Take a trip to a nearby city or a relaxing retreat to celebrate your birthday.
Have a dinner party: Host a dinner party with your closest friends and family, either at home or at a restaurant.
Go out for a night on the town: Hit up your favorite bars and clubs with your friends and dance the night away.
Have a themed party: Choose a fun theme, such as a decade or your favorite movie, and plan a party around it.
Take a cooking class: Sign up for a cooking class and learn how to make a new dish or cuisine.
Go on a group adventure: Plan a group activity, such as hiking, kayaking, or zip-lining, and spend the day outdoors.
Pamper yourself: Book a spa day or get a massage to treat yourself on your special day.
Have a game night: Host a game night with your friends and play your favorite board games or card games.
Volunteer: Spend your birthday giving back to your community by volunteering at a local organization.
Take a road trip: Plan a road trip with your friends or family and explore new places together.
How do you make a birthday party interesting?
Curious how you make a party fun for adults? Here are some ideas to keep a birthday party interesting:
Special Activity – Have a special activity or a surprise for guests.
Hire Musicians – Music always keeps the party alive!
Have Table Topics Available – Conversation starters are great for a grown-up party. If there is any awkward silence, grab a card and start asking questions.
Create a DIY Bar for Guests – Let guests create their own drinks or at least get their own refills.
Photo Booth – Everyone loves a good photo booth.
How do you throw a good birthday party?
Send Out Invites via Email
Have an Activity Relating to The Party Theme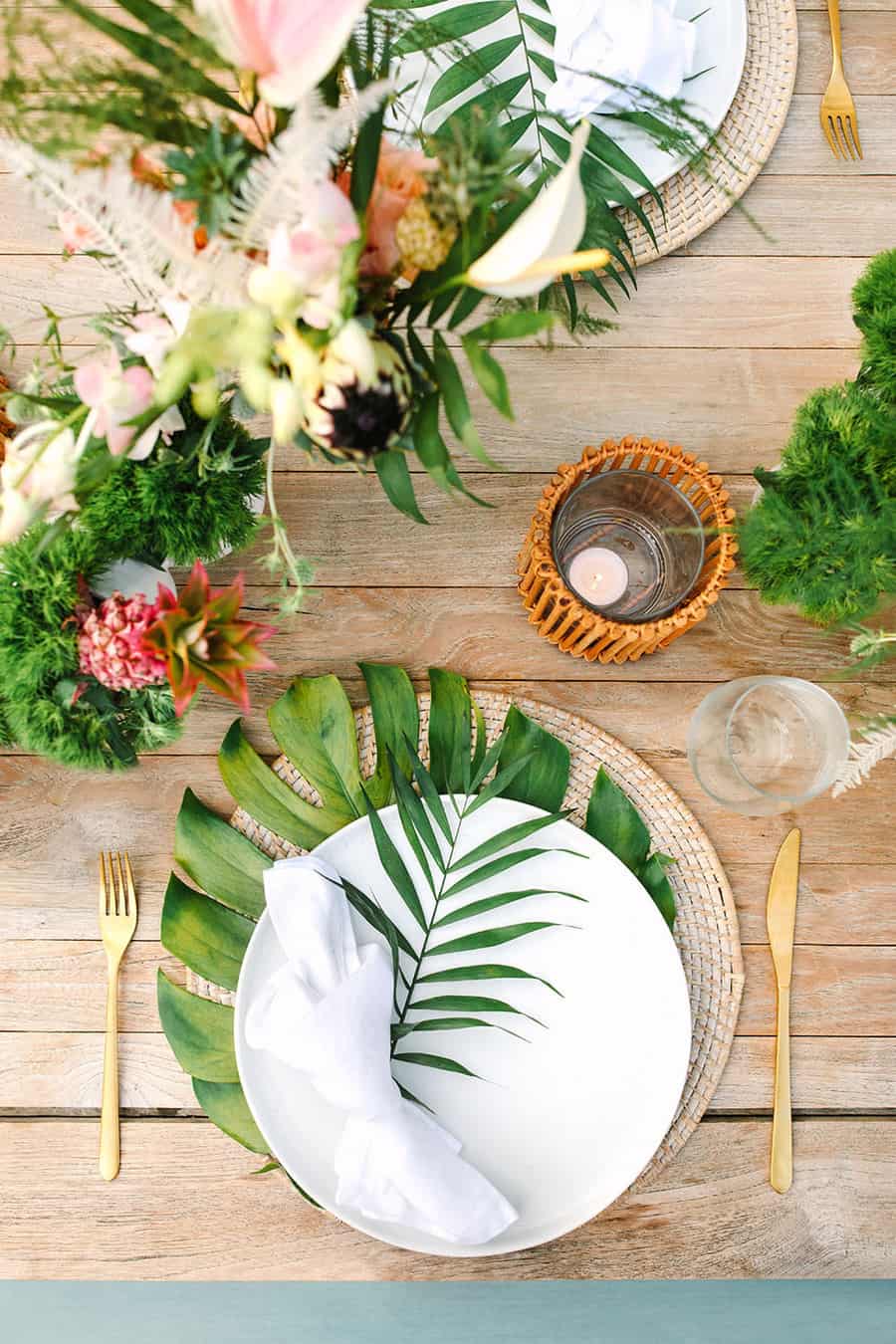 How do you plan a birthday party for adults on a budget?
Planning a birthday party for adults on a budget can be challenging, but it is doable. Here are some tips to help you plan a great party without breaking the bank:
Set a budget: Determine how much you can afford to spend on the party and stick to it.
Host the party at home: Hosting the party at home can save you money on venue rental fees.
Make your decorations: Get creative and use items you already have at home, such as streamers, balloons, and candles.
Plan a potluck: Ask your guests to bring a dish to share, potluck-style, instead of providing all the food yourself.
Serve inexpensive drinks: Instead of serving top-shelf liquor, choose cheaper options like beer and wine.
Send e-invitations: Save money on paper and postage by sending electronic invitations instead.
Choose a low-cost theme: Pick a theme that doesn't require expensive decorations or costumes, such as a color scheme or a simple theme like "movie night."
DIY party favors: Make your own party favors using inexpensive items like candy, small plants, or homemade treats.
Plan activities that don't cost money: Host a game night or movie night, or play outdoor games like cornhole or frisbee.
Shop for deals: Look for sales and discounts on party supplies, food, and drinks to help keep costs down.
Time to Party
We hope you've been inspired and have some birthday party ideas now! Let us know your favorite ideas in the comments below!
We hope you've been inspired by one of these adult birthday party ideas!
You can also FOLLOW US on FACEBOOK, INSTAGRAM, and PINTEREST to see more delicious recipes, cocktails, desserts, and parties!