If you're looking for a great way to add some excitement to your next birthday party, look no further than these fun adult birthday party games.
If you're planning an adult birthday party or game night for a large or small group, your friends and family members will have a blast competing with each other all night long.
Whether you're celebrating a birthday girl or a birthday guy, these fun party games will create a whole evening of fun. They act as an icebreaker for a group of people and are great to play at any time of the year. There are many unique party games that don't require drinking too.
So if you're wondering what are some good games for a birthday party? Here's a list of party games for you to play at your next birthday party for a great time!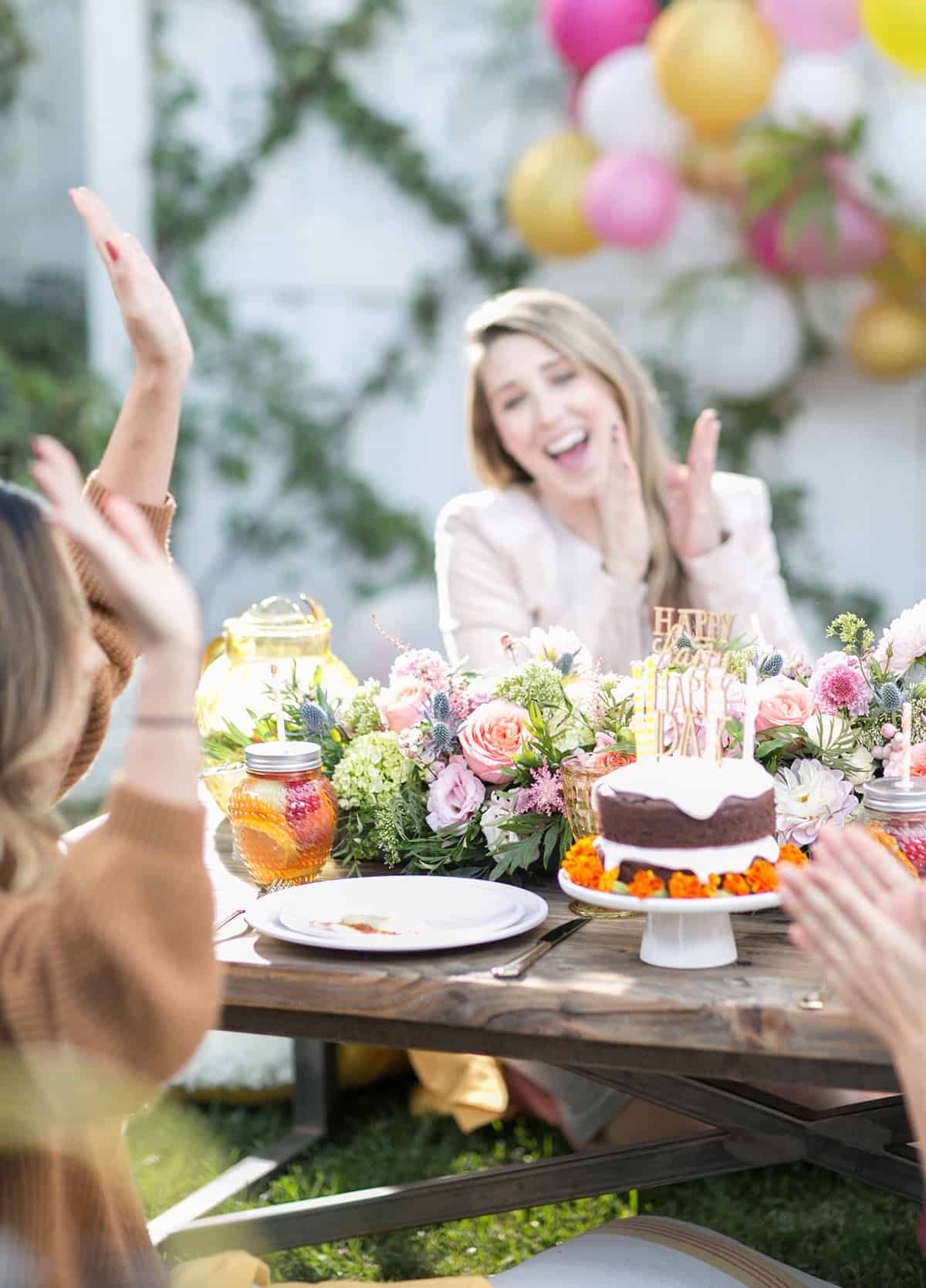 Adult Birthday Party Games
Time for some fun! Continue reading to get more than 30 of the best birthday party games for adults!
Card Games and Board Games
These games are a perfect indoor party or outdoor party games for adults:
Cards Against Humanity
Cards Against Humanity is the quintessential adult card game. A prompt card is drawn and players must use a card from their hand to fill in the blank—often with outrageously funny results.
Pictionary
Pictionary is a classic game that only requires a big sheet of paper and some pens to play. Split your guests into teams and have one player at a time start drawing while their teammates try to guess the image before time runs out.
What Do You Meme?
Take turns pairing iconic memes with the relatable phrases in What Do You Meme? For a truly unique and hilarious birthday party game for adults!
5 Second Rule
This fast-paced game will have guests scrambling to think on their feet. To play 5 Second Rule, a topic is chosen and players must come up with three related words in just five seconds. You'll be surprised at what comes out of your guests' mouths!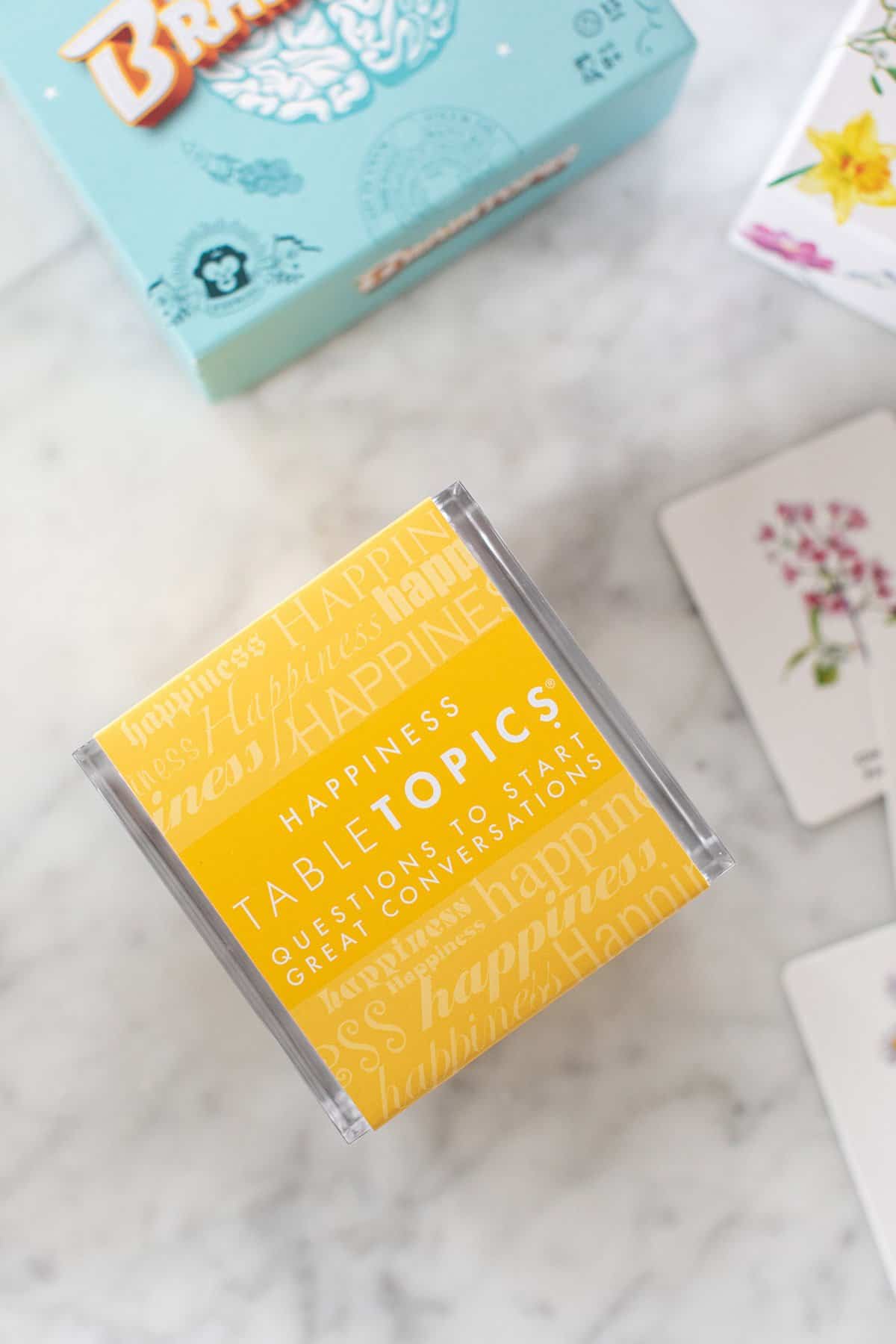 Conversation Cards
For bigger parties, conversation cards are both a fun game and a great way for guests to get to know each other. Pick up a box of pre-written cards or write your own, and watch as the people closest to you form new bonds of their own.
We're Not Really Strangers
How much do you really know about your friends and family? Get to know them completely with We're Not Really Strangers. Players will take turns drawing cards and answering personal questions; by the end of the night, your guests will be closer than ever before.
Apples to Apples
In this classic card game, players are given a topic and must choose the card with the description that best fits. Apples to Apples is easy to pick up and always gets a laugh.
Telestrations
Telephone and Pictionary combine to form the hilarious game of Telestrations. Each player chooses a card begins to draw the given item until time runs out, and the player to their left continues where they left off. At the end, your guests will have a laugh revealing what they've drawn.
Unstable Unicorns
Test your strategic skills with a round of Unstable Unicorns. Collect an unstoppable army of cute critters and betray your friends in the process.
Don't Get Got
Don't Get Got is a game that will last your entire party. Each player draws six cards that contain their "missions," each of which requires them to trick the other players in some way. Your guests will have a blast trying their best to complete their missions without getting caught.
Mafia
Test your powers of deduction in this classic card game. With roles like assassins, townspeople, and police officers to fill, this game works best in large groups. See if you can find identify the villain before it's too late.
Murder Mystery
For parties with a large number of guests, a murder mystery game is a great way to engage everyone in a fun activity. Put your detective caps on and see if you can guess the killer before the party is over.
Hot Seat
See how well your friends and family know you with a round of Hot Seat. The person in the hot seat draws a question card, and everyone else states what they think the answer will be. Whoever's answer is closest to the one from the hot seat wins the round.
Spoons
For this classic card game, you'll need a deck of cards and plenty of spoons. With each turn, players try to earn a pair of cards before quickly grabbing a spoon. Players are eliminated each round until the final spoon is grabbed.
Apps
Here are three of our favorite party game apps that can be played from your phone. These are all perfect for an adult birthday party:
Charades
A classic adult party game, charades are perfect for both large and small groups. Split into teams and take turns drawing slips of paper from a bowl. One member of each team silently acts out the phrase on the slip while their teammates try to guess the clue.
Heads Up
Heads Up is a simple app that is suitable for large groups. Once in teams, one player puts the phone to their head and tries to guess the given word while their teammates shout clues. This game is a ton of fun!
Psych
Perfect for close friends and family, Psych is an app that asks questions about each player, which are answered anonymously. This game is ideal for groups with strong bonds and often produces some hilarious answers.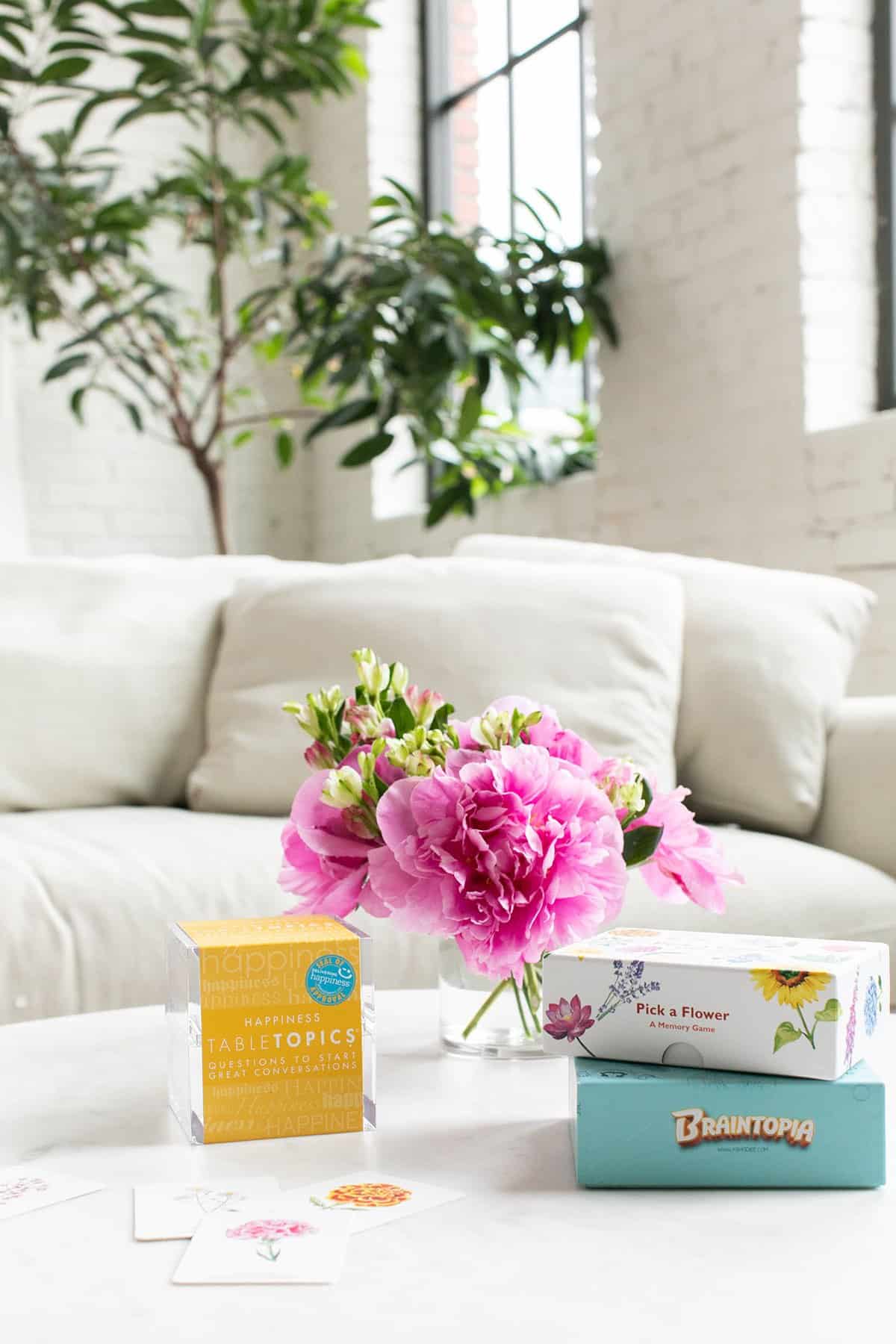 Paper and Post-it Games
All you need to play these party games are either a piece of paper or Post-its and pens!
Two Truths and a Lie
Two Truths and a Lie is at once fun and slightly dangerous party game. Guests take turns writing two personal truths and one lie on a slip of paper. Slips are then read aloud and the other guests must identify the lie.
Name That Tune
Sometimes the simplest games are the most fun. Takes turns to hum a tune and keep track of who gets the most correct answers. Turn Name That Tune into a drinking game by making the losers take a jolly rancher shot at the end!
Articulate
In this clever game, one team member selects an item from a given topic, such as celebrities, places, or foods. Their team must guess the item using descriptive phrases that avoid any obvious keywords.
Ring of Fire
A classic drinking game, Ring of Fire is guaranteed to take your party up a notch. Arrange a deck of cards in a circle and take turns drawing, with each player drinking according to the card's value, whether that includes choosing a drinking partner or taking a drink yourself.
The (Not-So) Newlywed Game
Whether your party guests are couples or just close friends, the Newlywed Game is a great way to test your knowledge of each other. Partners are asked a question and must write down the answer they think the other will give. The team that's most in sync with each other wins.
Celebrity
Similar to charades, Celebrity involves a single team member choosing a slip of paper with a person or item on it. In this game, teams must guess the clue while their teammate describes the famous person, without stating the word explicitly.
Never Have I Ever
Yet another classic party game, take turns comparing wacky scenarios with a round of Never Have I Ever. Starting with ten points each, take turns offering a situation, with players losing a point for each one they've participated in. This game is an easy one to customize—add penalties, or turn it into a drinking game.
If you need question ideas, check out these 100 best "Never Have I Ever" questions.
Great Minds Think Alike
The object of the game is to get as many points as you can. Give your guests a stack of Post-it notes and a pen. Ask a question and have each person write down their answers. You want to try and match the answer to other people in the group. Every time you get the same answer you get a point. Whoever has the most points at the end wins.
There is also a Great Minds Think Alike app too.
Press Conference
In this game, one person holds a press conference and must answer questions from the other guests as if they were a celebrity. The catch is, the person "holding" the press conference doesn't know who they're impersonating!
All this game needs is a few Post-It Notes and a pen. As your guests arrive, write the name of a celebrity on each Post-In and attach it to their foreheads. Have your guests mingle and see if they can figure out their own identities.
Who Am I?
This is a great game for large groups. All you need is a stack of Post-it Notes and a pen. Write the name of a famous person on each Post-It Note and stick the note to each guest's forehead. Team members will give clues and the person has to guess what name is on their sticky note.
Twenty Questions
The classic game of questions, Twenty Questions is an easy, fun party game that anyone can enjoy. Simply pick a topic and have your guests ask questions to gain clues; if they can't figure it out in twenty questions, they lose!
Straight Face
Do you think you can resist laughing at your friends' antics? To play Straight Face, have each guest write down a phrase and place it in a bowl. One person then reads each phrase to the group—if they laugh, they lose.
Sticker Stalker
Sticker Stalker is a game that you can keep playing all night long. Give each guest a sheet of stickers upon arrival, and have them discretely attach them to other guests throughout the party. The guest with the most stickers on them at the end of the night is the loser.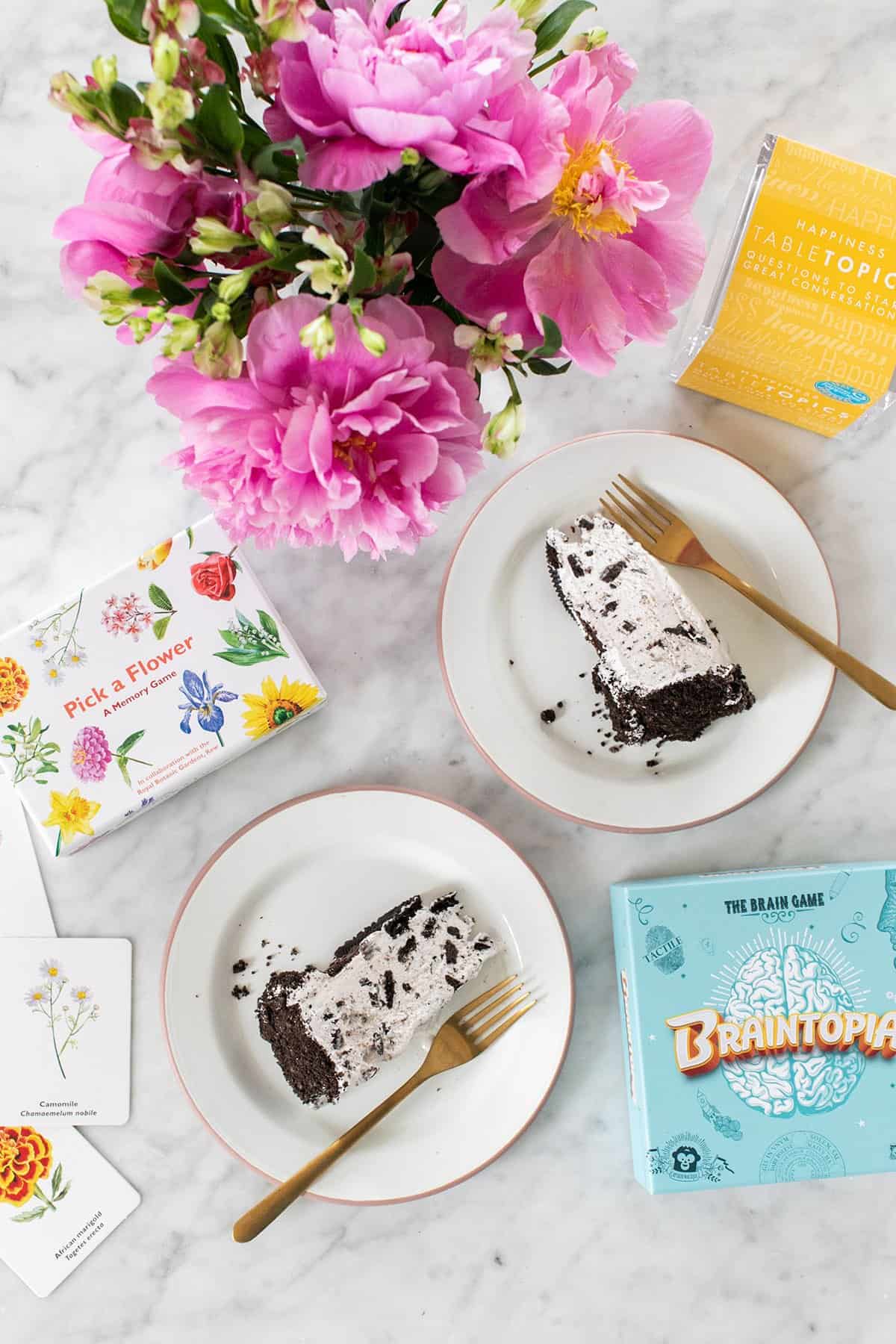 Outdoor Birthday Party Games
Cornhole
We've been playing this cornhole game for over 20 years. It's similar to beanbag toss but for adults. This game is so much fun and great for a large group. Set a few boards outside so several people can play for a good time.
Prosecco Pong
Once you graduate college, you also graduate from beer pong. Instead, we're going a tad bit classier with Prosecco pong! An elevated twist on the classic college drinking game.
Giant Jenga
Another fun yard game for a birthday party. Giant Jenga is very fun for adults too! This game will have you on edge as you remove giant blocks from the tower. The goal of the game is to not let the tower fall on your turn.
No matter which games you choose, these party games are a great way to bond with your closest friends and family. So celebrate your birthday this year by involving your guests in a fun and unique adult party game.
Adult Party Game Tips
Here are some more fun ideas you can incorporate when playing adult party games:
Small Prizes – Get the competition going by giving out prizes like gift cards, candles, or a bottle of wine to the winning team.
Themes – If you're hosting a themed party chose a game that goes with the theme.
Three Games – Have at least three options of different games to play.
Best Adult Birthday Party Ideas
Looking for more adult birthday party ideas? Here are some of our favorite recipes and party themes!
This classic yellow birthday cake is perfect for any birthday celebration. Also, try these vanilla brownies because they are so good!
No-bake cheesecake with sprinkles is one of our favorite adult birthday party desserts and it's easy to make.
A make-your-own spritzer bar is another activity that allows guests to mingle and chat while making cocktails.
Birthday cake shots are perfect for an adult party! They taste sweet like a slice of vanilla cake! You'll also love our Jolly Rancher shots and Gummy Bear shots too!
Serve a themed cocktail but make it a punch so guests can serve themselves.
Looking for more dessert ideas? Check out all of our best party desserts!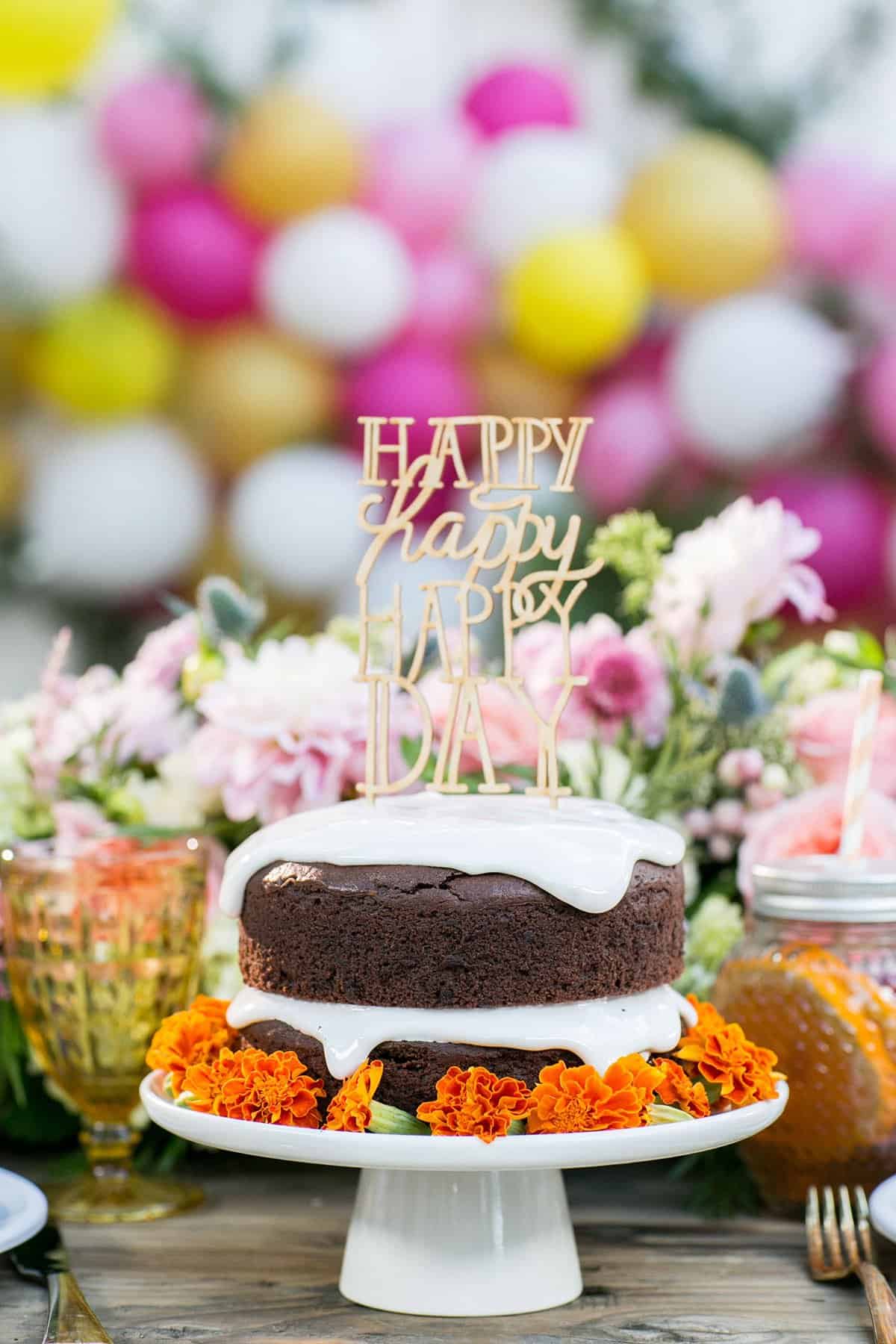 Birthday Party Food Ideas
We're all about good food, but also keeping it easy with appetizers and charcuterie boards. Here are some of our favorite party food ideas:
Frequently Asked Questions
How do you entertain a large group of adults?
Play Games – Party games keep guests entertained and work as an icebreaker.
Have Enough Appetizers, Cocktails, and Beverages – Serve a festive cocktail and create a beautiful spread of appetizers.
Good Music – A good playlist will encourage guests to dance, be social and lighten the mood.
Pick a Theme – People love themes! Pick a theme and have guests dress up. This will keep guests entertained!
Hire Talent – Hire musicians, maybe a card reader or a henna tattoo artist, etc. Some sort of talent at the party can help keep guests entertained.
Have an Activity – One of the best ways to keep guests entertained is by having an activity or DIY station like a make-your-cocktail bar, cake decorating station, or candle-making. Something fun guests can do during the party.
How do I make an adult party fun?
There are several ways to make an adult party fun! Here are our top 5 ways to make a party fun:
Pick a Theme – Theme parties are always fun and make planning easier too.
DIY Stations – Have a few stations of activities like making your own cocktail or creating a floral arrangement. You can pick activities that go with the party theme. For example, if you're hosting a spa party, then hire someone to give quick 10-minute massages or have a DIY oils station where guests can create their own oil blends.
Music – Music is so important for creating positive energy at the party. Make sure you have a good playlist going that will keep people excited. If it's a big celebration, hire a local DJ to keep the party going.
Food and Drinks – Make sure there are plenty of appetizers and boards for guests to graze on as well as cocktails and beverages.
Play Games – Games act as an ice breaker for parties, allow people to meet and mingle with other guests and create a fun atmosphere.
More Party Ideas You'll Love
A Colorful Backyard Carnival Party
The Most Charming Graduation Party Ideas
How to Host an Outdoor Movie Night
How to Host a Tropical Summer Party
How to Create the Best Mojito Bar
Also, check out how to host a family game night.
Now that you have a list of the best adult birthday party games, it's time to start planning! Leave a comment below and let us know what game you enjoyed the most at your birthday party!
You can also FOLLOW US on FACEBOOK, INSTAGRAM, and PINTEREST to see more delicious recipes, cocktails, desserts, and parties!
Adult Birthday Party Games
Adult birthday party games to play at your next party!
Print
Pin
Rate
Ingredients
1

Classic Card Games

1

Murder Mystery

1

Hot Seat

1

Spoons

1

Charades

1

Heads Up

1

Psych

1

Two Truths and a Lie

1

Name That Tune

1

Ring of Fire

1

Never Have I Ever

1

Who Am I?
Instructions
Pick out one or two party games to play at an adult birthday party!

Create teams and give out prizes to make it competitive and more fun!
Notes
These are adult party game suggestions. Playing games at parties gives guests something to do and is a great way to socialize.