If you're throwing a kid's barnyard birthday party and need ideas, look no further! We're sharing all of the details from my son's Charming Barnyard Birthday Party that was a total hit!
I couldn't wait to celebrate Monroe's second birthday with a barnyard themed party! I asked you all via Instagram what party you would like to see and the barnyard birthday party was the winner!
Start with pulling together a mood board for the party, we had brighter and modern in mind. I didn't want a traditional black and red barnyard party so we chose lighter blues, turquoise, light peach and brown.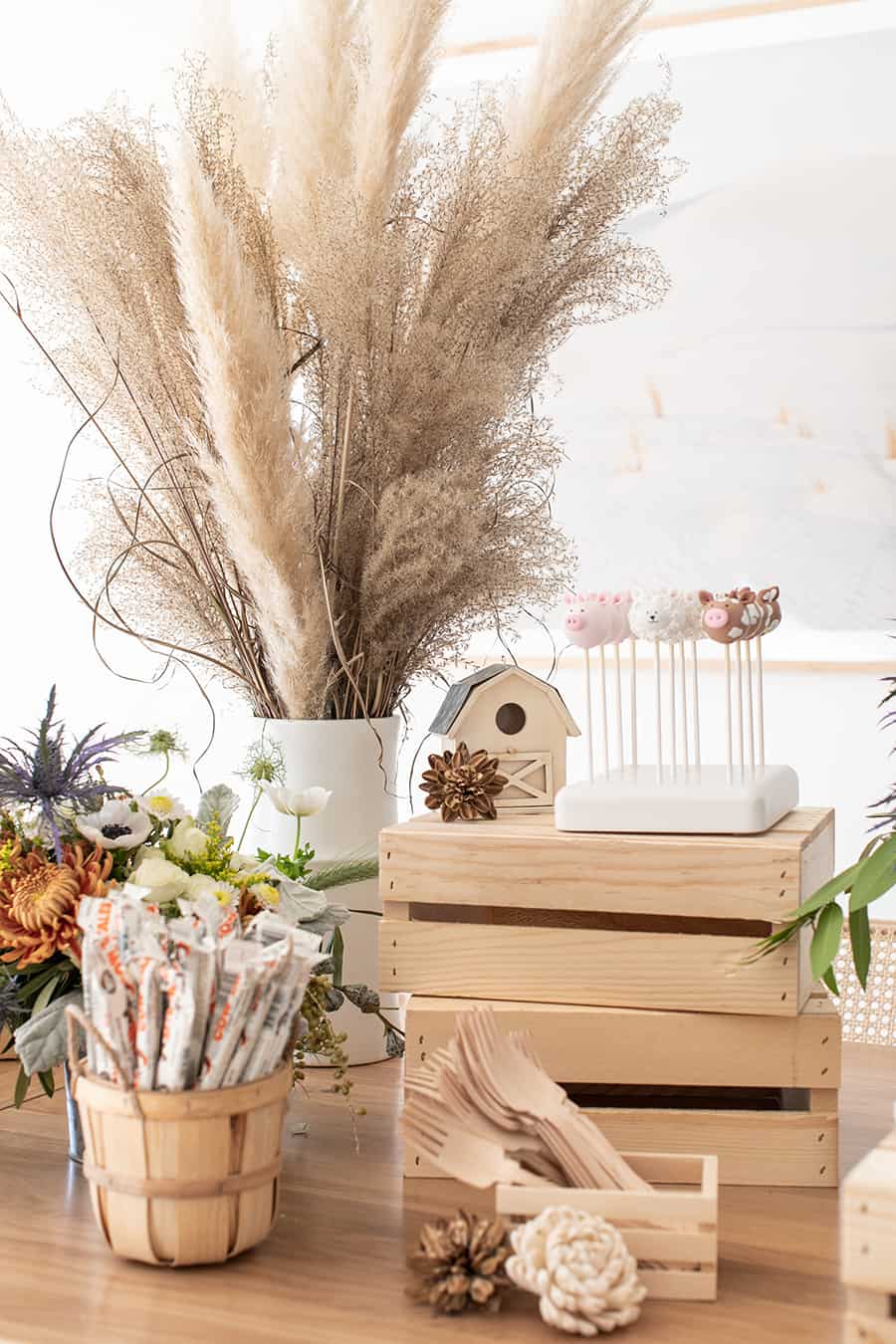 Once the mood board is complete, it's time to put the party together! Use our checklist and don't forget to check out our entertaining rules to live by!
How to Host a Barnyard Birthday Party
Barnyard Desserts
The desserts were my favorite part of the party! I hired my friend Michael from Super Baked Goods to make our barnyard desserts. Here's what we did"
Barnyard Cookies
Farm Animal Cake Pops
Cow Cake
I gave her all of my inspiration and the colors and told her I wanted lighter colors and browns and she made the most beautiful desserts! Here are more ideas!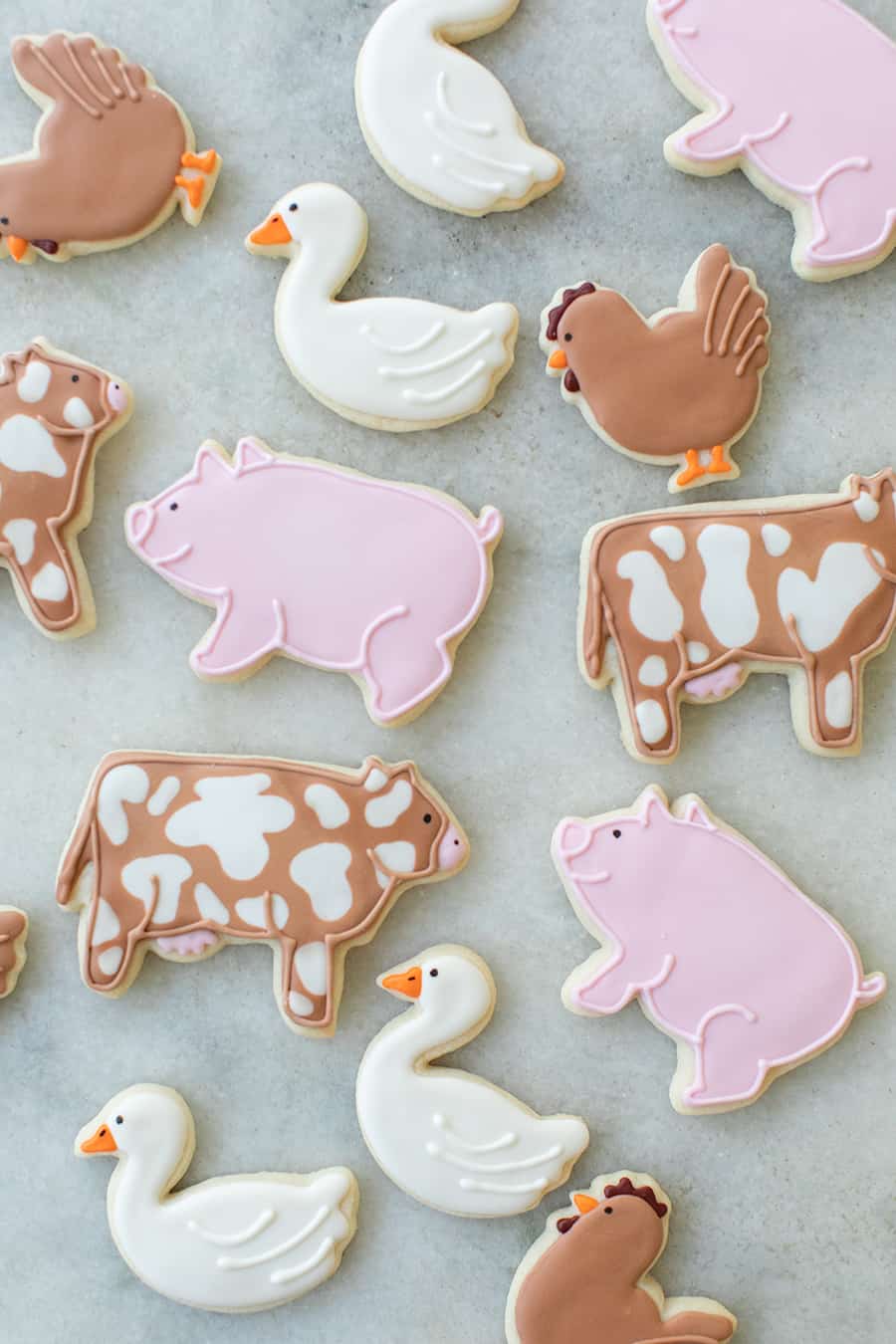 I still can't get over how adorable the farm animal cookies are! The kids loved them so much and I loved how much charm they added to the dessert table!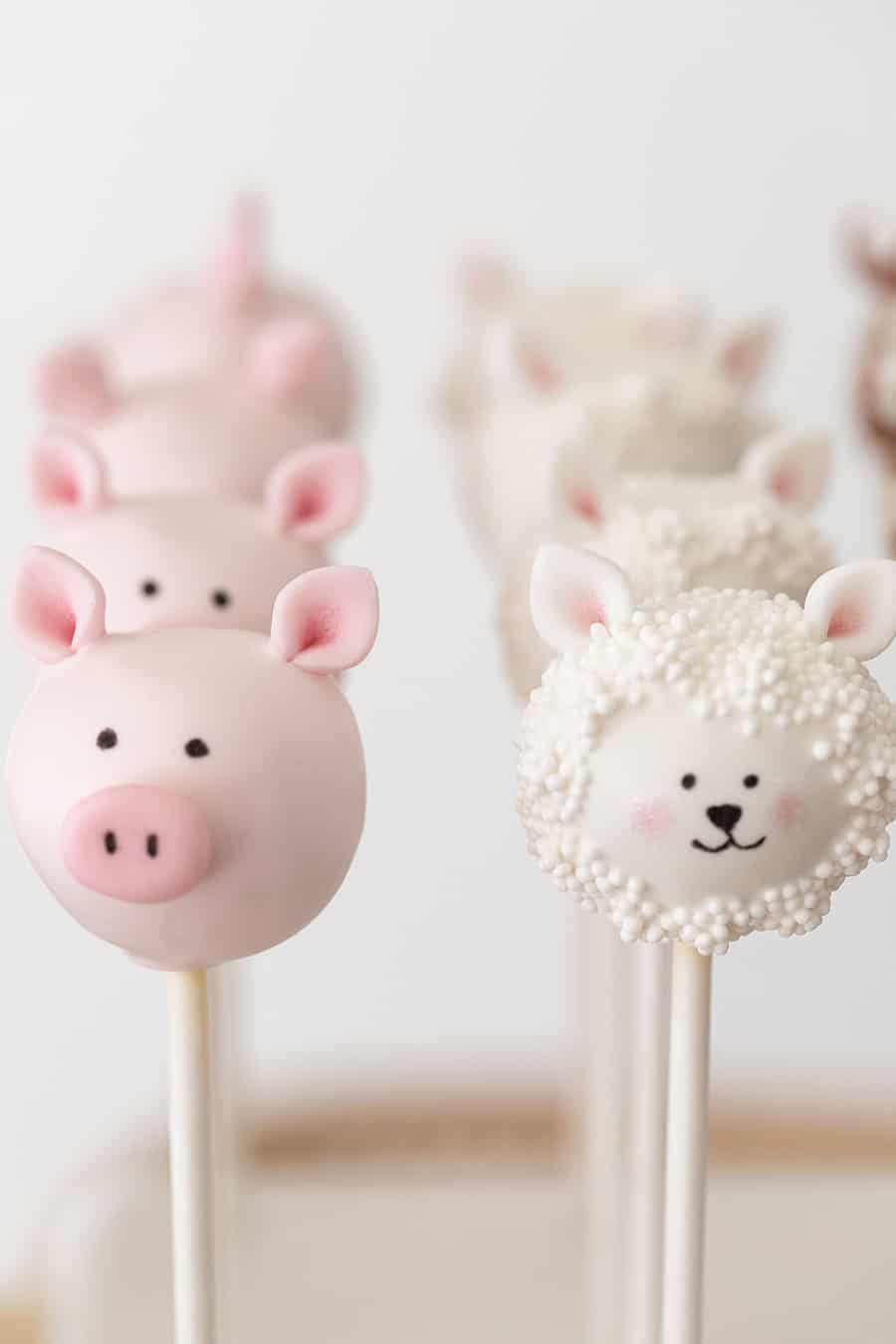 And these adorable pig and sheep cake pops!!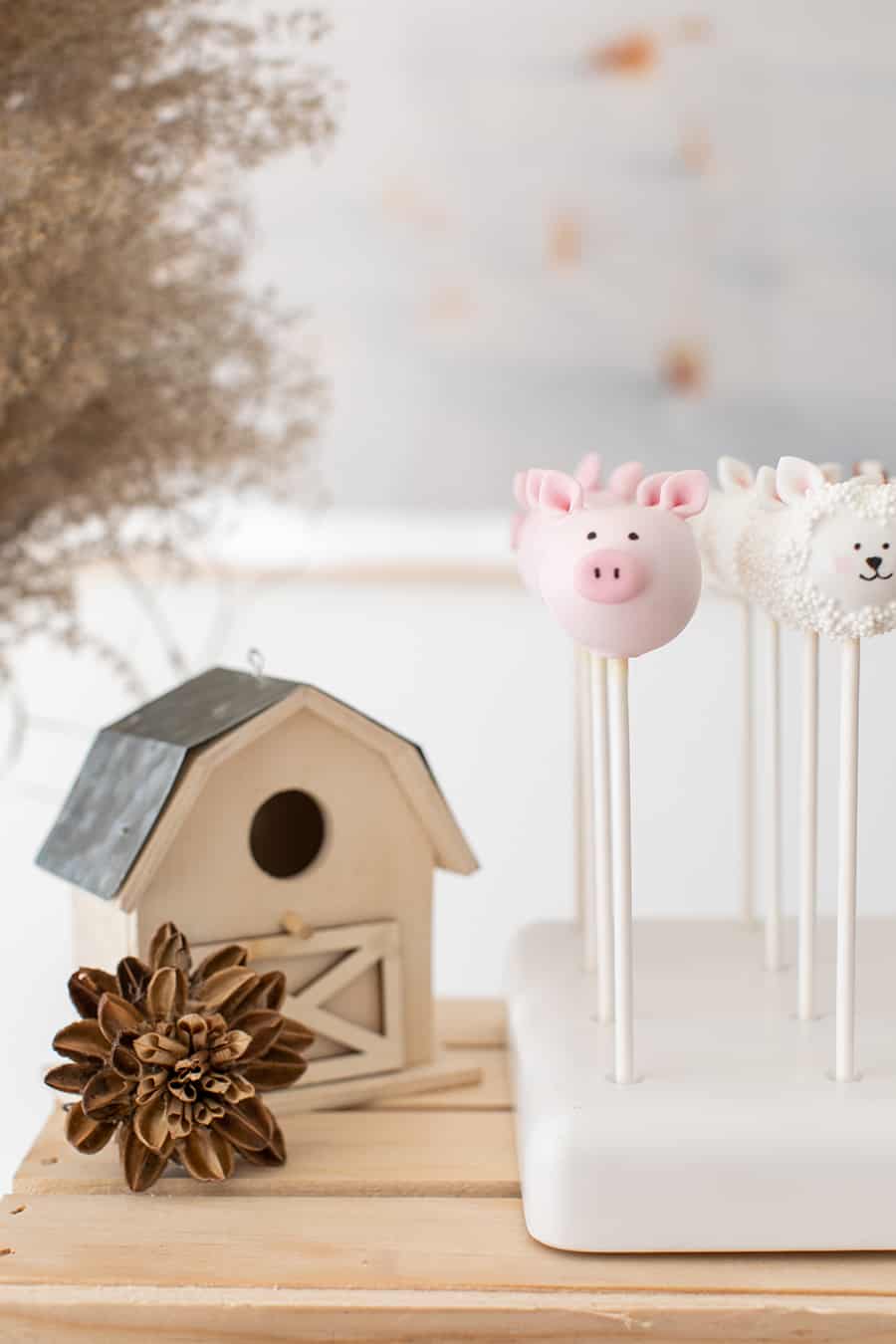 Cake Pop Stand
Can pops are the sweetest desserts for a birthday party, but displaying them in a charming way can be difficult! We found the perfect cake pop stand, you can buy them here.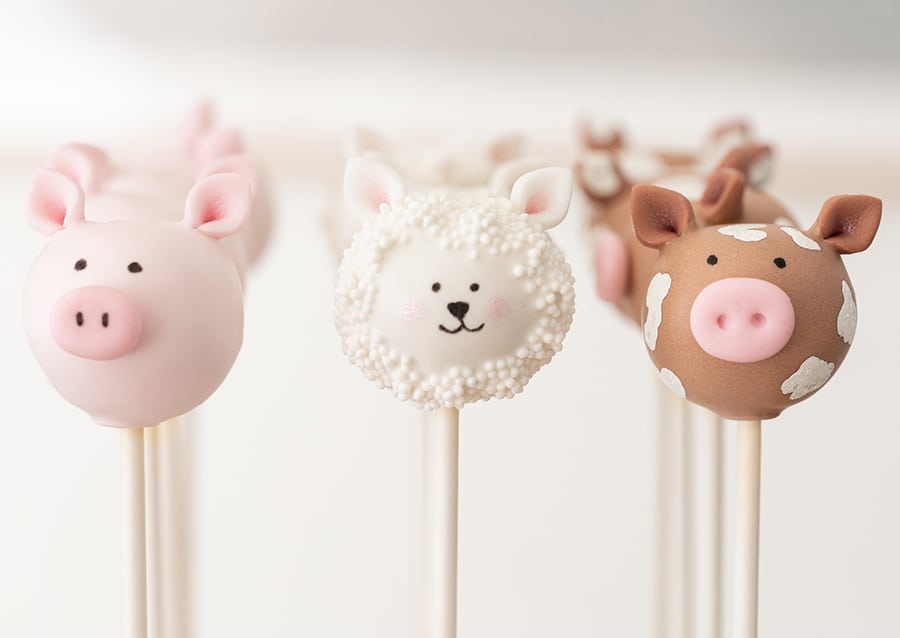 The birthday cake was a chocolate cake with light brown frosting and fondant cow spots! Here are some of our favorite cakes recipes you can use to make the perfect birthday cake!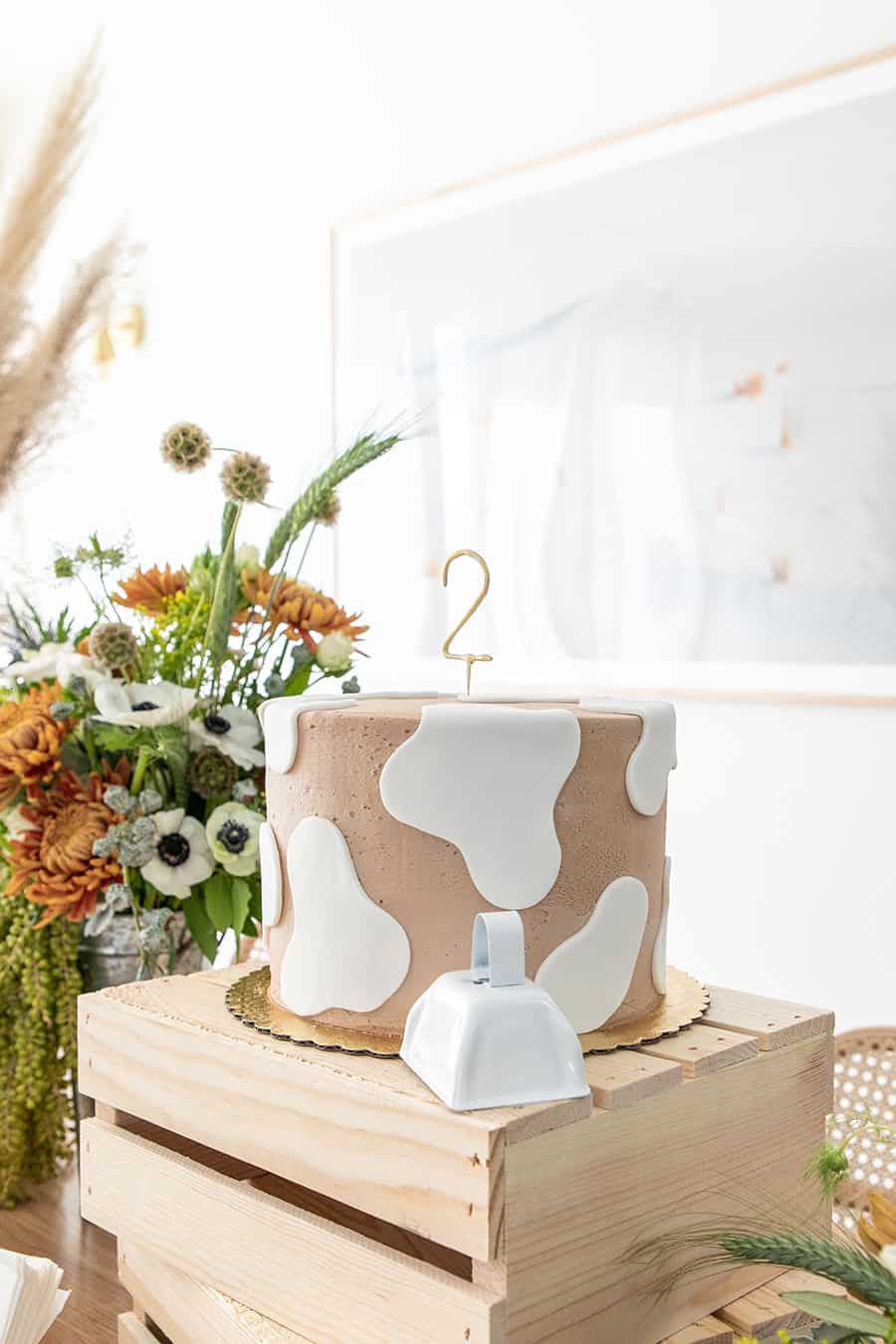 Wooden Cake Stands
Don't own a cake stand? No problem!
Instead of cake stands to display the desserts I bought wooden crates from Michaels Arts and Crafts. You can buy them at most craft stores and they are inexpensive.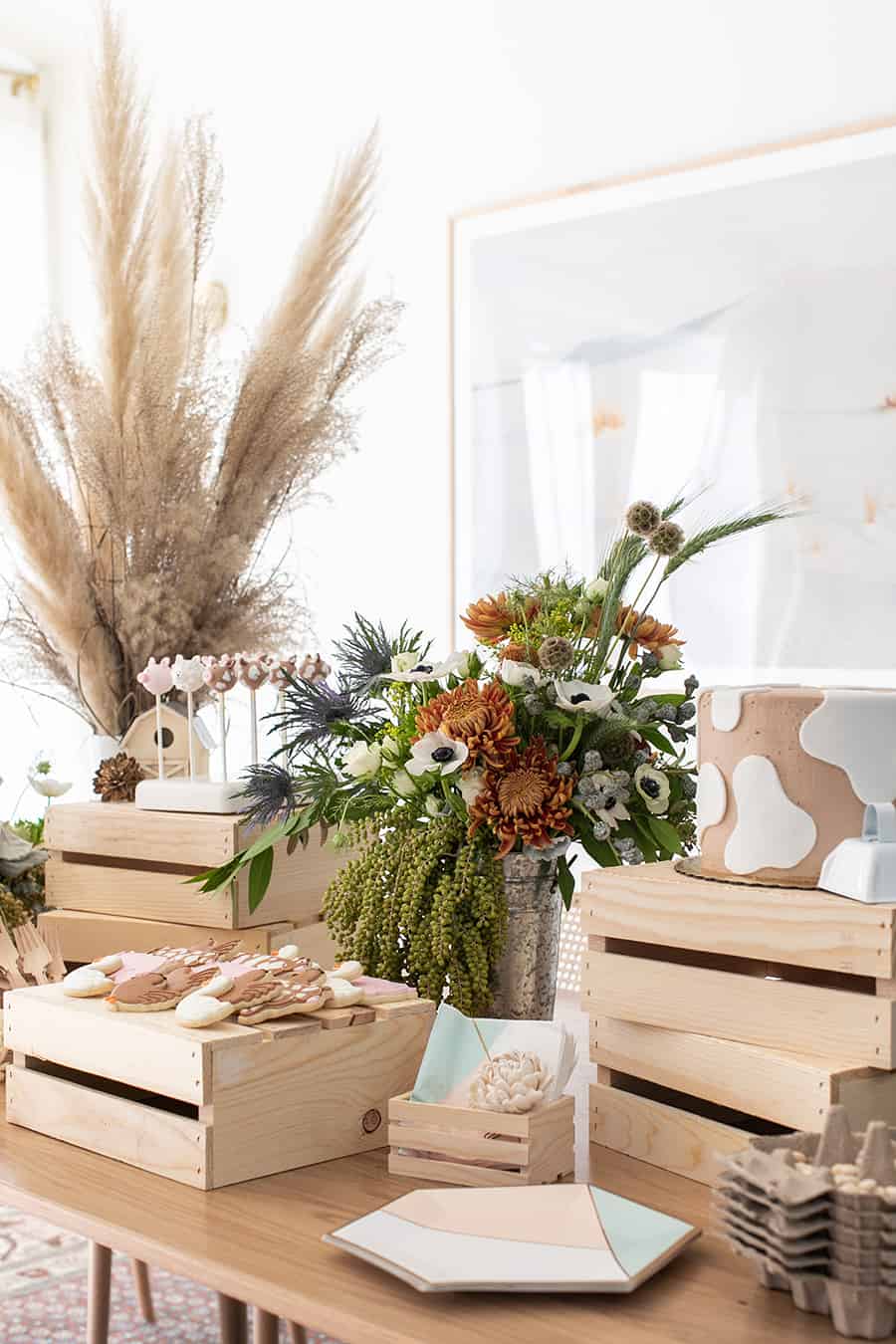 Stack them high to give the table a tiered look. Furthermore, fill them with farm food or flowers!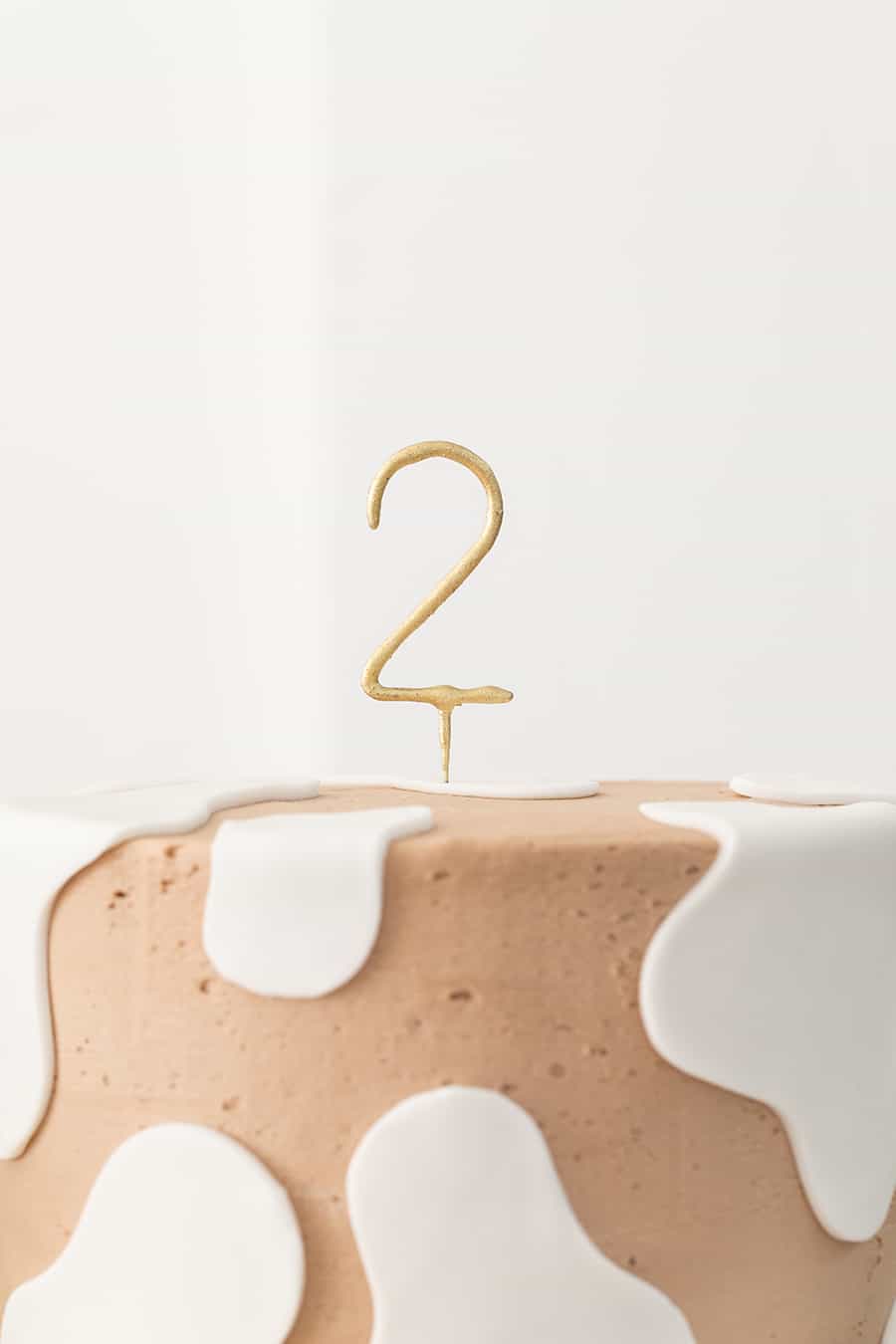 Birthday Candles
Celebrate birthdays with sparkles! They're fun and really get the celebration started! Buy them from Tops Malibu.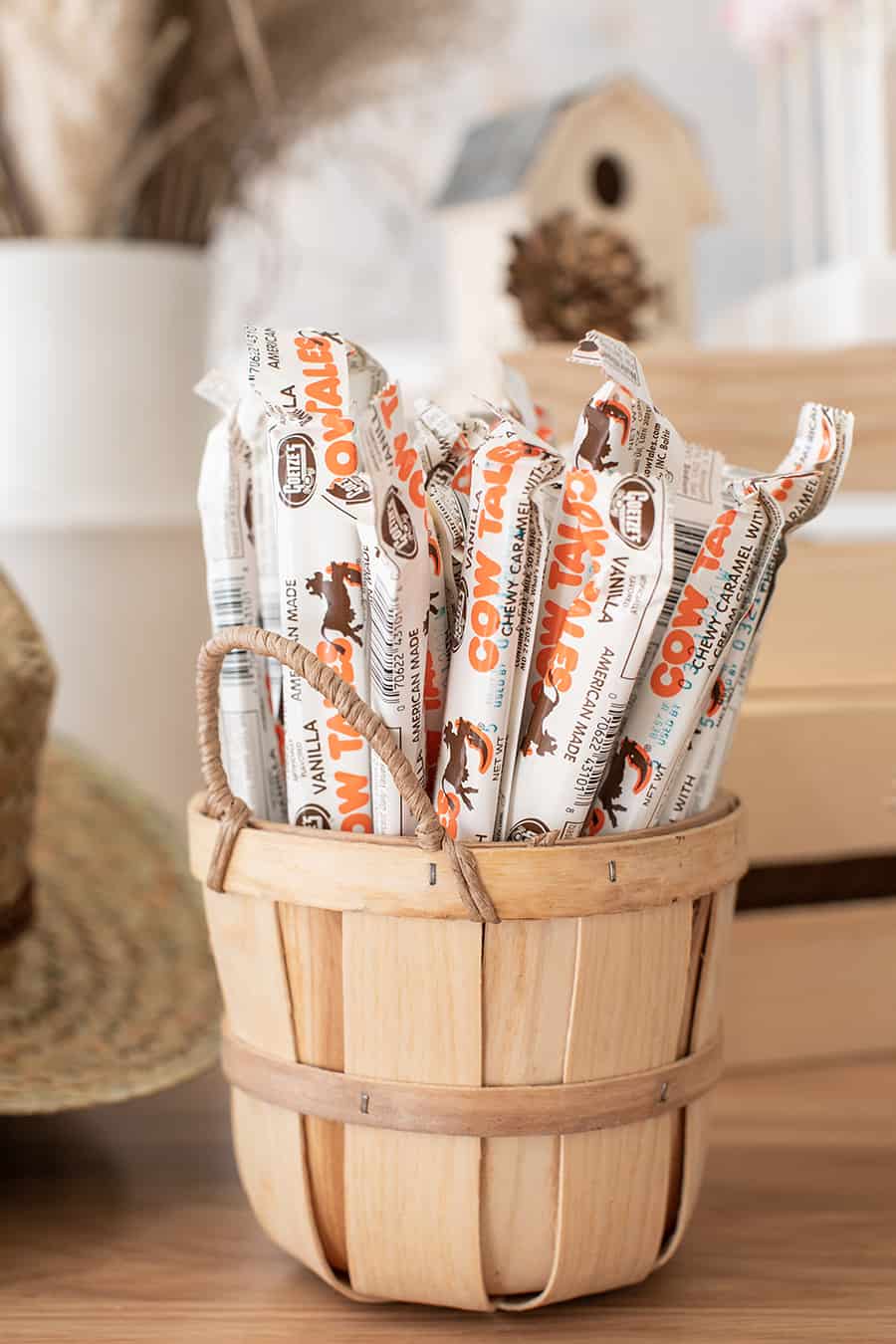 Classic Barnyard Candy
Adding a little classic charm with COW Tales vanilla, chewy candy!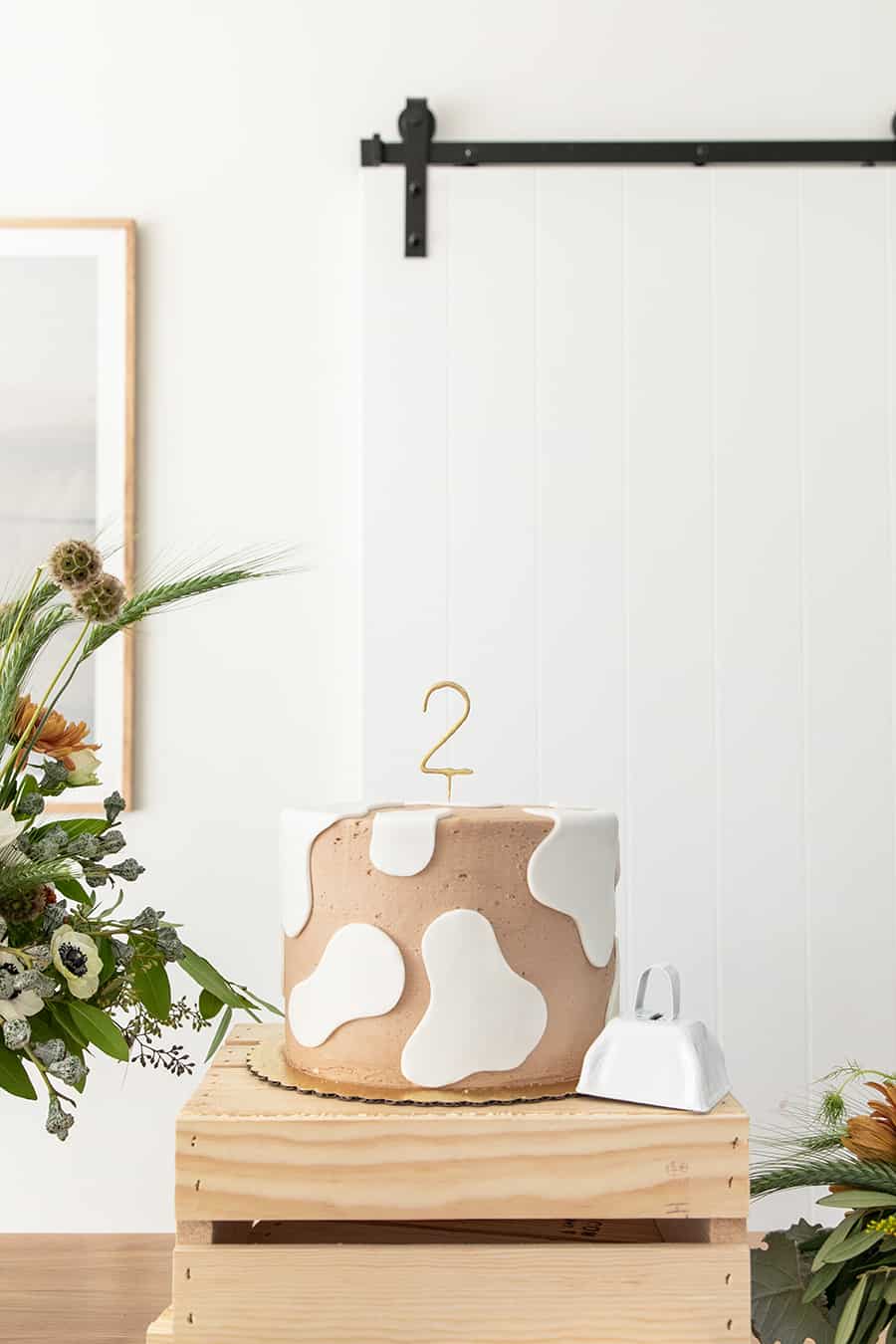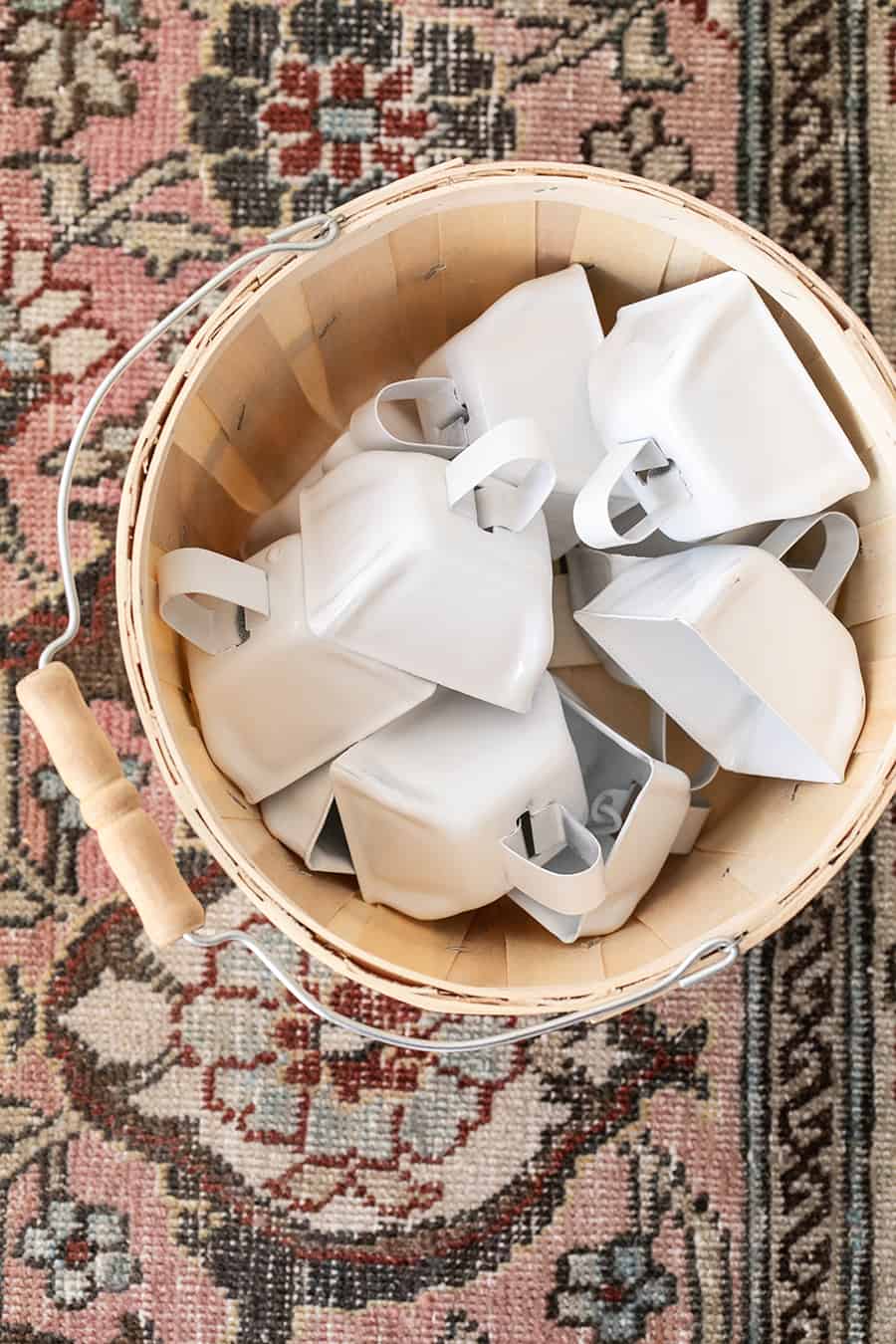 Barnyard Party Favors
Of course, you have to have some cowbells at the party!! Found these from Amazon and they're great quality! They're loud, but fun and the kids got to take them home if they wanted. Not sure the parents loved that idea!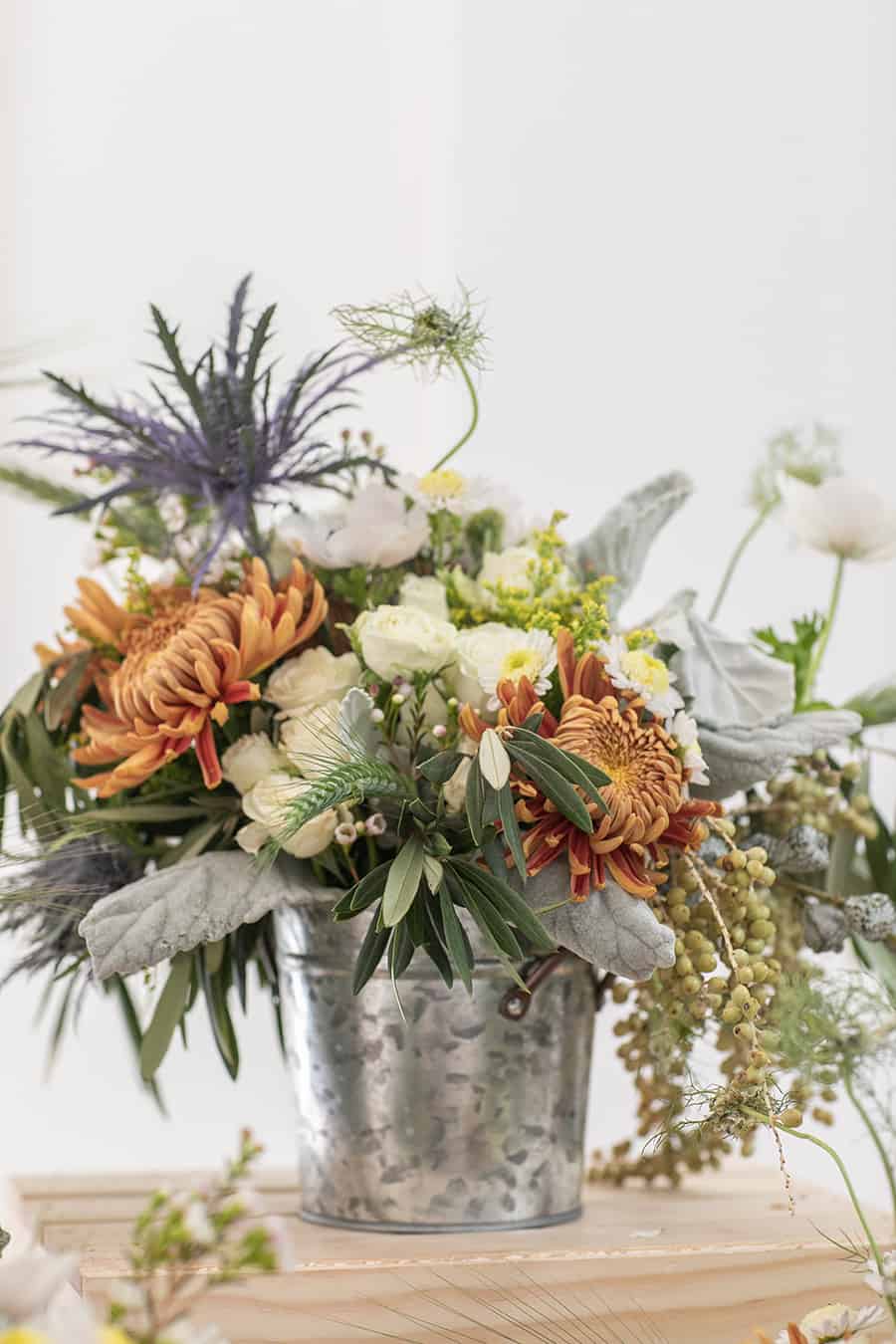 Barnyard Flowers
Flowers make such a difference when decorating for a party. For a barnyard party, use wildflowers and galvanized buckets. Pick what you have in the yard or buy flowers at a grocery store to make your own arrangements.
Erin from White Fig Designs did the flowers for me. I do splurge on flowers, but if you want to keep it cheaper and make your own you can!
We used inexpensive galvanized buckets and she made pretty wildflower arrangements. Erin shares some tips for creating your own flower arrangements here.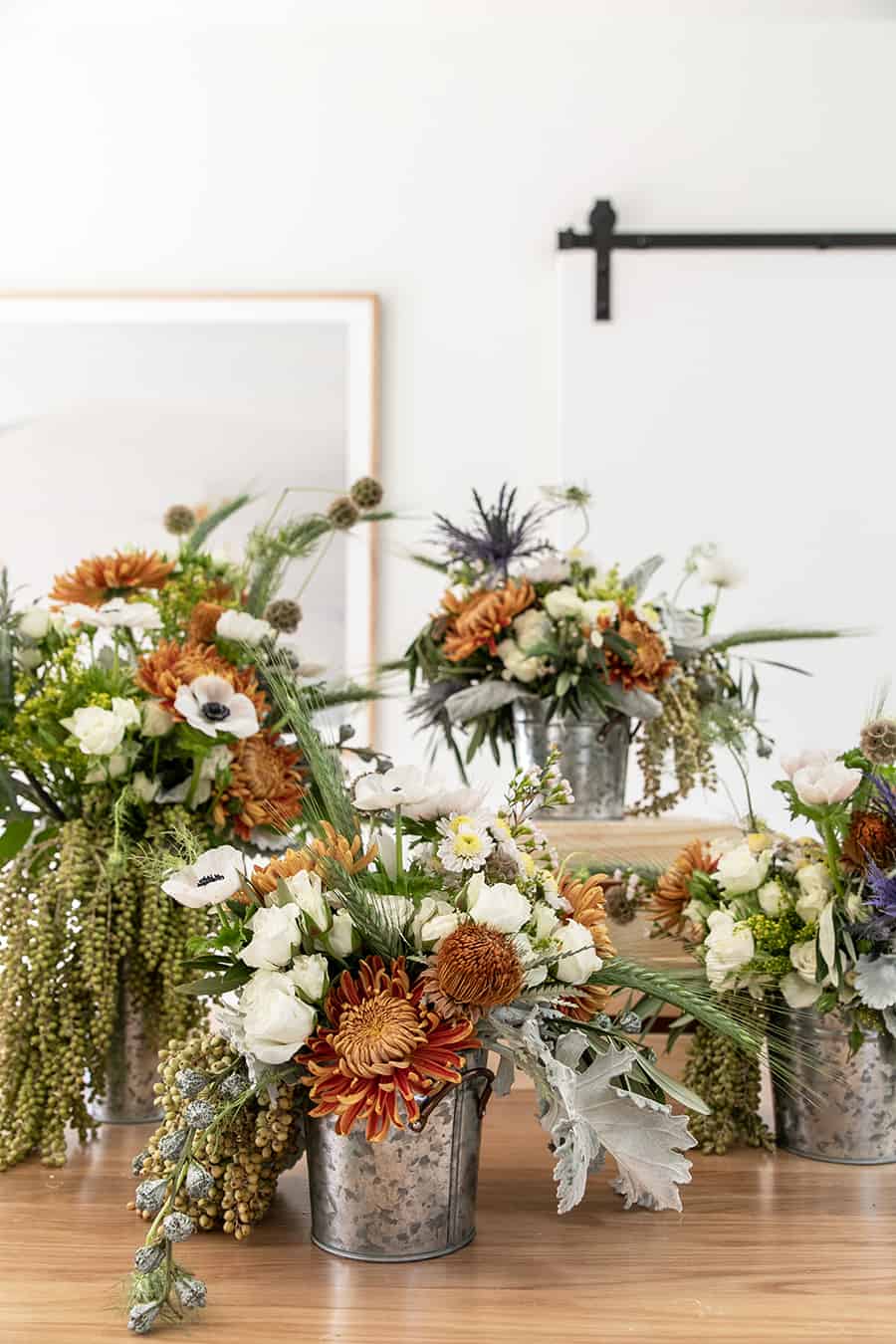 Food and Drink
It's not a party without food and drinks! If you want to keep it simple, serve appetizers and dessert. Always mention on the invitation what you will be serving, dinner, appetizers or just dessert.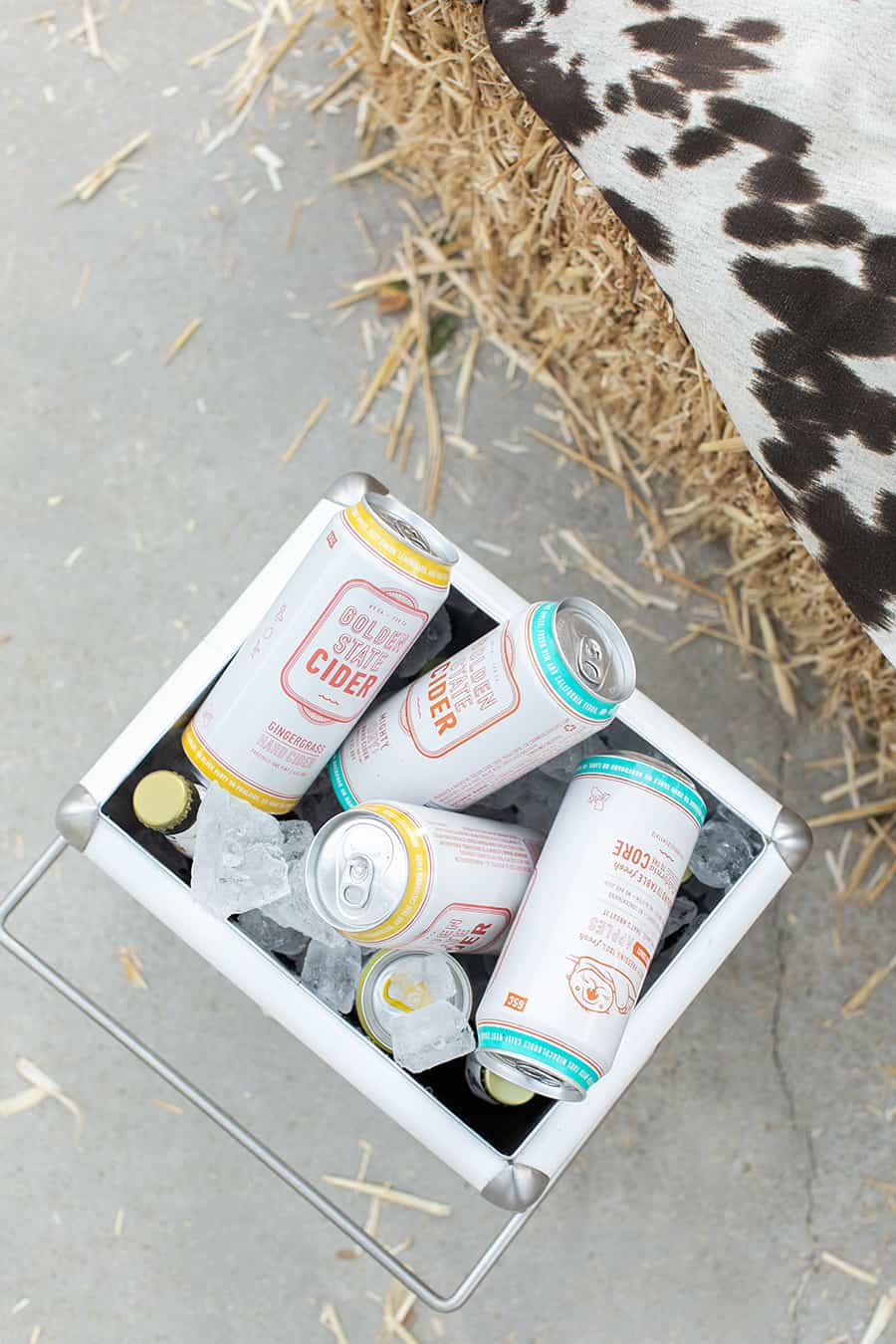 For drinks, serve red and white wine for the parents as well as and hard cider. We also made an apple cider punch.
The kids got apple juice and water!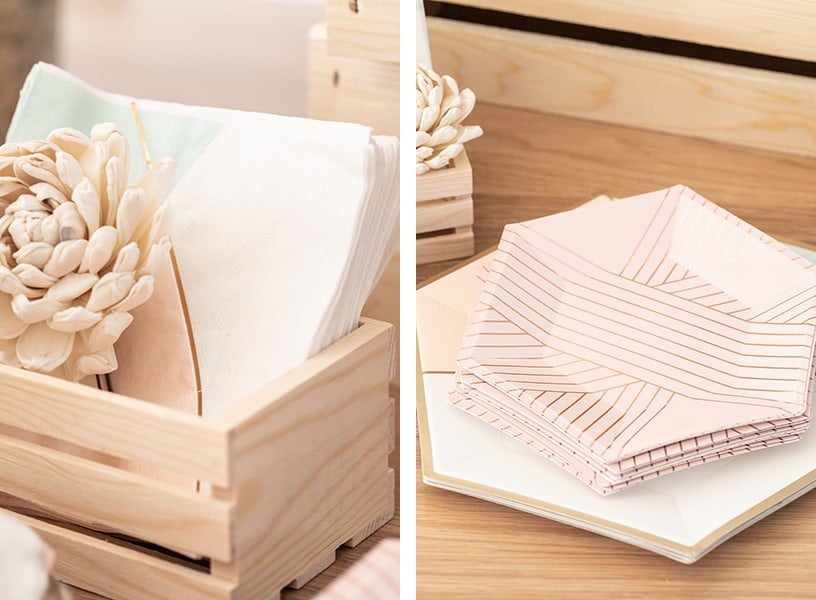 Party Supplies
Almost every party I host I use Harlow & Grey. They are truly my favorite disposable line of party plates, cups, napkins and wooden utensils.
I ADORE all of their collections and love how it adds class to a party as well as easy cleanup! You can see their entire collection here. It's actually where I got the color scheme for the party, from these plates!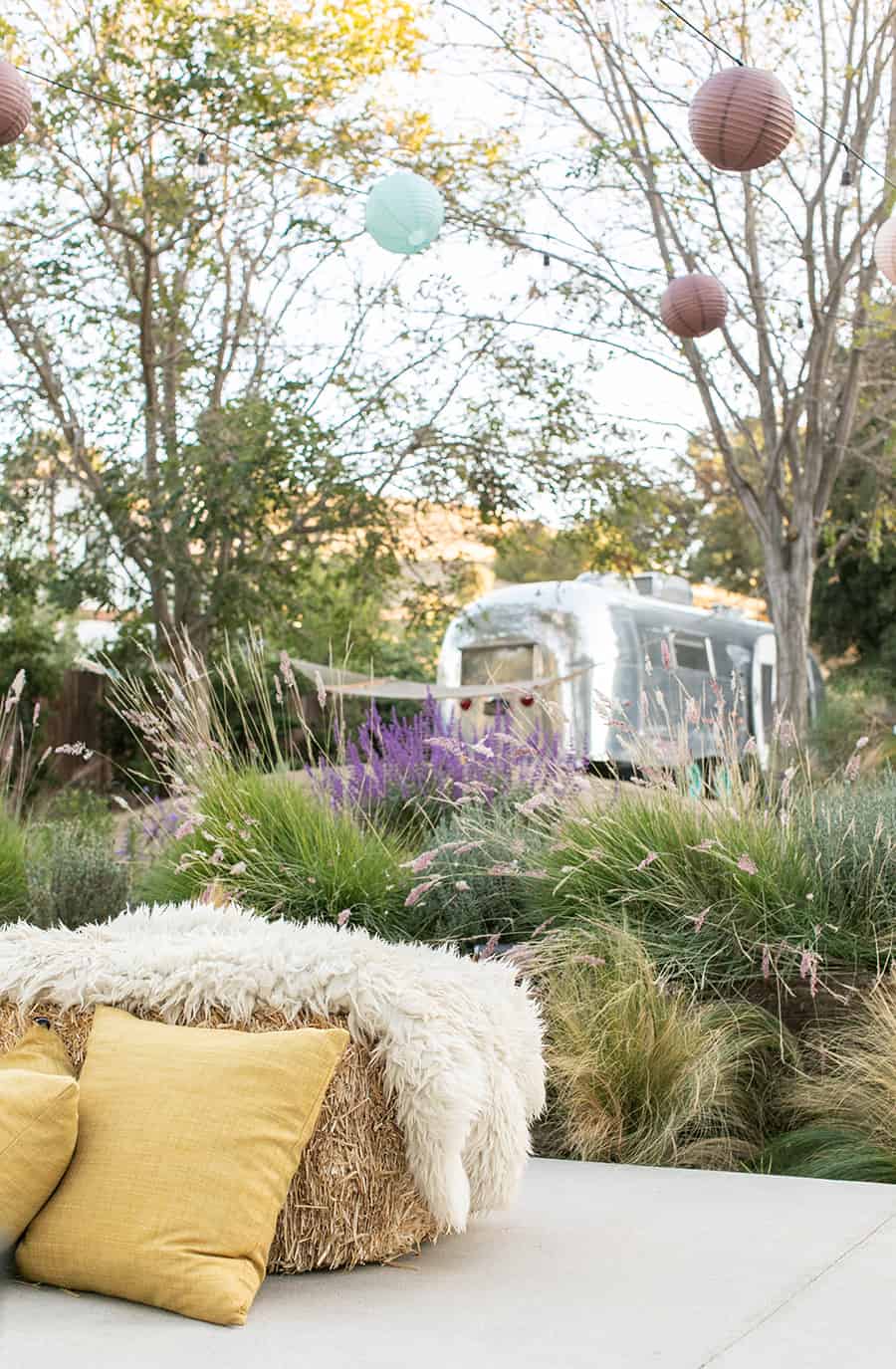 Birthday Party Activities
I kept the activities pretty simple as our yard already has a trampoline and a fort with swings. I did set up an area for an outdoor movie and we played Pig in the City on the side of the house. You can see more about our outdoor movies here and what projector we use.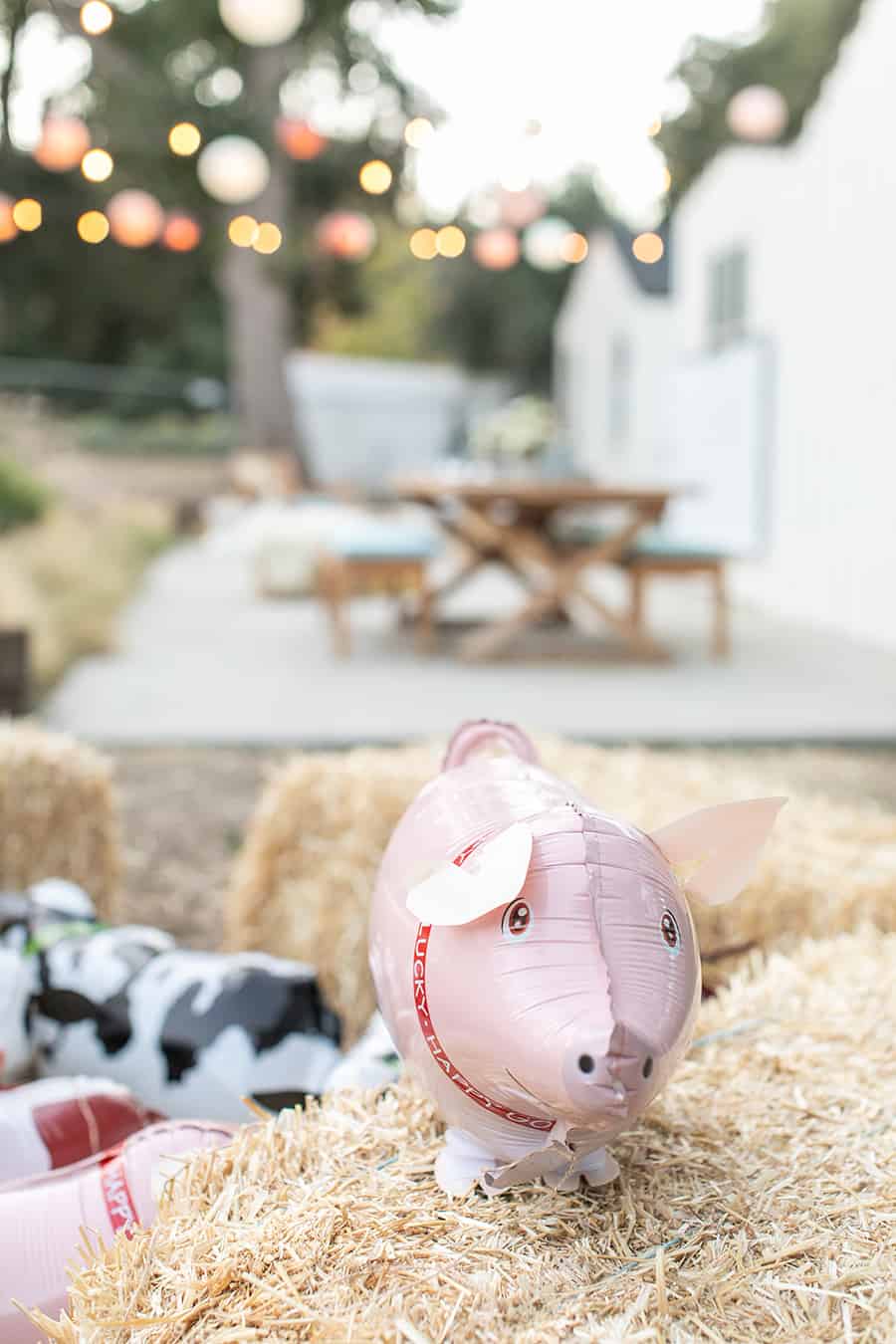 Barnyard Animals
My main goal when putting this party together was to keep it affordable and achievable for anyone to replicate or get ideas from.
To hire real barnyard animals for the party wasn't in the budget and to be honest, I felt a little extravagant for a two-year-old, so I went with the next best option…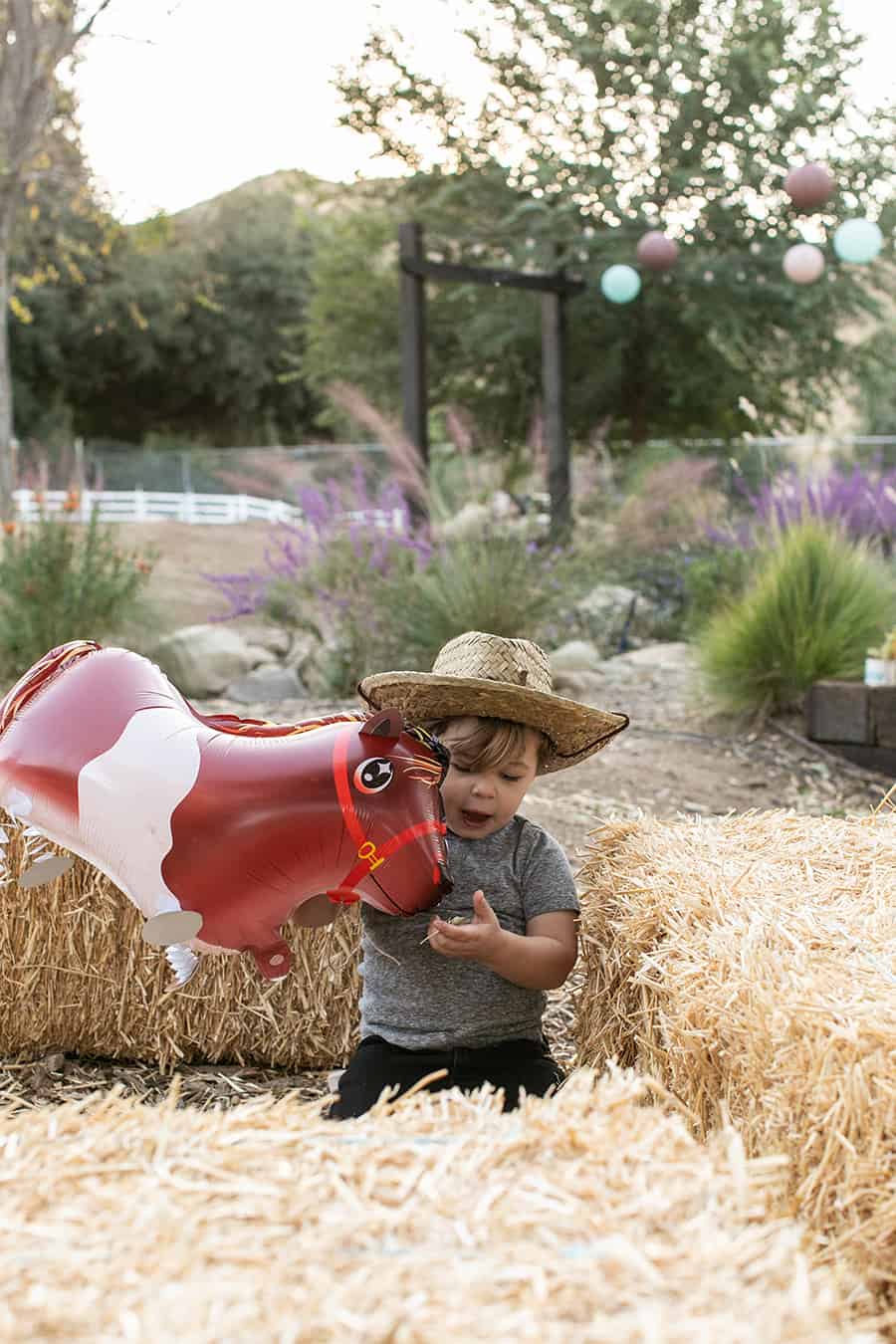 We used barnyard balloon animals! These were a hit! The children absolutely loved them, ran all over the yard, made them fly and enjoyed playing with them all evening.
It was the better option as it was endless play. The picture above is Monroe feeding his horse hay!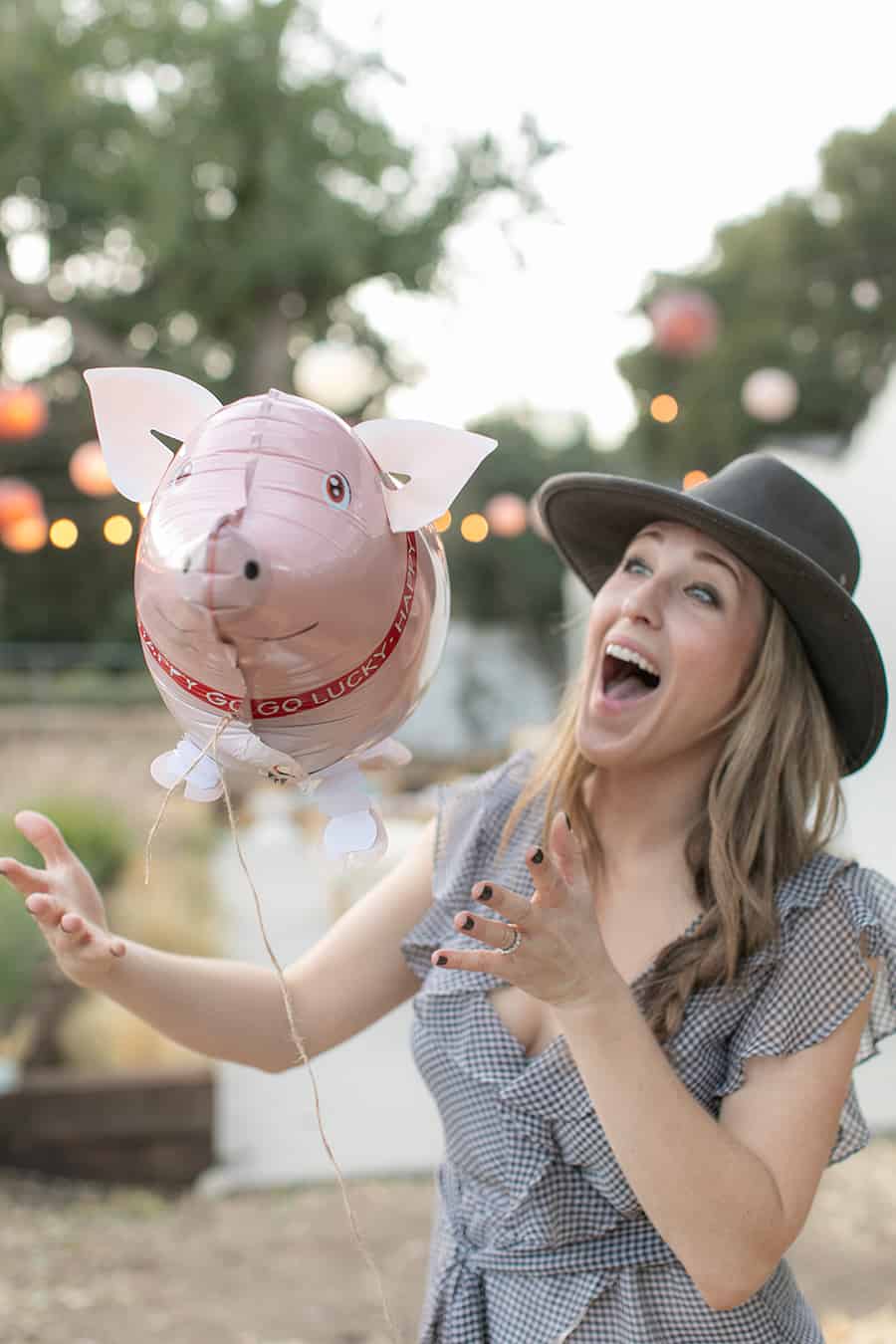 Barnyard Balloons
I bought the barnyard animal balloons on Etsy and Amazon and I also purchased a helium tank to blow them up at home.
A little tip – make sure you have a few extra on hand in case any of them pop. It happened only once for us, but I was happy I could provide another mini pig.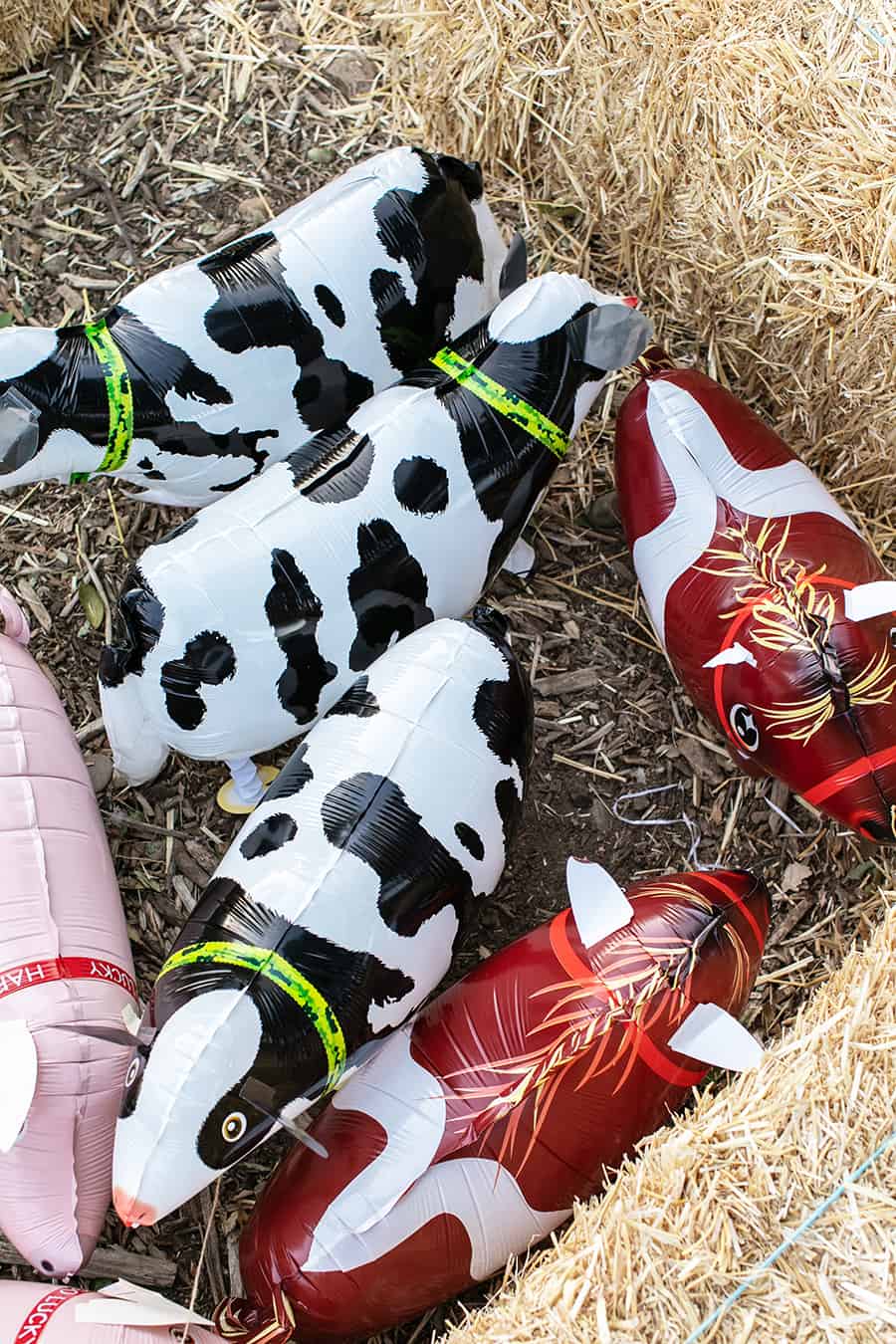 The haybales and made a little pen for the balloons so they would stay in one place before everyone got to the party.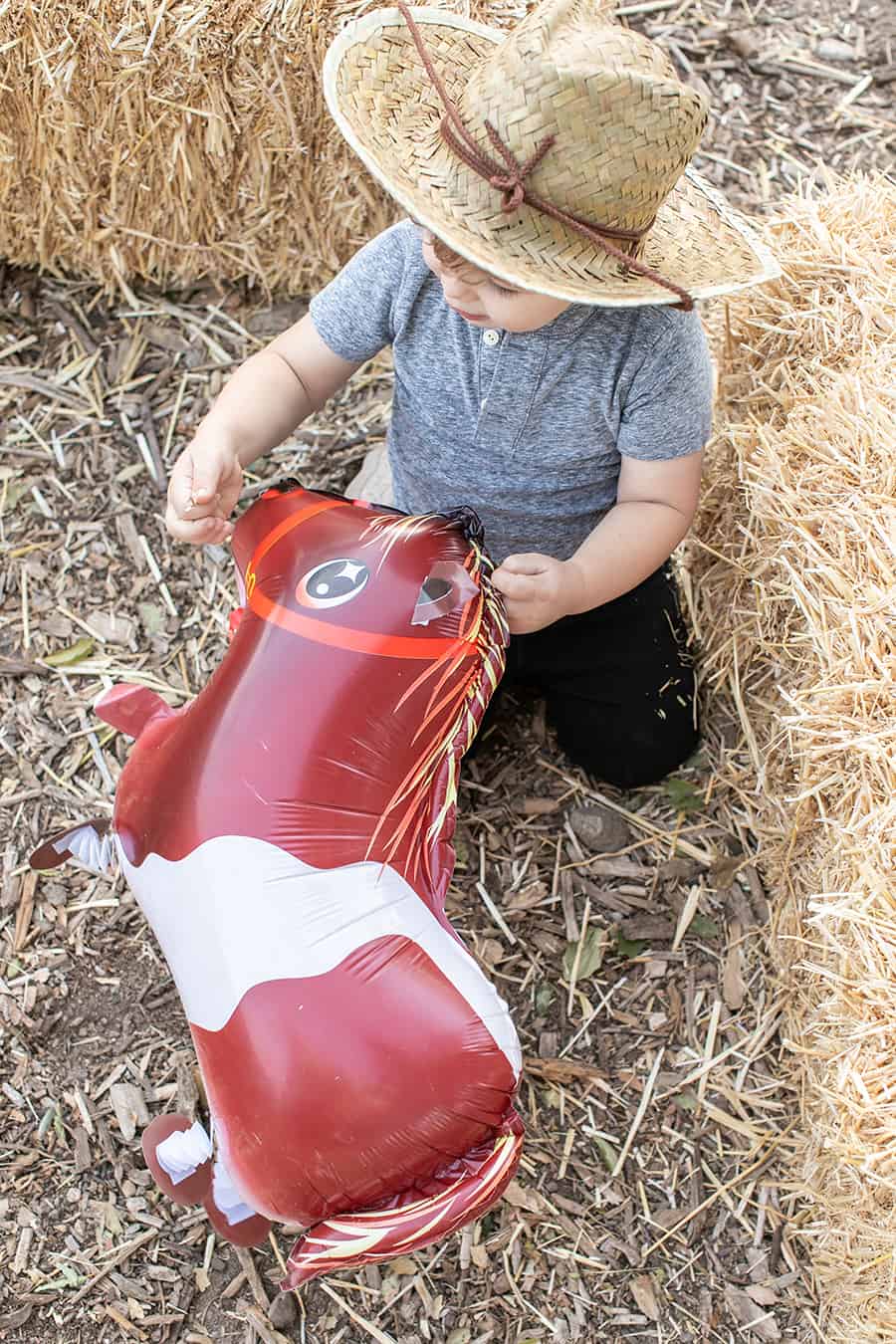 Hay Bales for Extra Seating
Did you know you can rent hay bales? Depending on where you live, we have a place that lets us rent them and they pick them up after.
You can also buy them at feeding supply stores. They make great seating and even stacking them for tables with a piece of wood over the top!
If you use haystacks for seating, add a thick piece of fabric over the top.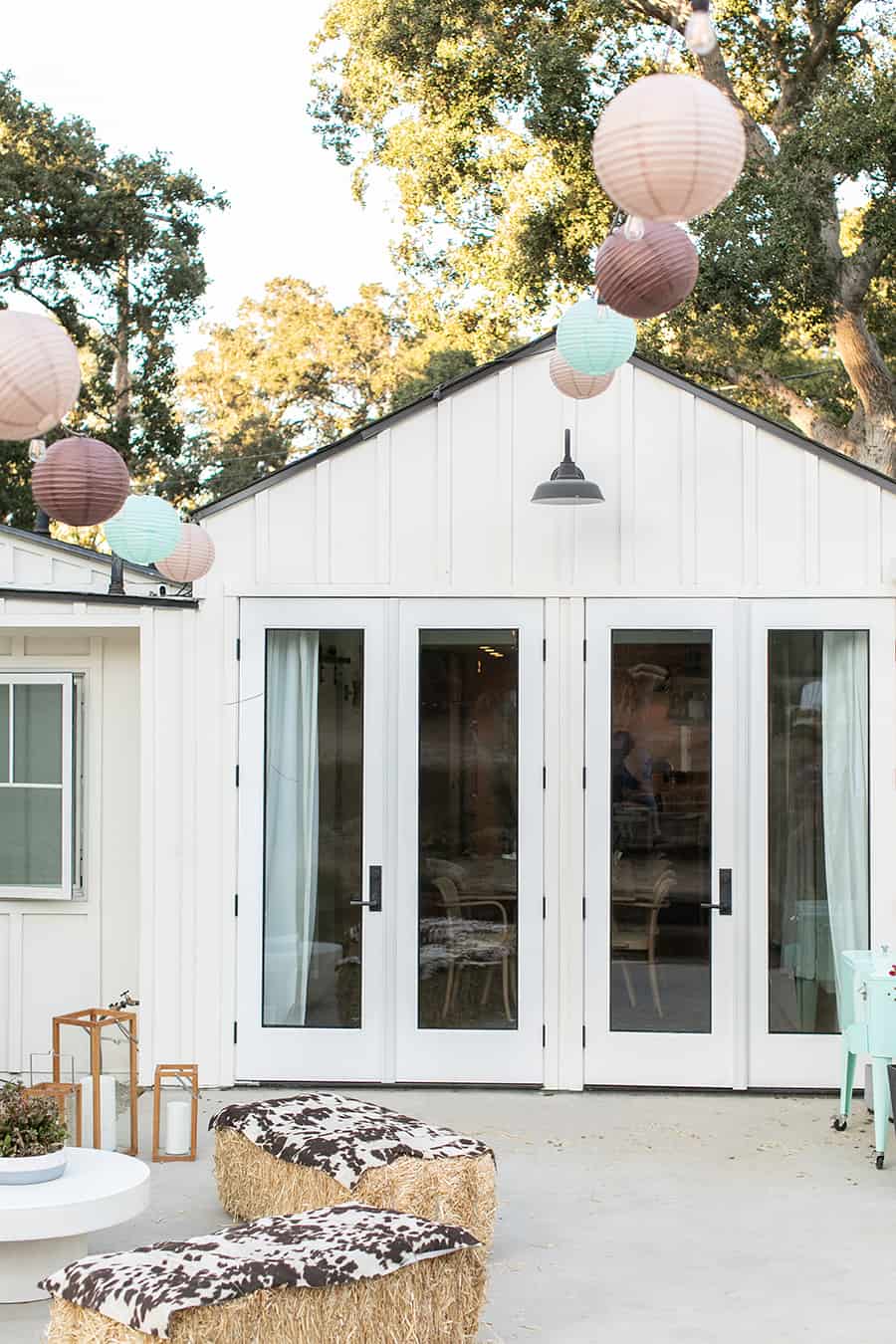 Paper Lanterns
For instant party decor we lined our market lights with lanterns. They looked so charming we still have them up!! They're all from the Paper Lantern Store and I purchased the 12″ round ones.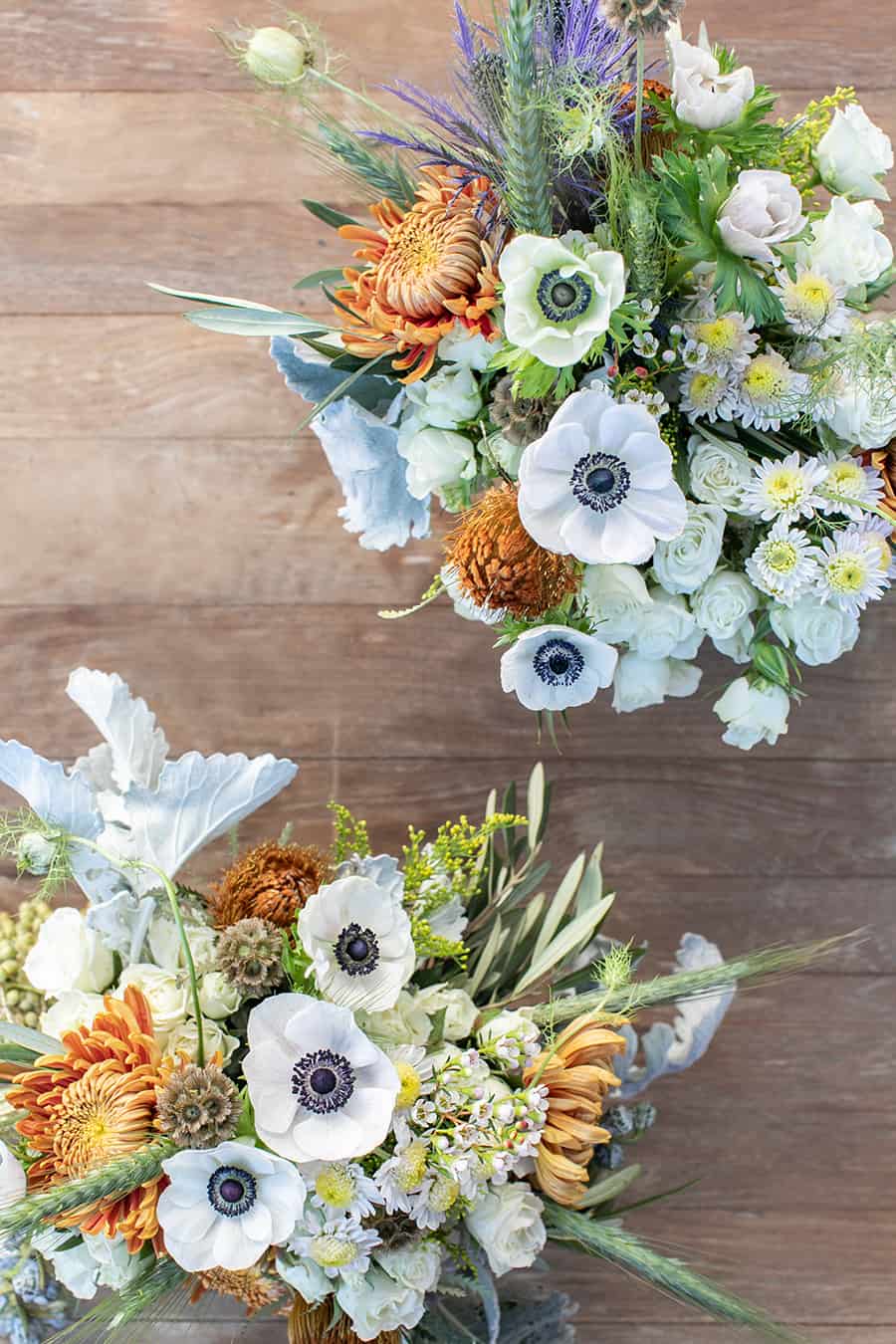 The party was fun and went later into the night. We had a campfire with s'mores and enjoyed everyone's company!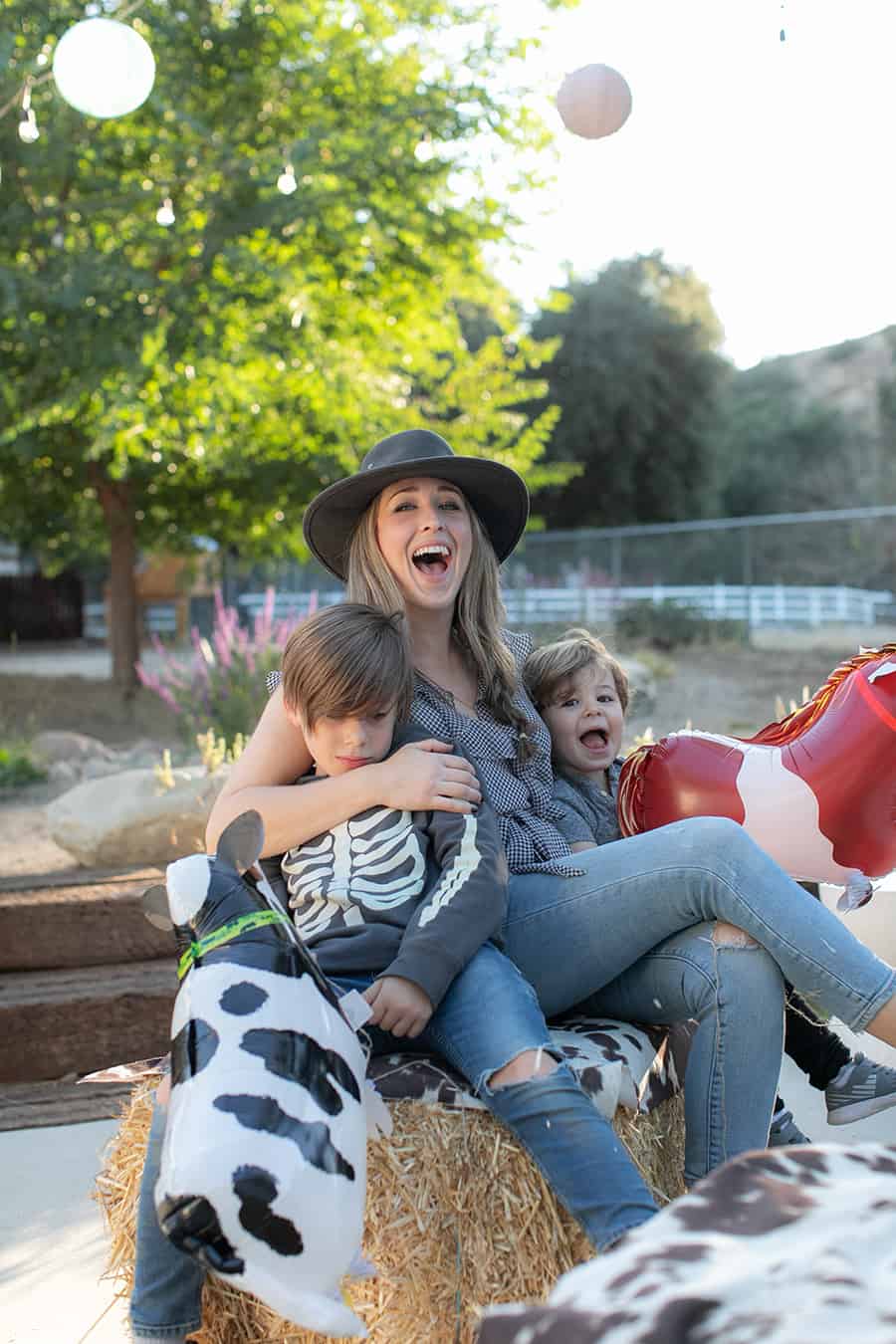 More Party Ideas You'll Love!
How to Plan a Tea Party Bridal Shower
How to Throw a Last-Minute Birthday Party
Let us know if you use any of these fun barnyard party ideas! We'd love to hear your thoughts!
Also, tag us on social @sugarandcharm so we can see your photos and share!