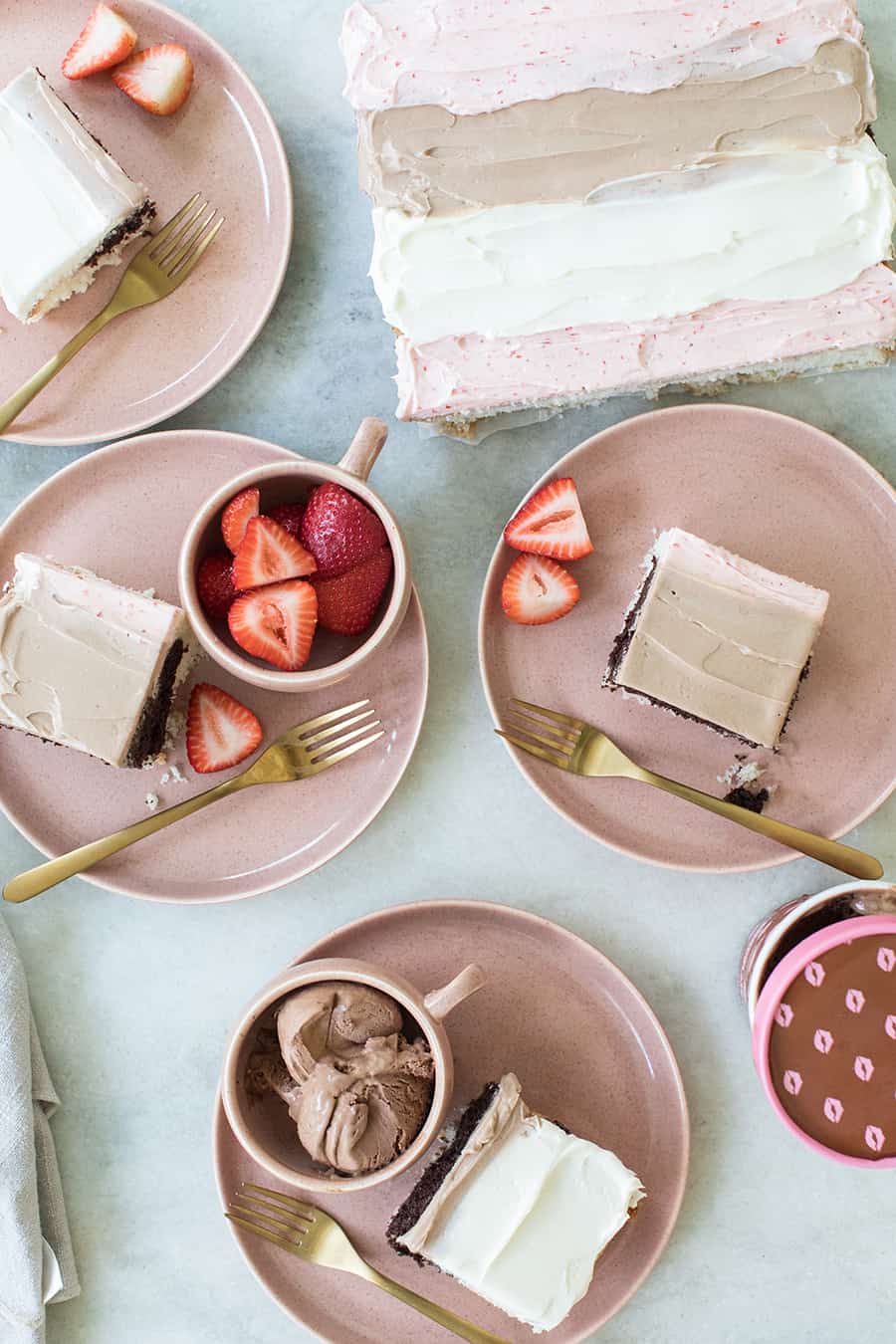 We're all familiar with the delicious chocolate, strawberry and vanilla flavors of Neapolitan ice cream. That classic combo was a childhood favorite that I specifically remember indulging in during birthday celebrations. We've taken those traditional flavors and made a Neapolitan sheet cake by alternating three different cake batters in a sheet pan so they would bake together, creating a fun chocolate, vanilla and strawberry Neapolitan sheet cake!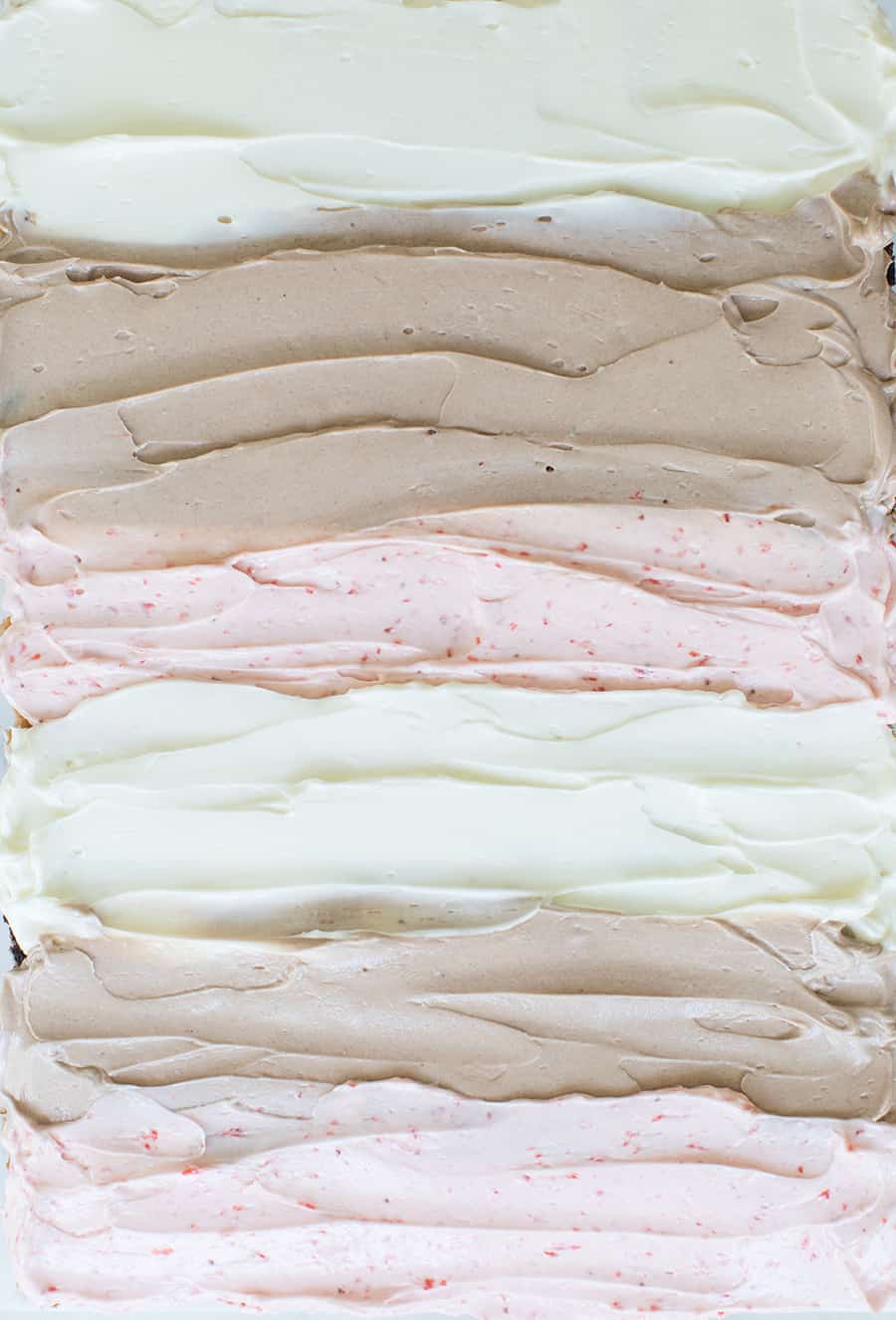 We topped our Neapolitan cake off with a buttercream frosting done 3 ways! This is really fun to make, it's the same buttercream meringue base, divided into 3 bowls and each have their own special ingredient to make it strawberry, chocolate and vanilla flavored. It's one of my favorite frosting recipes of all time!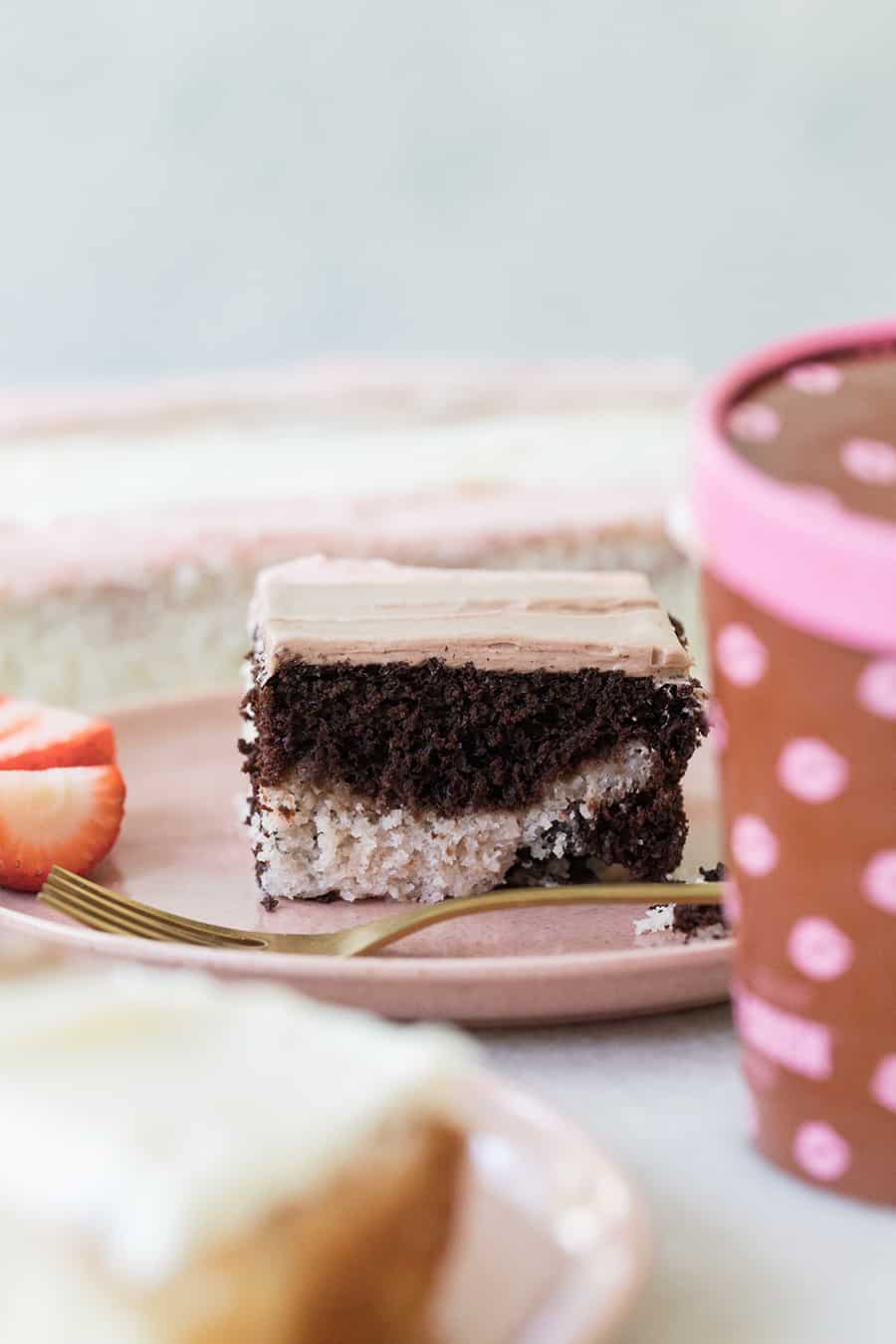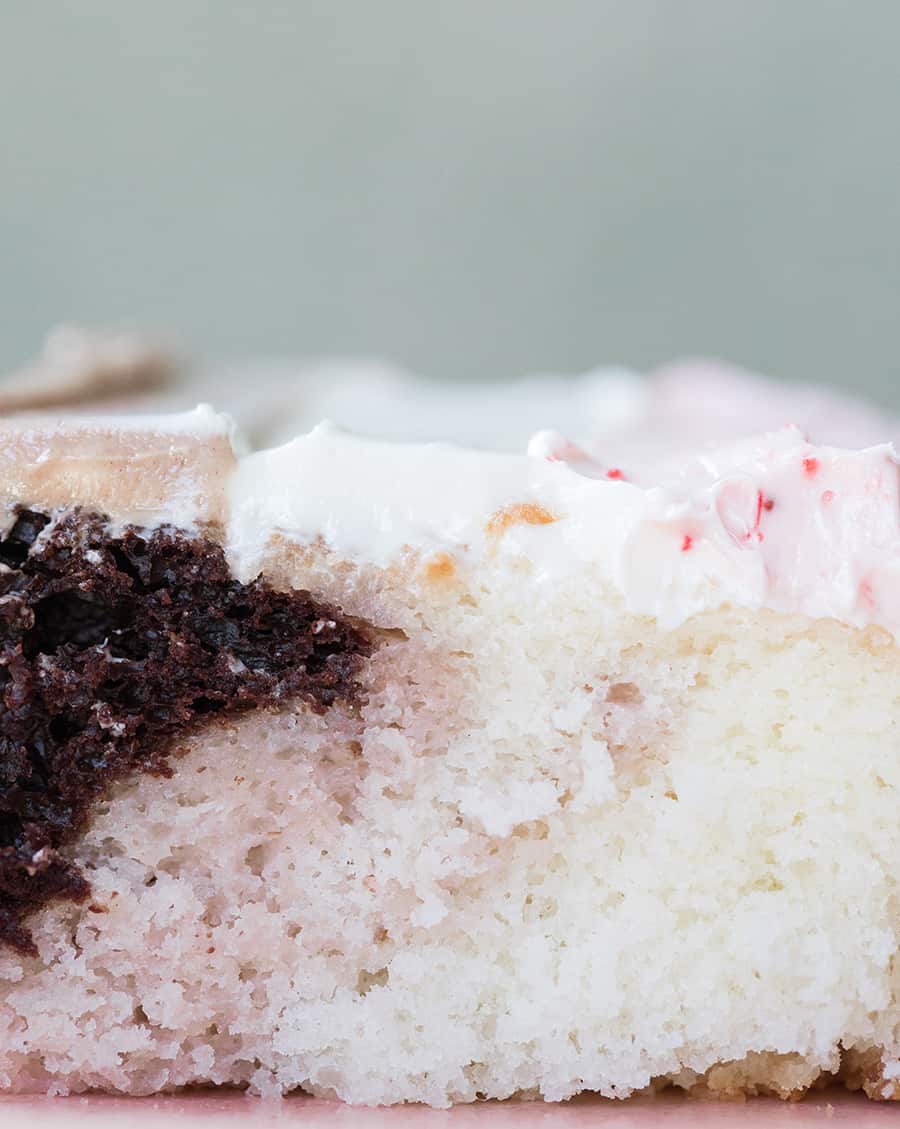 The best part of this cake is that there are no dyes, just whole ingredients with naturally-colored strawberry cake and frosting! It's not as pink as we're all used too, but it tastes better and it's natural!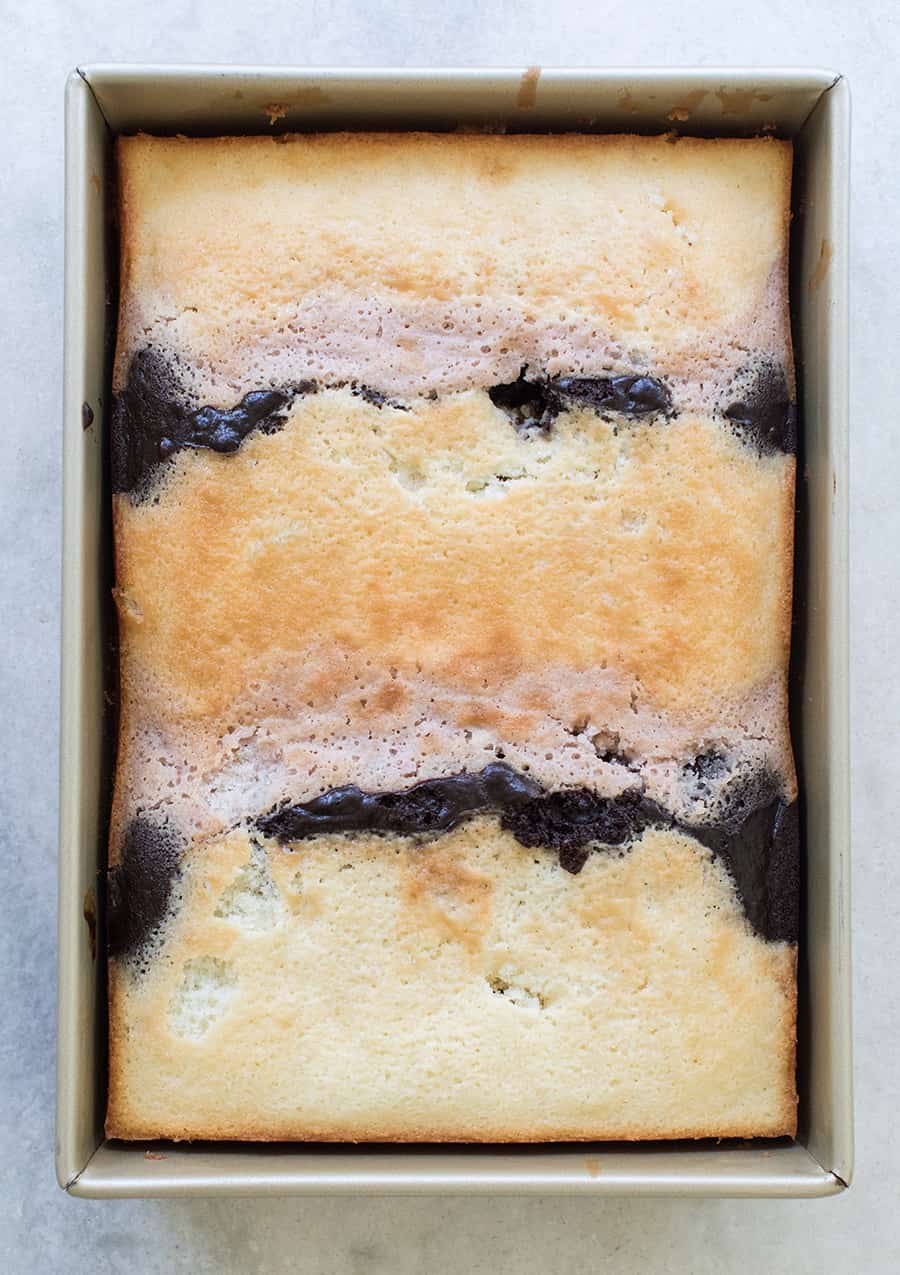 This cake requires different batters. To make it easier, we made one vanilla batter and divided that in half to add strawberry preserves to one. Then for the chocolate, it's a traditional chocolate cake (you can really use any chocolate cake recipe) and only half will go into the sheet cake. With the other half, we made chocolate cupcakes! It's a win-win!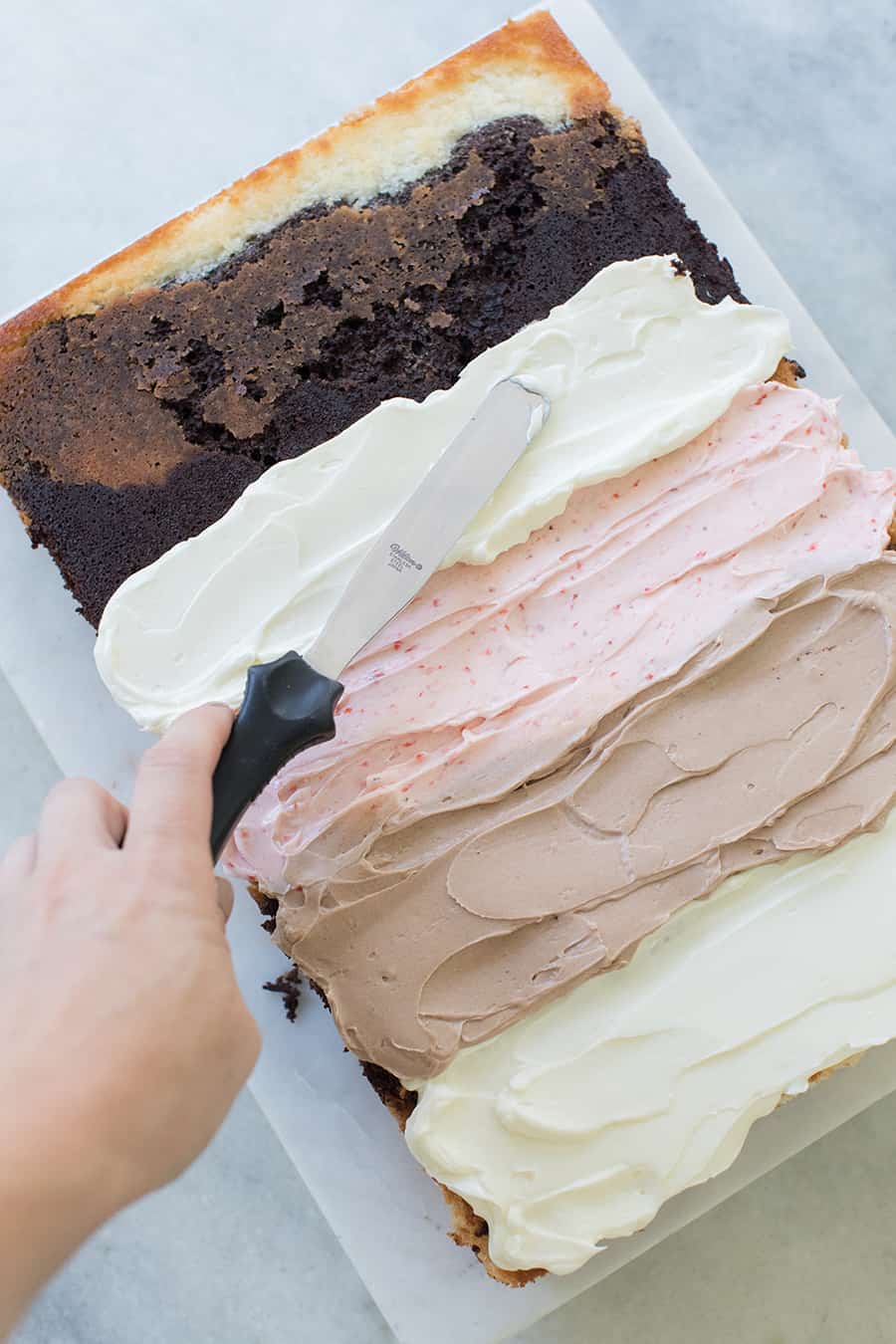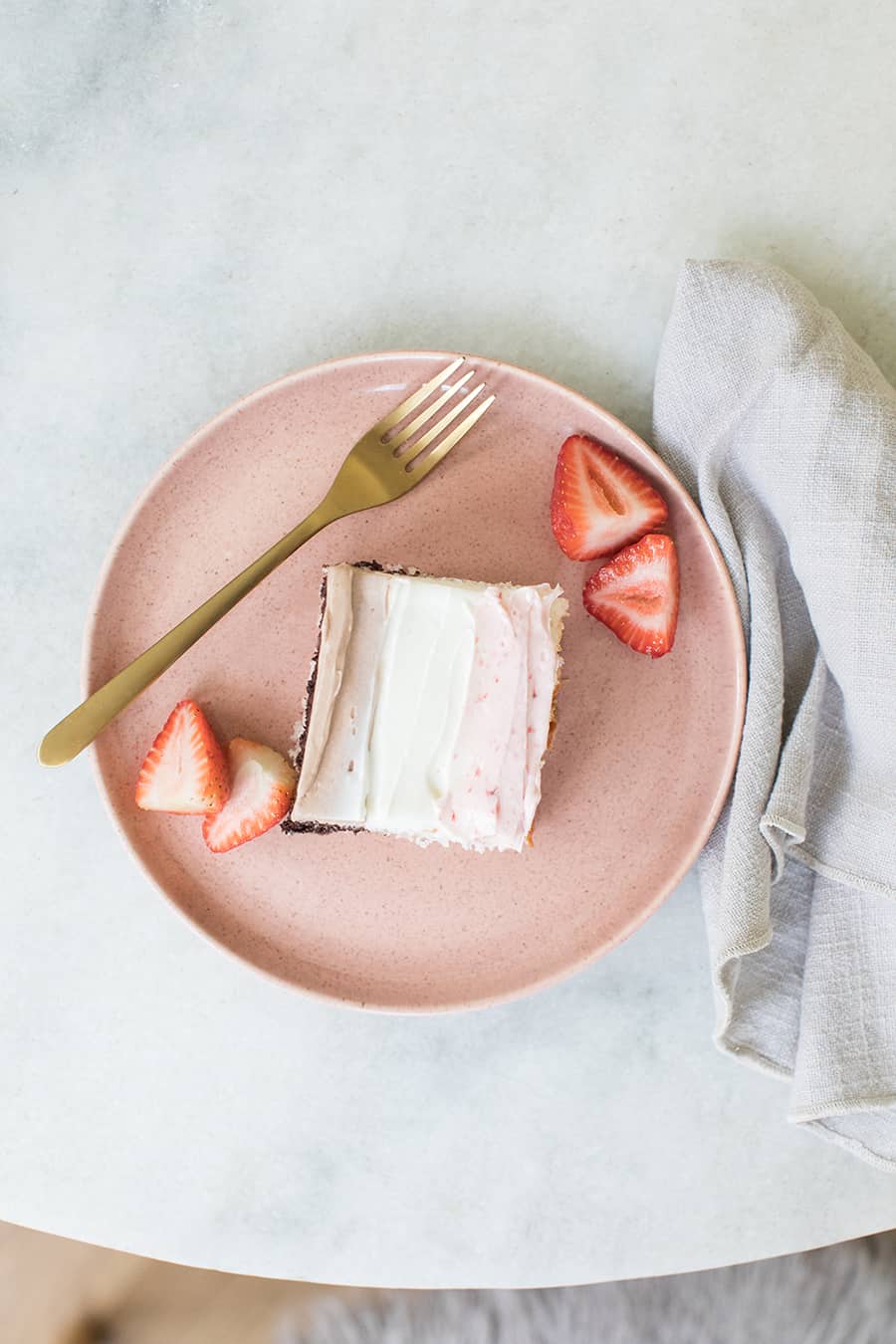 Ingredients
Vanilla Sheet Cake Recipe
2¼

cups

cake flour

1

tablespoon

baking powder

1/2

teaspoon

salt

1¼

cup

whole milk

4

large egg whites

2

cups

sugar

1

tablespoon

lemon zest

1

cup

(two stickunsalted butter

,

room temp

1½

teaspoons

clear vanilla extract

4

cups

strawberry

2

tablespoon

sugar
CHOCOLATE SHEET CAKE RECIPE
2

cups

flour

2

cups

sugar

1½

cup

unsweetened cocoa powder

1½

teaspoon

baking powder

1/2

teaspoon

salt

2

Large

eggs

1

cup

whole millk

1/2

cup

vegetable oil

2

teaspoons

vanilla

1/2

cup

boiling water

1/2

cup

hot coffee
NEAPOLITAN MERINGUE BUTTERCREAM
1

cup

granulated sugar

4

Large

egg whites

3

sticks

unsalted butter, room temperature

3

tablespoon

unsweetened cocoa powder

1

teaspoon

vanilla extract

1

cup

strawberry preserve, previously made
Instructions
Vanilla Sheet Cake Instructions
Prepare a 9×13 sheet pan with butter and parchment paper and set aside.

Blend the 4 cups strawberry in a mixer, then simmer in a small sauce pan with 2 tablespoon sugar to reduce the mixture. Stir so it doesn't burn.

Once the mixture is reduced to half (2 cupand is thicker in texture, like a jam, remove and cool in the refrigerator. You will use this later.

Sift together flour, baking powder and salt and set aside.

Beat the butter and sugar on high until light and fluffy

Using a fork whisk egg whites, milk and extract together in a bowl.

Alternate the dry and wet ingredients into the butter mixture beating on medium until incorporated.

Split the batter evenly into two bowls.

Add in 1 cup strawberry preserves… the other cup will be for the frosting so save it.

Stir the preserves until it's fully blended.

Set the batter in the fridge and cool the chocolate cake to make the Neapolitan.

Once all three cakes are finished, pour a line of the vanilla batter in the pan, then chocolate, then strawberry and alternate until the pan is filled.

Bake in a preheated 350 degree oven for 30 minutes.

Do you not over bake or they will become dry!

Don't worry if the layers are not perfectly even, then will cook together still creating a neapolitan look.

Let the cake cool before removing and frosting.
Chocolate Cake Instructions
Mix all of the dry ingredients together.

Add in the eggs, oil, vanilla and milk and mix until combined.

Scrape down the sides and bottom of the bowl.

Add in the boiling water and hot coffee.

Divide batter into two bowls. Save ½ for the neapolitan and make cupcakes with the other half!

Alternate the chocolate cake batter with the vanilla and strawberry.

Bake the sheet cake in 350 degree oven for 30 minutes or until done.

Then, add in the cupcakes for fun!
NEAPOLITAN MERINGUE BUTTERCREAM INSTRUCTIONS
Add the sugar and the egg whites into a heatproof mixing bowl.

Fit the bowl over a pan of simmering water.

Whisk constantly until the mixture is hot, sugar is dissolved and the egg whites are a little frothy. About 4 minutes. It should look like a shiny marshmallow cream.

With the whisk attachment, transfer to a mixing bowl and beat eggs/sugar mixture on medium to high speed until cooled and thicker for about 5 minutes.

Switch to the paddle attachment and add in one stick of room temperature butter at a time, beating until smooth.

If the buttercream curdles or separates, just keep beating until it comes back together. You should end up with a shiny, smooth and absolutely delicious buttercream frosting!

Divide the frosting into three bowls.

In one bowl SIFT in cocoa powder and stir.

In another bowl add in ¾ cup strawberry preserve and stir.

In the 3rd bowl add in 1 teaspoon clear vanilla extract and stir.