Our classic white vanilla cupcake recipe makes fluffy, moist cupcakes! They are truly the best and topped with a whipped vanilla buttercream frosting. This recipe uses cake flour, butter, and oil these cupcakes are moist and delicious. Perfect for celebrations!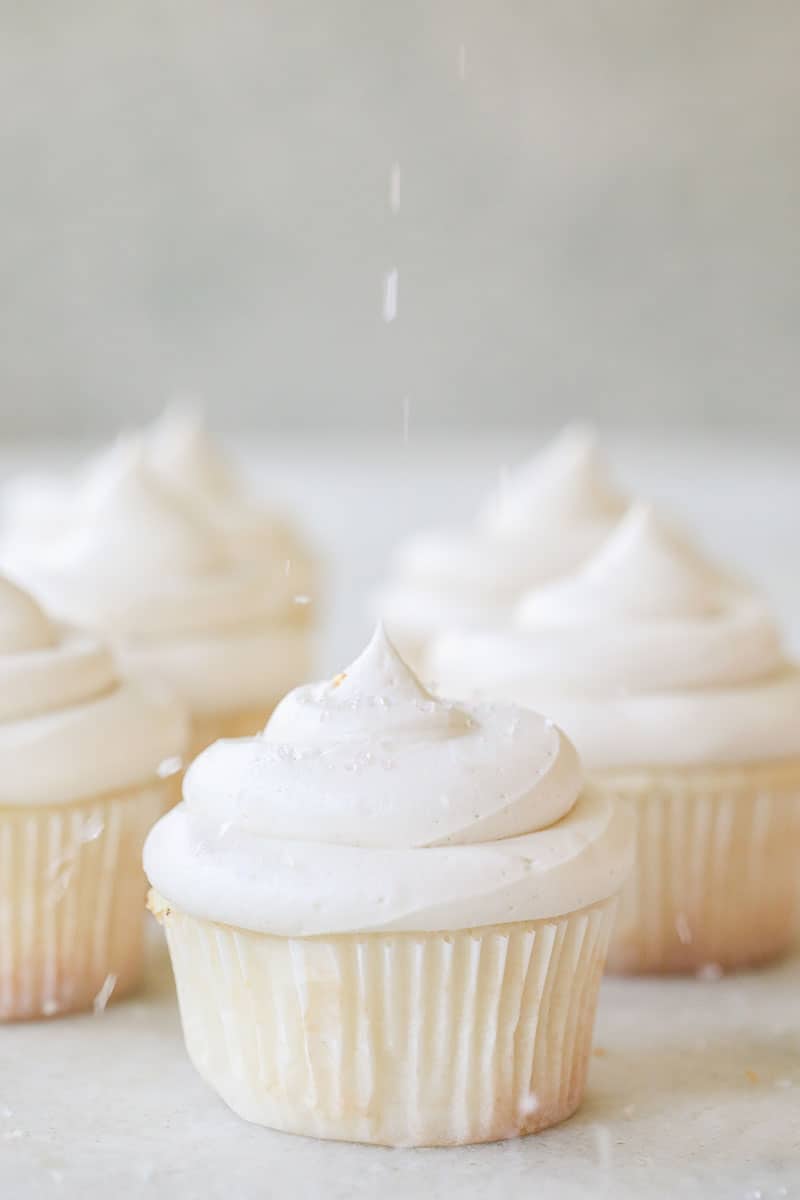 My kids go crazy for this easy vanilla cupcake recipe, especially one topped with sprinkles. If I'm being totally honest, I'm more of a chocolate cupcake gal, but even I can't resist these cupcakes. 
They remind me of the white vanilla cupcakes I used to gobble up as a child. The classic fluffy vanilla cupcakes with creamy buttercream, topped with irresistible rainbow sprinkles, yum. They are perfect for birthday parties!
The batter is made without egg yolks to keep the cupcake a warm shade of vanilla. They're moist and perfect celebration cupcakes with sprinkles on top. Also, check out our confetti cupcakes too!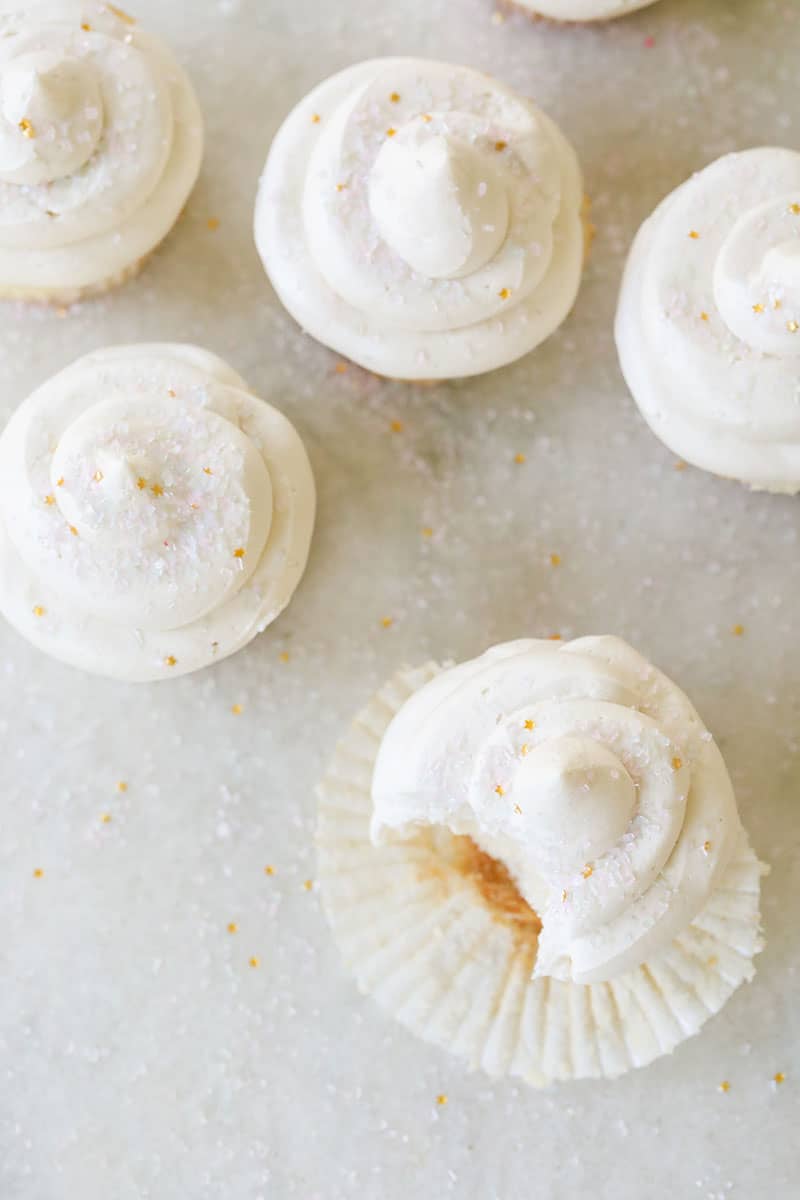 Vanilla cupcakes are a great base to add your own flavors. Top it with chocolate frosting or fill the center with lemon curd or caramel! There are so many options for creating your own version of these. You can even make them into charming flowers!!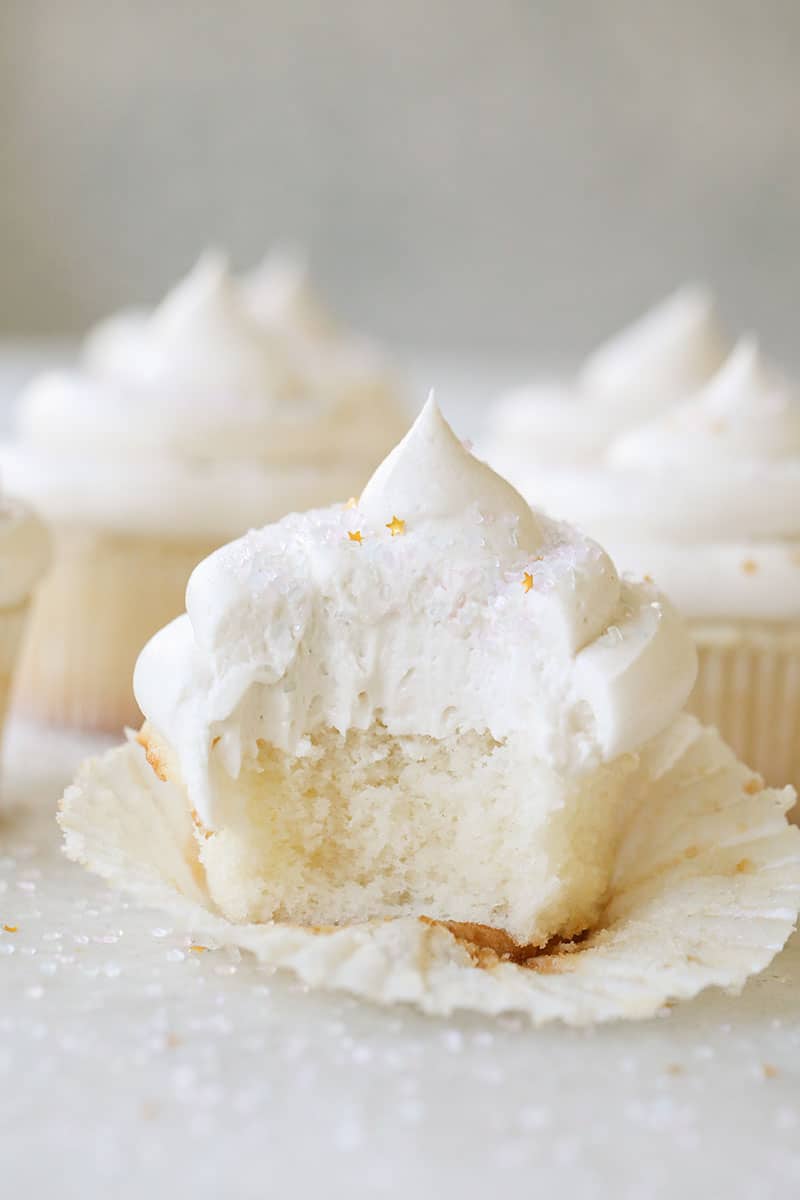 How to Make Vanilla Cupcakes
We'll cover everything you need to know to make fluffy vanilla cupcakes, answer questions and share our expert tips. If you prefer to jump to the recipe, scroll to the bottom of the post where you'll find the recipe card and instructions.
Supplies
Ingredient Notes
This recipe is made with simple ingredients you can find at your local grocery store:
Cake Flour – It helps to create a light and fluffy texture and is a staple in many baking recipes.
Whole Milk – Adds moisture and flavor. It also helps to bind the ingredients together. For vanilla cupcakes, it is best to use whole or 2% milk for the most flavor.
Buttermilk – Adds moisture and a subtle tanginess to the cupcakes. It also helps to create a light texture.
Egg Whites – These create structure and add moisture, which helps keep the cupcakes from drying out. Use large eggs and make sure they are at room temperature before adding them to the batter.
Granulated Sugar – Adds sweetness and helps the cupcakes to rise. It also helps to create a light and fluffy texture.
Butter – Use whole, unsalted butter, and make sure it's room temperature. This will add moisture, and flavor and helps create a light texture.
Vanilla Extract – Use pure vanilla extract to add real vanilla flavor to these cupcakes. This not only adds flavor but also enhances the flavor in all of the ingredients.
Baking Powder + Baking Soda – These work as leavening agents to help the cupcakes rise.
Corn Starch – This works with the other ingredients to create a soft, fluffy cupcake with a moist texture.
Salt – Adds and enhances the flavor in the cupcakes.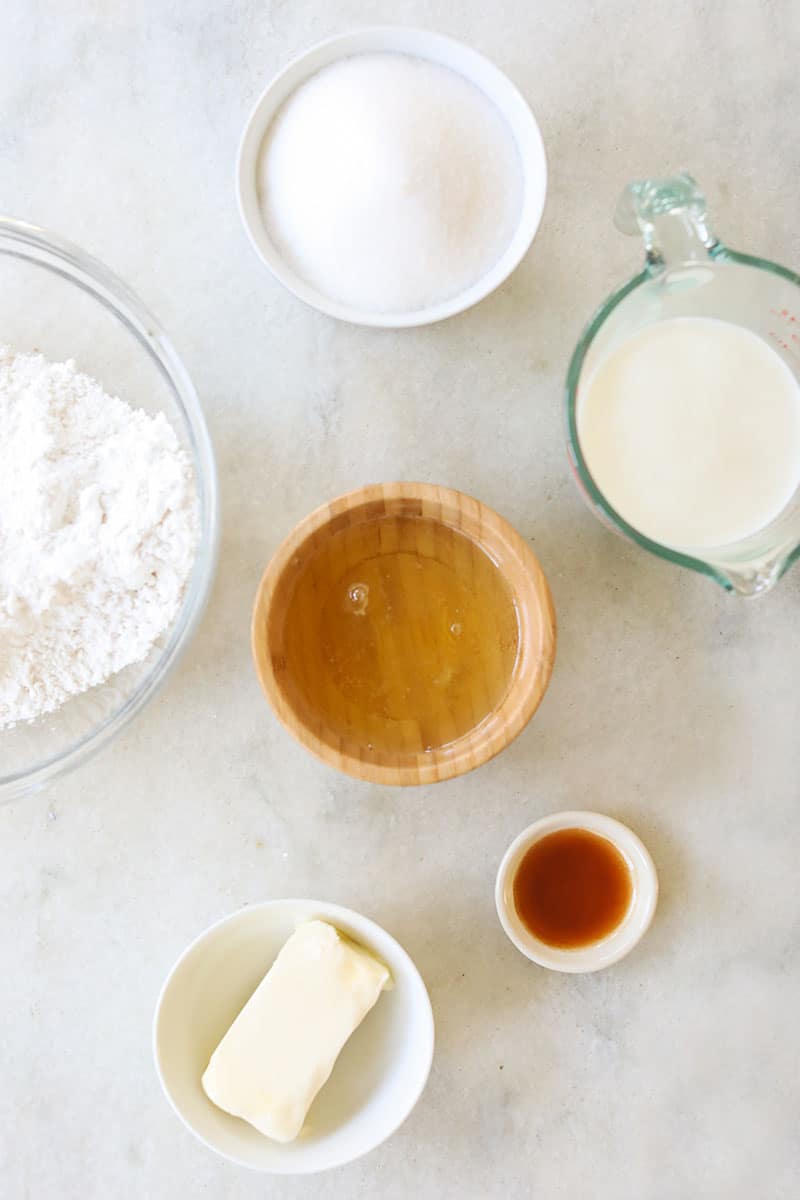 Directions
Sift the dry ingredients together in a bowl and set aside. 
Beat butter and sugar on high in an electric mixer for about 5 minutes until light and fluffy. 
Add in egg whites one at a time, with the mixer on medium speed. Beat until incorporated. 
Combine the whole milk, buttermilk, and vanilla extract in a liquid measuring cup and lightly whisk.
Alternate the dry and wet ingredients with the butter and sugar mixture. 
Scrape the sides of the bowl and continue to mix until the batter is fully incorporated. 
Preheat the oven to 350 degrees.
Line a cupcake tin with cupcake wrappers.
Place two scoops of vanilla cupcake batter into each cupcake paper. About 3/4 of the way full.
Bake the cupcakes for 15 minutes. Always start with less time, check on them, and then continue baking if needed.
Let them cool before frosting.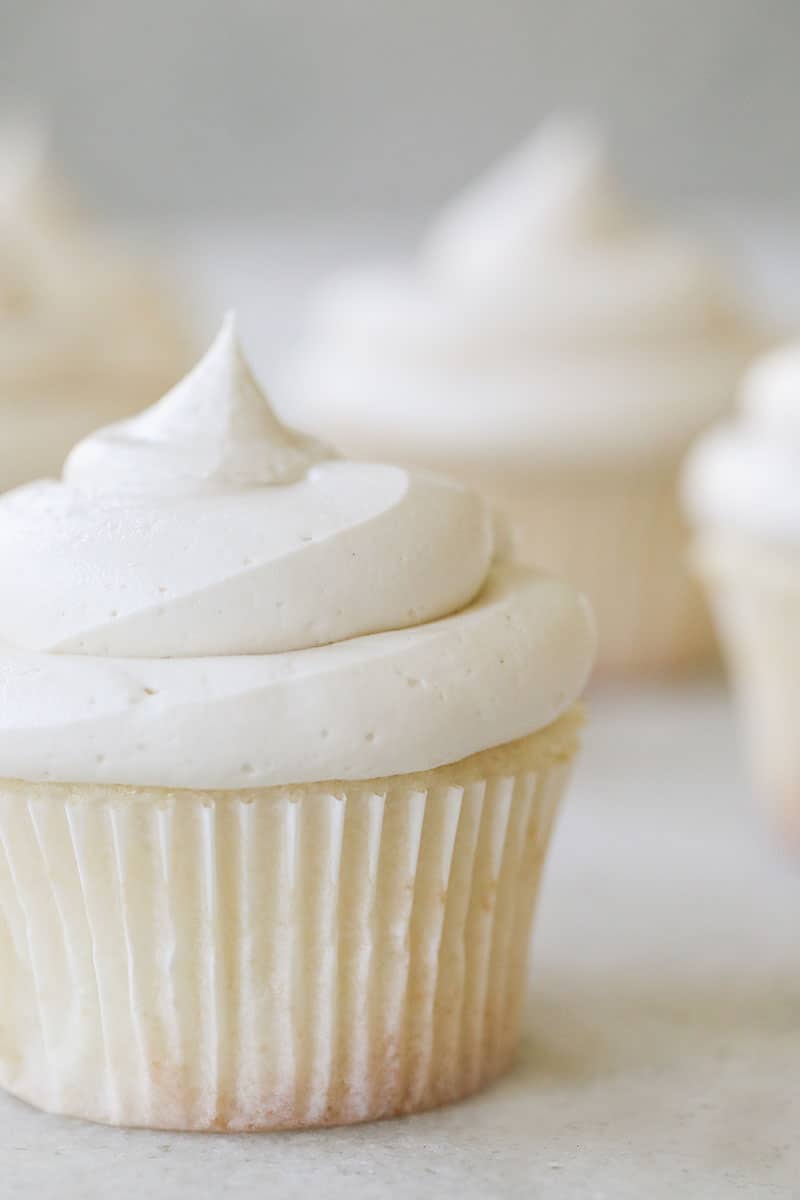 Tips for Making the Best Cupcakes
Use High-Quality Ingredients 
This makes a huge difference in the outcome of the cupcake. Try to buy King Arthur flour, whole grass-fed organic butter, organic eggs, Nielsen-Massey Vanilla, organic milk, etc.
Don't Over Mix
Once the butter, eggs, and sugar are beaten until light and fluffy, the rest of the ingredients should not be mixed on high. This will create a dense cupcake. When the flour goes in the mixer should be set to low.
Preheat the Oven 
A certain amount of heat applied quickly is required to activate the baking soda in the recipe. This will make the cupcake rise to be light and fluffy and not flat. 
Baking Times
Baking times will vary depending on the true oven temperature, location, and altitude. Set the timer for a little less and check on the cupcakes, give them more time as needed.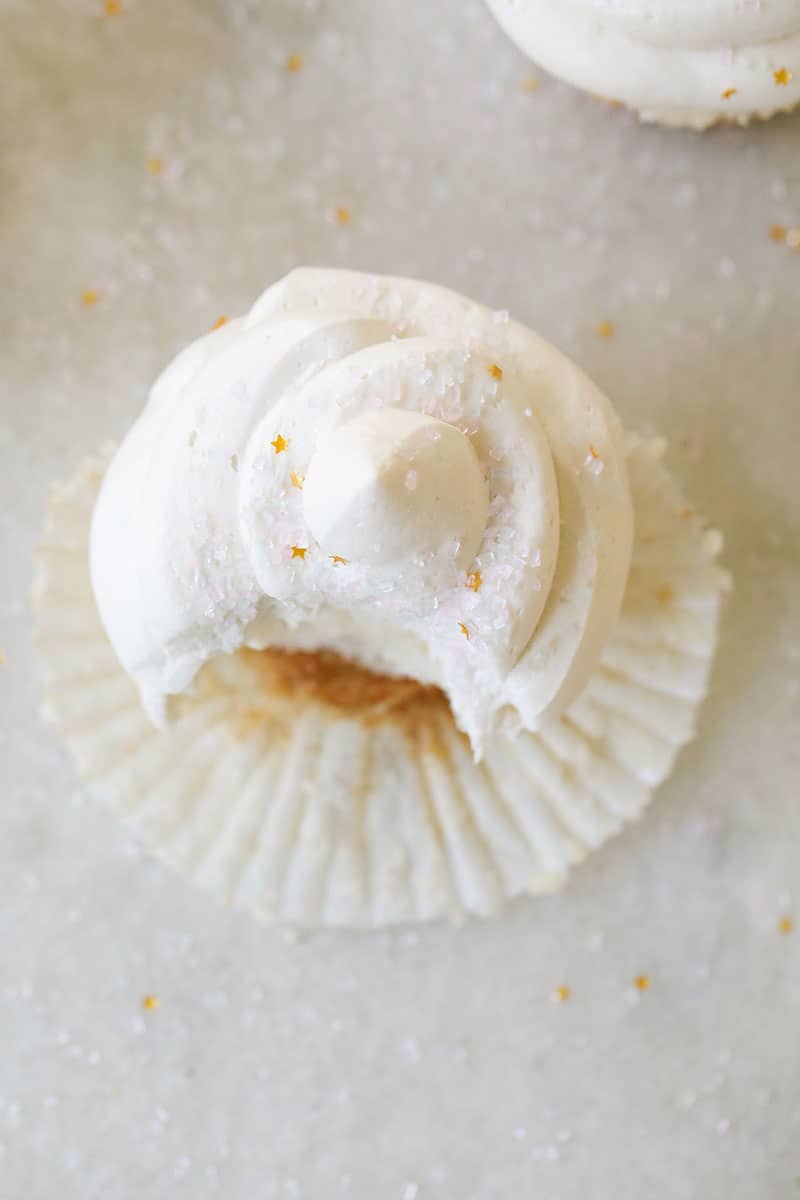 Vanilla Cupcake Recipe Variations
Gluten-Free Vanilla Cupcake Recipe: Use a gluten-free flour blend for the cake flour.
Coconut Vanilla Cupcake Recipe: Use coconut extract and add shredded coconut to the cupcake batter and top with a vanilla-coconut frosting.
Lemon-Vanilla Cupcake Recipe: Add 1/2 teaspoon of lemon extract and top with a vanilla-lemon frosting.
How to Store Cupcakes
Vanilla cupcakes should be stored in an airtight container at room temperature for up to 3 days.
Refrigerate
If desired, you can also store them in the refrigerator for up to 5 days. Be sure to let them cool completely before storing them.
Freeze
To freeze vanilla cupcakes, wrap each one tightly in plastic wrap and store in an airtight container for up to 3 months. Thaw before serving.
Frosting for Vanilla Cupcakes
The best thing about vanilla cupcakes is that you can add any frosting you like to give them even more flavor! Here are a few of our favorite frosting options:
Swiss Meringue Buttercream – A light buttery frosting that's not too sweet and made egg whites
Chocolate Buttercream – Chocolate and vanilla go well together and this is a great frosting to add to the top.
Favorite Vanilla Buttercream – A classic buttercream frosting goes well with vanilla and you can make pretty colors with it too.
Sour Cream Chocolate Frosting – This is one of our personal favorite frosting recipes.
Fluffy Gingerbread Frosting – Perfect if you're making these for a holiday party!
You can use a piping bag and a large round tip to pipe any of these frostings onto the cupcakes.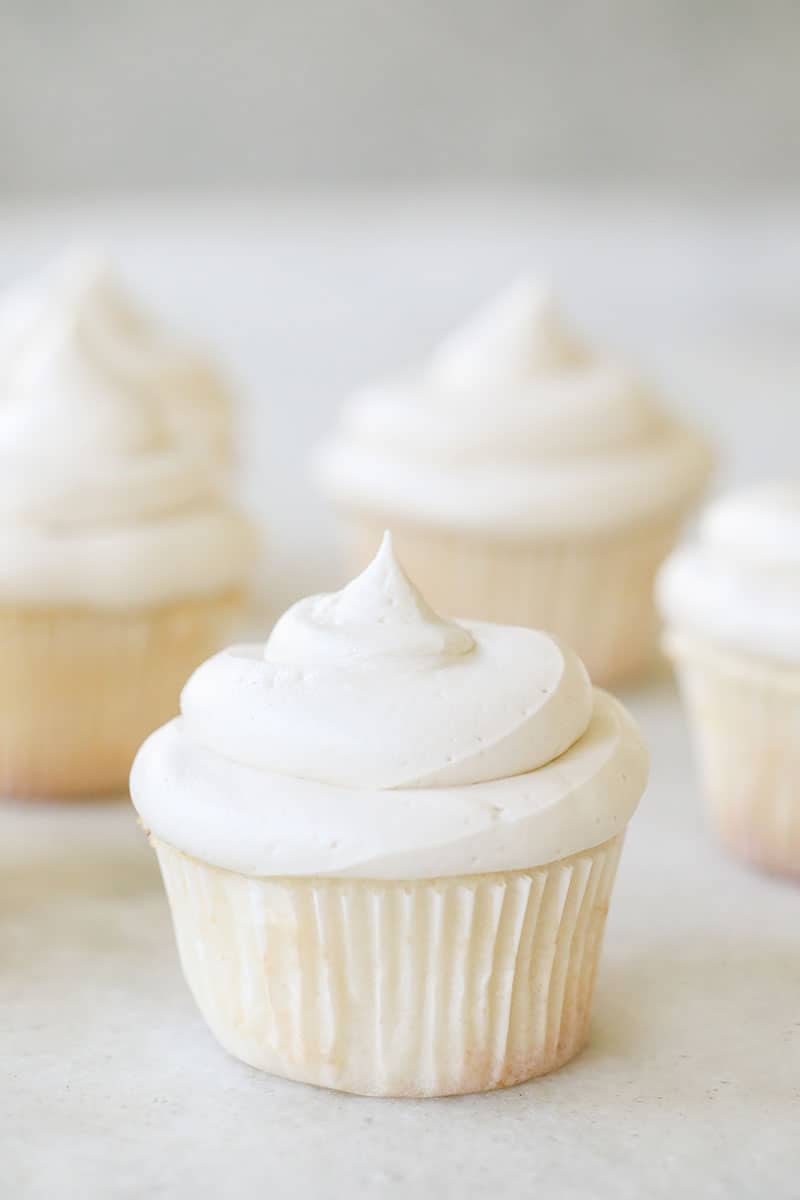 Frequently Asked Questions
How can I make my cupcakes moister? 
Adding a little oil to the cupcake batter will result in a more moist cupcake. Other ingredients like sour cream and butter will also create a moist cupcake. We like to use butter, buttermilk, and oil when making cupcakes.
Is white cake the same as vanilla? 
White cake and yellow cake are both vanilla cakes. White cake is made without egg yolk making the color of the cake white. Yellow cake has egg yolks so the color of the cake comes out with a yellow tint.
How long with cupcakes stay fresh?
The cupcakes will stay fresh for about 1 week covered. Store unfrosted cupcakes at room temperature in an airtight container. You can also freeze unfrosted cupcakes for up to 3 months! 
Furthermore, cupcakes frosted with buttercream and just a little milk will last a few days covered at room temperature. Use a dome or an airtight container to store them.
Check out more tips on how to store cupcakes.
What is the secret to good cupcakes?
The secret to good vanilla cupcakes is in the ingredients and technique. Make sure you use fresh ingredients, measure accurately, and don't overmix the batter. Bake your cupcakes at the right temperature and don't open the oven door too often, as this can cause them to sink.
What are the characteristics of a good quality vanilla cupcake?
A good vanilla cupcake should be light and fluffy with a slight vanilla flavor. It should have a tender crumb with a golden-brown exterior and a smooth texture. The flavor should be vanilla-forward but not overly sweet, and the frosting should be silky and creamy without being overpowering. Lastly, vanilla cupcakes should be moist and not dry or crumbly.
More Cake and Cupcake Recipes You'll Love!
Let us know what you think!
Let us know if you make these moist vanilla cupcakes by leaving a comment and review below! We love to hear what you think.
You can also tag your photos @sugarandcharm on all social channels!
You can also FOLLOW US on FACEBOOK, INSTAGRAM, and PINTEREST to see more delicious recipes, cocktails, desserts, and parties!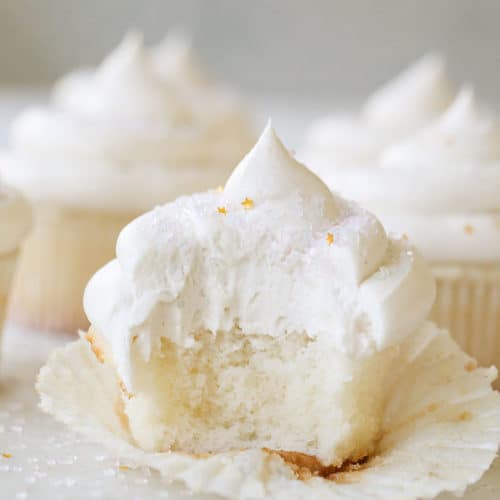 Classic Vanilla Cupcakes
The perfect, fully white vanilla cupcakes!
Print
Pin
Rate
Ingredients
Vanilla Cupcakes
2 1/2

cups

cake flour

2

tsp

baking powder

1

tsp

baking soda

1

tsp

corn startch

1

tsp

salt

1

cup

butter

,

room temp, unsalted

1 3/4

cups

sugar

5

large

egg whites

1

cup

whole milk

1/2

cup

buttermilk

1

tbsp

vanilla extract
Instructions
Sift together cake flour, baking powder, baking soda and salt and set aside.

Beat the butter and sugar on high until light and fluffy. About 5 minutes.

Add in egg whites one at a time and beat until mixed.

Using a fork whisk together liquid ingredients: milk, buttermilk and vanilla extract in a liquid measuring cup.

Alternate the dry and wet ingredients into the butter mixture beating on medium until incorporated. 

Fill cupcake molds 3/4 of the way full. 

Bake in a 350 degree oven for 15 minutes. If they need more time leave them in for another few minutes. Do not over bake.  
Notes
Use the highest quality ingredients you can. 
Add a flavorful jam or lemon curd in the center of the cupcake by removing a little of the middle, filling and then piping frosting over the top.
Make sure to beat the butter and sugar until light and fluffy. 
When adding the liquid ingredients, add them very slowly as the mixer is beating. 
Baking times are different for each oven, so tap the top of a cupcake to see if it's baked through. 
Frost these cupcakes with our creamy buttercream frosting!
Nutrition
Serving:
24
Cupcakes
|
Calories:
223
kcal
|
Carbohydrates:
30
g
|
Protein:
3
g
|
Fat:
10
g
|
Saturated Fat:
6
g
|
Trans Fat:
1
g
|
Cholesterol:
26
mg
|
Sodium:
286
mg
|
Potassium:
98
mg
|
Fiber:
1
g
|
Sugar:
19
g
|
Vitamin A:
314
IU
|
Calcium:
44
mg
|
Iron:
1
mg