Our simple lemon cupcakes are made from scratch and are full of flavor! Like biting into a sweet lemon. The buttercream meringue frosting is light, fluffy and not too sweet. Absolutely delicious!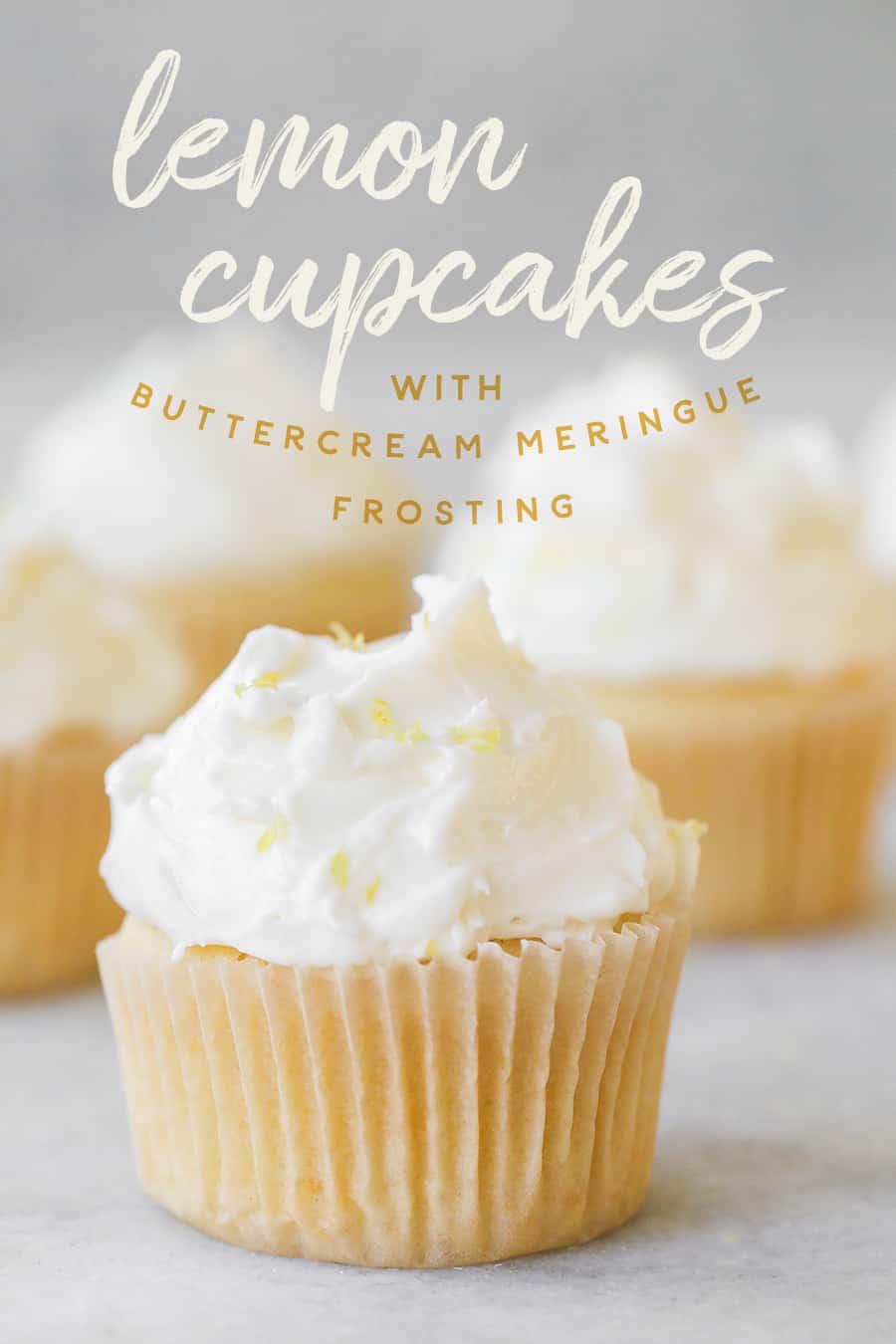 We just planted two lemon trees in our yard and I can hardly wait for them to produce enough lemons to make lemonade and cupcakes with! I use lemons on a daily basis, in my water, food, cocktails… even to clean the house with. They are so versatile!
However, these homemade lemon cupcakes are my favorite. They're fluffy lemon cupcakes, topped with a lemon cupcake frosting that is absolutely delicious!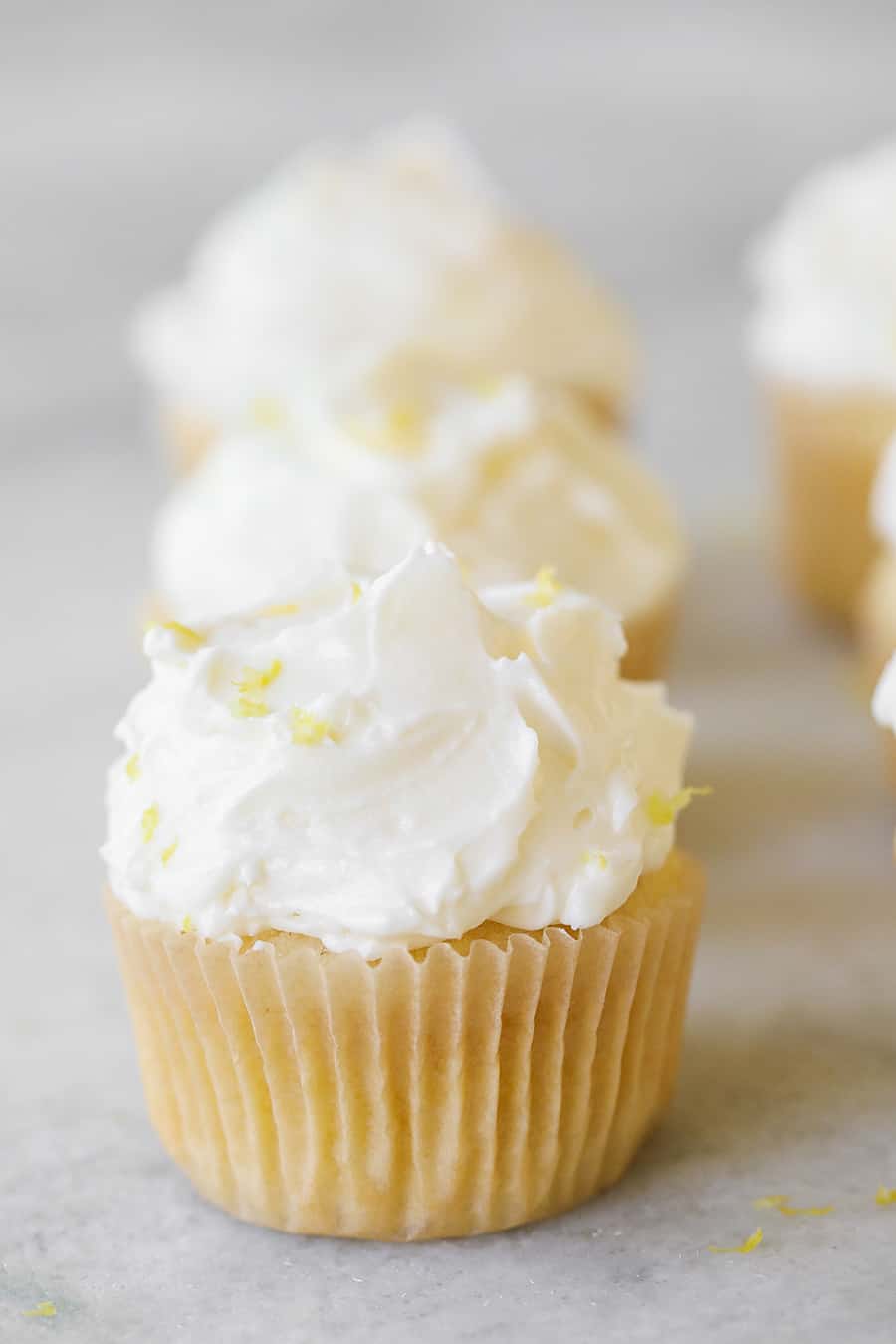 The cupcakes are easy to make and so worth the effort. The frosting can be a little tricky and it's important to follow the directions perfectly. It's so worth it though because it's the best frosting!
I love it because it's super light, not too sweet and has the whipped buttercream meringue texture.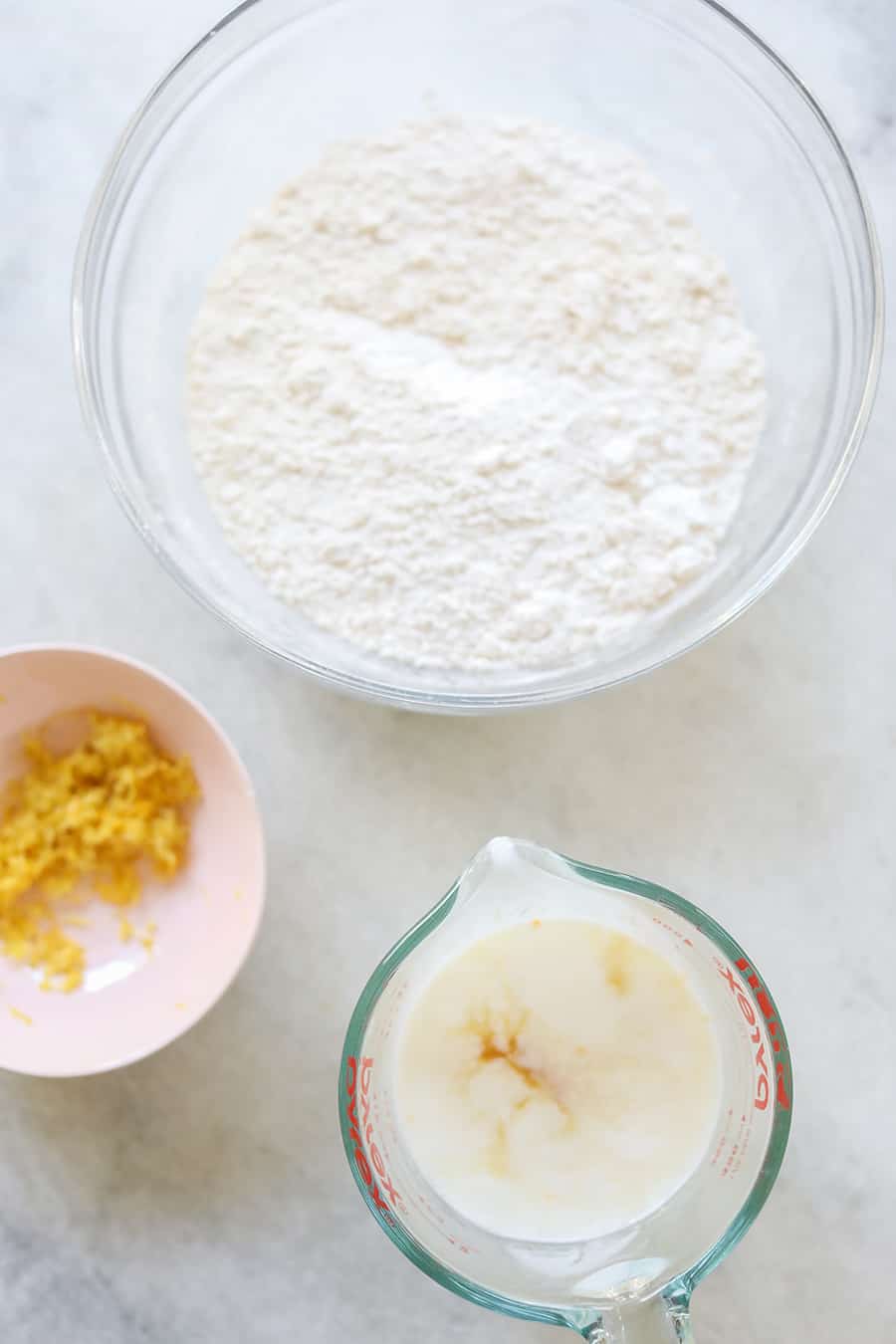 Tips for Making Lemon Cupcakes
Measure out the ingredients before you start.
Make sure butter is room temperature so it can whipped with the sugar.
Rub the sugar with the lemon zest. It brings out the lemon flavor even more!
Eggs go in the batter one at a time.
Dry ingredients can go in the same bowl, except the sugar which is whipped with the butter before.
Wet ingredients can go in the same liquid measuring glass.
When the butter and sugar are whipped together, add in eggs one at a time, then alternate the dry and wet ingredients together with the mixer on low.
Do not over mix once the flour is in there. Just enough to incorporate.
Make sure you scrape down the sides and bottom of the bowl.
Do not over bake the cupcakes as it will lead to dry cake. You want the middle to set, but as soon as it does, pull them out.
Wait until they are fully cool to frost.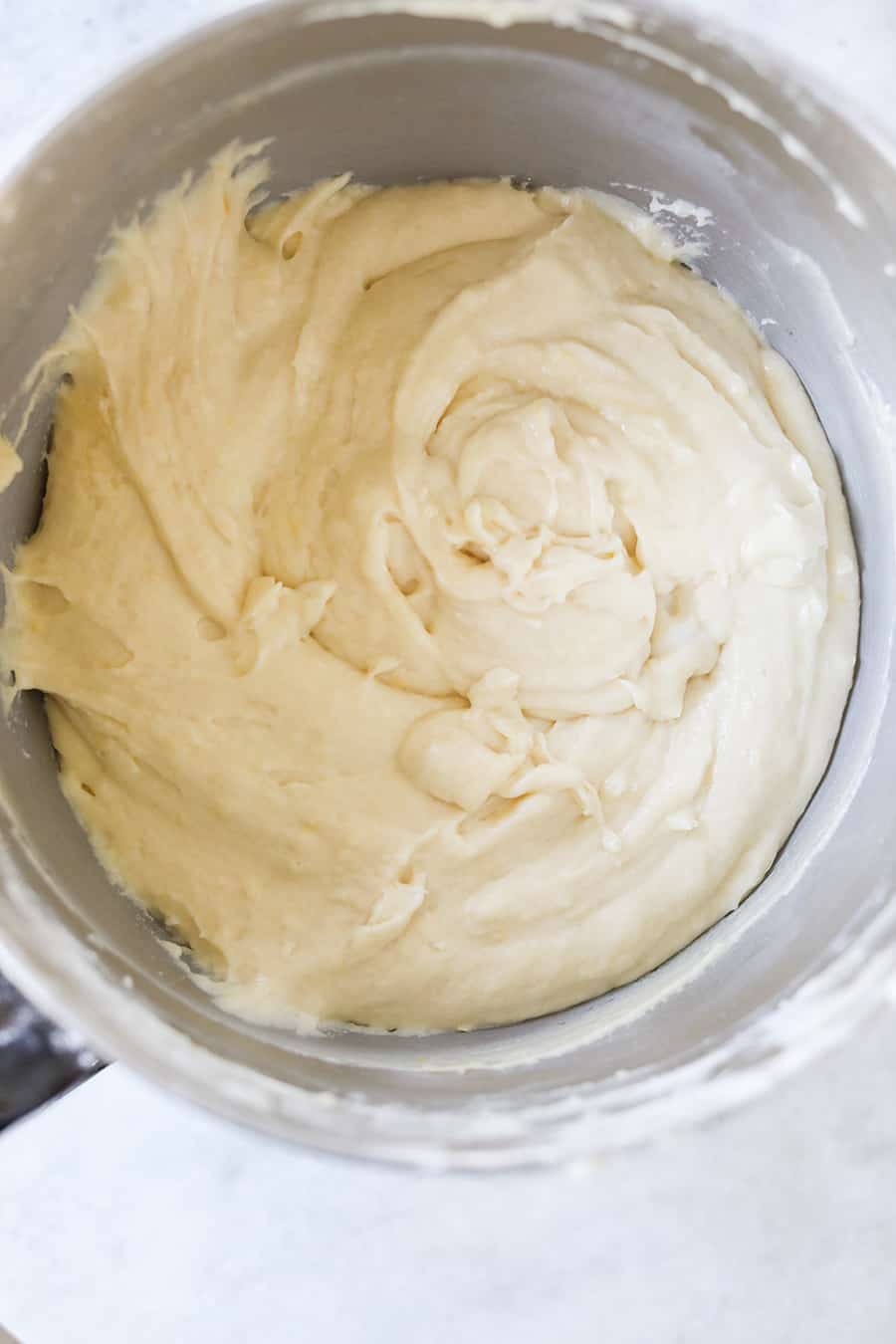 The lemon cupcake batter is always the best part right?!
I used plain white cupcake wrappers for these. You can buy them anywhere! I also really love Wilton's white wave cupcake wrappers too!
I will teach you a little trick for frosting cupcakes! I like to use one scoop of frosting, from a cookie scooper and place it on top. Then you can use a spoon to spread or even just leave it with a giant scoop! It's easy and not messy.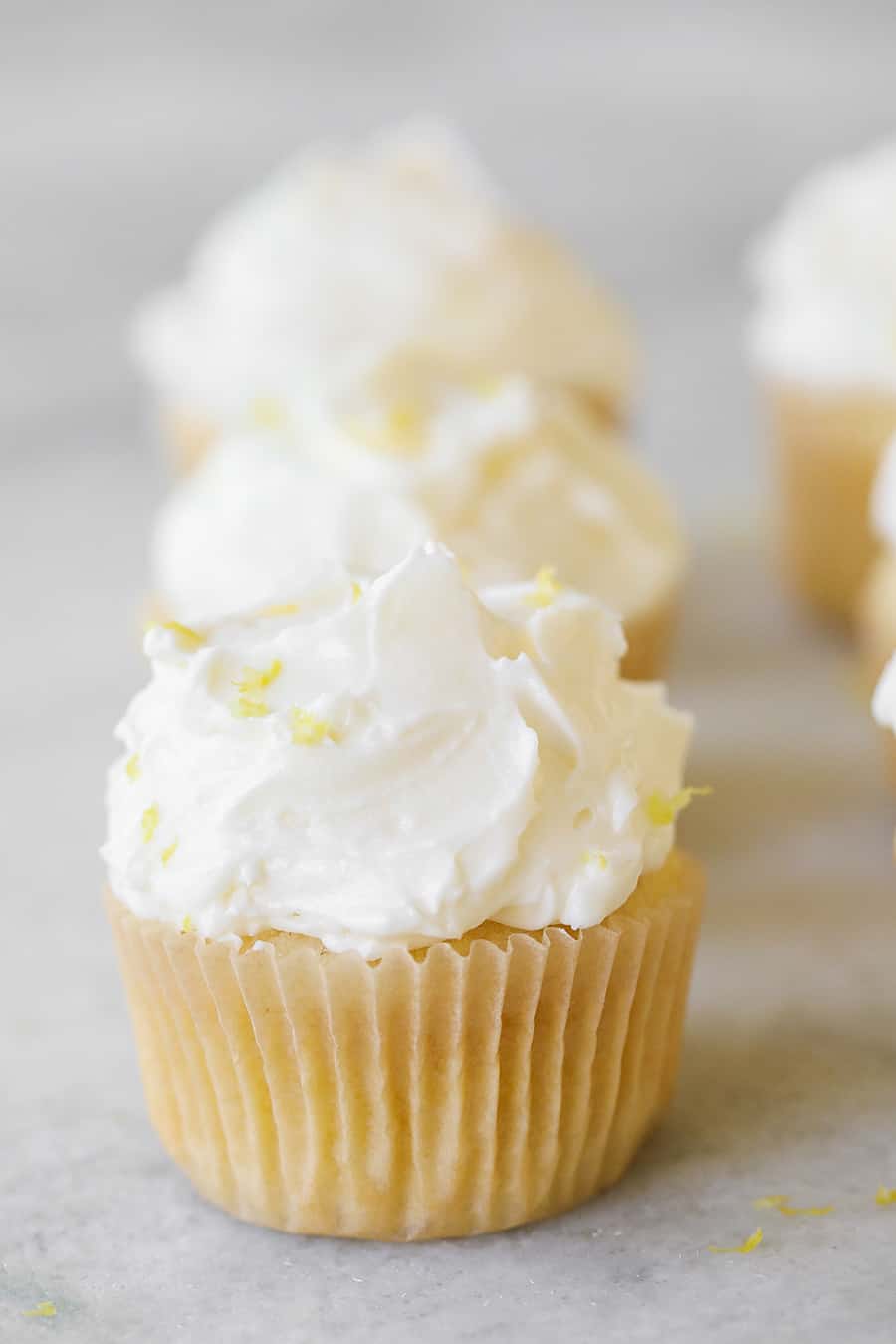 Tips for Making Buttercream Meringue Frosting
If you have a double boiler, use it to whisk the egg whites and sugar. If you do not, boil water in a medium pot and put a metal bowl over the top. Whisk the egg whites and the sugar in the metal bowl while it heats from the water boiling underneath.
Continue whisking for about 5 minutes. Really, just oversee the egg whites and sugar and whisk when needed. You don't want the egg whites to actually cook and turn solid.
Temperature is important for making this frosting, so make sure the egg whites and sugar mixture is hot.
The butter needs to be room temperature, soft before adding it to the frosting. This is important as well.
Continue to beat the frosting until it becomes thick and fluffy. It might take a few minutes, but it will thicken!
Lemon Frosting Variation
If you're not up for mixing the egg whites and sugar overheat, then just make a simple buttercream frosting and substitute the vanilla extract for lemon extract.
Add a little lemon zest on the frosting or even a tiny lemon wedge to decorate the cupcake.
Cupcakes with Lemon Curd
One thing that is great about cupcakes, is that you can fill them with something sweet in the middle to make filled lemon cupcakes.
If you want to add even more lemon goodness to these cupcakes, you can remove a small amount of the middle (through the top) and then place a teaspoon lemon curd in the center.
Cover the hole on the top with frosting. We did not do it for this recipe but it's an option!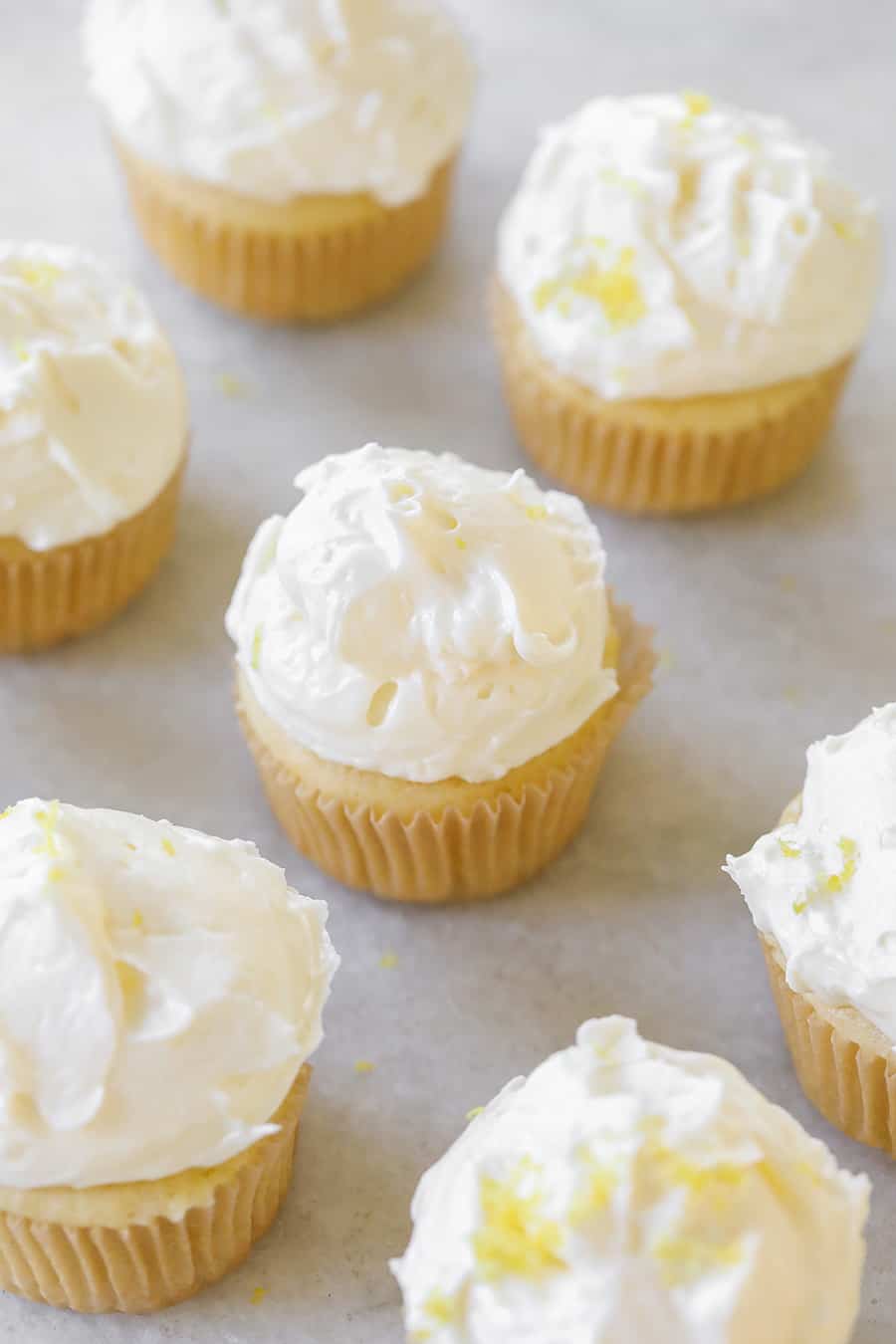 More Lemon Desserts
Lemon and Thyme Shortbread Cookies
Three Ingredient Lemon Popsicles
If you make our lemon cupcakes let us know by leaving a review and comment!
Also, you can tag @sugarandcharm or #sugarandcharm on our social channels. We love to see what you all make!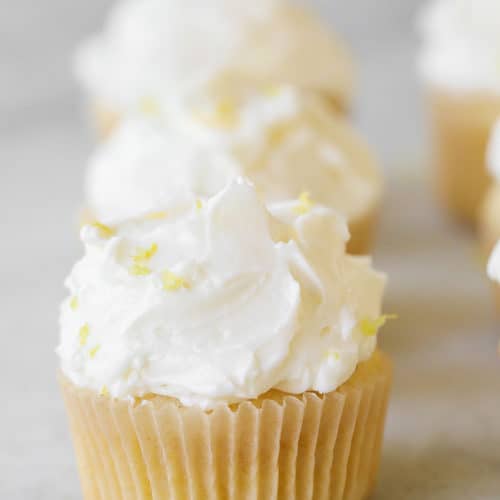 Ingredients
2

sticks unsalted butter

,

room temperature

2

cups

granulated sugar

4

large eggs

1/2

cup

lemon juice

2

tablespoons

lemon zest

1

teaspoon

lemon extract

1

teaspoon

vanilla extract

3/4

cup

buttermilk

2 1/2

cups

flour

1/2

teaspoon

baking soda

1/2

teaspoon

baking powder

1

teaspoon

salt
Buttercream Meringue Frosting
1

cup

granulated sugar

4

large egg whites

3

sticks unsalted butter

,

must be room temperature (super soft)

1/4

cup

fresh squeezed lemon juice

1

teaspoon

lemon extract
Instructions
Cream butter and sugar together in a mixer until light and fluffy.

With the blender still mixing, add in eggs one at a time.

Add in the lemon zest.

Combine the buttermilk, extracts and lemon juice in a liquid measuring cup.

In another bowl, add in flour, baking powder, baking soda and salt.

Add the dry and wet ingredients to the butter mixture by alternating them. Keep the blender on low while you add in the dry and wet ingredients.

Line a cupcake tin with cupcake paper and using a cookie scooper, add two scoops batter to each cupcake paper.

Bake in a preheated 350 degree oven for about 15-17 minutes until the middle is set. Do not overcook or cupcakes will be dry.
Buttercream Meringue Frosting
Add the sugar and the egg whites into a heatproof mixing bowl.

Fit the bowl over a pan of simmering water.

Whisk constantly until the mixture is hot, sugar is dissolved and the egg whites are a little frothy. About 5 minutes. It should look like a shiny marshmallow cream. This step is very important.

With the whisk attachment, transfer to a mixing bowl and beat eggs on medium speed until cooled and thicker for about 5 minutes.

Switch to the paddle attachment and add in one stick of room temperature butter at a time, beating until smooth.

On medium speed, add in the lemon juice and lemon extract.

If the buttercream curdles or separates, just keep beating on high until it comes back together. You should end up with a shiny, smooth and absolutely delicious buttercream frosting!
Nutrition
Calories:
249
kcal
|
Carbohydrates:
54
g
|
Protein:
5
g
|
Fat:
2
g
|
Saturated Fat:
1
g
|
Cholesterol:
43
mg
|
Sodium:
221
mg
|
Potassium:
88
mg
|
Fiber:
1
g
|
Sugar:
38
g
|
Vitamin A:
83
IU
|
Vitamin C:
5
mg
|
Calcium:
28
mg
|
Iron:
1
mg