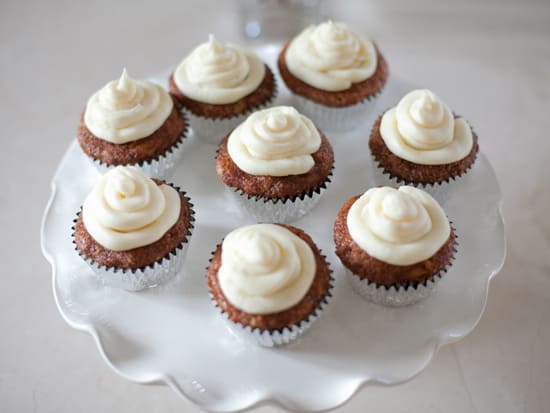 This was my first time making a carrot cake recipe from scratch and it turned out heavenly! I found a recipe that reminded me of a classic, old fashion carrot cake with pineapple, shredded coconut and pureed carrots! This would be a delicious dessert for Easter!
Carrot Cake Cupcakes
2 cups flour
2 cups granulated sugar
2 teaspoons baking soda
2 teaspoons ground cinnamon
1 cup corn oil
3 eggs, lightly beaten
2 teaspoons vanilla extract
1 1/3 cup pureed carrots
1 cup shredded coconut
3/4 cup canned crushed pineapple, drained
Directions:
Preheat oven to 350 degrees.
Puree 1 1/3 cup carrots (first chop, then boil, then puree) and set aside.
Sift together the flour, sugar, baking soda and cinnamon in a large bowl.
Add in the oil, eggs and vanilla and beat well.
Fold in the pureed carrots, shredded coconut and drained pineapple.
Pour batter into either a cake pan or cupcake pan.
Bake until the edges have pulled away or until the toothpick comes out semi-clean. I baked my cupcakes for about 16 minutes… but every oven is different so check on them often.
Cool for awhile and then frost!
Cream Cheese Frosting
1 8oz package cream cheese
1 stick butter
1/2 teaspoon vanilla
2 cups confectioners sugar
Directions:
Beat cream cheese, butter and vanilla together until smooth. Add in the sugar and beat until combined. It's the best cream cheese frosting ever!! ; )