The perfect Valentine's Day is spent with friends and family, sharing a delicious home-cooked meal and some Valentine's Day inspired desserts. Here are some ideas for creating a charming Valentine's Day party that you can host for your girlfriends!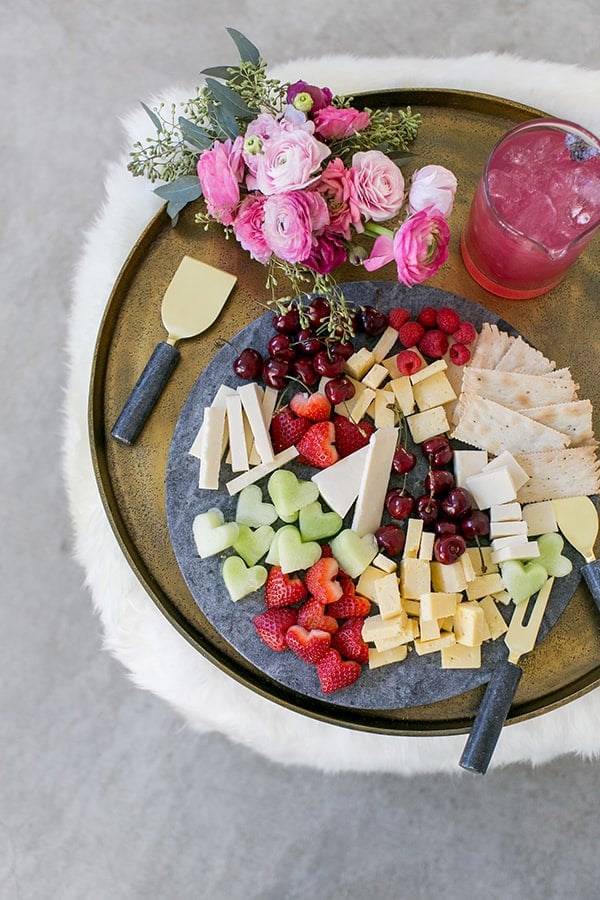 Valentine's Day Ideas
If you're hosting a Valentine's Day for your girlfriends, there's a lot of activities and ideas you can do! Have a Valentine's Day craft night or a Valentine's Day movie night or maybe a wine and cheese party!
No matter what you choose to do, you can cook your favorite food (or order take out!), set up a charming Valentine's Day-inspired bar with desserts and cocktails and just relax! It's a great excuse to spend time and appreciate the close friendships you have.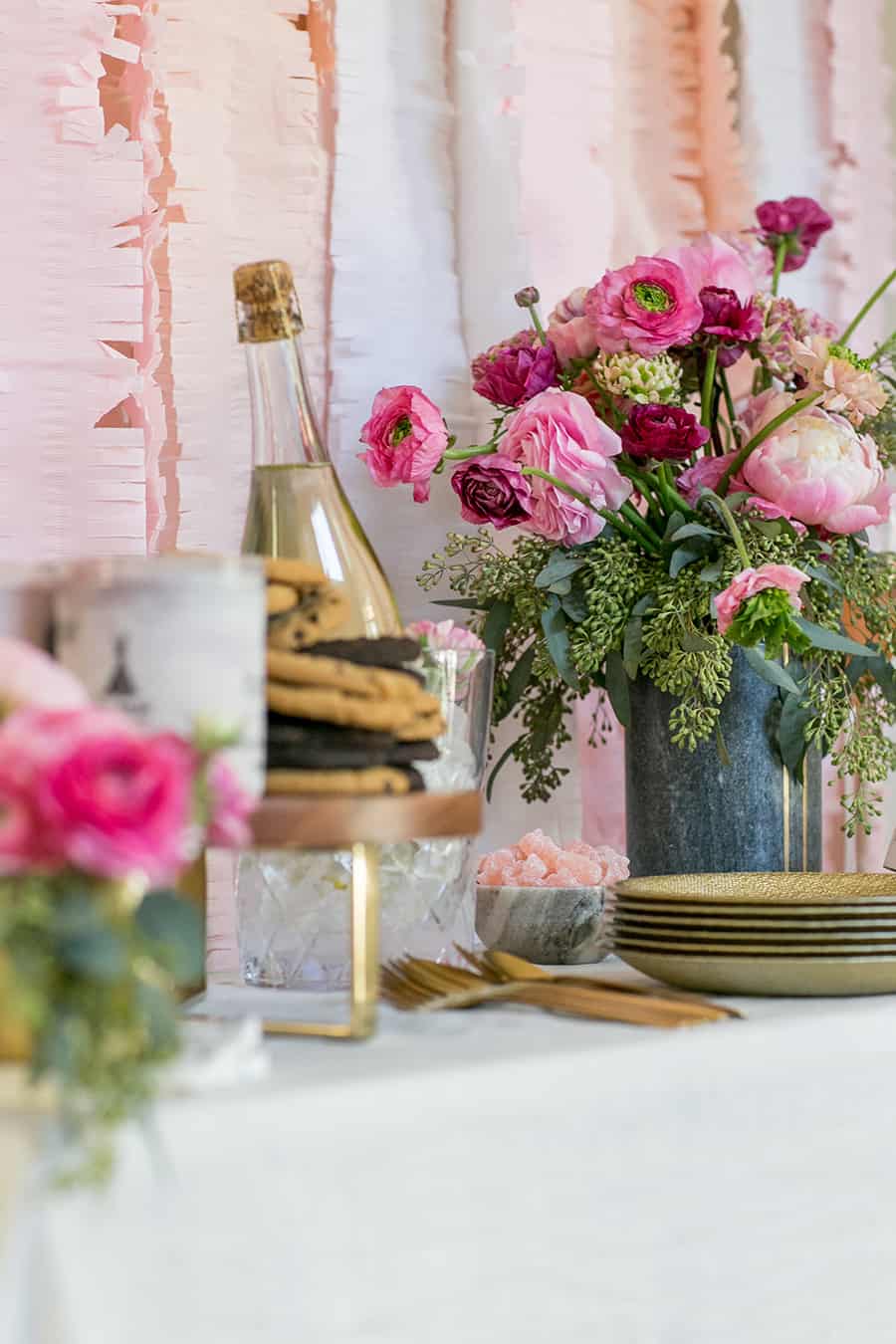 Valentine's Day Food
A cheese platter is always a good idea! Even if you order take-out for dinner, a cheese platter.
Use a tiny heart-shaped cookie cutter to cut our shapes in the fruit and cheese! It's an easy way to add a little charm and love to the cheese platter.
Valentine's Day Cocktails
We've rounded up 14 perfect Valentine's cocktails here!
You can also make this Floral Rosé Spritzer. It's refreshing and the color is perfect for Valentine's Day.
Tips for Making Valentine's Day Cocktails
If it's a shaken cocktail, make it ahead of time in the cocktail shaker. Wait to add ice, then right before serving, add the ice and shake, shake, shake! Then strain! This way you can prep all of the ingredients and measurements ahead of time.
Add a charming detail like pink ice cubes! They're naturally colored with hibiscus flour and easy to make.
If you're serving wine, check out our wine serving tips and then show off your skills!
Use edible flowers to garnish your Valentine's Day cocktail. You can even make your own edible flower garden! If not, find edible flowers in the fresh herb section at Whole Foods.
Valentine's Day Desserts
If you're looking for an easy dessert that guests can assemble themselves, we love the idea of an ice cream sandwich platter. Choose 3 varieties of ice cream paired with a few options for cookies and let your friends make their own!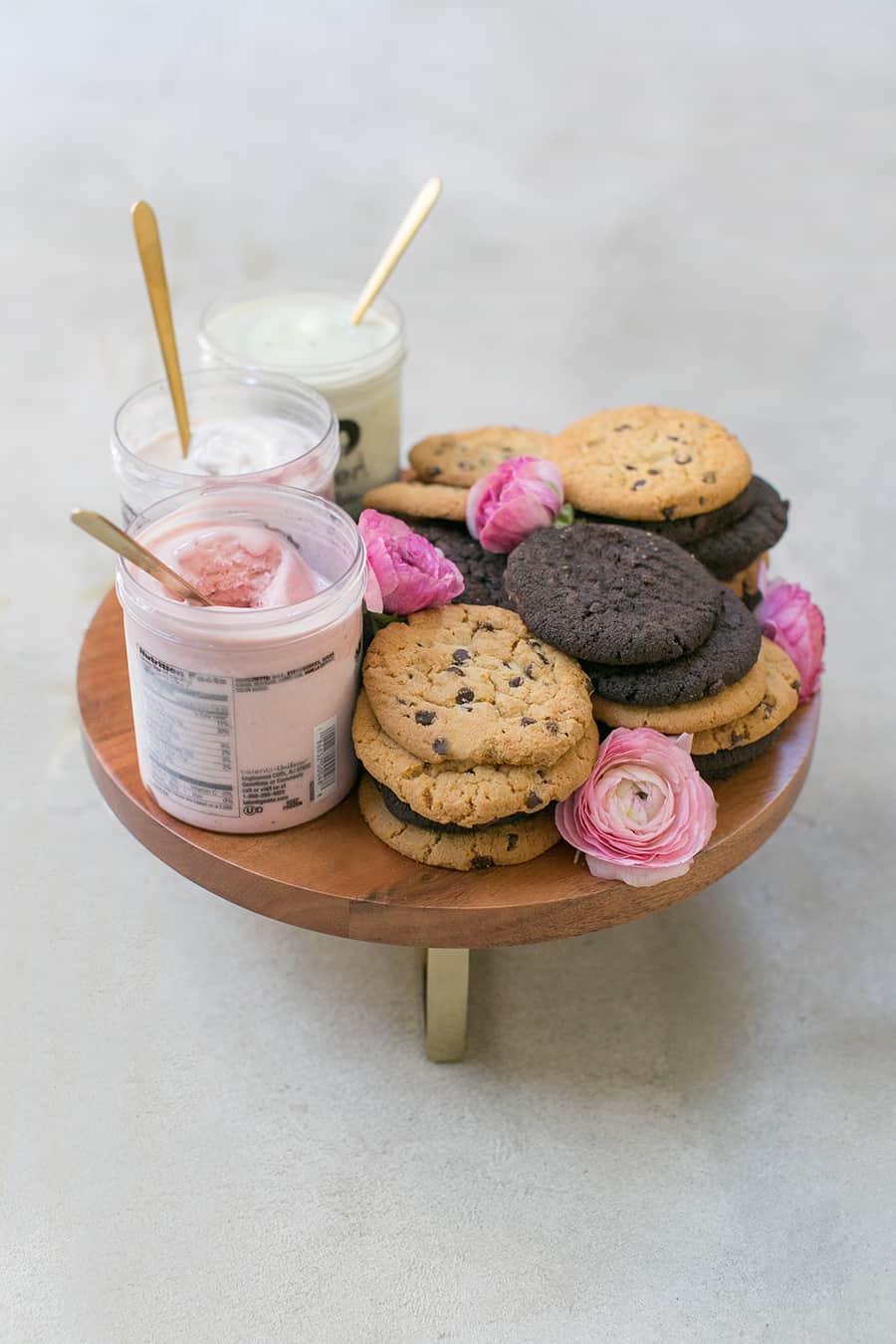 Make sure you have an ice cream scooper and a lot of napkins on hand!
Here are more Valentine's Day dessert recipes you can make:
Lemon and Thyme Shortbread Cookies
Mini Heart Shaped Sugar Cookies
Decadent Chocolate and Easy Soufflés Recipe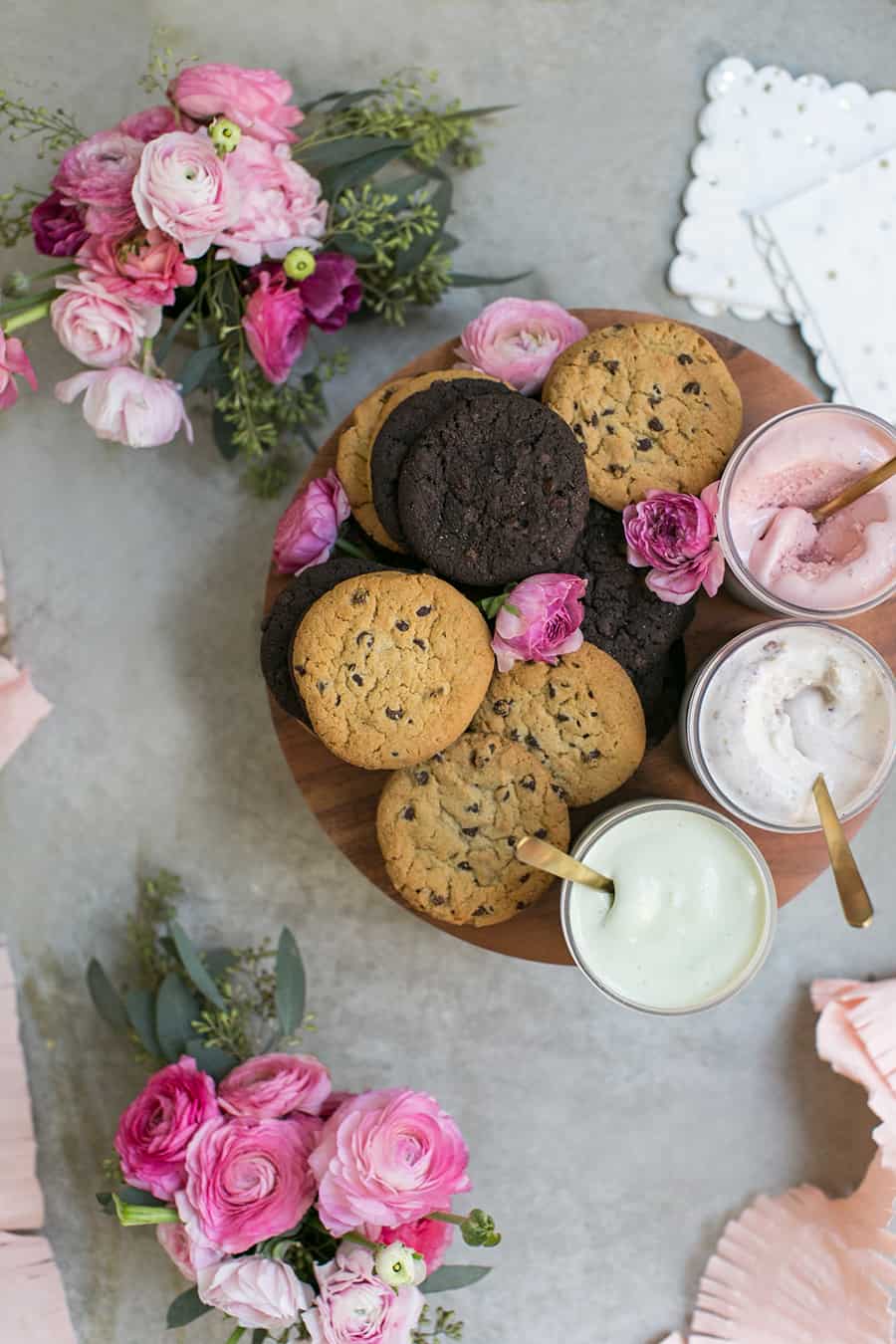 Valentine's Day Crafts
Sharing a few more of our favorite Valentine's Day crafts! These are all fun projects and gifts you can make at your party! Set up a craft station and get crafting!
DIY Mini Cake Stands – These are so charming and a fun Valentine's Day Craft and Gift!
DIY Essential Oil Candles are a great Valentine's Day craft idea!
Lavender Lip Balm DIY! With a printable Valentine's Day label! They're adorable and great for kids to make too.
I'm Donuts Over You printables!
Valentine's Day Embroidery Wine Bags
Check out these Charming Valentine's Day Printables too!
Valentine's Day Movies
If you invite friends over for Valentine's Day Movie night, here are some great options for movies!
The Notebook
10 Things I Hate About You
When Harry Met Sally
Valentine's Day
Say Anything
You've Got Mail
My Best Friends Wedding
Love Actually
Book Club
Valentine's Day Decorations
Decorate your party with some pretty flowers and paper streamers. Keep it simple and charming but festive to celebrate the holiday!
We hope you have a wonderful Valentine's Day! Please share your photos with us @sugarandcharm on social!