Everything you need to know for making the best Bee's Knees cocktail! This simple drink is made with three ingredients and is perfect for all year! Easy to make, refreshing, and delicious.
Check out our favorite lemon recipes, great cocktail recipes, our favorite brunch cocktail recipes, the best-mixed drinks, gin cocktails, and cheap drinks to make at home!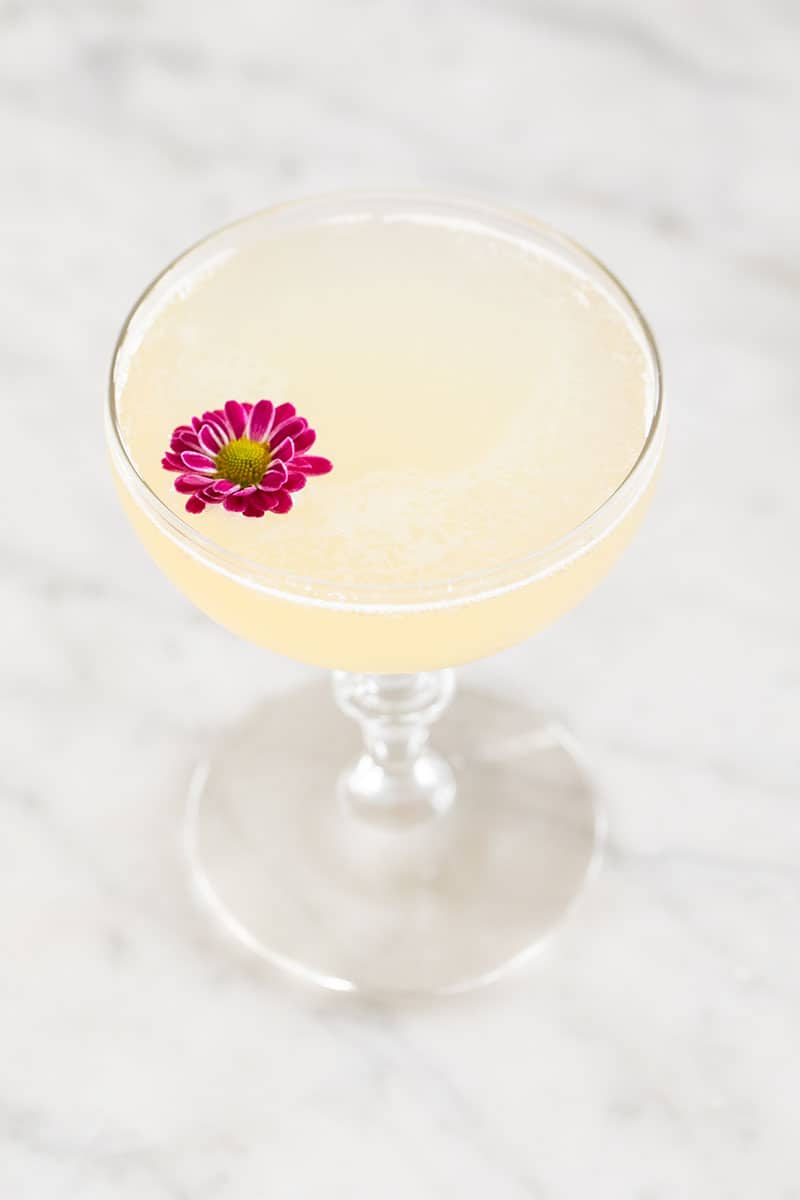 Whether you're sitting in a cozy cabin near a fireplace or outside on the patio during a warm summer day. A bee's knees cocktail is the perfect simple and clean drink that you can make all year.
The last time I had a bee's knees what at Little Jack's Tavern in Charleston. It was a rainy, winter day and we sat next to a fireplace. I ordered a burger and a bee's knees and it was just perfect.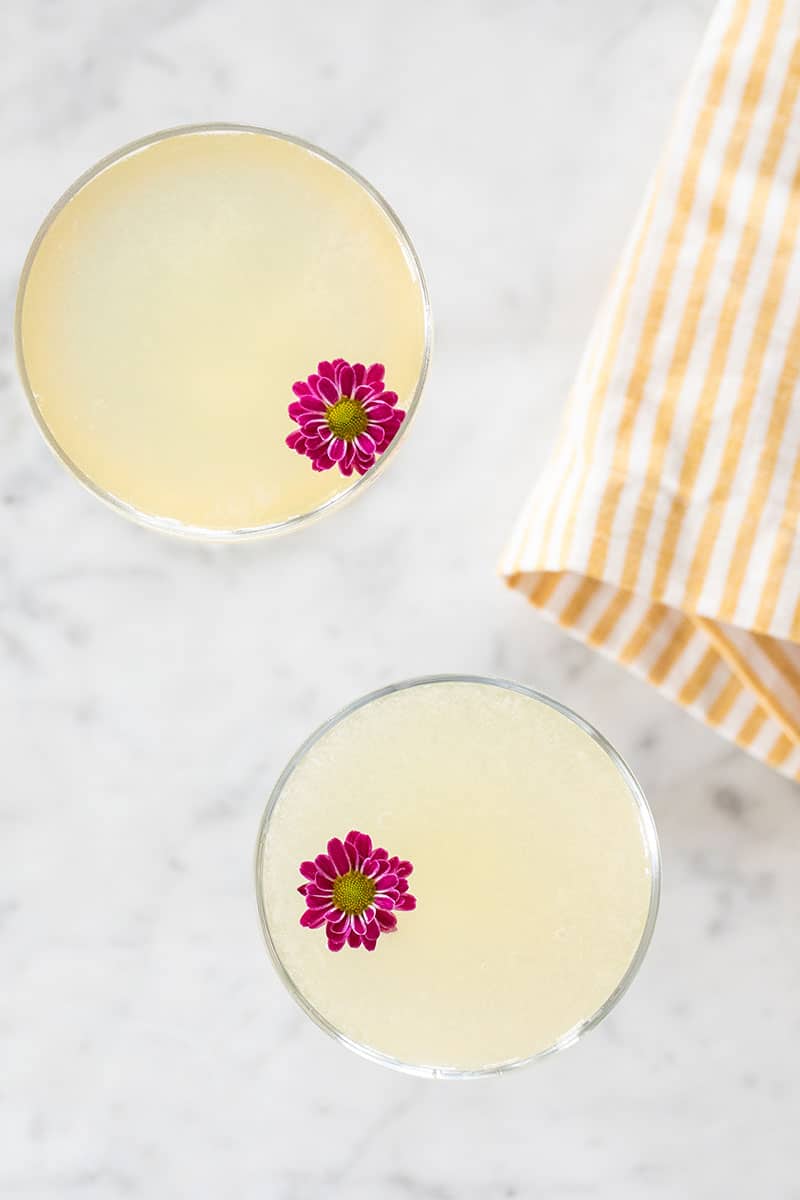 Quick Bee's Knees History
Before making this classic cocktail, read these quick history facts about this classic drink!
Created in the Prohibition Era by Frank Meier. He was a bartender at the Ritz-Carlton in New York City, and he came up with the drink as a way to use up leftover gin.
The name comes from the slang "the best" and from the honey simple syrup, it's sweetened with.
It was created as a way to use leftover gin and hide the taste of poor gin. This was during the era of bathtub gin.
Bathtime gin is a term used for poorly concocted homemade spirits. 
Why You'll Love This Recipe
It's easy to make with simple ingredients.
Refreshing lemon flavor.
Only three ingredients total.
Can easily be doubled for a gathering.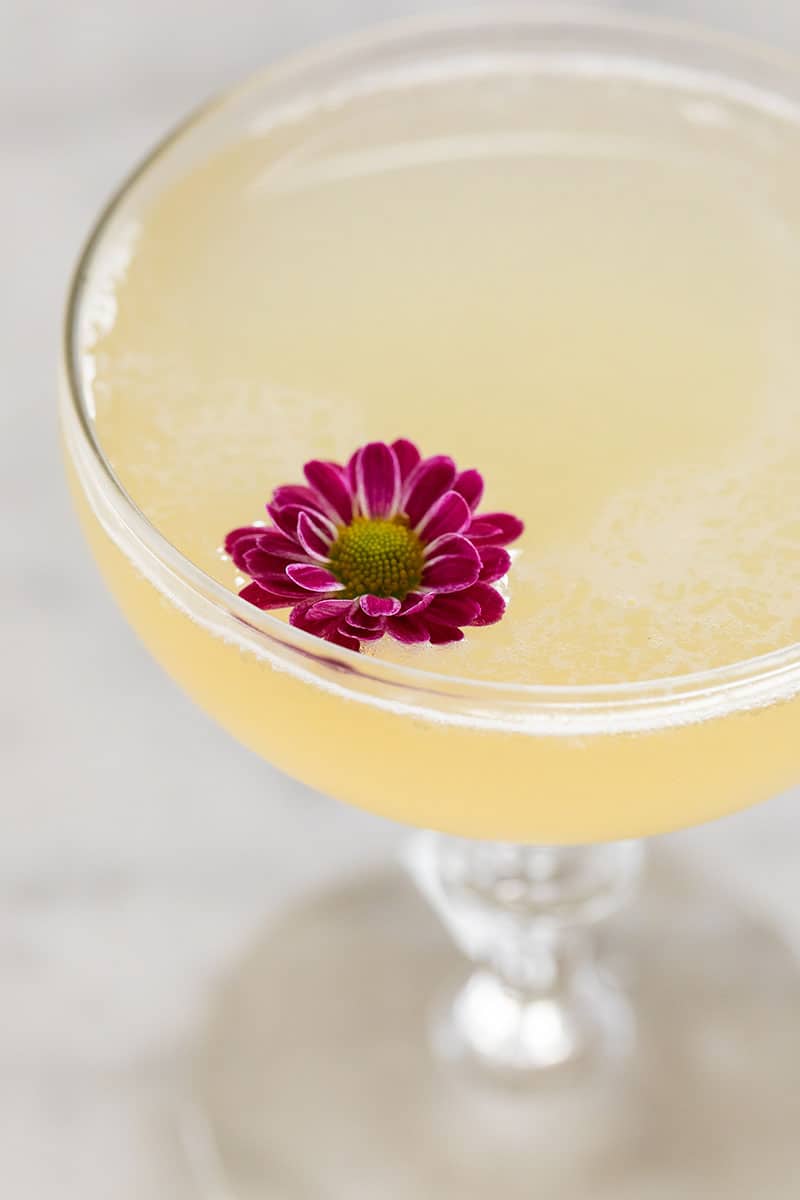 How to Make a Bee's Knees Cocktail
We'll cover everything you need to know to make a Bee's Knees drink, answer questions and share our tips. You can head to the recipe card at the bottom of the post for the full recipe.
Tools
Here are a few tools you'll need to make this drink:
Ingredients
Using only 3 simple ingredients, you can make this cocktail! The full recipe and measurements are in the recipe card below.
Gin – A clear, distilled alcoholic beverage with a strong juniper flavor. It's made by distilling fermented grains and adding botanicals, such as juniper berries, to the mix. Use a good quality gin when making this recipe so you can taste the flavors of the gin.
Lemon Juice – Adds a tart, acidic flavor to the cocktail and helps to balance out the sweetness of the honey. It also provides a boost of vitamin C, making this drink a great way to enjoy your daily dose of fruit!
Honey Syrup – A mixture of equal parts honey and water that has been heated and stirred until the honey dissolves.
It's a great way to add sweetness to cocktails without making them too sweet. We also love that this is a natural sweetener and gives the cocktail floral notes too.
You can also use lavender honey syrup or ginger simple syrup for this drink.
Expert Tips for Making a Bee's Knees
Always shake for 30 seconds, so the water can dilute the flavors and chill the cocktail. This creates the perfect balance.
Use good quality gin and fresh-squeezed lemon juice.
If you prefer a sweeter drink add in a little more honey simple syrup.
Serve this cocktail in a chilled cocktail glass for the best results.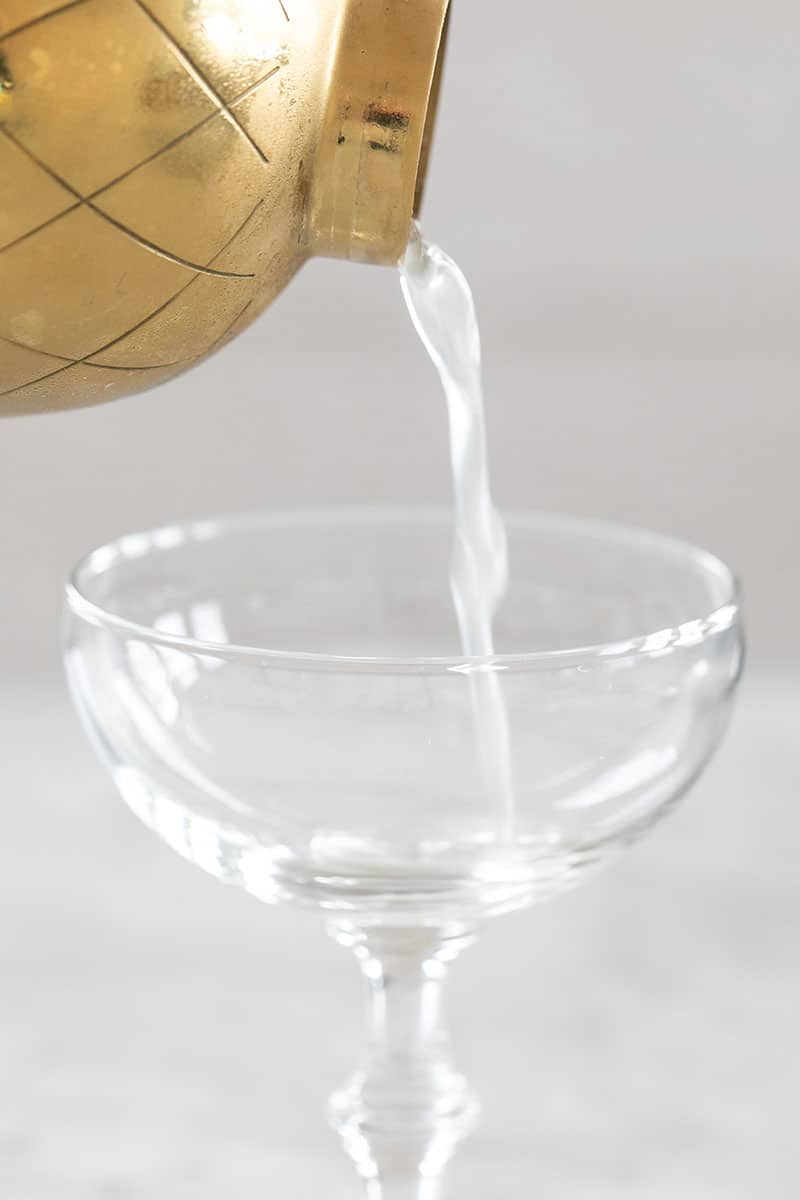 Bee's Knees Cocktail Variations
There's nothing quite like a bees-knees cocktail on a summer day. The classic recipe calls for gin, lemon juice, and honey simple syrup, but there are plenty of ways to change it up.
For a refreshing twist, try substituting orange juice for lemon juice. You can also experiment with different types of gin to find your perfect bee's knees.
And don't forget to garnish with a lemon peel – it's the finishing touch that makes this cocktail perfect. Whether you're sipping it by the pool or enjoying it at a summer party, bees knees are sure to be a hit.
Add other flavors to the cocktail by adding herbs or flowers to the simple syrup. Here are some fun ways to switch it up:
Add dried lavender to the Bee's Knees when shaking the cocktail.
Rosemary works really well with these flavors.
Use vodka instead of gin.
Try whiskey instead of gin.
Add a dash of lavender bitters for a floral
Add a little Champagne over the top.
Use flavored honey and syrups to create unique versions of the drink.
Large Batch Bee's Knees
For a party make a large batch of a Bee's Knees punch! To make a large batch punch, calculate two cocktails per guest and then multiply the recipe by that number.
When using more ingredients, the flavors will change, so make sure you taste-test the punch before and add whatever you feel it's missing.
A large cocktail shaker works really well for making a batch, of shaken cocktails.
Frequently Asked Questions
How many calories are in a bee's knees?
The good thing about this cocktail is that it's made with a light honey simple syrup! Calories will vary but this recipe has about 175 calories per drink.
Two ounces of gin has around 115-130 calories. Again, this totally varies but you can use that as an estimate. Vodka has the lowest calorie count for a spirit.
Why is it called bee's knees?
This cocktail is called a Bee's Knees because it's made with honey, and bees are attracted to honey! The drink gets its name from the 1920s when it was popular to use cute phrases to describe things that were good. Other examples include "the cat's meow" and "the berries."
What does a bees knees taste like?
The Bee's Knees has a sweet and tart flavor, with a strong juniper flavor from the gin. The honey and lemon juice help to balance out the sweetness, making it a refreshing and delicious drink.
What gin should I use?
The best gin to use for a Bee's Knees cocktail is a dry gin. This type of gin is made with juniper berries, which give it a strong flavor that pairs well with honey and lemon juice. Be sure to use good quality gin for the best results. Here are a few of our favorite brands:
Hendrick's Gin
Gray Whale
St. George
The Botanist Islay Dry Gin
Tanqueray London Dry Gin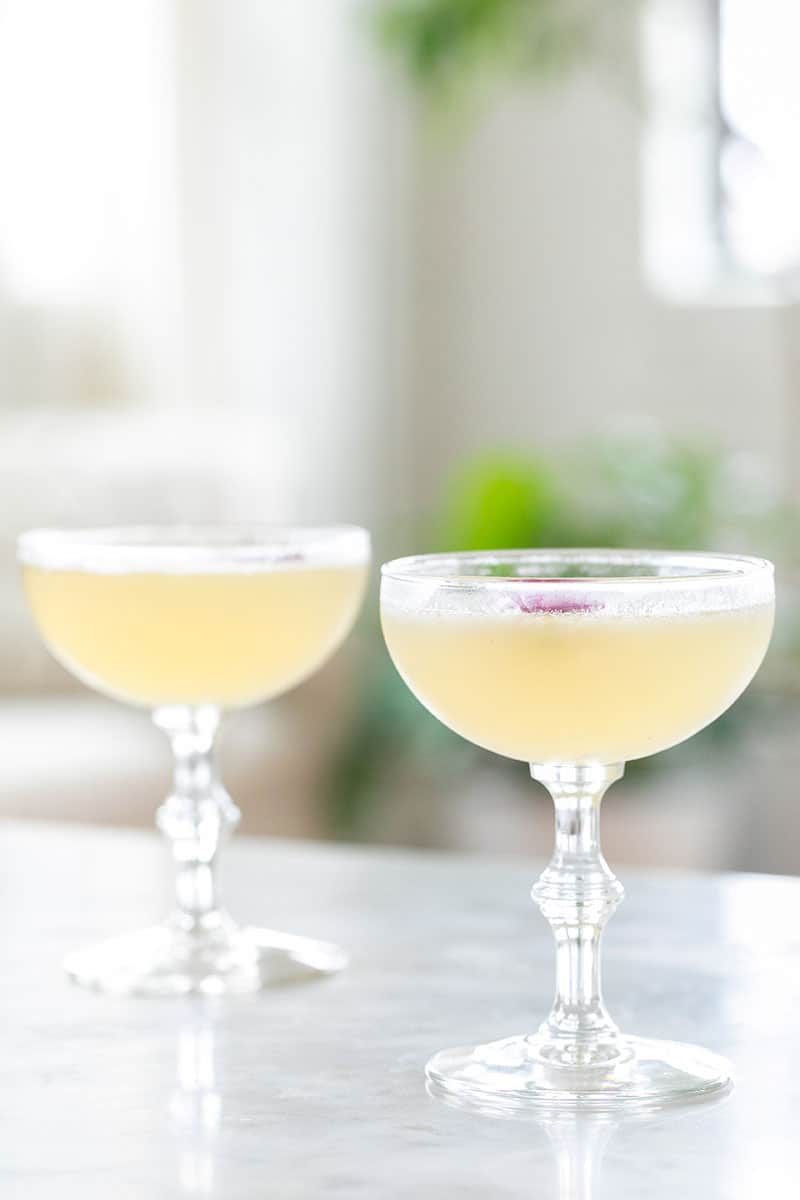 When to Serve a Bees Knees Drink
This cocktail is perfect for any occasion! Serve it at a summer party, or enjoy it on a relaxing day by the pool. Here are some special occasions we like to serve this drink:
Birthday Party it's also perfect for a last-minute birthday party!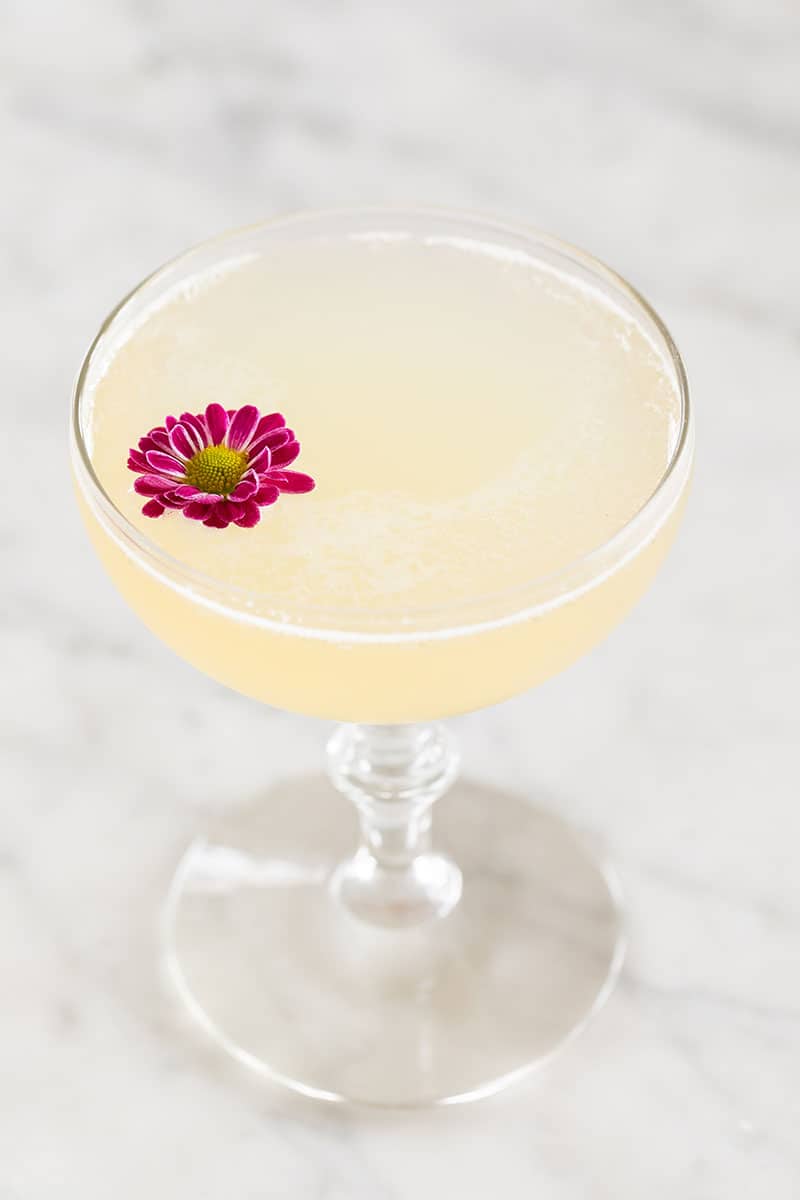 More Classic Cocktails You'll Love!
Here are more cocktail recipes to try:
How to Make a Gin + Tonic and 5 Best Gin + Tonic Recipes
For a summer treat try our lemonade popsicles!
Let us know what you think!
Let us know if you make this cocktail by leaving a comment and review below!
You can also FOLLOW US on FACEBOOK, INSTAGRAM, and PINTEREST to see more delicious recipes, cocktails, desserts, and parties!
Bee's Knees Cocktail
Recipe for making your own Bee's Knees cocktail! This cocktail only uses 3 simple ingredients and is great to sip all year.
Print
Pin
Rate
Ingredients
2

ounces

gin

1

ounce

lemon juice

,

fresh-squeezed

1/2

ounce

honey simple syrup

,

1/2 ounce is 1 tablespoon
Instructions
Make the honey simple syrup by combing equal parts honey and water in a saucepan and melt it together.

Squeeze fresh lemons for lemon juice.

Next, add gin, lemon juice and honey simple syrup in a cocktail shaker with ice. 

Shake for 30-40 seconds then strain in a coupe glass.

Garnish with a pretty flower or a lemon twist.
Notes
Always use fresh squeezed juice. 
Shake in a cocktail shaker for at least 40 seconds, yes your hands will be cold but it's worth it. 
Add more or less of any ingredient to make it exactly how you like it! 
Add in rosemary or lavender for an herb Bee's Knees! 
Nutrition
Calories:
175
kcal
|
Carbohydrates:
12
g
|
Protein:
1
g
|
Fat:
1
g
|
Saturated Fat:
1
g
|
Sodium:
9
mg
|
Sugar:
11
g
|
Vitamin C:
11
mg
|
Iron:
1
mg