How to make an old-fashioned cocktail at home! It's easier than you think and only has a few ingredients!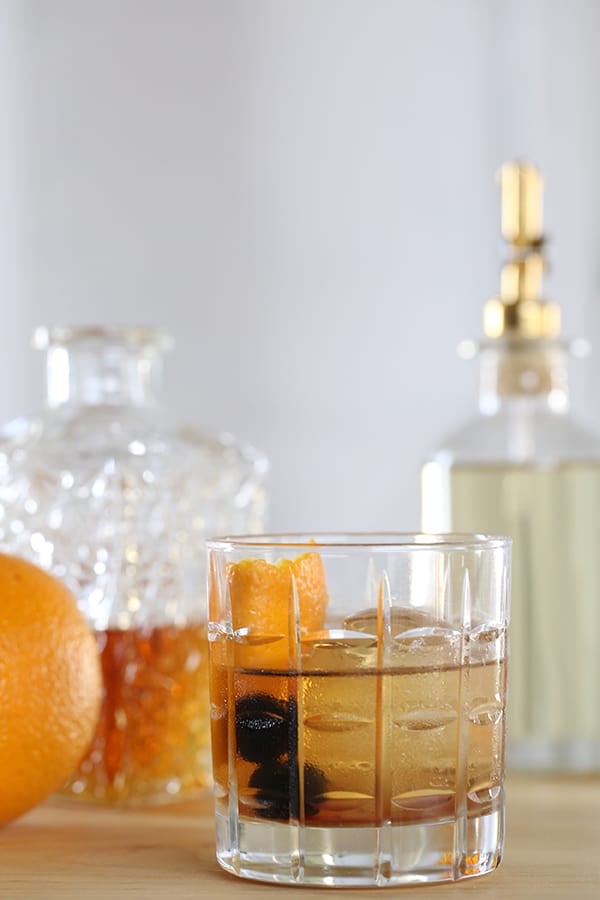 This bourbon-based drink is classic because it dates back to the early 1800s and is so widely known you can order it almost anywhere you go.
It's also an incredibly simple cocktail recipe with just a few ingredients, so it's an easy libation to make at home for guests before or after dinner.
We're sharing the history and all of the details about this classic cocktail. Also, see our video on how easy it is to make!
The History of the Old-Fashioned
In the 19th century, long before prohibition came along, the Old-Fashioned was a way to spruce up liquor.
It was known as the Whiskey Cocktail, though it could also use gin, rye liquors, or anything that was on hand. Way back in 1806, the Hudson paper in New York City printed something about this tasty cocktail, claiming it was a "stimulating liquor" that used Bitters and sugar to provide a real pop.
Of course, by the time the Hudson printed anything about it, the fact is that the drink could have been in circulation for many years. All that's clear here is that the Whiskey Cocktail was so popular that it was even given to US soldiers as provisions during the Civil War.
This is the famous drink whose name would eventually change to Old-Fashioned some years later.
By the time the 1900s rolled around, bartenders in big cities were taking drinks like the Whiskey Cocktail and adoring them with frilly fashionable add-ons, a lot of other mixing techniques, and basically changing what those drinks were.
Old-Fashioned Ingredients
The original Old-Fashioned cocktail was a simple drink consisting of: 
Whiskey
Bitters
Sugar (cube or simple syrup)
Orange garnish
Ice
The way it worked was simple. Take your glass, plop in the sugar cube, and then pour in your whiskey.
After that, turn up that Bitters bottle and shake, shake, shake, like a Beyonce song. Add in your ice cubes, and stir the concoction. Sorry to the James Bond fandom, but you stir it. Lastly, add the garnish to the drink, and you're ready to drink. 
How to Make an Old-Fashioned Cocktail
The recipe should still be right in your line of sight as you read this, even if you're on a ridiculously small phone.
So, as to not waste space by belaboring the point further, let's just speak about one of the best-mixed drinks of all time and how you can go about making it. Let's line-item this bad boy, going over it step by step. You game? If not, have a few Old-Fashioneds; you'll probably change your mind.
Whiskey: The brand of whiskey you use isn't as important as the type. We'll get into this in a bit, but for right now, suffice it to say that you should use a bourbon.
You don't have to go all Hatfields and McCoy's over whether to pick one from Tennessee or Kentucky. Keep your muskets holstered,
please. Just for the love of all things classical, select bourbon if you want to make a true Old-Fashioned.
Bitters: This is an alcohol preparation solution, which means that it was created for the sole purpose of mixing with liquor. The better the bitters, the better the Old-Fashioned would taste.
We could have made that into a she-sells-seashells tongue-twister, but we've been drinking Old-Fashioneds since breakfast. Just get some decent stuff.
Sugar: Use either a simple sugar cube and plop it in the glass or let it dissolve. Or, for a more modern drink, you can use simple syrup.
Orange Garnish: Just the peel, not the pith. Peel the very outer layer of an orange, about an inch or two, and it'll curl right up and look cool in the glass. It's for taste and aroma, too.
Ice: You can get fancy here if you must and go with those gastronomy concoctions frozen in liquid nitrogen.
However, we'd suggest just some square ice cubes. The stuff will melt very quickly, and they didn't have fancy ice back in those olden days. Just be warned that using crushed ice will be pretty pointless.
Highball Glass: The glass you use isn't necessarily important unless you want to keep it truly "Old-Fashioned." Use a lowball or highball glass for this cocktail.
Now that you know how to make an Old-Fashioned, we can move on to some FAQs. Yes, people do have plenty of questions about this famous drink, and we're answering them all!
Frequently Asked Questioned About the Old-Fashioned Cocktail
What is the Difference Between an Old-Fashioned and a Manhattan?
We'd love to be clever here and quote Nicholas Cage from "Con Air" when he was asked what's wrong with Steve Buscemi: "A lot." But the truth is that it's not much.
A Manhattan is pretty much a spin-off of an Old-Fashioned; yet instead of using a sugar cube, the Manhattan uses sweet Vermouth, which is an herb-infused sweet French wine. Somebody Rick-rolled an Old-Fashioned one day. That's all we know. 
What Whiskey is Best for Old-Fashioned Cocktails?
Anything that's a decent bourbon. Jack, Jim, Knob Creek, Pappy, Wild Turkey; we want you to think bourbon here. Not the subtract-the-e "whisky" from Europe.
The Old-Fashioned is an old-school Americana drink made with whiskey aged in fine oak barrels in the south. That's the best stuff to use, but it's not etched in stone. So do what you want!
Does an Old-Fashioned Have a Cherry?
Truly, this is up to you and what you prefer. Traditionally, no, it did not have a cherry, but we like adding a Luxardo cherry to the drink and feel it adds even more flavor. We do add in cherry, but you don't have to!
Knowing how to make an Old-Fashioned is pretty simplistic stuff. As you can see above, you only need a few key ingredients. The goal here, if you want to keep it traditional, is to go for a good quality whiskey, sugar, and high-quality bitters.
I can just picture people in the early 19th century gathered around a fire, in a candlelit room on a cold night, sipping on old fashioned's.
If you haven't had one, try it! It's a cozy speakeasy cocktail, and we're excited to feature it in our classic cocktail series!
More Classic Cocktail Recipes
Check out more of our classic cocktail recipes!
How to Make a Negroni Cocktail
Classic Make a Manhattan
Made in France Bénédictine Cocktail
Let us know if you make this version by leaving a comment and review below! Also, tag your cocktails with @sugarandcharm on social, so we can see them!
You can also FOLLOW US on FACEBOOK and PINTEREST to see more delicious recipes, cocktails, desserts, and parties!
Old Fashioned Cocktail Recipe
How to make an old fashioned cocktail at home! It's easier than you think and only has a few ingredients!
Print
Pin
Rate
Ingredients
2

ounces

good quality bourbon

1

teaspoon

simple syrup

,

melt ½ cup sugar and ½ cup water on a stove top to make simple syrup

1

large orange rind

2

dashes bitters

,

we like Angostura Bitters

2

real maraschino cherries

,

we prefer these!
Instructions
Add simple syrup, bourbon and two dashes bitters in a mixing glass with ice and stir.

Strain over a large ice cube in an old fashioned glass.

Wipe the rim with the orange rind and add it to the drink.

Garnish with two delicious cherries and enjoy!
Nutrition
Calories:
35
kcal
|
Carbohydrates:
9
g
|
Protein:
1
g
|
Fat:
1
g
|
Polyunsaturated Fat:
1
g
|
Sodium:
4
mg
|
Potassium:
7
mg
|
Fiber:
1
g
|
Sugar:
9
g
|
Vitamin A:
5
IU
|
Calcium:
6
mg
|
Iron:
1
mg