Butterbeer is a nonalcoholic, creamy butterscotch drink. If you're a Harry Potter fan you know that butterbeer is famous from the first Harry Potter book. If you want to make your own homemade butterbeer, we have an easy 3 ingredient butterbeer recipe for you!
Learn how to make this tasty drink and more fun details about this yummy butterscotch flavor drink!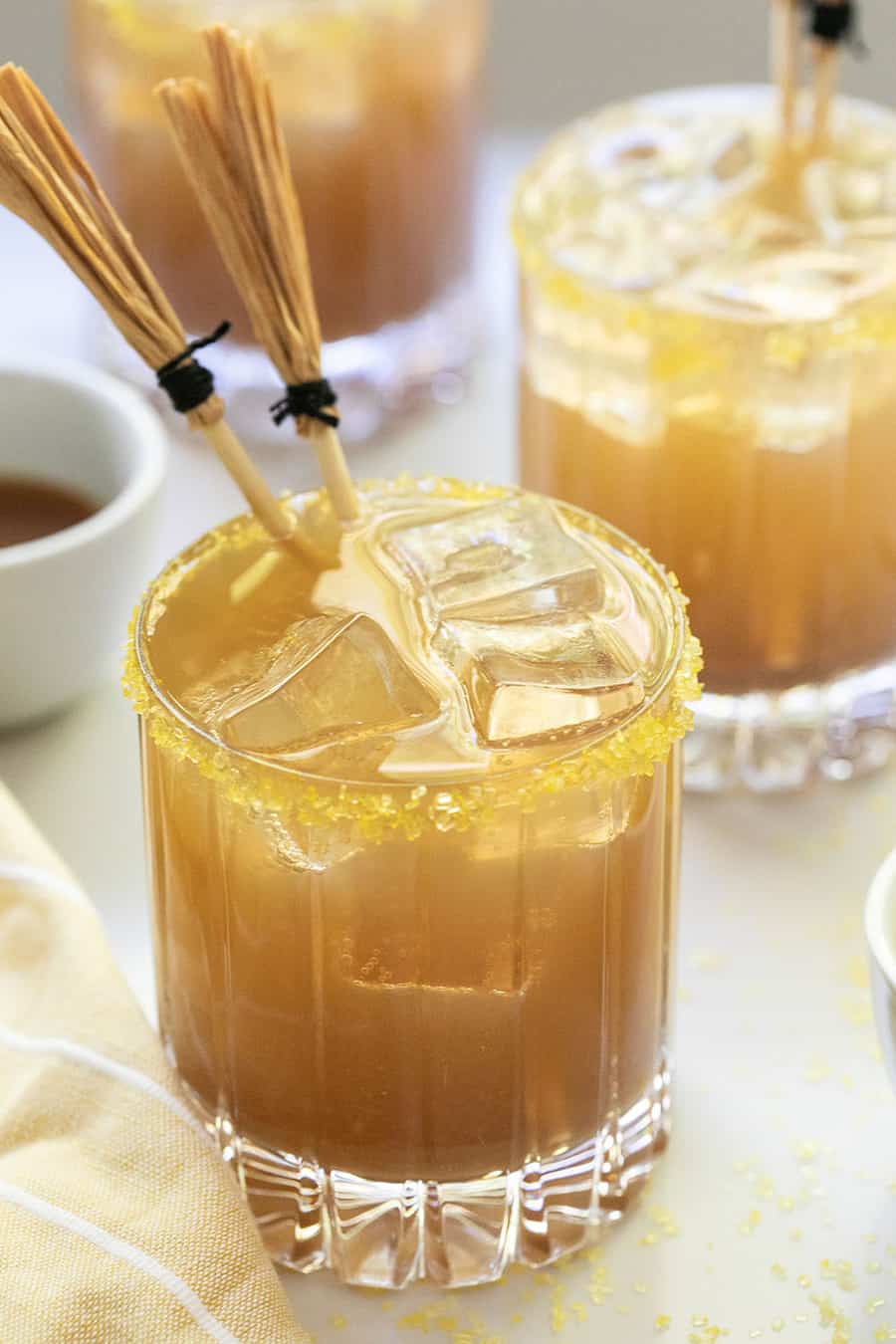 Butterbeer appears throughout the magical world of J.K. Rowling's Harry Potter novels. The drink first appeared in Harry Potter and the Prisoner of Azkaban, which is the third book in the series. The author gives few details on the actual taste or how it's made.
It has become a symbol of the Potter universe, especially since fans can now drink it at Universal Studios. However, we've had this drink multiple times at the Universal Harry Potter theme park and we like this homemade version better. It has a creamy butterscotch flavor to it and you can also make a sugar-free version.
This popular wizarding beverage is perfect to serve if you're hosting a fun Halloween party or a Harry Potter-themed party! Set up a station for guests to make their own or have a tray prepared with glasses filled with butterbeer!
So for all of you huge Harry Potter fans, this simple recipe is for you! This butterbeer recipe is easy to make, no small saucepan or heating is required! It's easy to make and full of butterscotch flavor. It's truly the best butterbeer recipe and you and your guests will love it.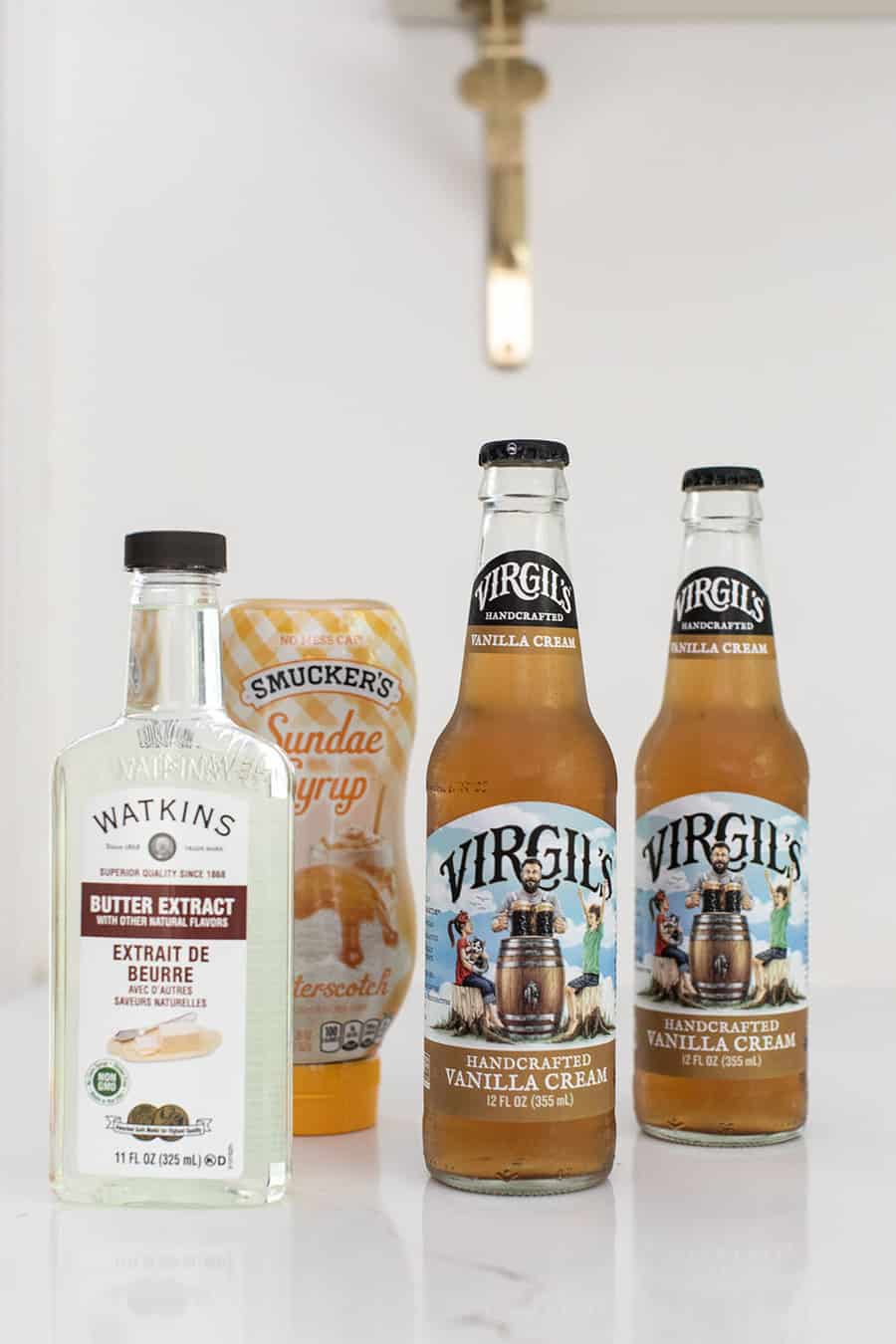 Butterbeer Ingredients
Recipes online vary, but the easiest way to make the best butterbeer recipe is using these 3 key ingredients:
Cream Soda – You'll use about a cup of cream soda for this recipe. Anything from 8 ounces to 11 ounces works or whatever fills up the cup you're using.
Butterscotch Syrup – Also known as butterscotch sauce is a rich and creamy syrup made of brown sugar, butter, and heavy cream. If you're up for the challenge, you can make homemade butterscotch sauce to use in this recipe. However, to make this an easy recipe we purchased it and it was great. It adds all of the butterscotch flavors.
Butter Extract – The butter extract gives the recipe a buttery flavor. We use Watkins because it's perfect for flavoring drinks and has no artificial colors or flavors. It's also non-GMO, gluten-free and corn syrup free.
Heavy Whipping Cream – This is optional, but if you want to give the butterbeer a creamy topping, whip heavy cream with confectioners sugar until soft peaks form.
Lower Sugar Alternative for Butterbeer
If you're looking to make butterbeer with lower sugar, try using Zevia Cream Soda. It's a naturally sweetened, zero sugar, cream soda with a vanilla, butter flavor. It's very flavorful and goes great with this recipe. This is a great way to keep the sugar intake lower when serving kids.
Rimming the Glass
Rim it with yellow sprinkles to add a little more charm to the glass! Wet the outer edge and rim of the glass with water and then dip it into a plate of sprinkles. Roll it around until the entire rim is coated.
How to Make 3 Ingredient Butterbeer Recipe
Rim the inside of the glass with butterscotch syrup and let it drip down the sides.
Fill the glass with ice cubes and pour cream soda and butter extract into the glass and give it a stir.
Top it with a creamy topping like whipped cream or marshmallow cream.
Butterbeer Foam
To make a creamy whipped cream topping follow this easy recipe:
1 teaspoon pure vanilla extract or 1 teaspoon rum extract or 1 teaspoon butter extract
In the bowl of a stand mixer, whisk the ingredients together until soft peaks form. Top the drink with this whipped cream mixture.
Butterbeer Garnishes
Add some fun garnishes to this yummy drink to make it feel even more special. Here are some of our favorite things to top this sweet treat with:
Sprinkles – Rim the glass with yellow or purple sprinkles. You can also add sprinkles over a whipped cream or marshmallow fluff topping.
Chocolate Frogs – These little frogs are symbolic of Harry's magical induction and make a fun topping for butterbeer.
Fizzing Whizzbies – Featured as one of Dumbledore's many passwords to his office. This will give the drink a wizarding world feel.
Marshmallow Fluff – Top the ice-cold butterbeer with this fluffy and sweet fluff.
Three Broomsticks – Add a broomstick in honor of the major attractions of Hogsmeade for the staff of Hogwarts.
Spices – Sprinkle cinnamon and nutmeg over the top to give the drink a festive fall flavor.
Frozen Butterbeer
There are now three ways to enjoy butterbeer. The cream soda and butterscotch drink with a sweet topping originally came in cold and frozen versions. Later, universal began serving steaming hot butterbeer. You can also get butterbeer fudge and ice cream.
Whichever incarnation of this sweet drink you prefer, drinking it is sure to put a smile on your face. If you're really in the mood to relive the Harry Potter adventures, pop in one of the movies as you sip on this delicious beverage and catch up with good friends.
Since Universal has never spilled the butterbeer regarding the actual ingredients, it remains a bit of a mystery. Try our recipe for a neat theme drink at a party or get-together.
Butterbeer Alcoholic
If you want add alcohol into butter beer, add 1 ounce butterscotch schnapps. It taste delicious!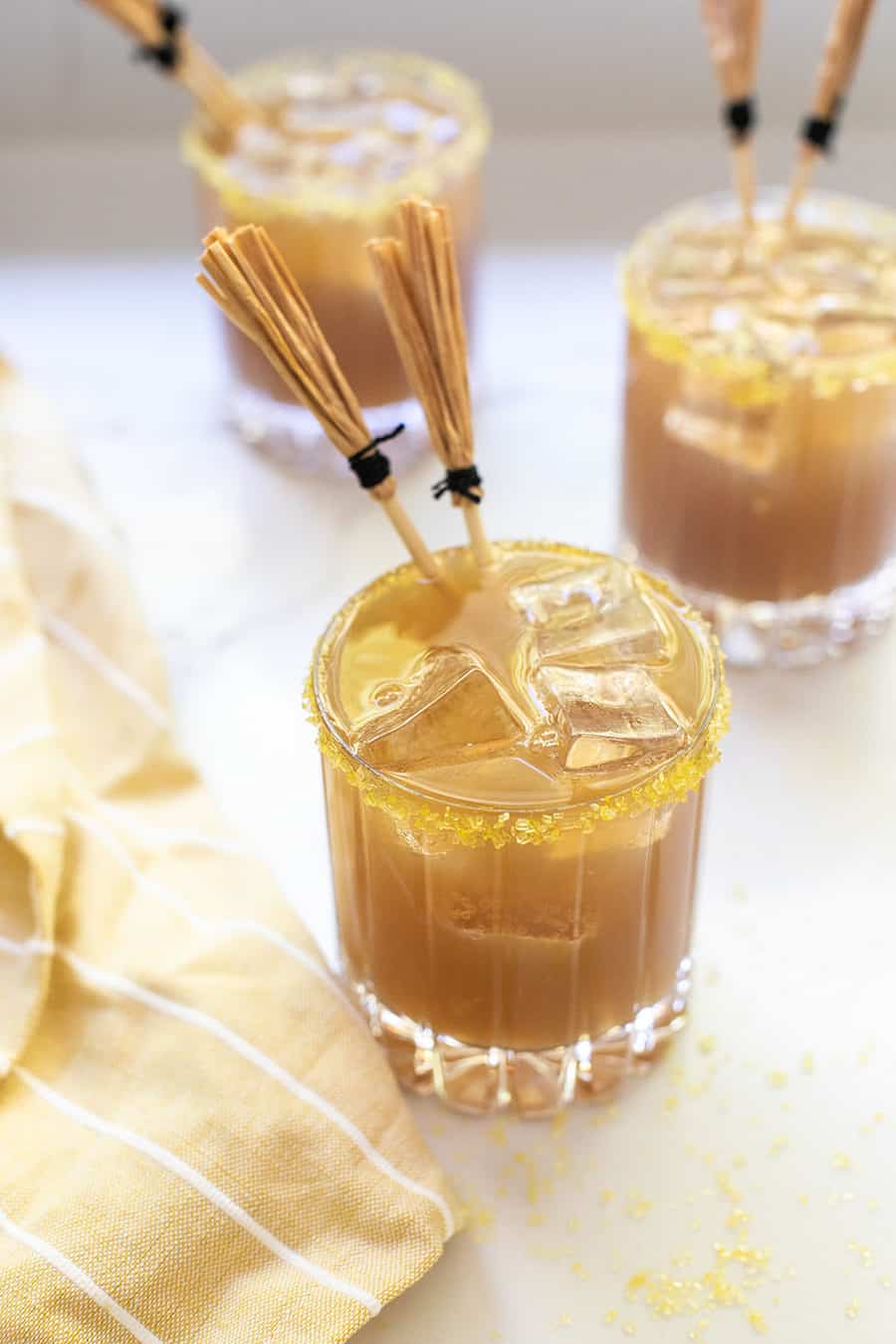 Frequently Asked Questions
Is There Alcohol is Butterbeer?
Although the brew in the Harry Potter books has a slight alcohol content, the version served at Universal Studio pubs is alcohol-free and kid-friendly. Think of it as Hogwart's version of root beer, misnamed but still delish. 
What Does Butterbeer Taste Like?
JK Rowling describes butterbeer as a little more sickly than butterscotch. That probably means it's even sweeter than butterscotch if that's possible. Online reviewers who had it at Universal say butterbeer tastes like a coke float or really sweet birch beer. Since Rowling made it up for the books, it's probably open to interpretation. 
How Does JK Rowling Describe Butterbeer?
Butterbeer is described as tasting a little bit like butterscotch. It's served at numerous locations within the Harry Potter wizarding world. In the books, the drink has some alcohol. Hermione, Harry, Ron and other wizards and witches drank it when visiting Hogsmeade.
What Is Harry Potter Butterbeer Made Of?
 Butterbeer may be based on a drink from the 16th century. Buttered beer is referenced in a cookbook from 1588. That recipe included sugar, nutmeg, eggs, beer, cloves and, of course, butter.
Steve Jayson is the man behind the 21st-century version available at Universal Studios. As the Corporate Executive Chef of Universal Orlando, Jayson brought the drink to life after the Harry Potter attractions opened at the amusement park.
What Is Harry Potter Butterbeer Made Of?
Butterbeer is made from butterscotch syrup, cream soda, and butter extract. It's an easy drink to make and fun for parties and holidays.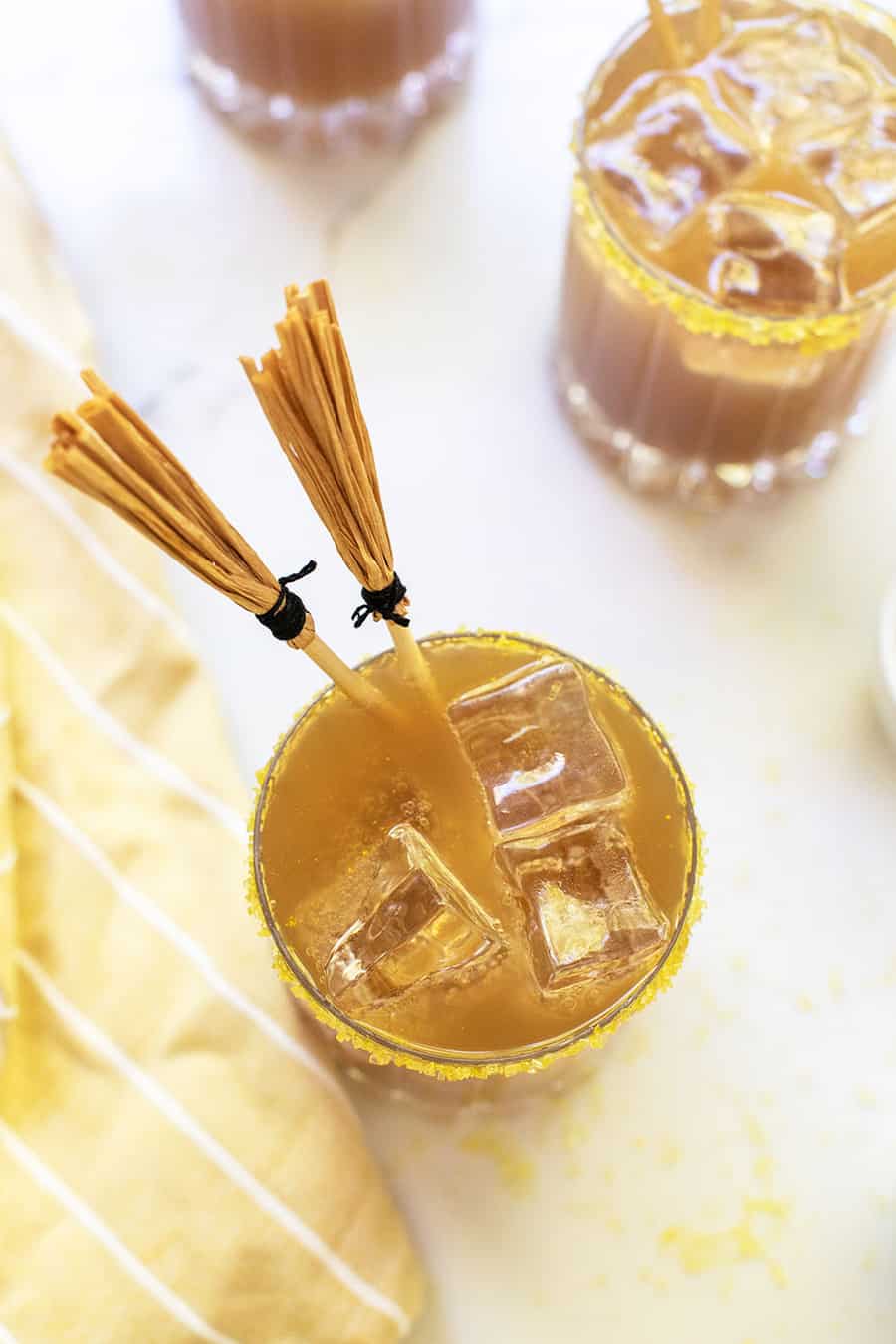 When to Serve Butterbeer
This is the perfect treat for several special occasions. Here are a few of our favorite celebrations to serve this popular drink:
For your Next Harry Potter Party
Harry Potter Movies Marathon
What to Serve with Butterbeer
This is a sweet drink and it's great for parties and pairs well with desserts. Here are some delicious food pairings that would go well with this butterscotch beverage:
Buttermilk Cake with Chocolate Frosting
Pumpkin Chocolate Chip Cookies
More Recipes You'll Love!
If you love this butterbeer recipe, try some of these drink recipes too!
How to Make a Shimmering Poison Apple Cocktail
Three Ingredient Halloween Punch for Kids
Witch's Brew Iced Coffee Recipe
Let us know if you make this delicious butterbeer recipe by leaving a comment and review below!
You can also FOLLOW US on FACEBOOK, INSTAGRAM, and PINTEREST to see more delicious recipes, cocktails, desserts and parties!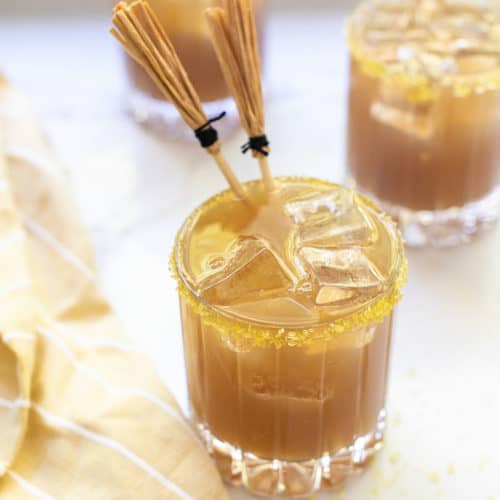 Easy Butterbeer Recipe
An easy recipe for butterbeer using only 3 ingredients! It's full of butterscotch flavor and perfect for Halloween or a Harry Potter themed party.
Print
Pin
Rate
Ingredients
10

ounces

cream soda

,

8-11 ounces works. Whatever fills the cup you're using.

1

tsp

butter extract

2

tbsp

butterscotch syrup

,

This is used to rim the glass.
Instructions
If you're going to rim the glass with sprinkles, you'll do that first. Wet the rim of the glass with water and dip into a plate full of sprinkles.

Rim the inside of the glass with butterscotch syrup and let it drip down the sides.

Add ice to the glass and pour in the cream soda.

Add in the butter extract.
Notes
For a low sugar butterbeer, use Zevia natural, zero sugar cream soda.
If you want add alcohol into butter beer, add 1 ounce butterscotch schnapps. It taste delicious!
Nutrition
Calories:
159
kcal
|
Carbohydrates:
41
g
|
Sodium:
37
mg
|
Sugar:
41
g
|
Calcium:
16
mg