This frose recipe, also known as frozé, is made with rosé, frozen strawberries, and lemon juice. It's a refreshing frozen cocktail and contains no added sugar. It's a perfect summer cocktail for a hot day!
When frosé season hits, we're all about making this tasty summer recipe!
As much as I truly love a nice, crisp glass of rosé, it's the quintessential summer wine, and it's also incredibly satisfying and fun to switch it up for a rosé wine slushie. This easy frosé recipe is perfect for the crowd. It's honestly so good and not too sweet at all since it has no added sugar, just the fruit, and rosé.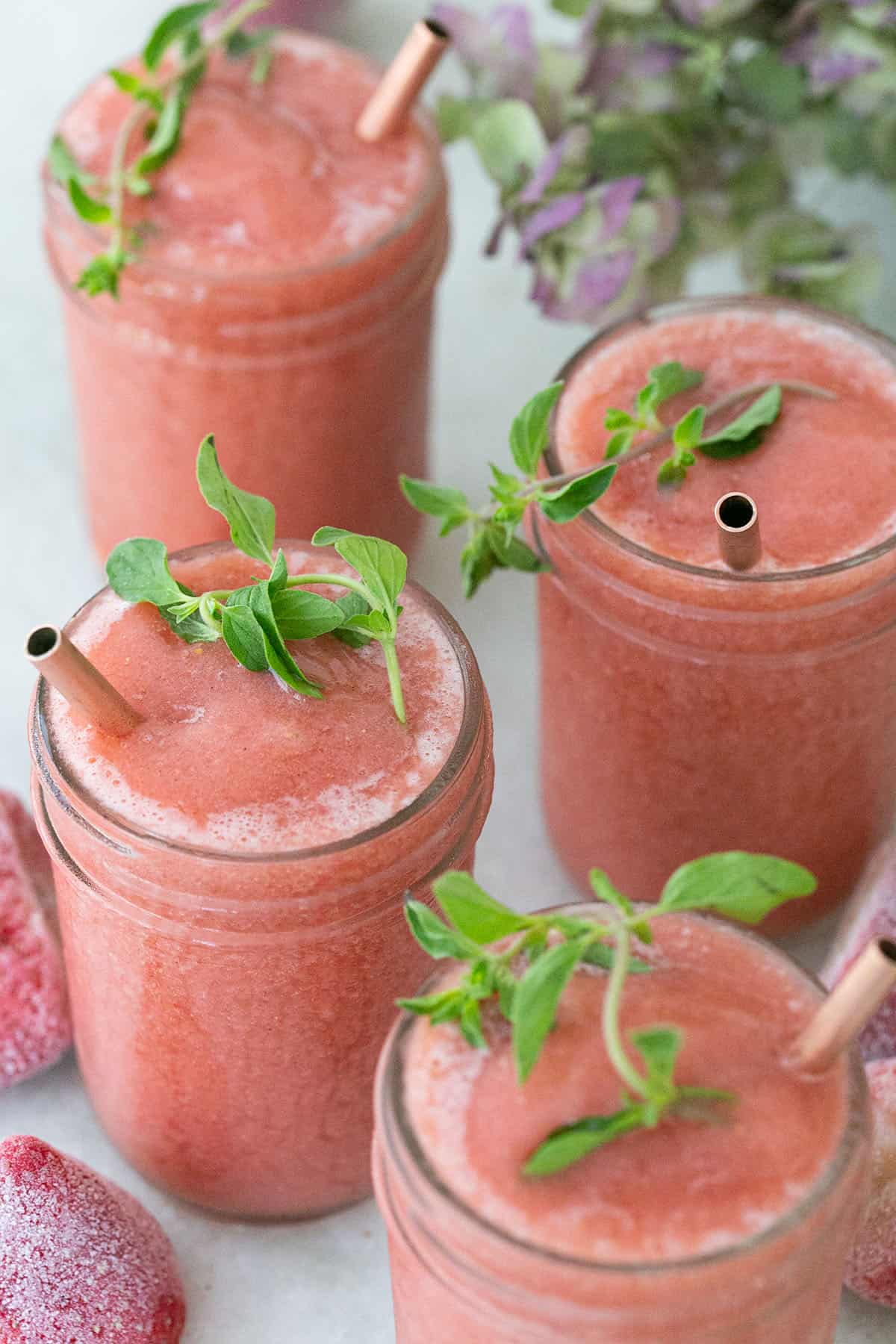 We couldn't believe our taste buds when we whipped these up and took a few sips! It's totally worth trying this uniquely delicious frozen cocktail and serving some up at your next summertime soirée!
If you love frozen strawberry cocktails, try our frozen strawberry daiquiri too! It's delicious!
Why This is The Best Frose Recipe
Here are 5 reasons this is the best and easiest frosé recipe:
It uses no added sugar and has less sugar than other recipes.
We use fresh lemon juice to give the cocktail some acidity and balance.
Fresh tarragon (or thyme) adds a beautiful flavor to the drink, giving it an elevated taste.
It's an easy frose recipe to make and requires zero freezing time and no straining!
All you need is a blender! No fine-mesh strainer, medium saucepan, or other bowls. All of the ingredients are blended into one powerful blender.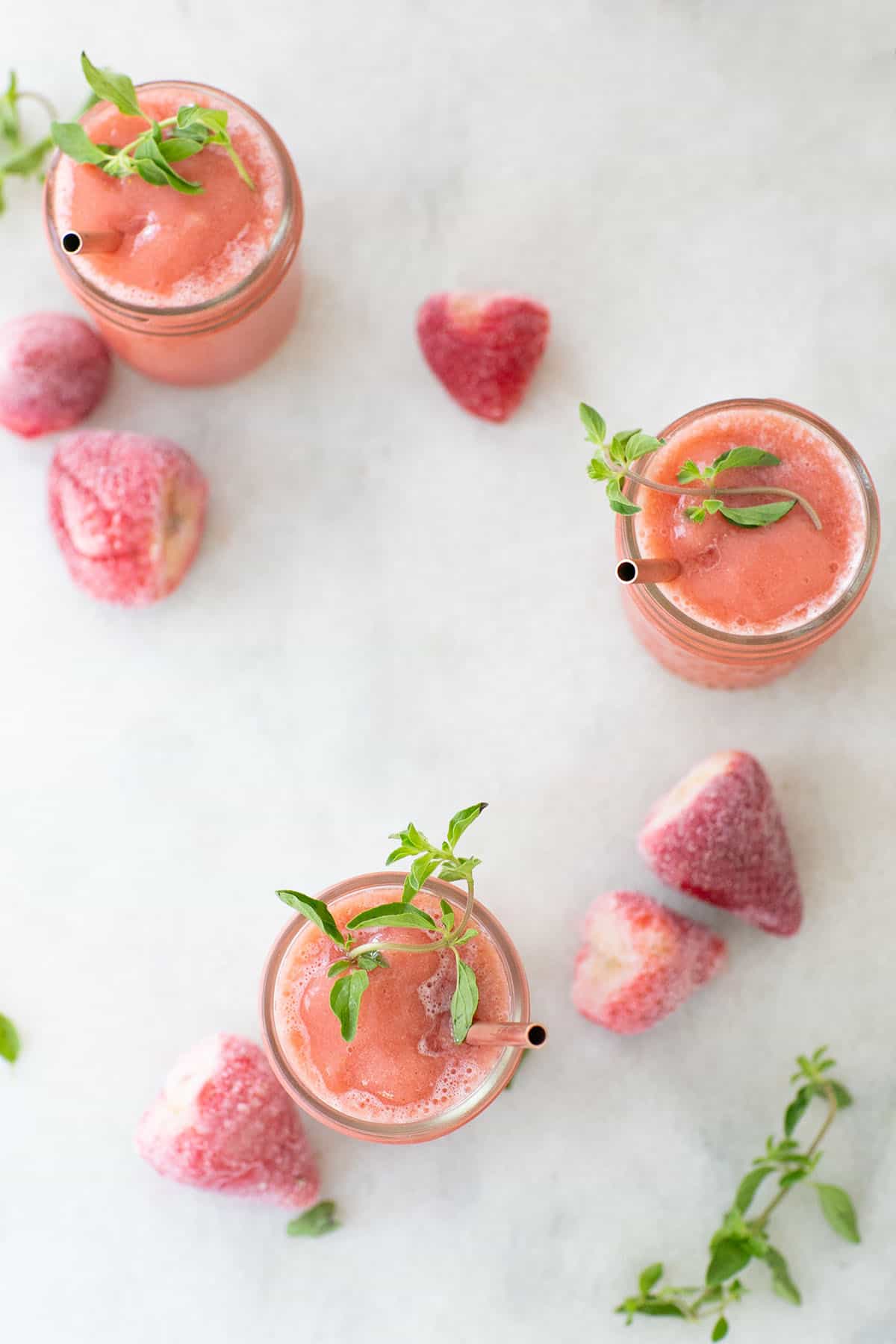 Frose Ingredients
The full recipe is in the recipe card at the bottom of the post.
There are really only a few main ingredients in this recipe: rose, strawberries, and lemon juice.
The herbs are added to give it a very fresh flavor, but they're optional. Here is a list of the simple ingredients used to make easy froze.
Frozen Strawberries – These work best for texture and give a slushy consistency and strawberry flavor.
Rosé – Any affordable bottle of rosé will work.
Lemon Juice – Fresh always. Gives the cocktail a little kick. 
Tarragon (optional) – Adds a really good freshness to the froze. You can also use fresh thyme.
Ice – To give it a thick, slushy texture.
How To Make Easy Frosé
This truly is the easiest recipe! The only kitchen tool you'll need is a blender.
Add all of the ingredients into a blender and blend until smooth.
Add a little more ice if you want a thicker consistency.
Garnish with a sprig of tarragon, thyme or fresh mint.
I served this frozen cocktail in 6-ounce classic canning jars.
Tips for Making Frosé
Make ahead and store it in the freezer.
Double the recipe for more guests!
Add more ice for a thicker texture.
You can use fresh strawberries, however, you'll need to adjust the ice and more to get a slushie texture.
How to Sweeten Frosé
If you want to sweeten, the frosé add a dash of agave or a tablespoon of sugar or two tablespoons of simple syrup.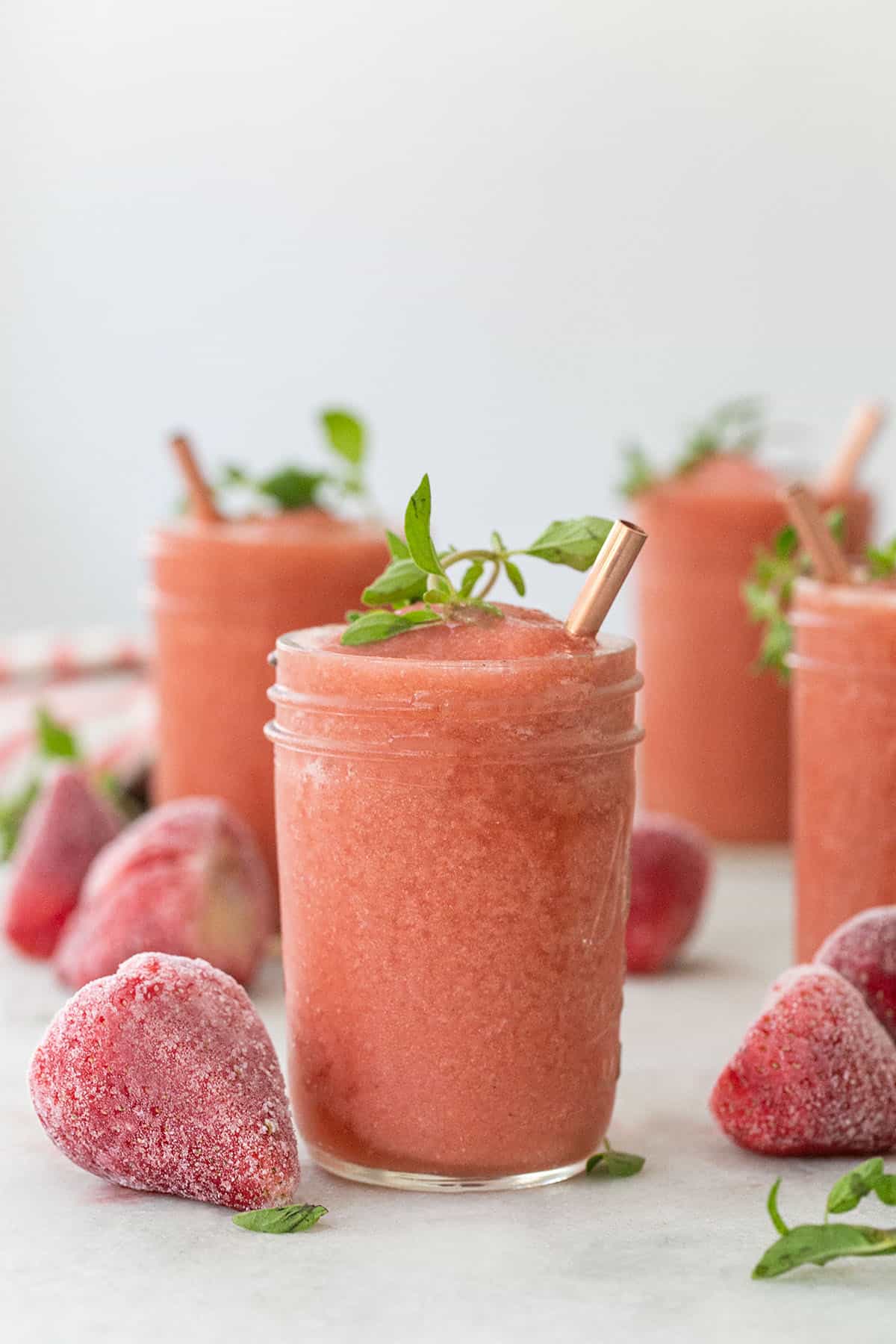 Watermelon Frosé
You can make this recipe using frozen watermelon too.
Cut up fresh watermelon chunks and freeze them overnight.
Then use frozen watermelon to replace the frozen strawberries.
Frosé Recipe with Vodka
Adding vodka to frose will create a stronger cocktail. It changes the flavor a little too. But you can add 1/4 cup vodka to this recipe if you prefer. You may need to add a little more ice to get a thick texture.
Best Blenders for Frozen Drinks
A good quality blender makes a difference when making frozen drinks. A powerful blender will yield in a smooth consistency and quickly blend the cocktail. Here are some of our favorite blenders:
KitchenAid K150 3 Speed Ice Crushing Blender 
Serve Frosé With These Summer Appetizers
Serve this delicious pink drink with some of our favorite summer snacks and appetizers:
Fresh Fruit Platter with Homemade Fruit Dip
When to Serve Frosé
This is the cocktail recipe to beat the summer heat. It's great for sipping by the pool or for happy hour. Here are some occasions to serve wine slushies:
Birthday Party it's also perfect for a last-minute birthday party!
Carnival Party or Garden Party 
Make Frosé Ahead of Time
This drink can be made ahead of time! Blend everything together and then store it in the freezer. It won't freeze solid because of the wine.
When you're ready to serve, give it a good stir and pour or spoon into glasses. Such a fun summer treat!
Garnishes for Frose
We're all about cocktail garnishes! Here are some ways you can add charm to your frose:
Dried Orange Slices – We keep dried orange slices on hand to add to our cocktails.
Cocktail Umbrella – If you're making a summer cocktail, garnish it with a charming umbrella.
Zest – Add a little lemon zest, lime zest, or orange zest over the top of the drink for added fragrance, color, and flavor.
Fresh Strawberry – Slice a fresh strawberry and add it to the side of the glass.
Fun Straws – Serve the drink with a fun paper straw or copper straw.
Frequently Asked Questions
Does Frosé have alcohol?
Yes, frosé is made with rosé which is a type of wine that is made from red grapes but less fermenting with grape skins, which gives it a pink color.
Does rosé freeze?
Rosé will not freeze alone since it's alcohol. You have to add frozen fruit or ice to make a frozen, slushy-like consistency.
What is Frosé?
It's a frozen cocktail made with rosé. It's easy to make too, just take a delicious (but not too pricey) bottle of rosé wine and blend it with frozen fruit to make a slushy, frozen treat! It's still debatable how you actually spell it.
How long does rosé take to freeze?
There is no freezing time required for our recipe. Simply use frozen fruit and ice to make this drink and once it's blended together it creates the perfect frosé texture, like a wine slushie. You can freeze it if you're not going to consume it right away. It will never be fully frozen or solid since it contains wine.
What is Frose made of?
Frosé is made with a bottle of rosé, frozen fruit, lemon juice, and ice. It can also be sweetened with a little sugar if you prefer a sweeter cocktail.
This recipe is also Vegetarian and gluten-free.
More Summer Drink Recipes You'll Love
Frozen Mojito Recipe – This is the best-frozen mojito you'll ever make!
Frozen Gin and Tonic – One of our most popular cocktails.
Strawberry Tequila Sodas – Refreshing and easy to make. These are perfect for summer.
Frozen Paloma – Another one of our favorite frozen drinks. A fun twist on the classic Paloma.
Frozen Pina Colada Recipe – If you like pina Coladas… you know where to find the best-frozen pina!
White Wine Sangria Recipe – The best traditional white wine sangria recipe.
Frozen Margaritas – We serve these in pouches and they're great to serve by the pool.
Frozen Mango Margarita – This drink is a personal favorite! It's smooth and tasty and another great option for a cold drink.
Also, check out more great cocktail recipes, our favorite brunch recipes, the best-mixed drinks, tequila cocktails, gin cocktails, vodka cocktails, and cheap drinks to make at home!
Let us know what you think!
Let us know if you try our frosé recipe by leaving a review and comment below. We love hearing your thoughts!
You can also FOLLOW US on FACEBOOK, INSTAGRAM, and PINTEREST to see more delicious recipes, cocktails, desserts, and parties!
Easy Strawberry Frosé Recipe
Easy frosé that is made with wine and frozen strawberries. A very refreshing cocktail that's perfect for a hot summer day!
Print
Pin
Rate
Ingredients
15

frozen

strawberries

,

whole, may need more depending on the size.

2½

cups

rosé

,

any affordable bottle

2

ounces

lemon juice

,

about 2 ounces, more or less.

1½

tbsp

tarragon

,

fresh and extra to garnish. You can also use thyme or mint.

2

cups

ice

,

more if needed
Instructions
Add the strawberries, rose, lemon juice, ice and fresh tarragon into a blender and blend until smooth.

Add a little more ice if you want a thicker consistency

Garnish with a sprig of tarragon
Notes
Add more or less rosé if you need it. You can also add more ice for a thicker consistency. 
Skip the tarragon if you don't have it available. 
Add a little bit of sugar or simple syrup if you want a sweeter cocktail. 
Make this ahead of time and store it in the freezer. 
May need more or fewer strawberries depending on the size. If you're using small or large berries.
Nutrition
Calories:
145
kcal
|
Carbohydrates:
9
g
|
Protein:
1
g
|
Fat:
1
g
|
Saturated Fat:
1
g
|
Polyunsaturated Fat:
1
g
|
Monounsaturated Fat:
1
g
|
Sodium:
14
mg
|
Potassium:
288
mg
|
Fiber:
1
g
|
Sugar:
3
g
|
Vitamin A:
115
IU
|
Vitamin C:
24
mg
|
Calcium:
50
mg
|
Iron:
2
mg