If you love gin and tonics, this frozen gin and tonic recipe will be your new favorite cocktail! It will get you through hot summer days. This drink is made with lime juice, gin, tonic, and a little cucumber. It's super refreshing, full of flavor, and easy to make!
You'll also love our frozen Paloma! It's made with grapefruit juice and tequila and absolutely delicious.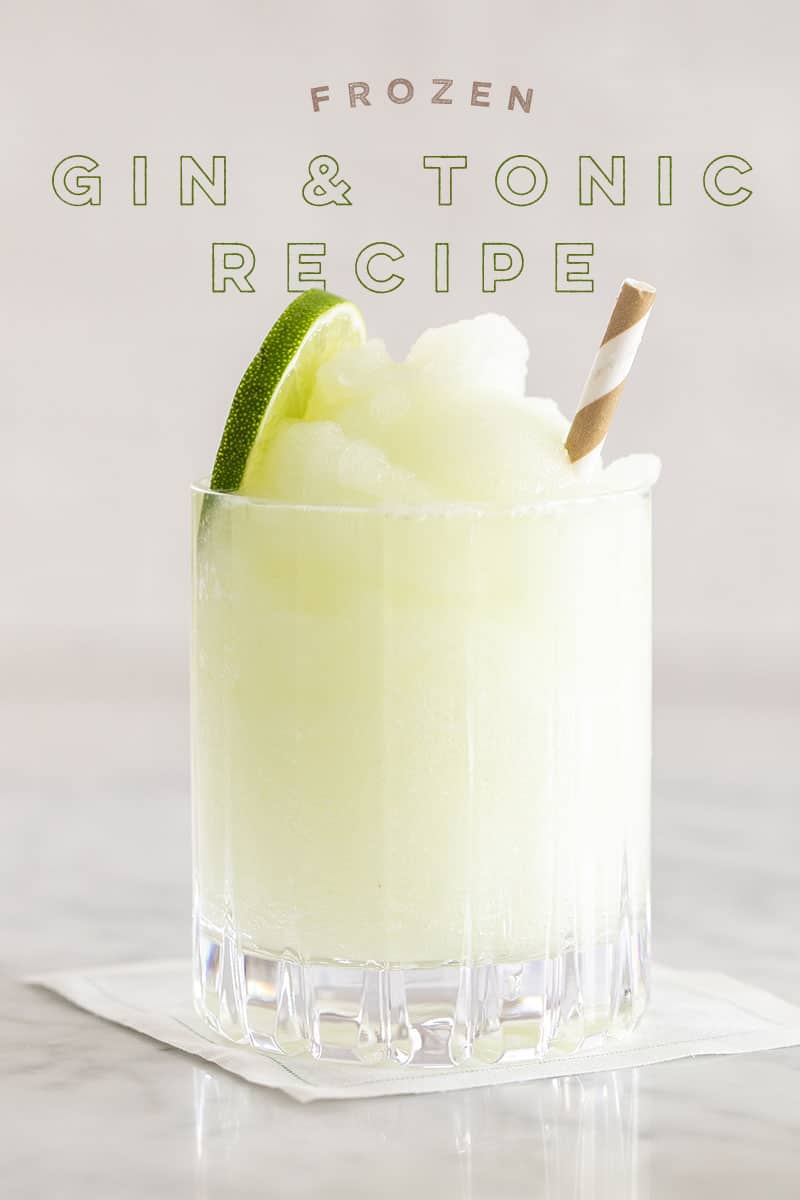 I had my first frozen gin and tonic at Leon's in Charleston years ago! They have them in a slushie machine, ready to serve up whenever you need to cool down!
Now that we live in the south, I've been seeing them everywhere! They're very popular here, as are most frozen drinks. Come summer, everyone wants something cold to sip to cool off from the southern heat! The perfect summer cocktail recipe.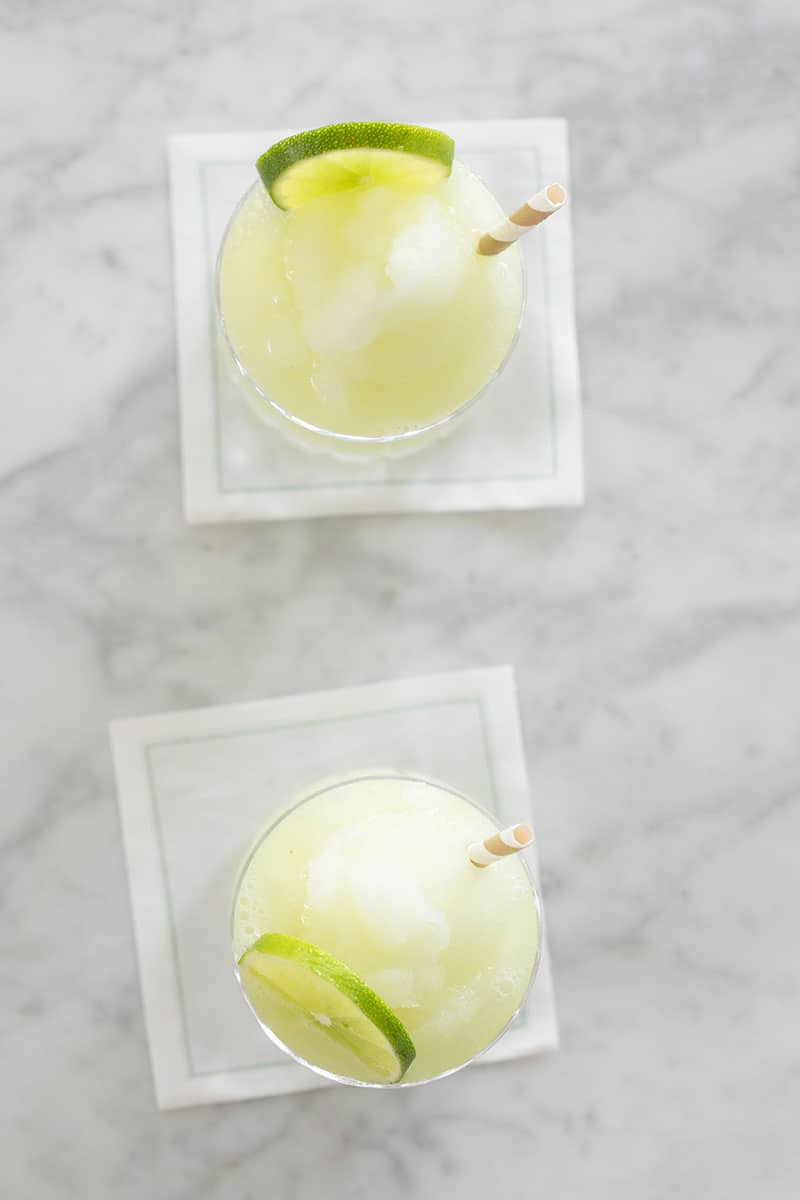 Before we dive into making this delicious cocktail, let's talk a little about what a gin and tonic are and the history of the cocktail!
What is a gin and tonic?
As the name implies, a gin and tonic is a cocktail made by mixing tonic water and gin. You can alter the ratio depending on your personal taste, the strength of the gin, and any other drink mixtures you're using. Most people prefer a 1:1 or 1:3 ratio of gin to tonic water.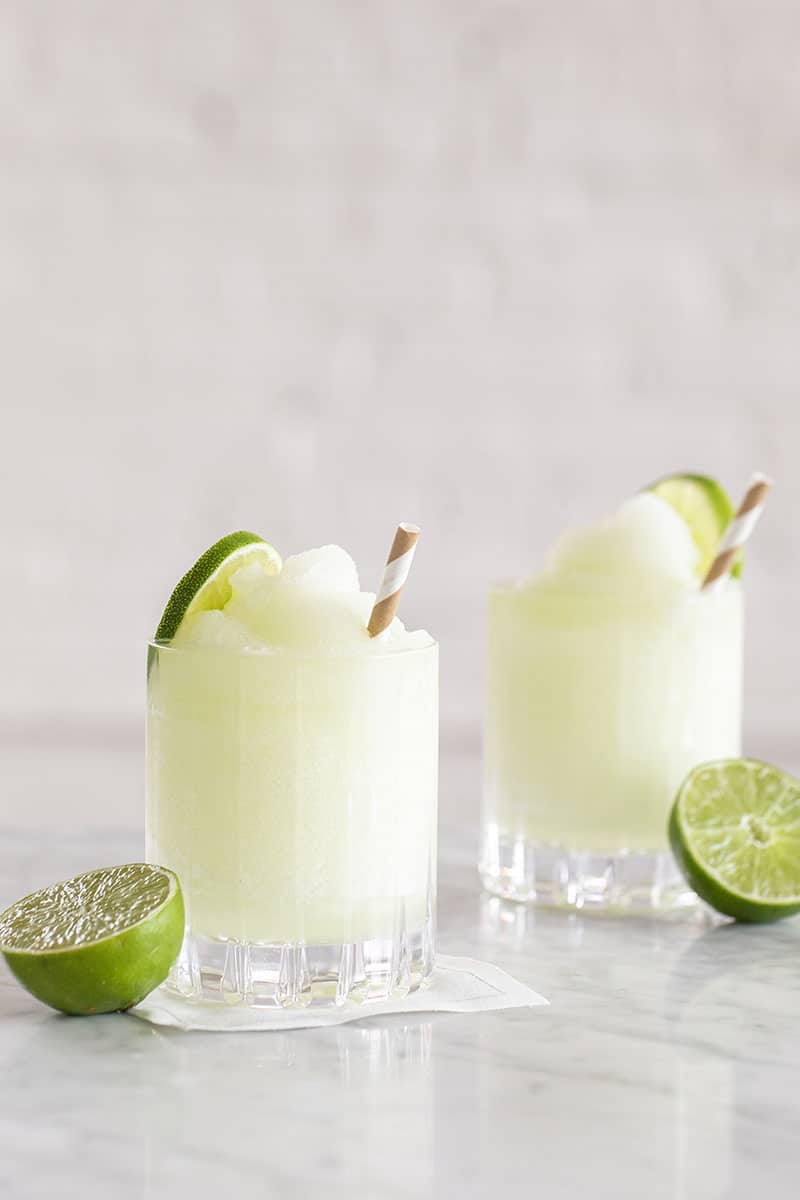 History of Gin and Tonics
Turns out, a few drinks can cure more than just a broken heart! Gin originated in 17th century Holland, where it was first used as a medicinal treatment.
Back then, the beverage was known as Genever, which is the Dutch word for juniper. The star ingredient, juniper was distilled with star anise, coriander seed, and malt spirits to create a muddled drink that's a far cry from the clear version we enjoy today.
During the Thirty Years War, the Brits discovered Genever while fighting on Dutch soil. They brought it back to their homeland, where it caught on like wildfire.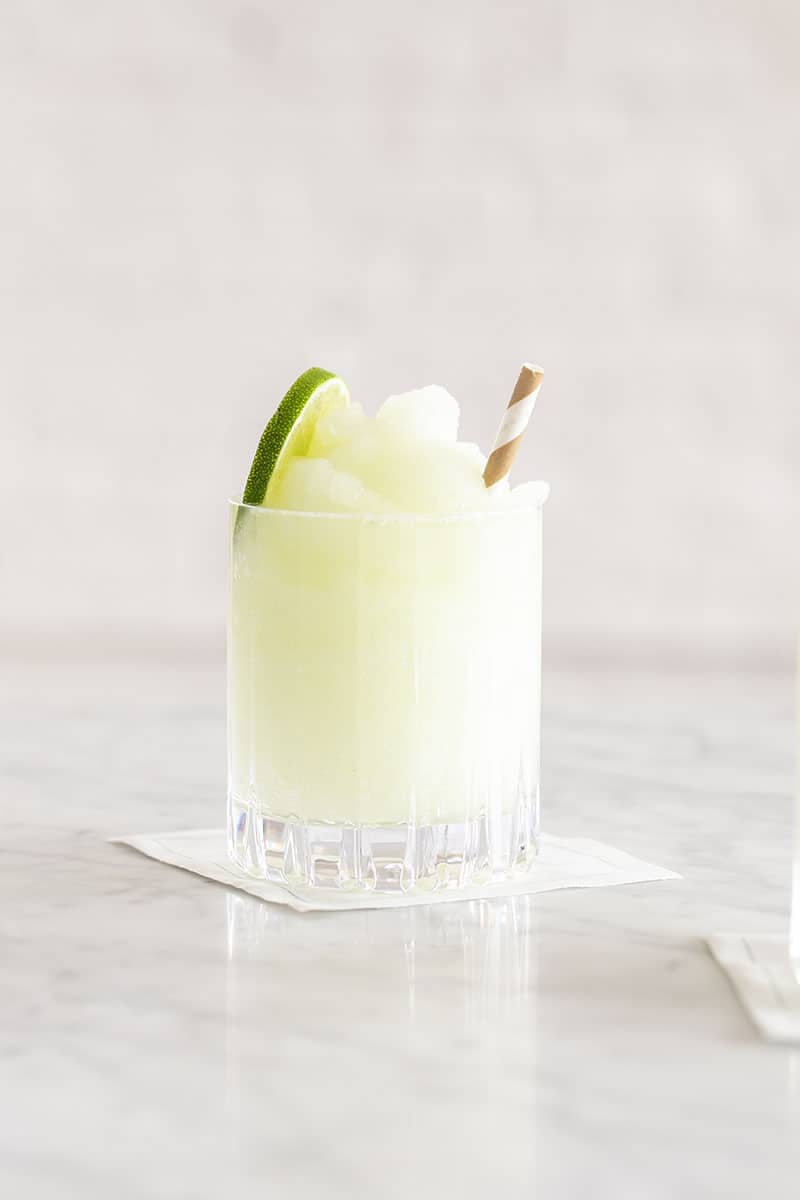 By the early 1700s, households around England were making their own early versions of gin in their bathtub, adding turpentine for extra "flavor"!
More than a century later, the British took governance of India, flocking in droves to the warmer climate in 1857. To ward off the threat of malaria in the country, they made a tonic by dissolving bitter quinine in water and sweetening it with sugar.
Of course, they had to add their favorite British spirit, Genever (by this time simply "gin") into the mix!
The result? A pretty tasty drink that kept the sickness at bay! While you'd have to drink more than 65 liters of G&Ts per day to get a dose of quinine strong enough to dispel malaria, we still appreciate the effort.
How to Make a Frozen Gin and Tonic
For this frozen gin and tonic recipe, you'll need a blender, citrus squeezer, and measuring cups.
Ingredients
Lime Juice – Fresh squeezed.
Gin – A good quality gin.
Cucumber – We add a little cucumber into this recipe for the ultimate freshness flavor!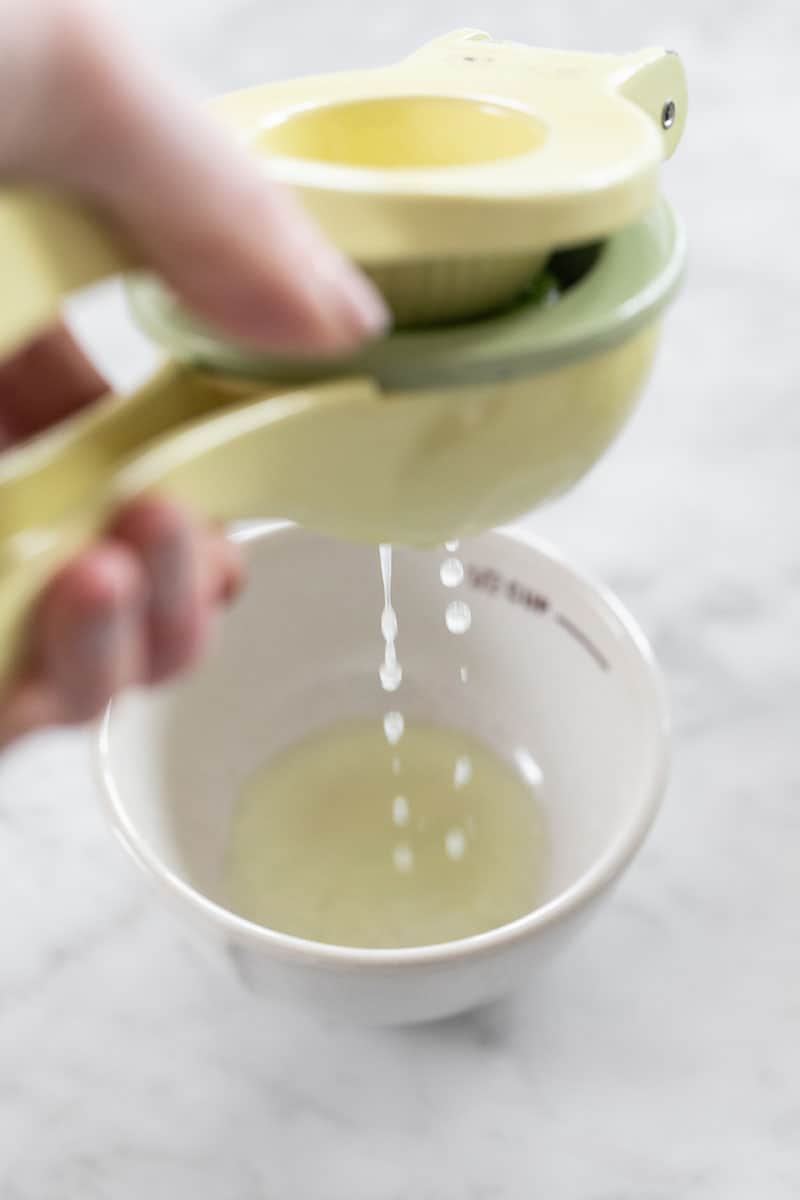 Although a traditional gin and tonic does not contain simple syrup, we have it in this recipe to bring out the flavors of the ingredients. When blended with ice, ingredients can be diluted and flavors more subtle. It's also very bitter without the simple syrup.
To learn more about simple syrup, check out our guide here. It's super easy to make using equal parts of water and sugar.
To make these frozen gin and tonics, you'll squeeze some limes, slice cucumbers and add everything into a blender. Blend until perfectly smooth and then pour into an old-fashioned glass with a straw!
Quick tip – If you're not using it right away, store the slushie in the freezer, just leave it in the blender container, and then pour it into glasses when ready to serve.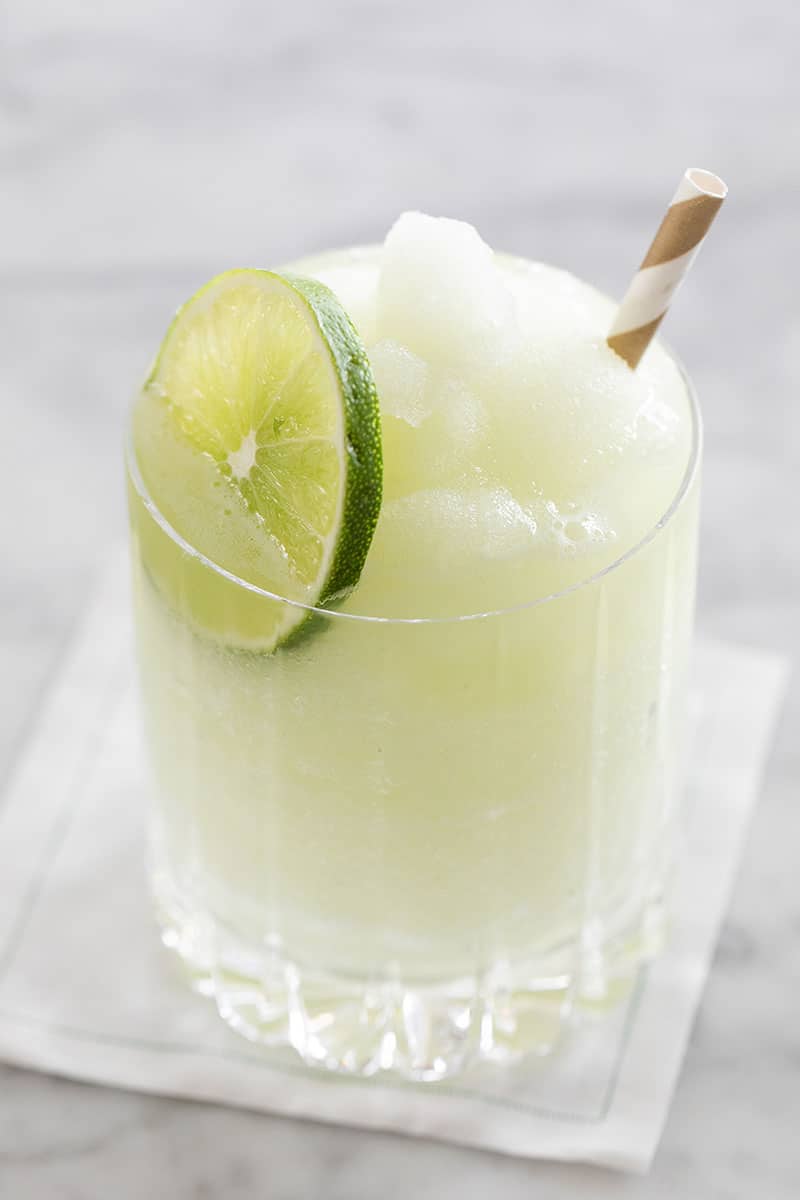 Add a little lime zest over the top to give it an even more zesty lime flavor.
When to Serve Frozen Gin and Tonics
Here's when to serve a fun frozen cocktail:
Birthday Party it's also perfect for a last-minute birthday party!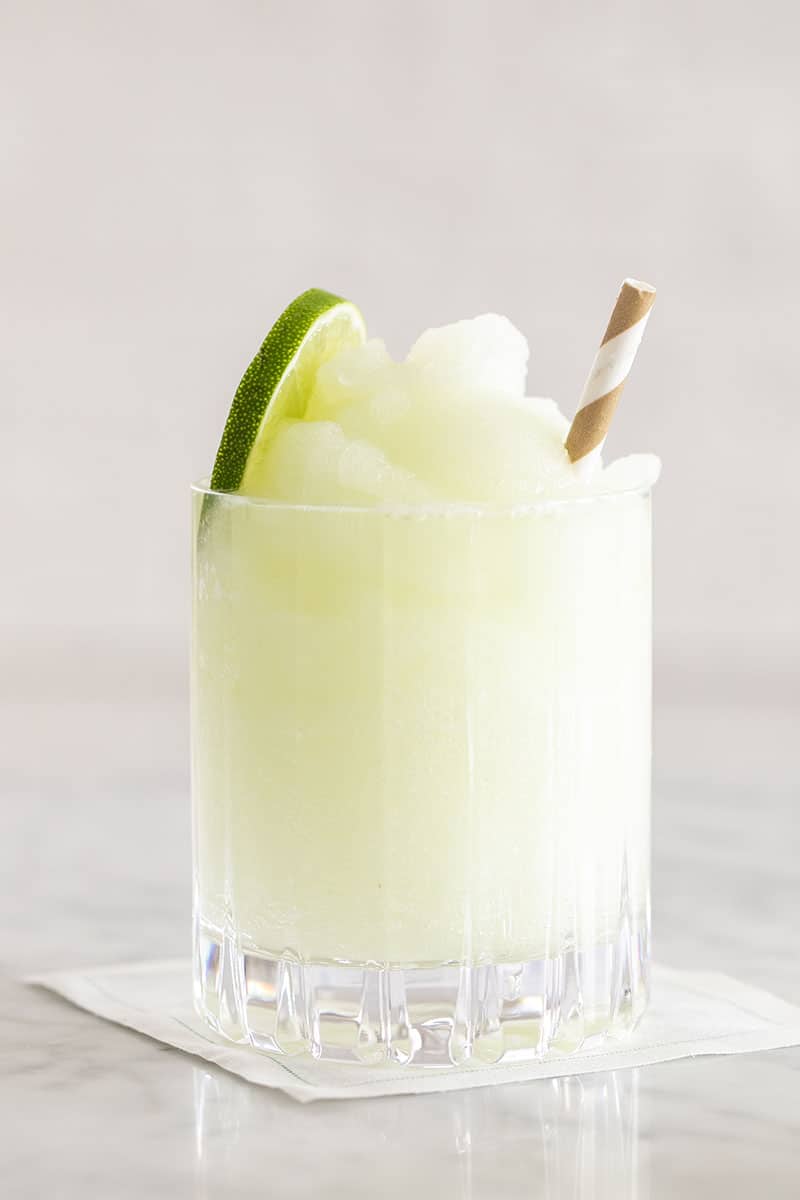 MORE GIN AND TONIC RECIPES!
If you're looking for more frozen cocktails try our frozen margaritas pops and our strawberry froze!
Also check out more great cocktail recipes our favorite brunch recipes, the best-mixed drinks, tequila cocktails, gin cocktails, vodka cocktails, and cheap drinks to make at home!
If you make this frozen gin and tonics, we would love to know what you think! Please leave a comment and review below!
You can also FOLLOW US on FACEBOOK, INSTAGRAM, and PINTEREST to see more delicious recipes, cocktails, desserts, and parties!
This post may contain affiliate links. Please read our disclosure and privacy policy.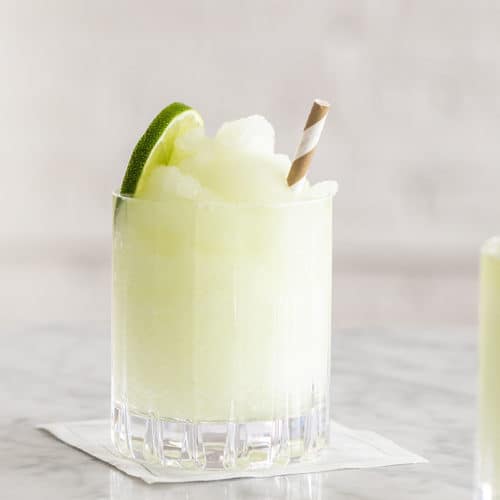 Frozen Gin and Tonics
A frozen gin and tonic recipe to cool you down during the hot summer months!
Print
Pin
Rate
Ingredients
1/4

cup

cucumber

,

about 5 slices that are cut 1/2" thick.

4

ounces

gin

2

ounces

lime juice

,

fresh-squeezed

4

ounces

tonic water

2

ounces

simple syrup

2 1/2

cups

ice
Instructions
First, squeeze the limes for the juice. Using fresh lime juice is a must when creating cocktails. 

Slice about five 1/2″ thick pieces of cucumber.

Next, add all of the ingredients into a blender and blend until smooth!

Pour into an old-fashioned glass.
Notes
Quick tip – If you're not using it right away, store the slushie in the freezer, just leave it in the blender container and then pour it into glasses when ready to serve.
Always taste test! You can add more lime juice or gin or ice to this recipe to make it your own! 
Nutrition
Calories:
216
kcal
|
Carbohydrates:
23
g
|
Protein:
1
g
|
Fat:
1
g
|
Sodium:
45
mg
|
Potassium:
74
mg
|
Sugar:
21
g
|
Vitamin C:
9
mg
|
Calcium:
9
mg
|
Iron:
1
mg