We love a classic mojito, but this is the best frozen mojito recipe is our favorite!! You will never need another frozen mojito recipe after trying this one. This drink is made with rum, frozen limeade, fresh lime juice, and a lot of fresh mint!
When we whipped this recipe together and served it, everyone said it was one of their favorite cocktail recipes ever. It's full of minty, lime flavor and has a sweet and tart taste. The rum makes it feel tropical and great for a pool party or for chilling outside on a sunny day.
This frozen cocktail would also be perfect for a party! Frozen drinks are often easier to make than shaken cocktails. They can be whipped up in just a few minutes and served in festive glassware.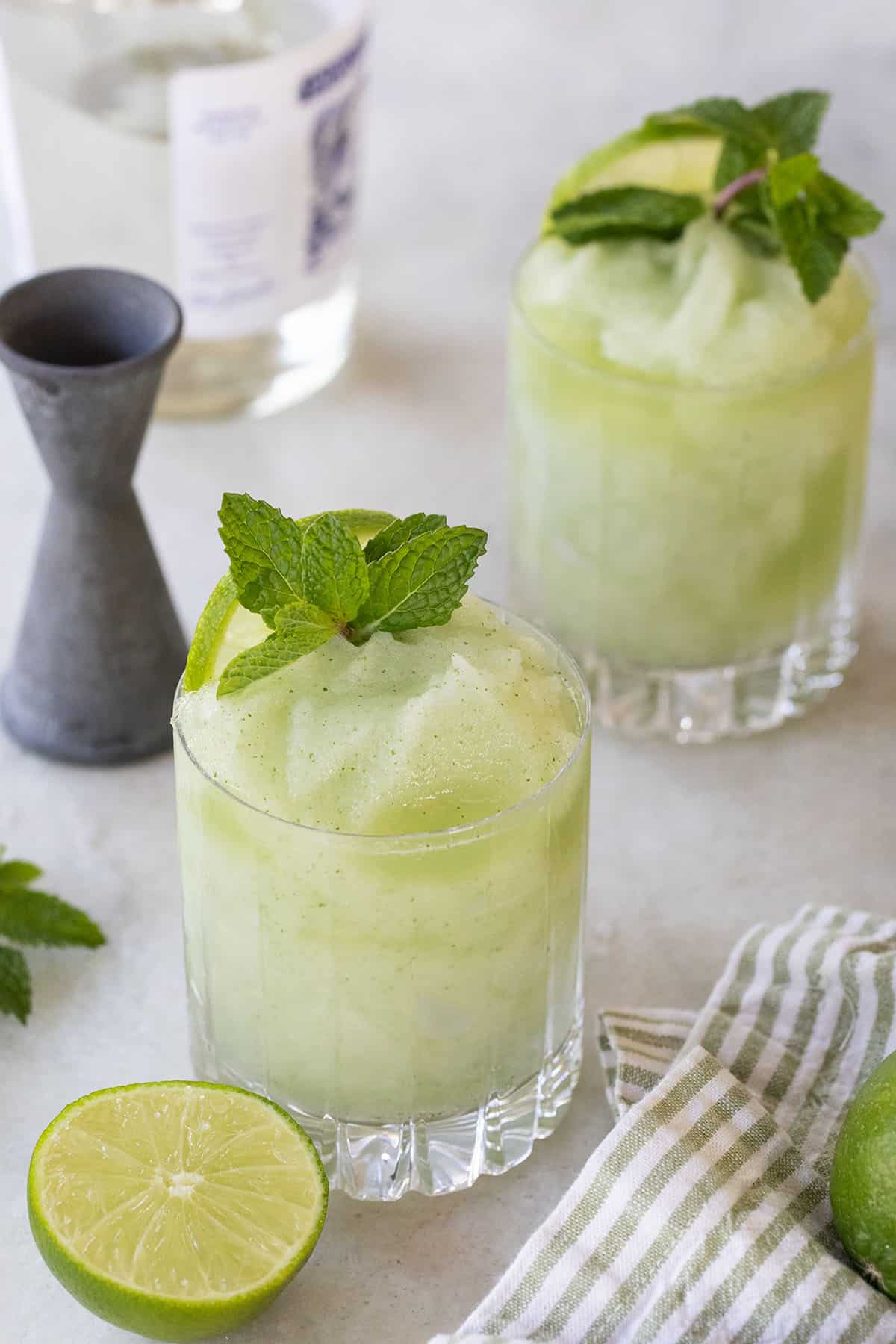 If you love frozen cocktails, check out our frozen gin and tonic, frozen Paloma and the best frozen pina colada too!
For a party, make a mojito bar and also try our matcha mojito recipe for a fun twist!
Keep reading for everything you need to know on how to make a frozen mojito!
What We Love About This Recipe
The best part about this frozen mojito is that it's so easy to make! You can serve it right away and the flavor is strong and delicious! Some frozen cocktails can taste watered down, but this drink is full of mint and lime.
You can taste each flavor distinctly. It's super refreshing and has the perfect amount of sweetness with a little tartness.
It's blended and easy to make.
The flavor is extra minty, which we love!
History of a Mojito
Hailing from Havanna, Cuba, the exact origins of the Mojito are lost in time. The most popular theory is that European sailors who newly arrived in Havanna heard that the local indigenous people knew how to make effective medicines.
A boarding party was organized, who went ashore and came back with limes (which were squeezed to provide lime juice), sugar cane, mint, and a strong, locally made, sugarcane-based spirit (a potent version of rum).
For sailors suffering from scurvy (a disease caused by lack of Vitamin C), the lime juice and mint would certainly have had medicinal qualities.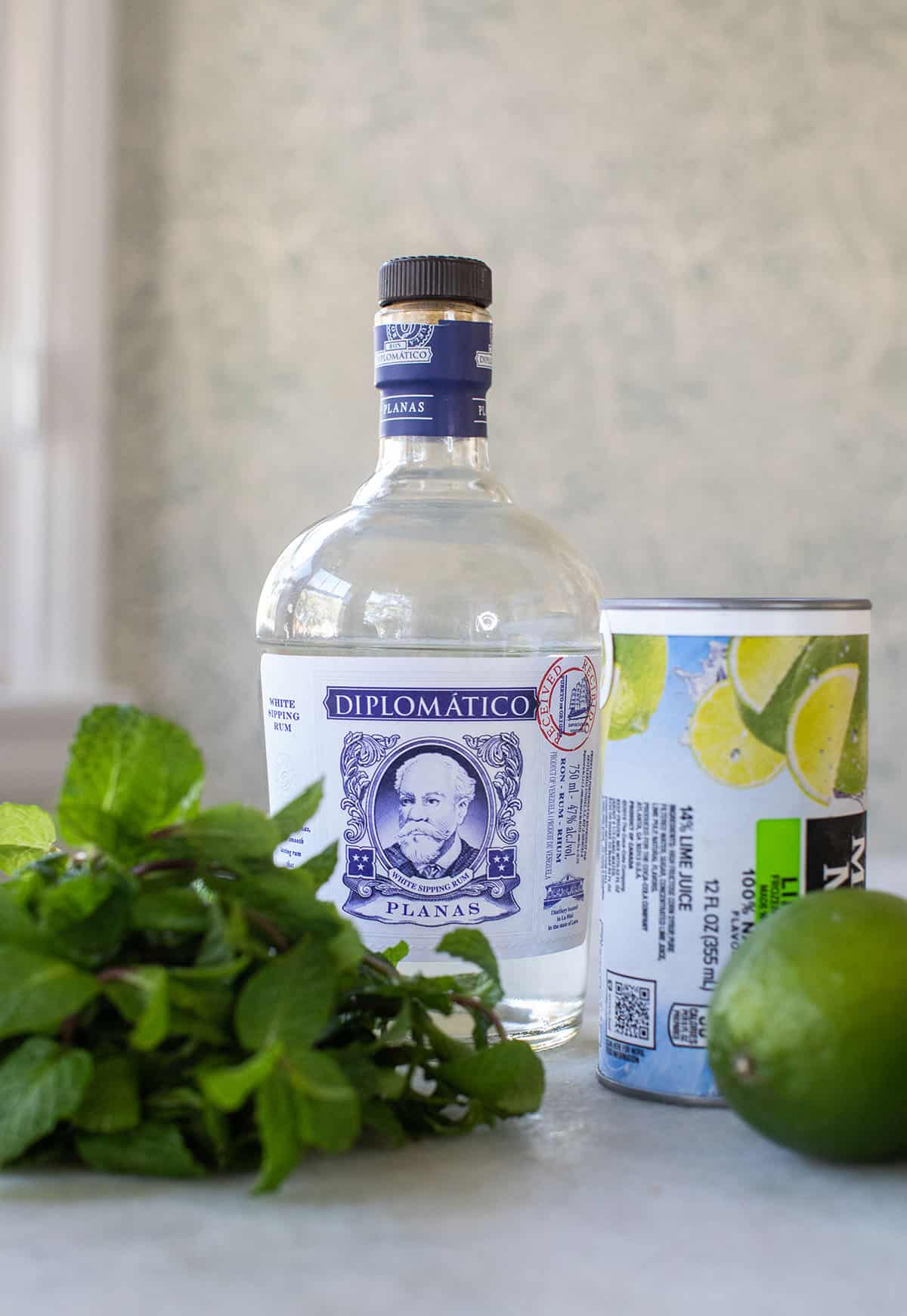 How to Make a Frozen Mojito
This cocktail is so easy to make. You'll need a powerful blender, measuring cups and a hand juicer.
Frozen Mojito Ingredients
Rum – A light or golden rum will work for this recipe. Havana Club is the most popular rum in Cuba, so if you want to keep this recipe traditional use that. Otherwise, use any white rum you have available.
Limeade – This is a frozen, lime concentrate that is sweet and tart. It's the base of this recipe and makes the cocktail incredibly flavorful. We used Minute Maid, but you can use any brand.
Lime Juice – Freshly squeezed lime juice is best for this recipe.
Mint – Mint tastes sweet and has a menthol taste. It also gives a cool effect on the tongue. The leaves have the most flavor and scent. Pull the leaves off and use them in this recipe. You can use mojito mint or any variety at the grocery store. If you live somewhere cold, try an indoor herb garden to grow mint so you can make cocktails all year!
Ice
Making Batch Frozen Mojitos
Hosting a party and need more than two drinks? No problem! This recipe can be multiplied by the number of guests. You will need to make them in batches, but since it's so simple to make it's not hard to do.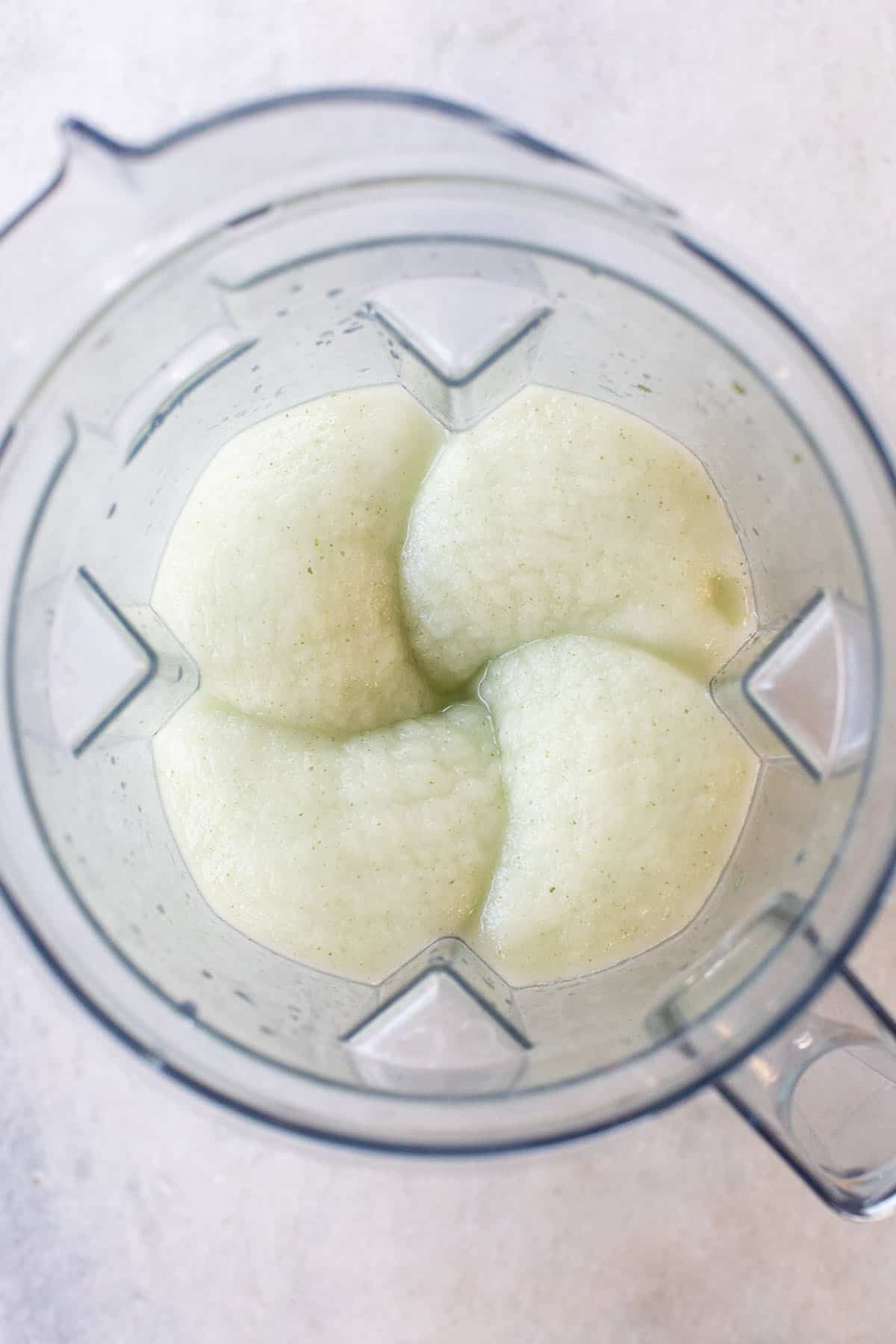 Tips for Making a Frozen Mojito
Lots of Mint – Don't be shy with the mint! Use a good amount of mint to make this drink and for garnishing it.
Always Taste Test – The best part about making this drink is that you can add anything else you need to it, like extra lime juice. Using a spoon, give it a taste and adjust if needed.
Make-Ahead – There are two ways you can prepare this drink. First, measure everything to the blender (leaving out the ice) when you're ready to blend, toss in the ice and go! Second, you can blend it up and freeze if for about 30 minutes before. We don't recommend freezing past 30 minutes.
Best Blenders for Frozen Drinks
A good quality blender makes a difference when making frozen drinks. A powerful blender will yield in a smooth consistency and quickly blend the cocktail. Here are some of our favorite blenders:
KitchenAid K150 3 Speed Ice Crushing Blender
Looking for more? Check out these 11 blenders to buy.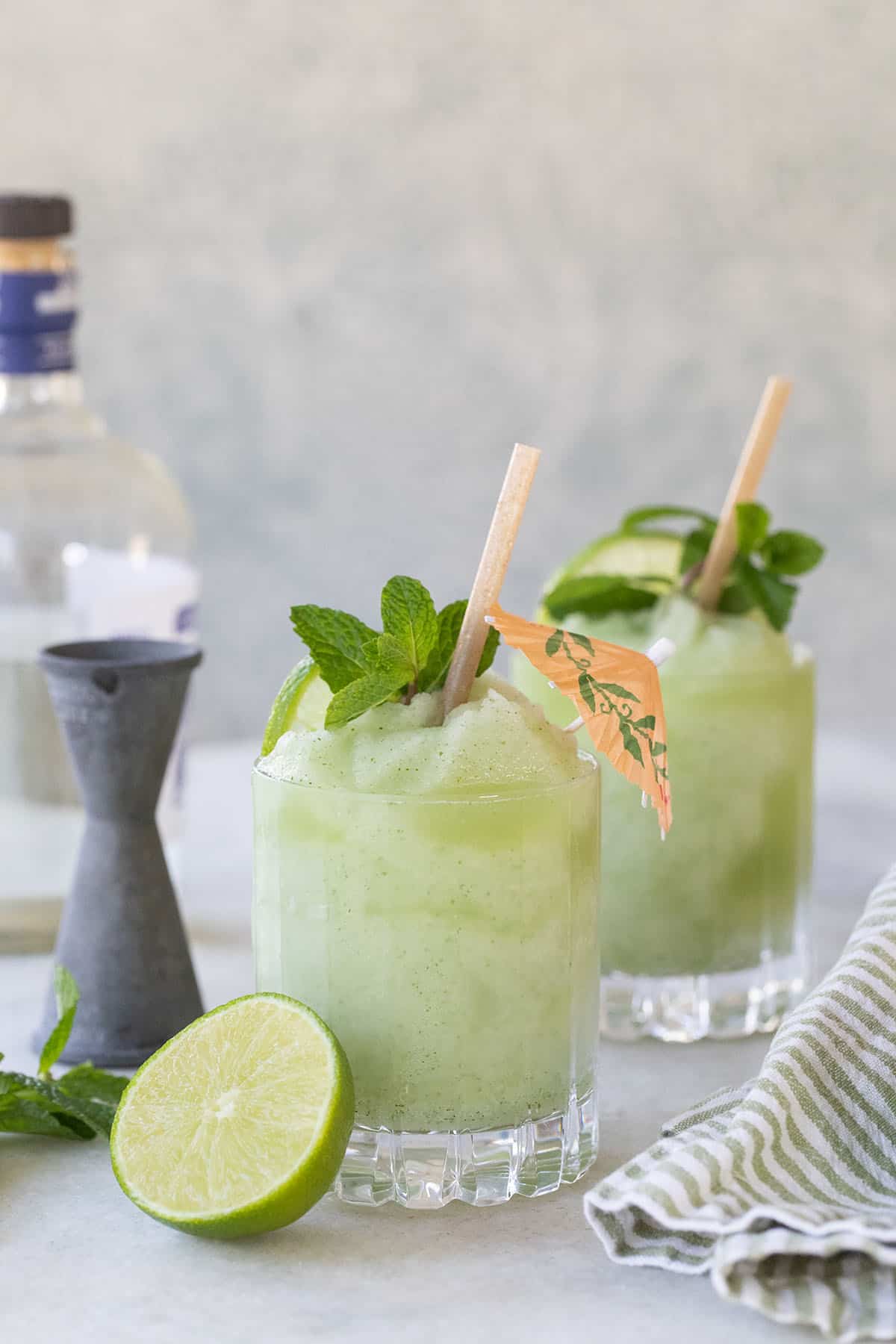 Raw Sugar Cane Sticks and Straws
For a festive drink, add a raw sugar cane stick into the drink before serving.
If using a straw, we recommend these biodegradable straws made from sugar cane.
Virgin Frozen Mojito
There are two ways to make a virgin frozen mojito recipe:
Simply, leave out the rum in the recipe. Since this recipe is made with limeade, mint, and lime juice, it will taste like a refreshing spritz and still be very flavorful.
Another option is to replace the rum with a zero-proof rum-like Ritual. This will give the cocktail a warm vanilla flavor as well as toasted spice, bitter orange, toffee, caramel flavors that are present in rum.
Best Rum for Frozen Mojitos
Ideally, the white rum used in a Mojito needs to be smooth, strong and packed with flavor. Our favorites include:
Diplomataco Planus Rum
Real McCoy Barbados Rum
Plantation 3 Stars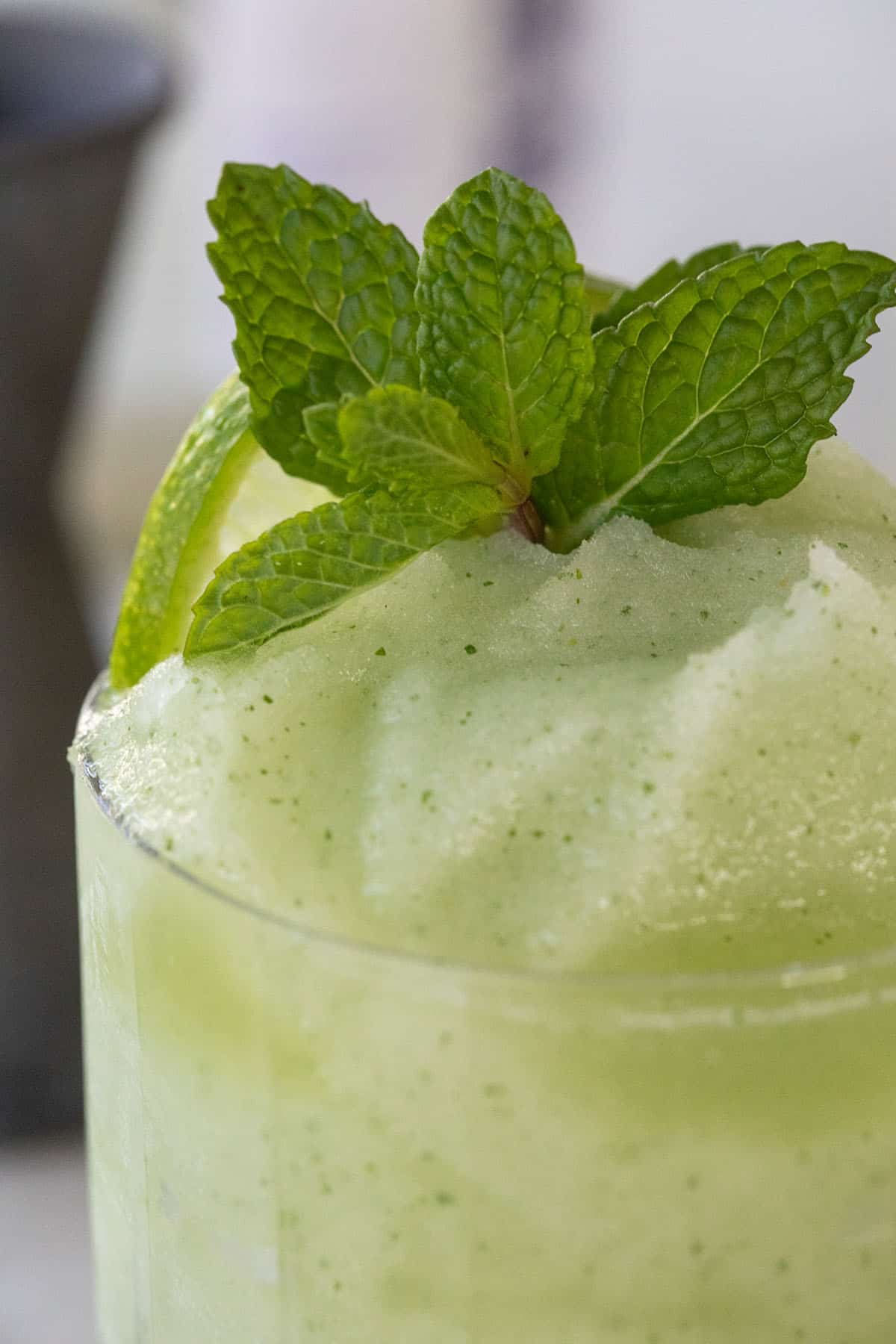 Frozen Mojito Garnishes
We're all about cocktail ganrishes! Here are some ideas for this cocktail:
Cocktail Parasol Drink Umbrellas
Fresh Mint
Lime Wheel
Frozen Coconut Mojito
Here's how to make this recipe a frozen coconut mojito:
Replace the rum with Malibu Coconut Rum.
Add in 2 ounces Cream of Coconut.
Blend it all up and garnish with coconut shreds.
When to Serve a Frozen Mojito
This drink is great for a hot summer day or for any of these occasions:
Birthday Party it's also perfect for a last-minute birthday party!
Carnival Party or Garden Party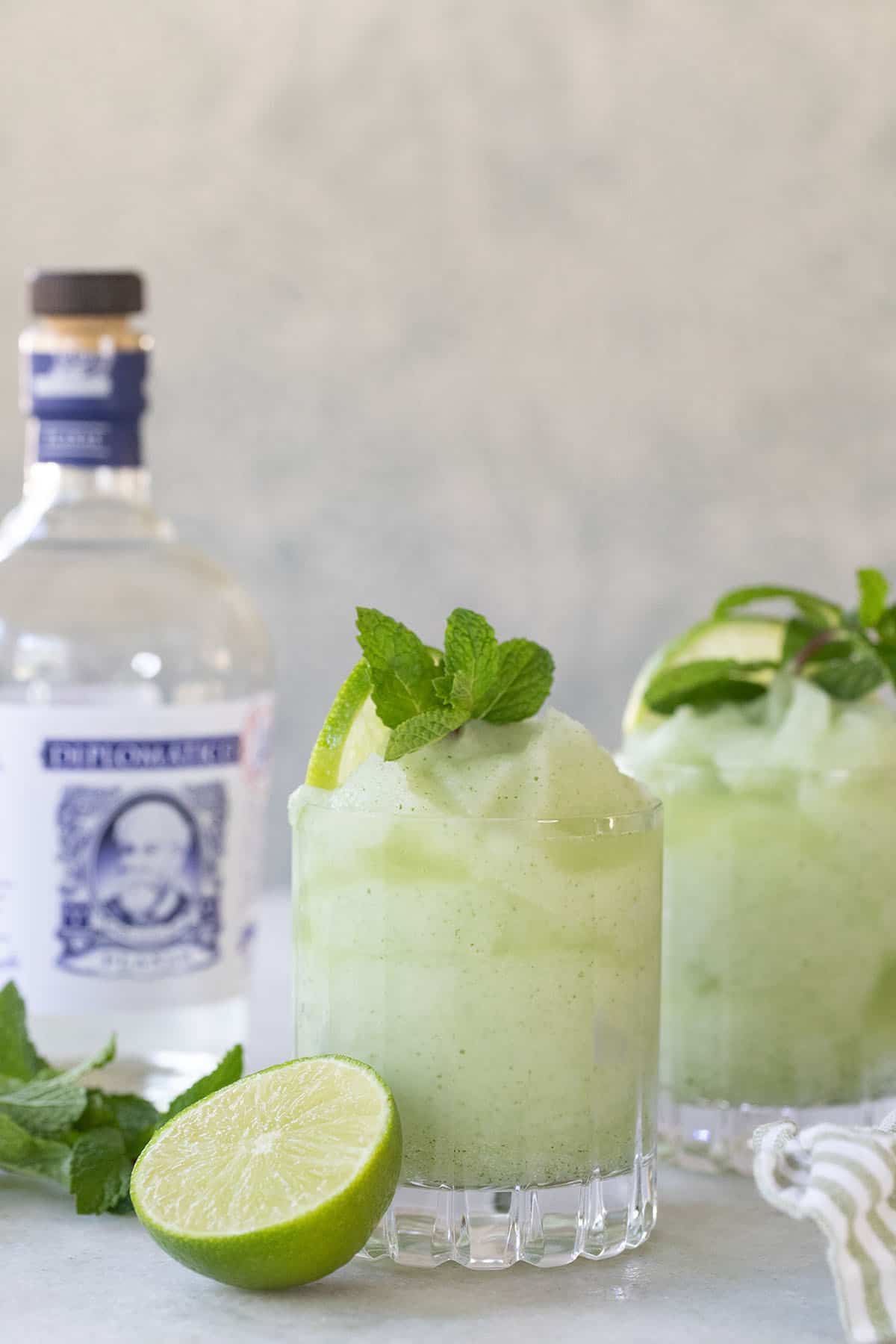 More Mojito and Rum Cocktail Recipes
Looking for more mojito and rum recipes? Try any of these below:
Frequently Asked Questions
What's in a Mojito?
As already indicated, a Mojito contains fresh lime juice, white rum, mint leaves, and sugar.
Does a Mojito Contain Rum or Tequila?
The signature spirit in a Mojito is white rum. Distilled from sugar cane, it has a sweet, soft taste that works well with the other Mojito ingredients. In contrast, Tequila, distilled from the Agave plant, has a distinctive taste that's tangier and less sweet than white rum. Tequila works well with fruit juices and orange flavors, such as orange juice and triple sec or Cointreau.
What Kind of Mint Goes in Mojitos?
There is a variety of mint that works particularly well in a Mojito – Mojito mint! The Mojito mint originated in Cuba (home of the Mojito). As such, it works particularly well when combined with the other ingredients, all of which are indigenous to Cuba. Mojito mint has a mild, peppermint flavor. 

When bruised, Mojito mint releases menthol-like compounds that result in a Mojito which feels cool and refreshing to drink. If you haven't got any Mojito mint to hand, Spearmint will work pretty well.
More Frozen Cocktails
If you're in the mood for some delicious frozen drinks, check these out!
Let us know what you think!
We want to know your thoughts! Leave a comment and review below and tell us what you think about this frozen mojito!
You can also FOLLOW US on FACEBOOK, INSTAGRAM, and PINTEREST to see more delicious recipes, cocktails, desserts, and parties!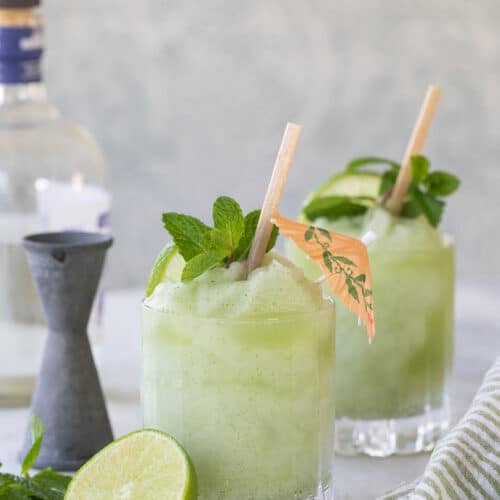 Frozen Mojito
We love a classic mojito, but this is the best frozen mojito recipe is our favorite!! You will never need another frozen mojito recipe after trying this one. This drink is made with rum, frozen limeade, fresh lime juice, and a lot of fresh mint! 
Print
Pin
Rate
Ingredients
6

ounces

limeade

,

1/2 of the container

3/4

cup

rum

1/3

cup

mint

,

pull the leaves off the stem

1/4

cup

lime juice

4

cups

ice
Instructions
Add all of the ingredients into a powderful blender.

Blend until the ingredients are smooth.

Pour into glasses and garnish with a lime wheel and cocktail umbrella.
Notes
Double this recipe to make 6 cocktails. 
Nutrition
Calories:
176
kcal
|
Carbohydrates:
10
g
|
Protein:
1
g
|
Fat:
1
g
|
Saturated Fat:
1
g
|
Polyunsaturated Fat:
1
g
|
Sodium:
22
mg
|
Potassium:
53
mg
|
Fiber:
1
g
|
Sugar:
7
g
|
Vitamin A:
222
IU
|
Vitamin C:
8
mg
|
Calcium:
24
mg
|
Iron:
1
mg