A mojito bar is the perfect DIY cocktail bar for parties! Guests can create their own fruity and refreshing mojito cocktails! We're sharing our favorite mojito recipes, ratio, and everything you need to create your own mojito bar that is perfect for any celebration.
If you're looking for a fun idea for your next party, create a charming mojito bar. Similar to our mix-and-match cocktail bar and our spritzer bar, this bar has everything guests need to make unique versions of mojitos. They'll be able to create a cocktail to their liking all while socializing with friends.
The best part about having a station where guests can make their own drinks is that it allows the host to sit back and enjoy the party. It's also a fun activity and gives people something to do and talk about.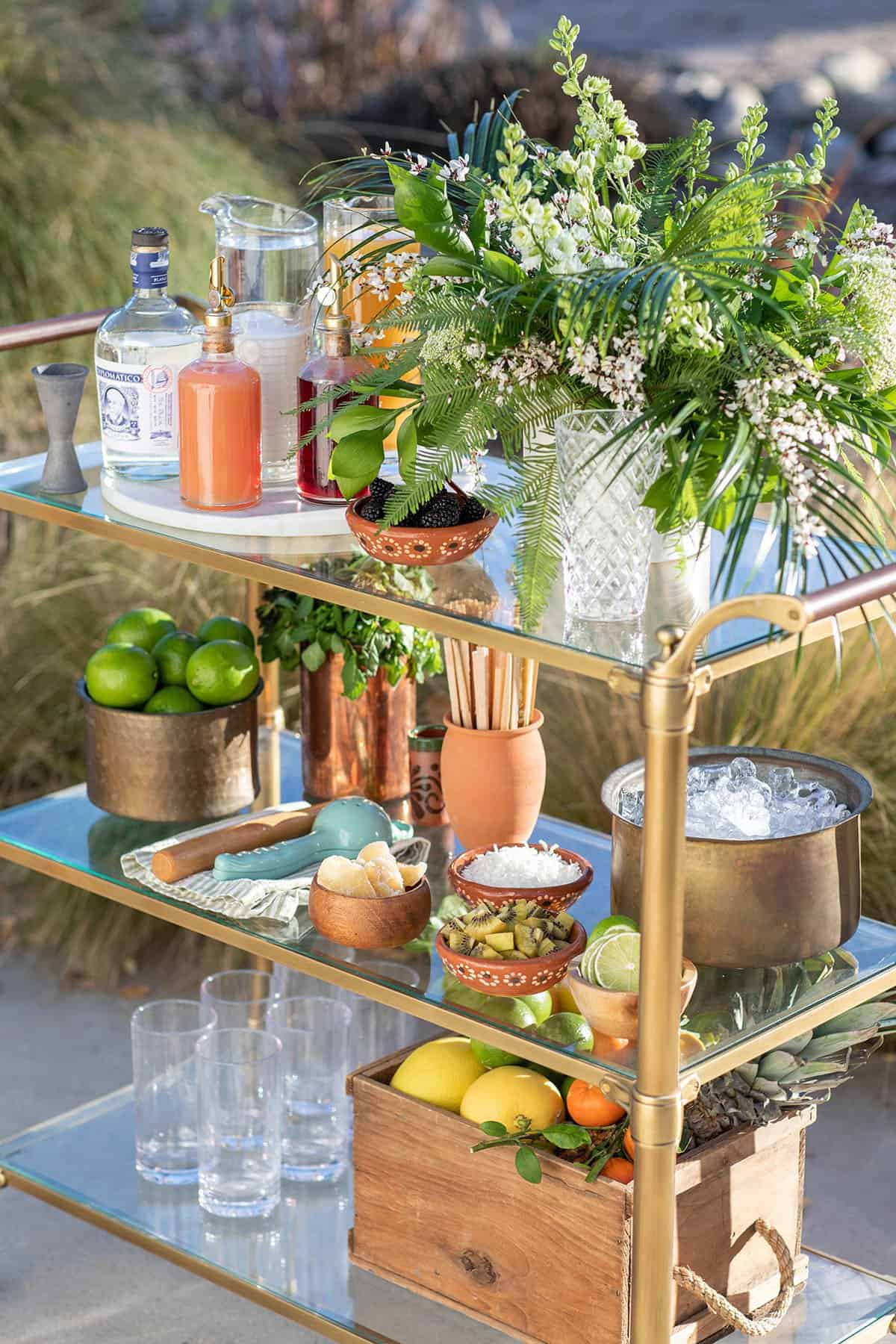 A Mojito is a Cuban cocktail that contains fresh lime juice, white rum, mint leaves, soda water, and sugar. We love this drink because it's super refreshing and feels like a vacation in a glass. The flavors of lime and mint pair so well together and it's not overly sweet… unless you want it to be!
How to Make a Mojito Bar
Choose an area to set up a mojito bar. This can be a kitchen island, dining table or a bar-cart.
Depending on the time of year, you can have a mojito bar inside or outside.
Gather supplies and ingredients.
Have a sign that gives the basic ratio for creating a mojito.
Place everything out for guests to create their own cocktails.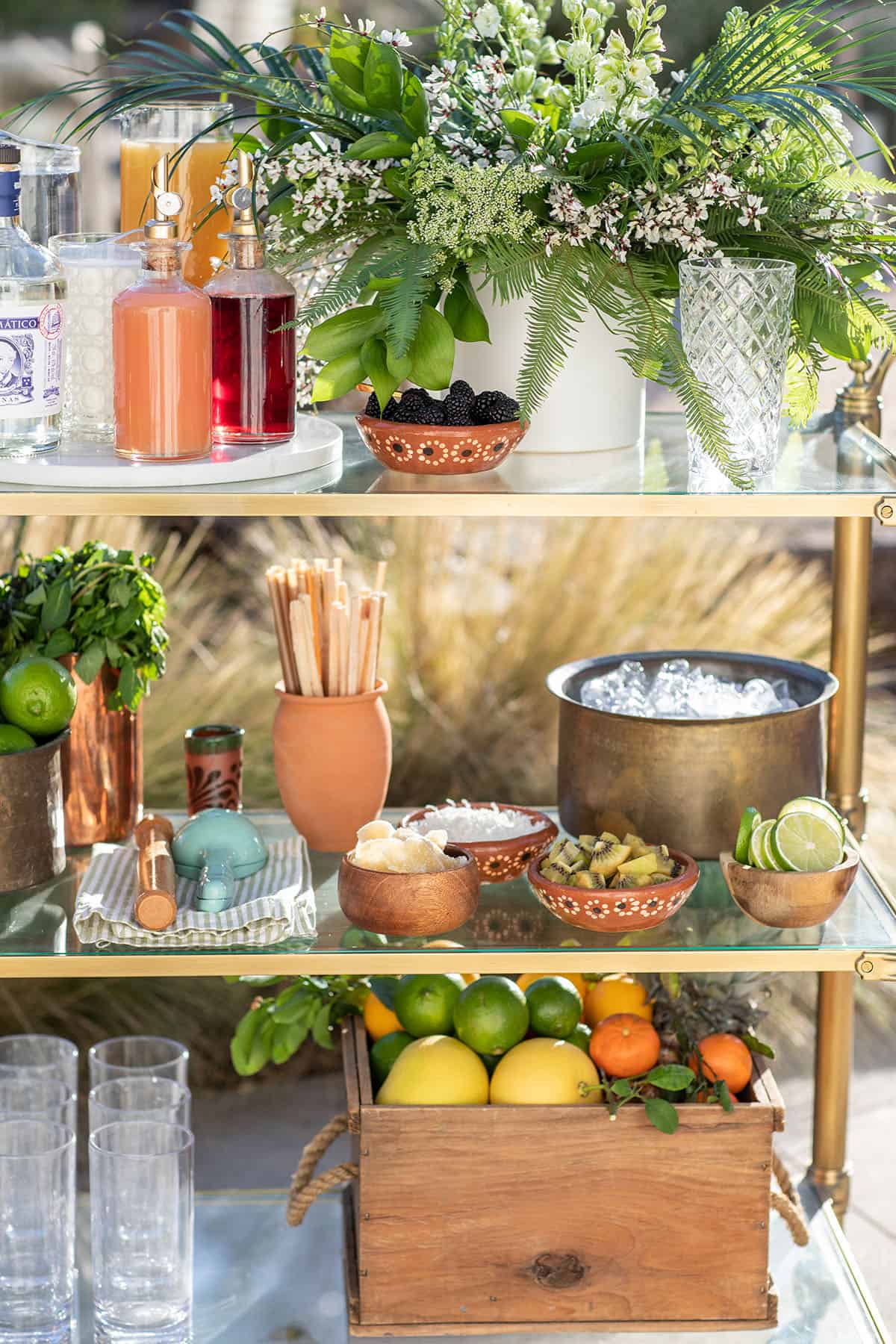 Supplies
To create a mojito bar for a party, you'll need these supplies below:
Highball Glasses – Have two per guest.
Cocktail Jiggers – Have two available.
Muddler – A wooden muddler is best for making mojitos.
Cocktail Jiggers – Have two available.
Citrus Squeezer – Have a citrus juicer on hand, you can also juice the citrus before making it even easier for guests.
Small Bowls – For fruit, berries, cocktail garnishes and mint.
Small Carafes – These will be for juice, sparkling water and coconut milk.
Cloth Napkins – Things can get a little messy when making your own cocktails have a few napkins on hand for guests to use.
Ingredients for a Mojito Bar
Lime Juice – Fresh lime juice or limes cut in half. Both will work for a mojito bar.
Mint – Gresh mint is crucial when making mojtos.
Rum – One good quality rum is fine good. However, it's nice to have coconut rum availabe too.
Simple Syurp – Have at least three flavors. You can also use sugar cubes and muddle them with the mint. Give your guests the option and have both on the bar.
Soda Water – A large bottle or pitcher of soda water or sparkling water. Soda water adds bubbles and carbination to the drink. It makes them very refreshing too!
Berries – Blackberries, raspberries, strawberries and blueberries are all perfect for muddling.
Fruit – Any type of soft fruit that you can muddle is perfect for a mojito bar. We like kiwi and mango.
Juice – Have two to three juices available like pineapple juice, grapefurit juice and orange juice.
Garnishes – Shredded coconut, candied ginger, dried orange slices, dried hibiscus flowers are all great cocktail ganrishes for mojitos.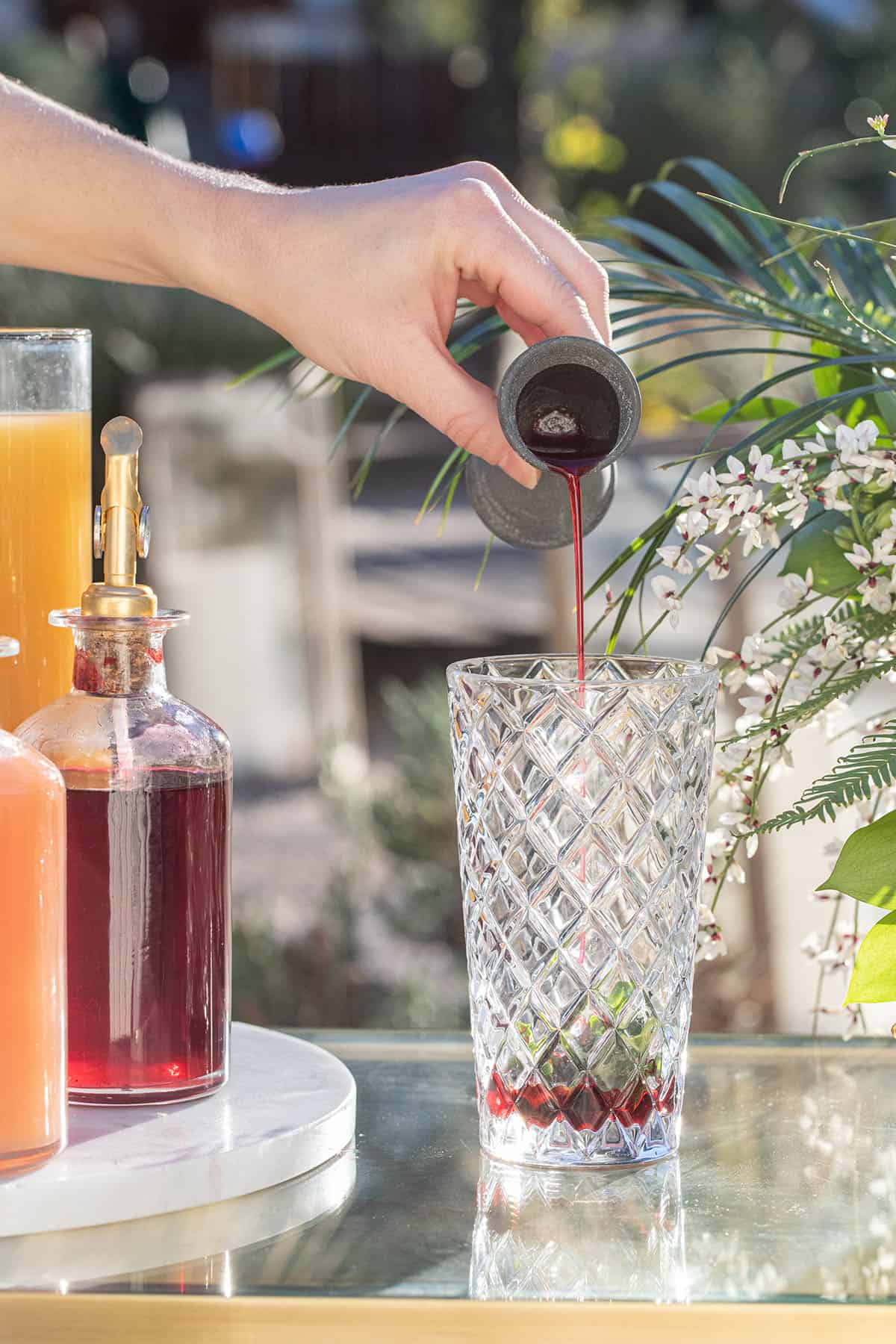 How to Make a Mojito
Here is the basic ratio to follow when making a classic mojito. It's helpful to have a sign out with these measurements so guests know how much of each ingredient they need to create a balanced drink. Of course, they can add more or less of what they like!
Berries or Fruit (optional)
1 Ounce Juice (of their choice)
The secret to a good Mojito is to bruise (muddle) the mint leaves with the sugar and berries (if you're using berries) before adding the rum, lime juice, soda water and ice.
Bruising the mint releases its aromatic oils, which add the characteristic minty tang to the Mojito.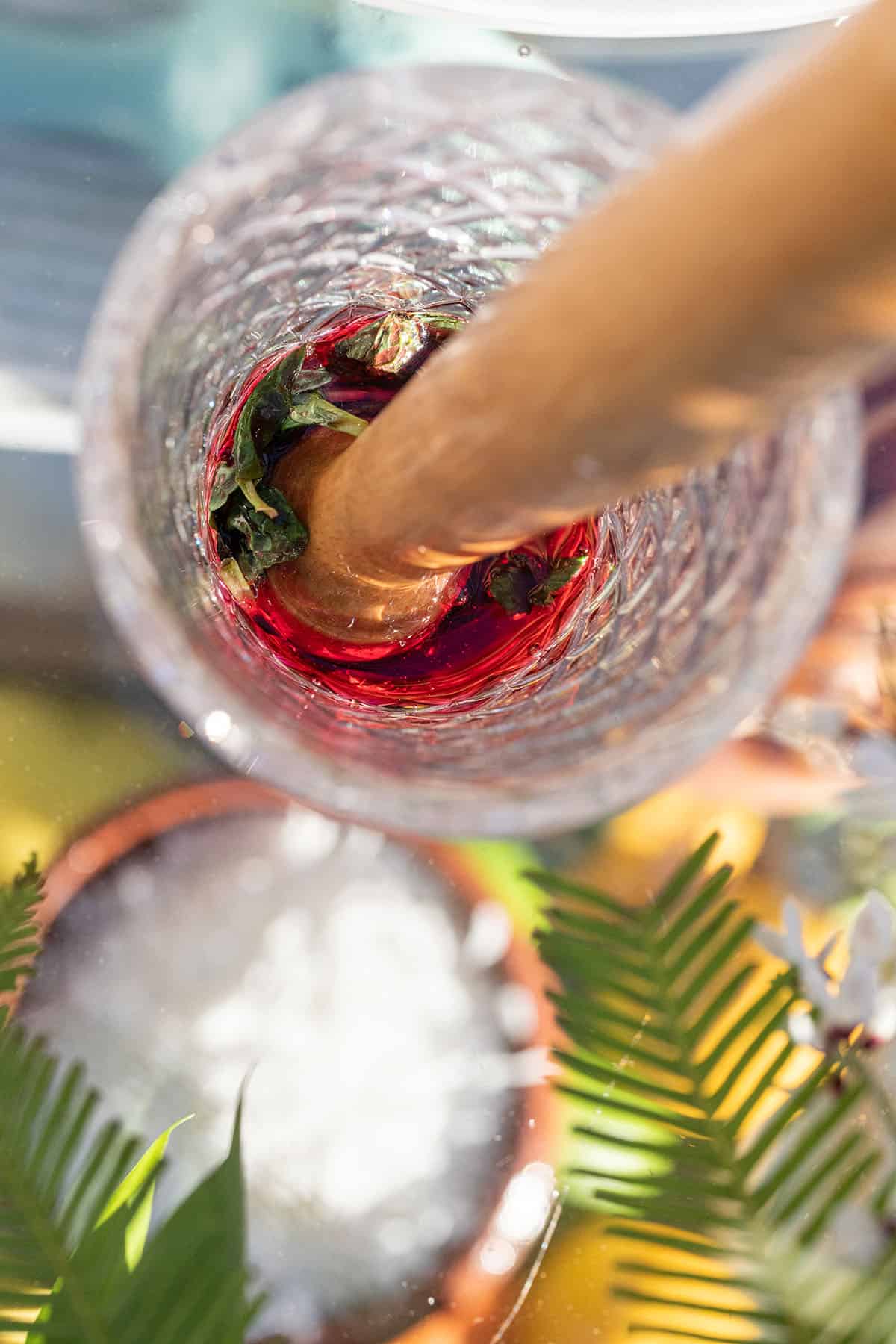 Mint for Mojitos
There is a variety of mint that works particularly well in a Mojito – Mojito mint! The Mojito mint originated in Cuba (home of the Mojito). As such, it works particularly well when combined with the other ingredients, all of which are indigenous to Cuba. Mojito mint has a mild, peppermint flavor.
When bruised, Mojito mint releases menthol-like compounds that result in a Mojito which feels cool and refreshing to drink. If you haven't got any Mojito mint to hand, Spearmint will work pretty well.
Best Rum for Mojitos
Ideally, the white rum used in a Mojito needs to be smooth, strong and packed with flavor. Our favorites include: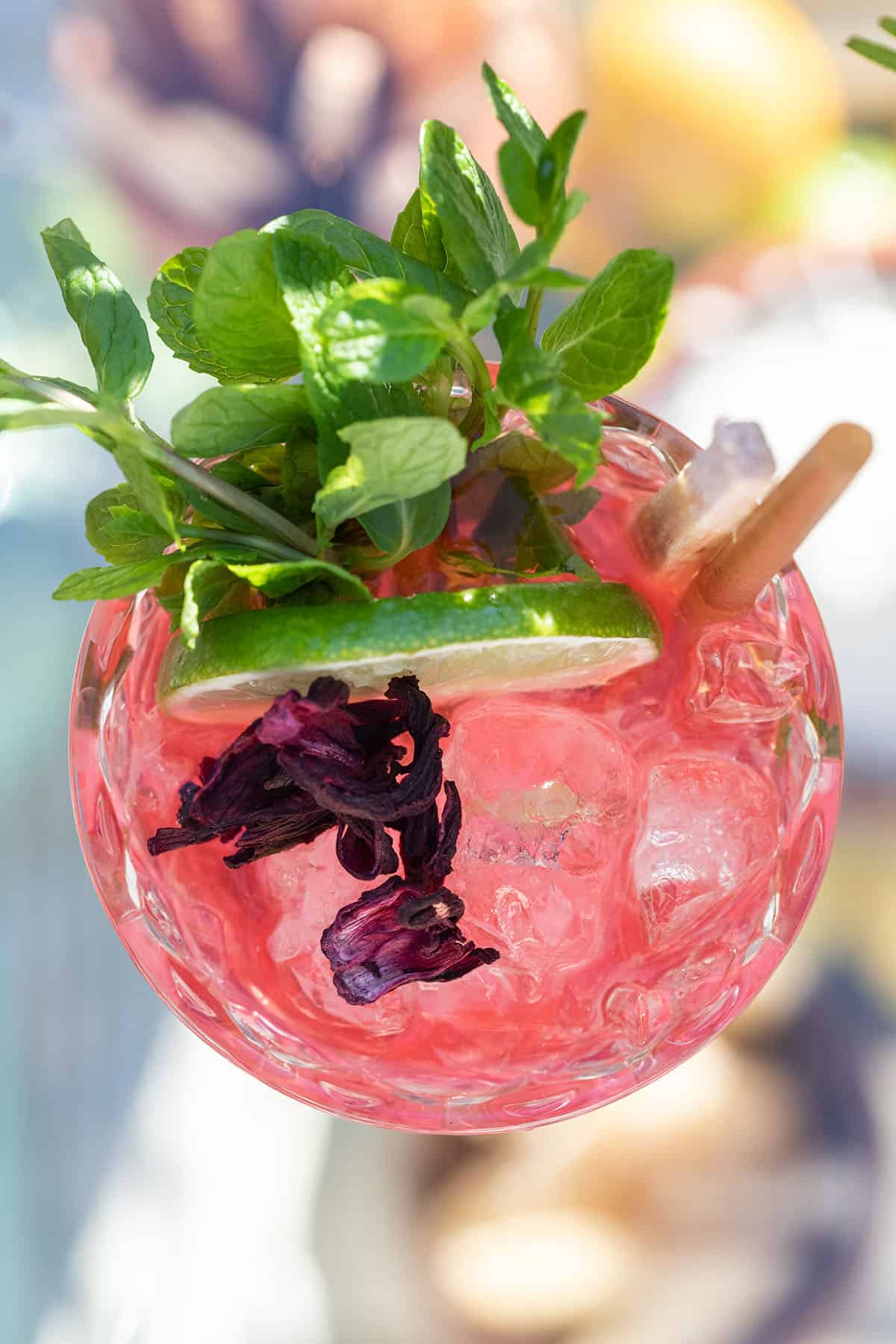 Virgin Mojito
Give your guests a choice of using a zero-proof rum to use instead of traditional rum. Zero-proof means it's made with botanicals and has rich flavors but no alcohol. This way they can partake in making a fun virgin mojito!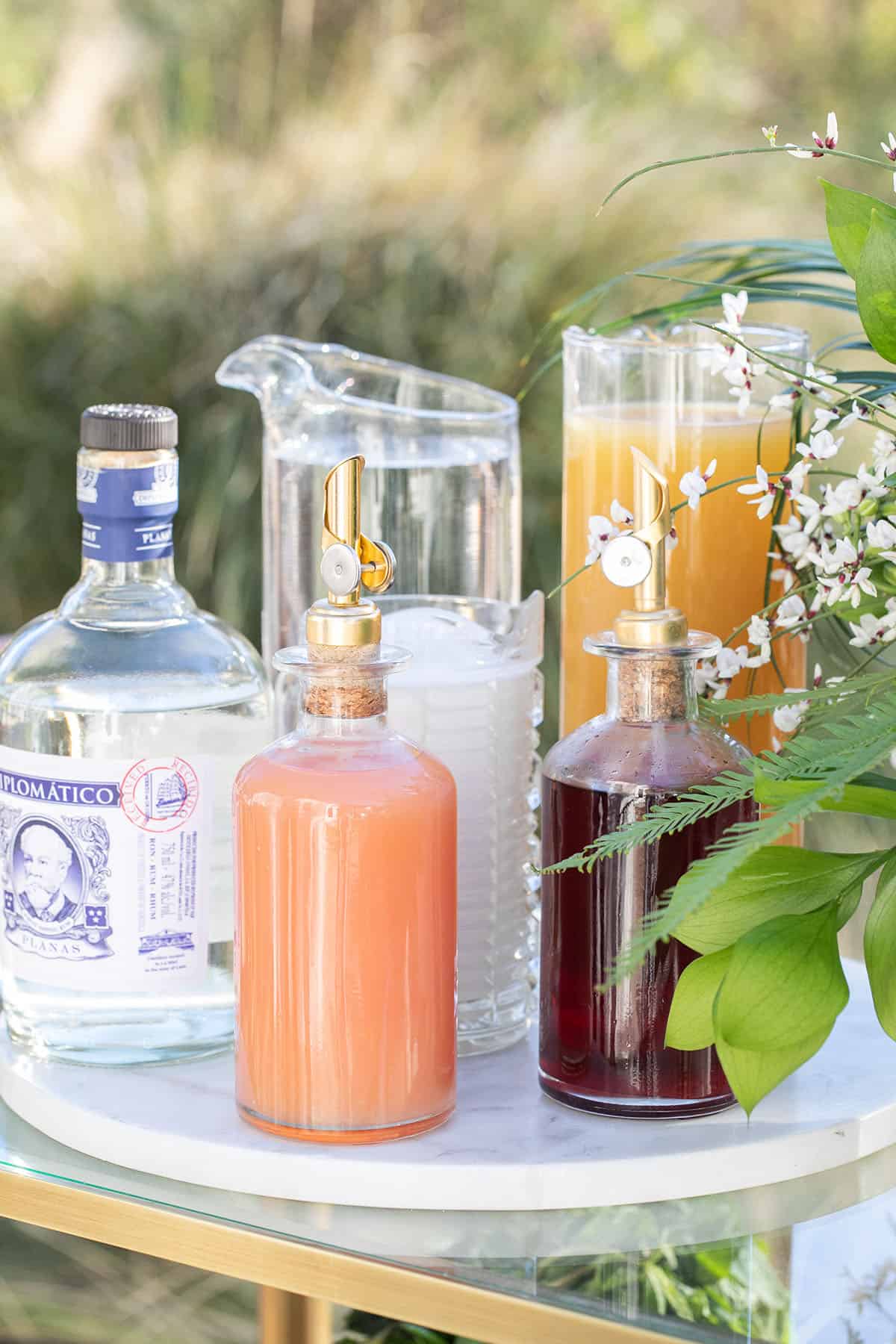 Simple Syrup Flavors
Simple syrup is used to sweeten cocktails. It's a mixture of equal parts sugar and water. It can be infused with berries and herbs to give cocktails even more flavor. Here are a few of our favorite simple syrup flavors for a mojito bar:
Hibiscus Simple Syrup – Infused with dried Hibiscus flowers.
Ginger Simple Syrup – Spicy and very gingery.
Black Berry or Raspberry Simple Syrup – A simple sugar infused with berries tends to be even sweeter and so good.
Mint Infused Simple Syrup – If you want even more of a mint flavor, make a mint simple syrup.
Mojito Variations
There are so many different flavor variations to a classic mojito. Here are a few of our favorites:
Pineapple Mojito – Muddle a few pineapples and use pineapple juice.
Coconut Mojito – Use coconut milk and cream of coconut to make a tropical mojito.
Matcha Mojito – This can be made using matcha powder and creates a really cool and delicious green cocktail.
Hibiscus – The recipe is below for this stunning pink cocktail! It's made with a hibiscus flower simple syrup.
Berry Mojito – Muddle a few blueberries and blackberries with mint and a berry simple syrup to create a very berry cocktail!
Blueberry Mojito – This recipe is made with blueberry simple syrup and also has giant blueberry ice.
Watermelon Mojito – Use watermelon juice to make this refreshing ccoktail.
Strawberry Mojito – We love juicy strawberries in the summertime and this is the perfect summer cocktail recipe!
Lavender Mojito – This recipe is made with lavender simple syrup. It has a floral flavor to it and is perfect for the summer.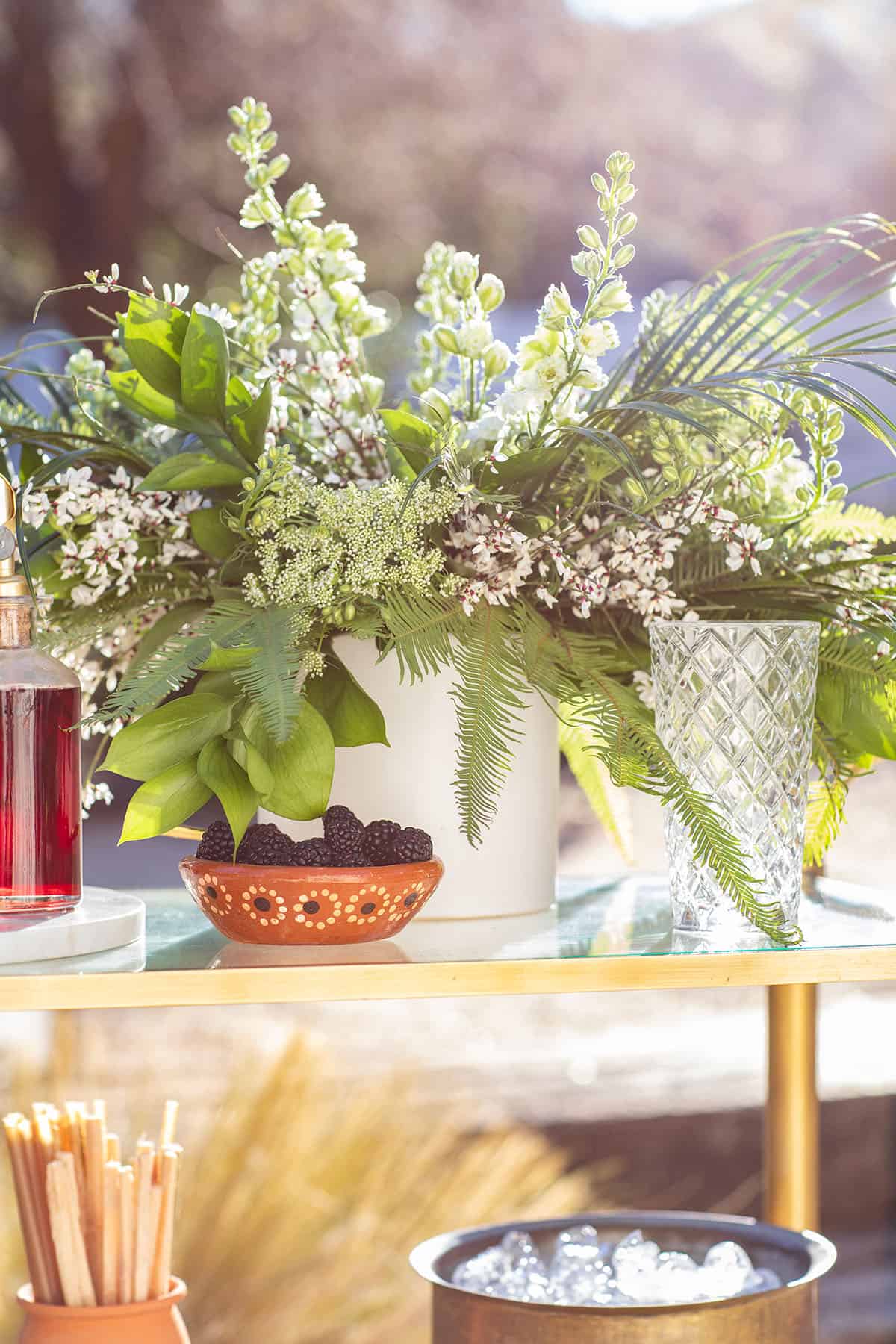 More Mojito Bar Ideas
Here are some mojito bar ideas to create a charming set-up for a party!
Flowers – A beautiful flower arragement will take the bar to the next level.
Limes – Decorate with whole limes and fruit. Place fruit in a wooden box or basket and it creates instant decor.
Brass and Wood – There is something rustic and cool about brass and wood together. Use these materials to hold ice, berries, and other ingredients for the mojito bar.
Mojito Bar Garnishes
For a festive drink, add a raw sugar cane stick into the drink before serving. 
If using a straw, we recommend these biodegradable straws made from sugar cane.
Lime wheels and fresh mint are what we recommend to garnish your mojito.
When to Serve a Mojito Bar
This DIY bar is great for many special occasions and can be served year-round. Here are a few of our favorite occasions to serve a mojito bar:
Birthday Party it's also perfect for a last-minute birthday party!
Carnival Party or Garden Party 
Tropical Party or Outdoor Movie Night
Baby or Bridal Shower
Bachelorette Party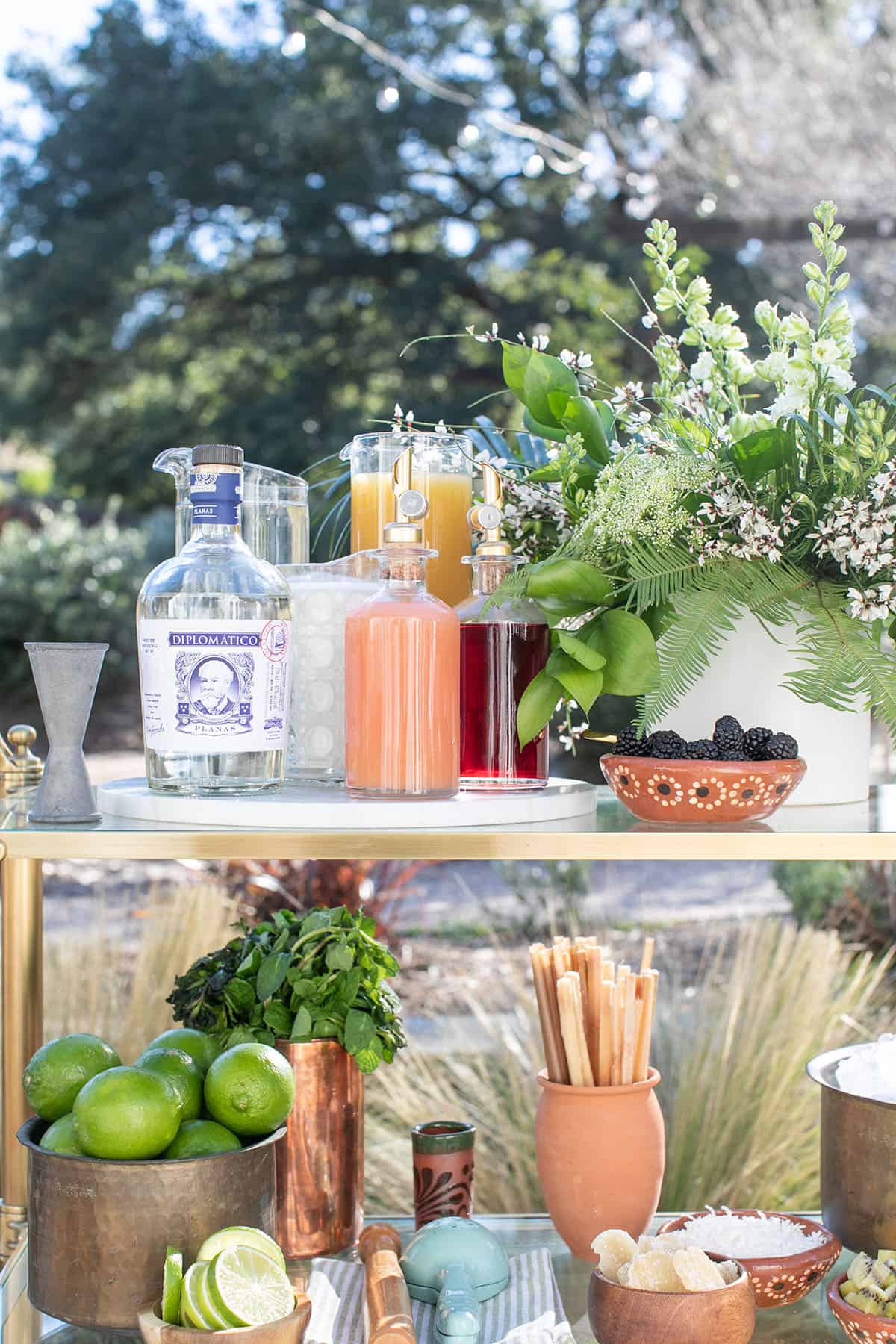 Frequently Asked Questions
What is the history of a mojito?
Hailing from Havanna, Cuba, the exact origins of the Mojito are lost in time. The most popular theory is that European sailors, newly arrived in Havanna, heard that the local indigenous people knew how to make effective medicines. A boarding party was organized, who went ashore and came back with limes (which were squeezed to provide lime juice), sugar cane, mint, and a strong, locally made, sugarcane-based spirit (a potent version of rum). For sailors suffering from scurvy (a disease caused by lack of Vitamin C), the lime juice and mint would certainly have had medicinal qualities. The four ingredients (lime juice, sugar cane, mint, and rum) subsequently formed the basis of the much-loved Mojito.
Does a Mojito Contain Rum or Tequila?
The signature spirit in a Mojito is white rum. Distilled from sugar cane, it has a sweet, soft taste that works well with the other Mojito ingredients. In contrast, Tequila, distilled from the Agave plant, has a distinctive taste that's tangier and less sweet than white rum. Tequila works well with fruit juices and orange flavors, such as orange juice and triple sec or Cointreau.
Is a Mojito shaken or stirred?
A mojito can be shaken or stirred, depending on how you like it. Typically, you don't need to shake and strain a mojito. You can muddle and make it in the cocktail in the same glass you'll serve the drink in. However, if you're adding berries and other fruit and muddling them, you can shake and strain a mojito.
Can I use vodka instead of rum?
You can use vodka instead of rum, but know it's not a traditional mojito when you replace the rum. The rum is such an important part of the cocktail and adds to the unique mojito flavor. However, for some reason, you don't like rum or don't have any on hand you can make this drink with vodka.
More DIY Bar Idea
Love the idea of creating a DIY bar at your next event? Then check out these fun bar ideas!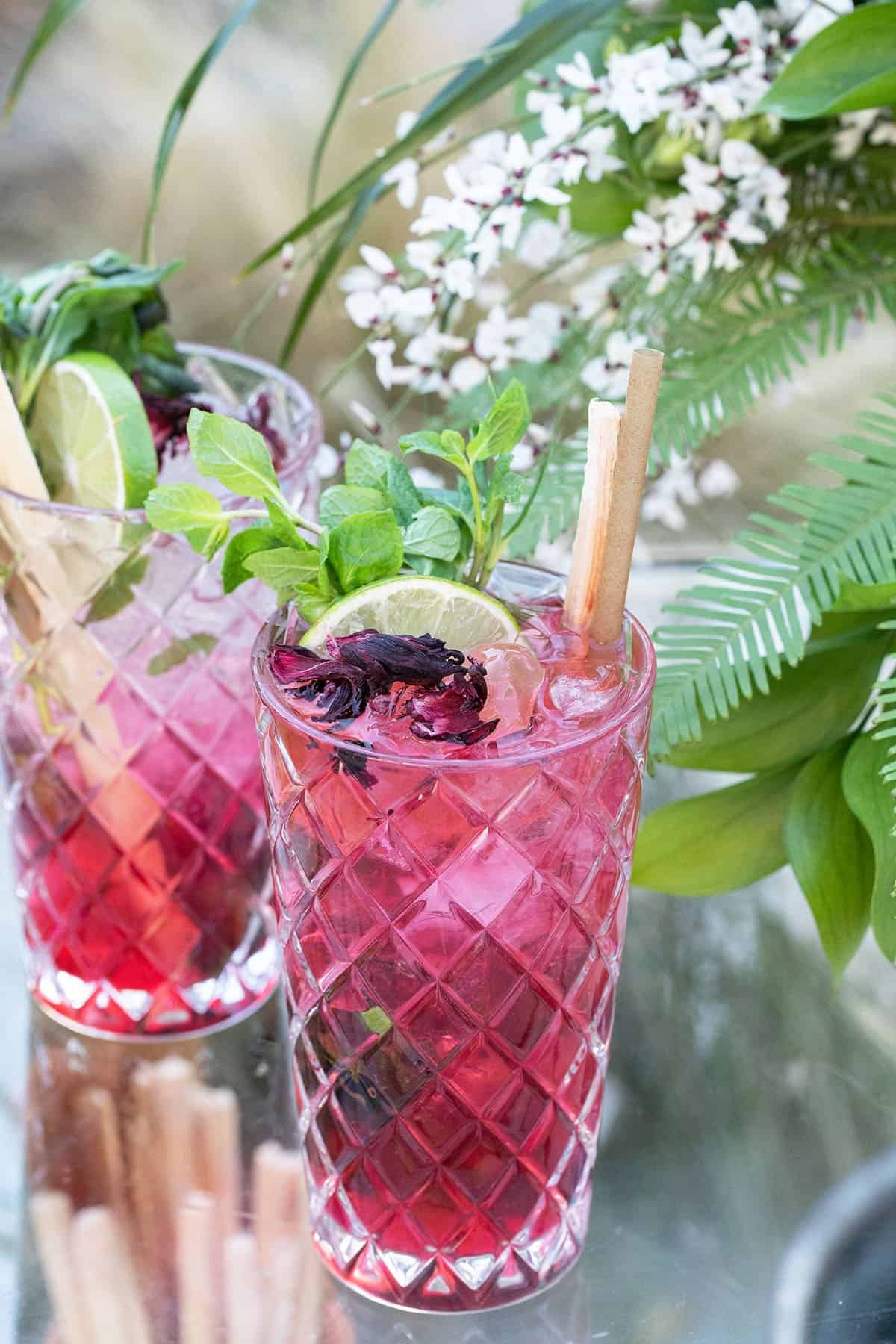 Try our hibiscus mojito recipe below! Also check out more great cocktail recipes our favorite brunch recipes, the best-mixed drinks, tequila cocktails, gin cocktails, vodka cocktails, and cheap drinks to make at home!
Let us know if you create your own mojito bar by leaving a comment below. We're love to know yourm thoughts!
You can also FOLLOW US on FACEBOOK, INSTAGRAM, and PINTEREST to see more delicious recipes, cocktails, desserts, and parties!
Mojito Bar – Hibiscus Mojito
A mojito bar is perfect for your next party! Give this hibiscus mojito recipe a try, it's so good and has a beautiful vibrant color!
Print
Pin
Rate
Ingredients
6

leaves

mint

1/2

ounce

hibiscus simple syrup

2

ounces

rum

1

ounce

lime juice

4

ounces

club soda
Instructions
Next, pour in the rum, lime juice, and stir.

Fill the glass with ice and pour the club soda over the top.

Give the drink a stir and garnish with a lime wheel and fresh mint.
Notes
Create your own mojito flavors and add kiwi or berries to this recipe.
Add more or less of any ingredient to make it your own.
Nutrition
Calories:
176
kcal
|
Carbohydrates:
13
g
|
Protein:
1
g
|
Fat:
1
g
|
Polyunsaturated Fat:
1
g
|
Sodium:
33
mg
|
Potassium:
47
mg
|
Fiber:
1
g
|
Sugar:
11
g
|
Vitamin A:
27
IU
|
Vitamin C:
9
mg
|
Calcium:
12
mg
|
Iron:
1
mg