Celebrate summer with a tropical themed party! From tropical party decorations, to party favors and ideas, this is the charming guide for throwing the ultimate summer party!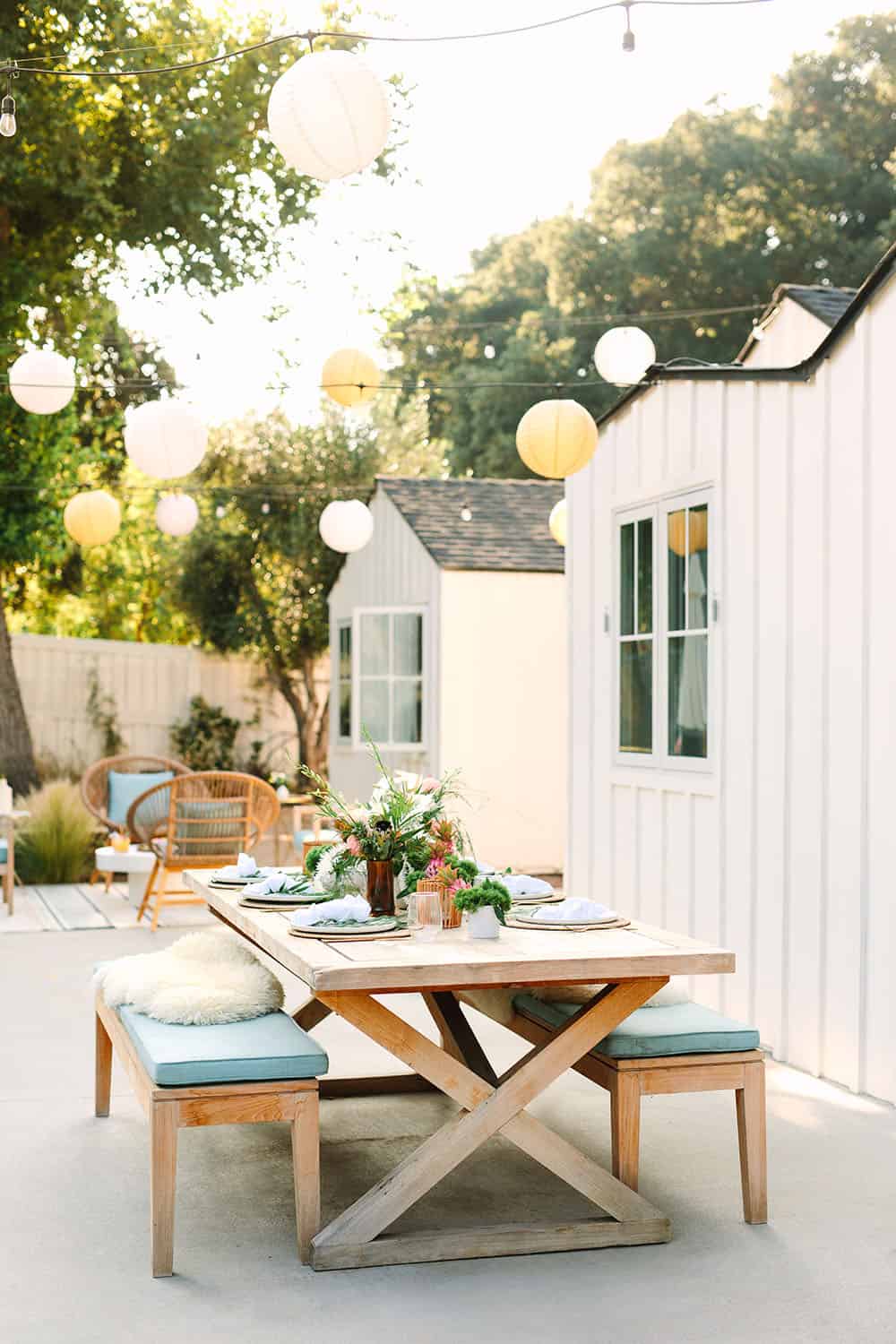 This summer I hosted a backyard, tropical themed party for our friends. There's no better time than summer to throw an outdoor party and I figured since we're not in Hawaii we could bring some tropical island vibes to our home!
From the food, to the music and the decorations, we created a very special, colorful and fun summer party and I'm sharing all of the details!
How to Throw a Tropical Party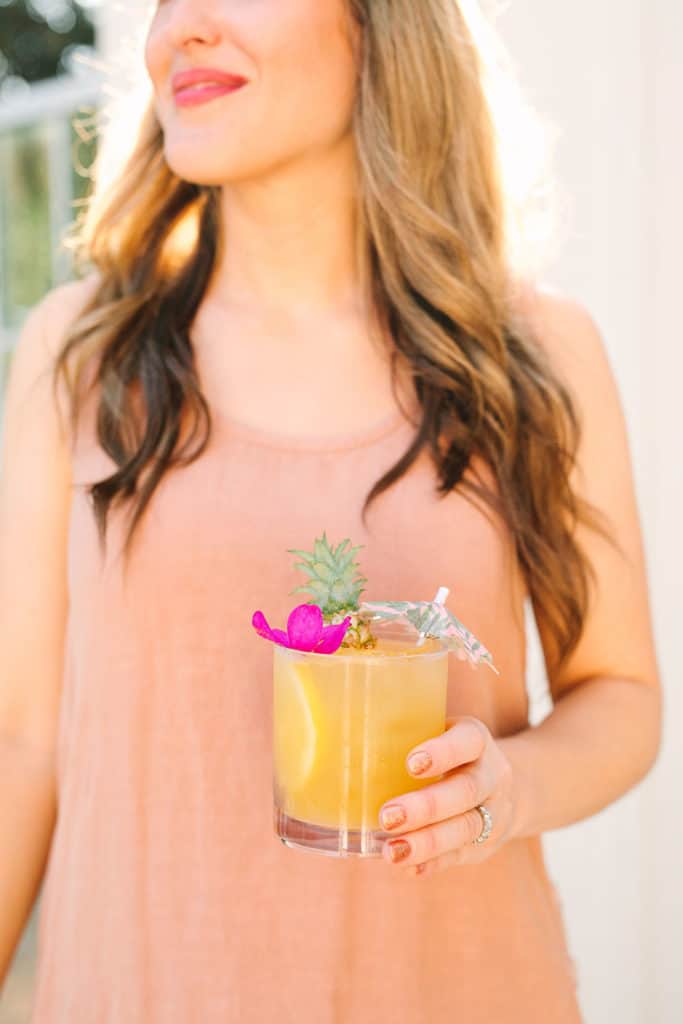 Start with a mood board for your party. Pinterest is great for that! Pin pictures and products from shops that inspire you. It's easy to keep everything organized.
Pick a date and send out the invites! We use online companies like Evite (free) and Paperless Post to send out invitations. It's nice to be able to track and update important event details and RSVPs.
A few weeks out, purchase online tropical decorations and create a tropical menu. Think about tropical-style cocktails, appetizers, and dessert. You don't even need to make a full dinner!
The day before set everything up and make anything you can ahead of time.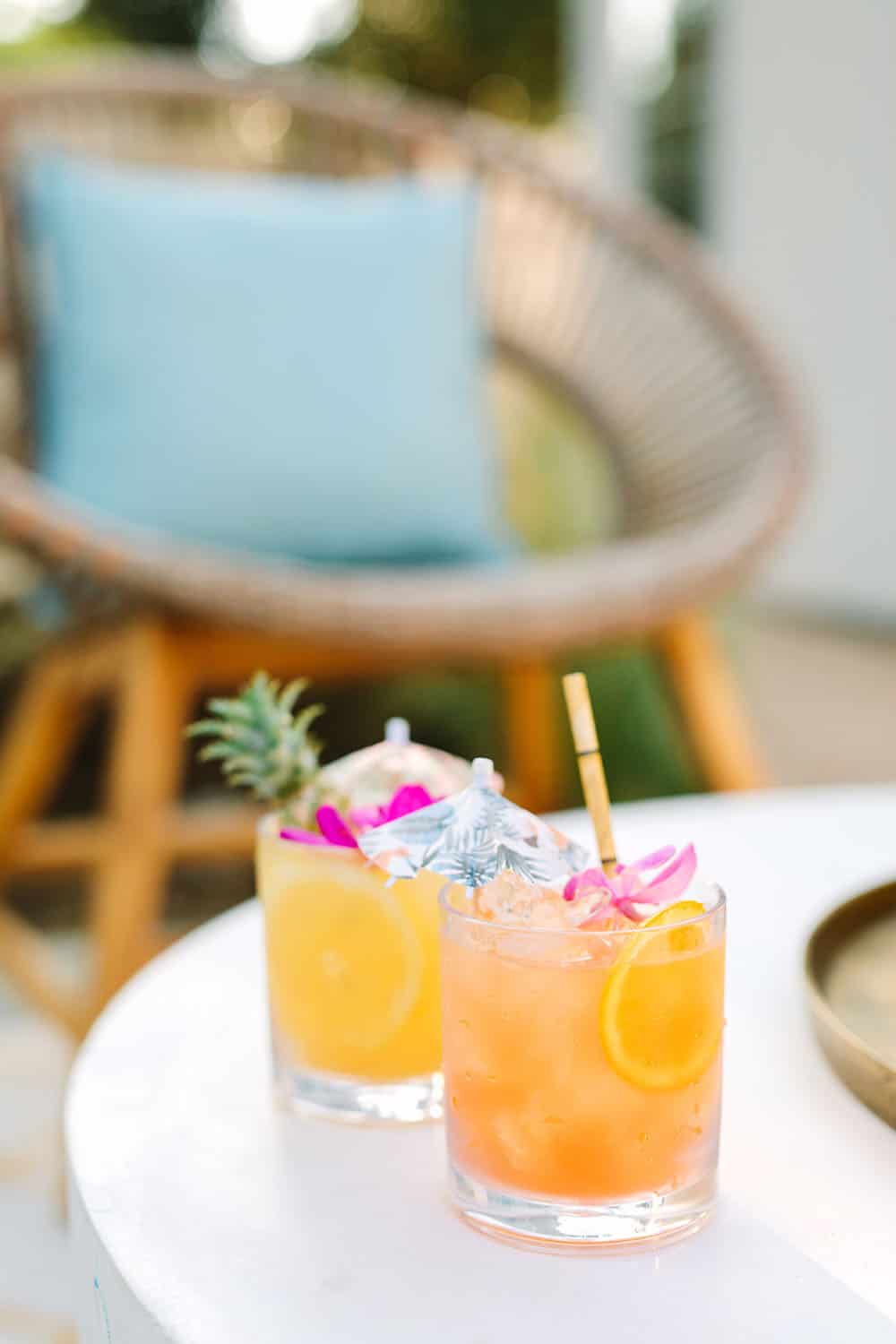 Tropical Cocktails
Keep the cocktails simple and use a really good mixer! Williams Sonoma and Trisha Yearwood created amazing tropical cocktail mixers that were perfect for our party! Mix them with coconut rum and spiced rum and they're super refreshing with delicious tropical ingredients.
If you're looking to make your own tropical drinks, here are my favorite tropical cocktail recipes:
Coconut Mojito and Coconut Mojito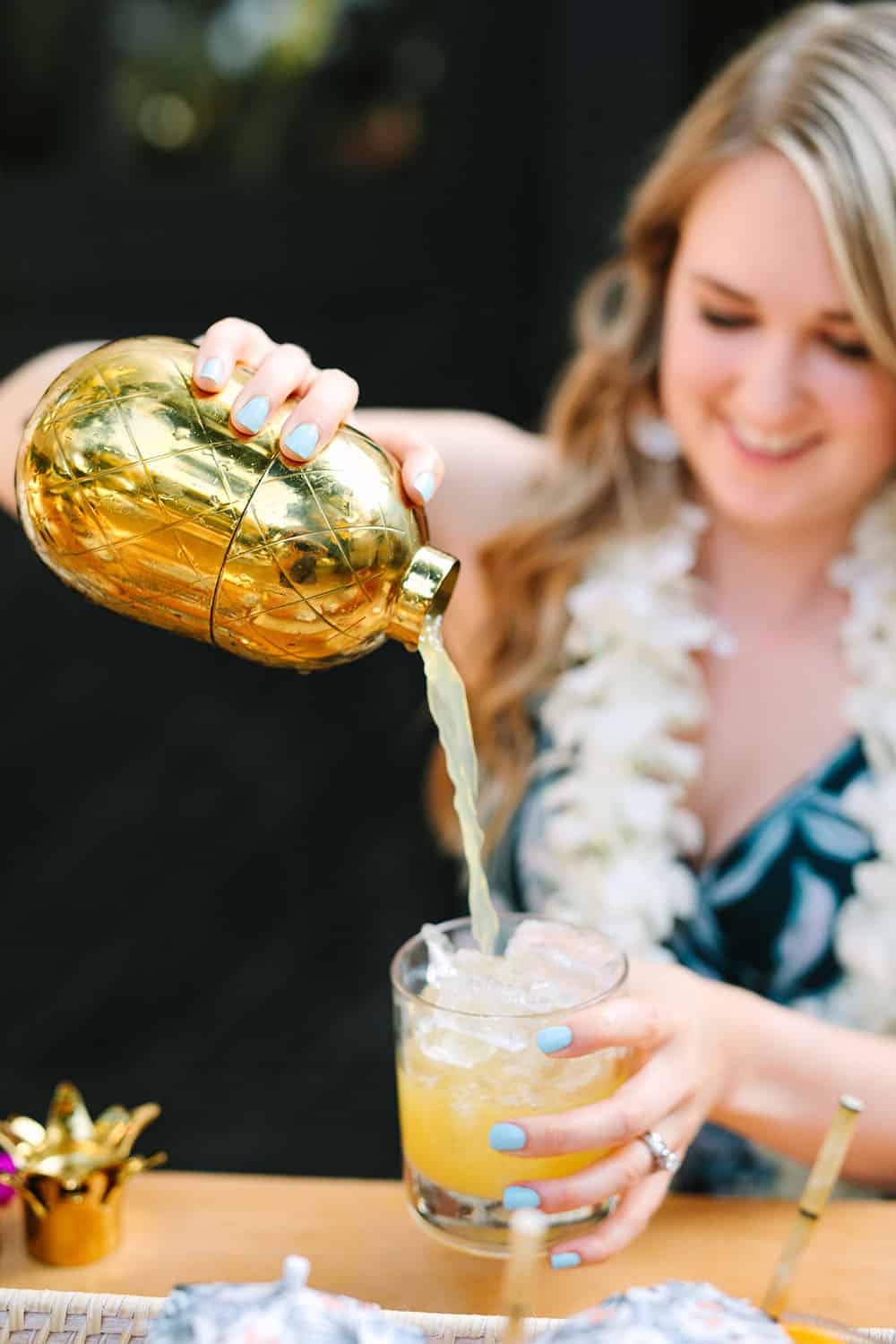 The cocktails are so easy to make, so I hired our two nieces (they're old enough to drink!) and gave them a quick tutorial for making the cocktails and pouring wine.
The last thing you want to do is make cocktails during your event. Hire someone else to do this so you can enjoy yourself, and your guests always have a full glass.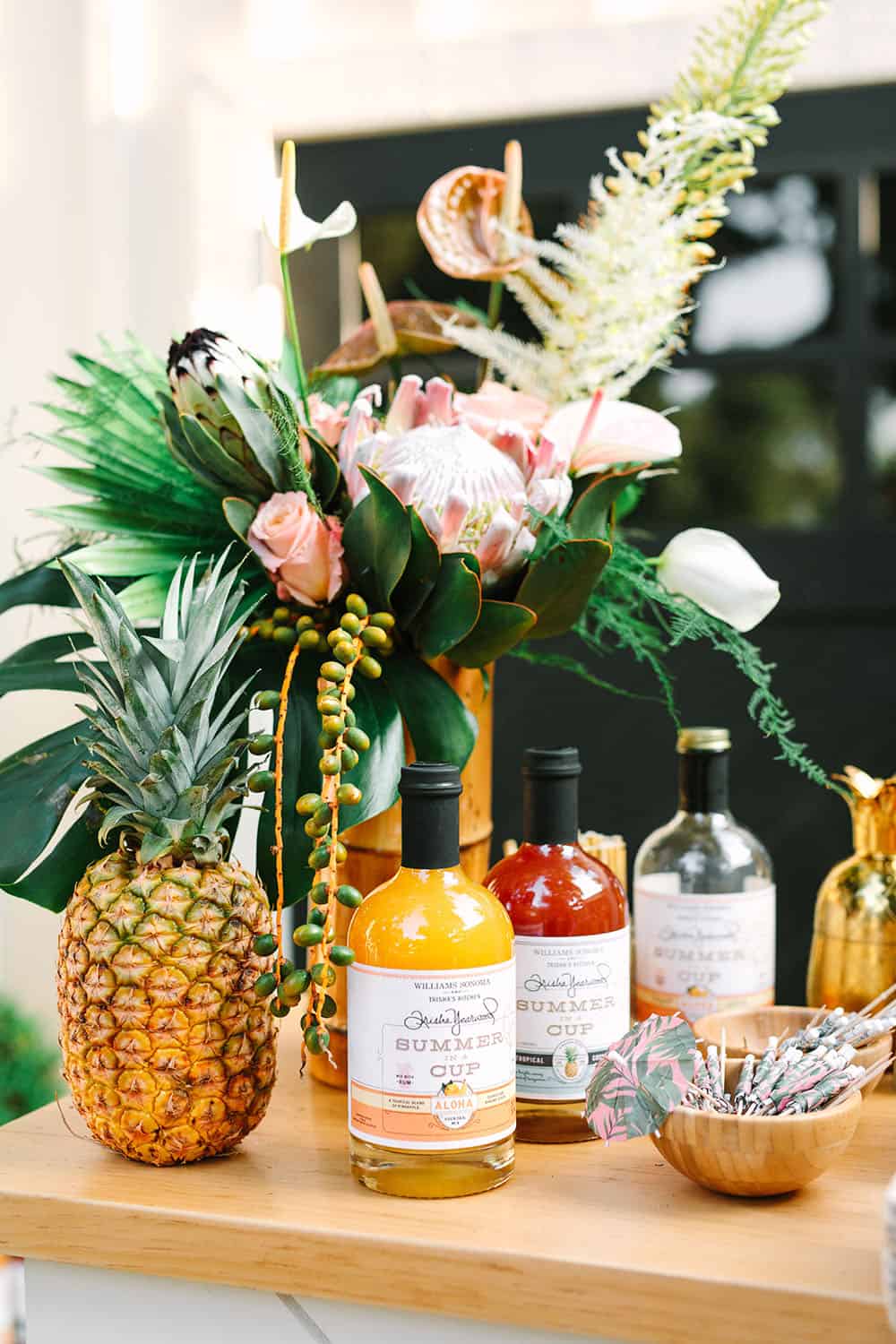 Tropical Bar Supplies
The bar should be near the entrance of the party. If it's in the back, have someone at the entrance serving a tray of welcome cocktails. I love being greeted with a cocktail when I arrive at a party! It's a nice gesture and a perfect way to welcome your guests.
Coconut Rum and Spiced Rum
White wine and Rosé
Ice Ice Ice! A cooler full of ice!
Shatterproof, outdoor cups. Williams Sonoma's are the BEST!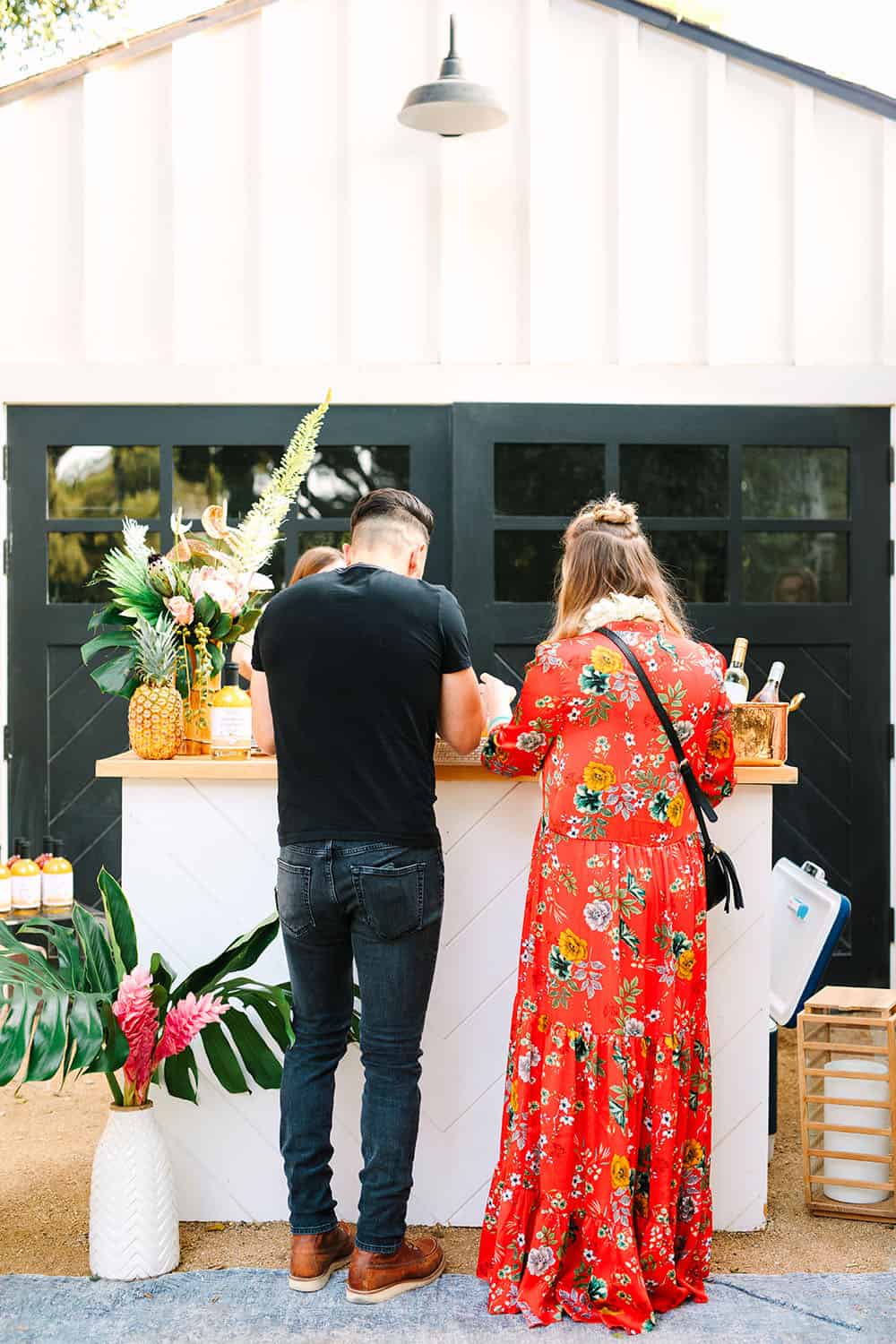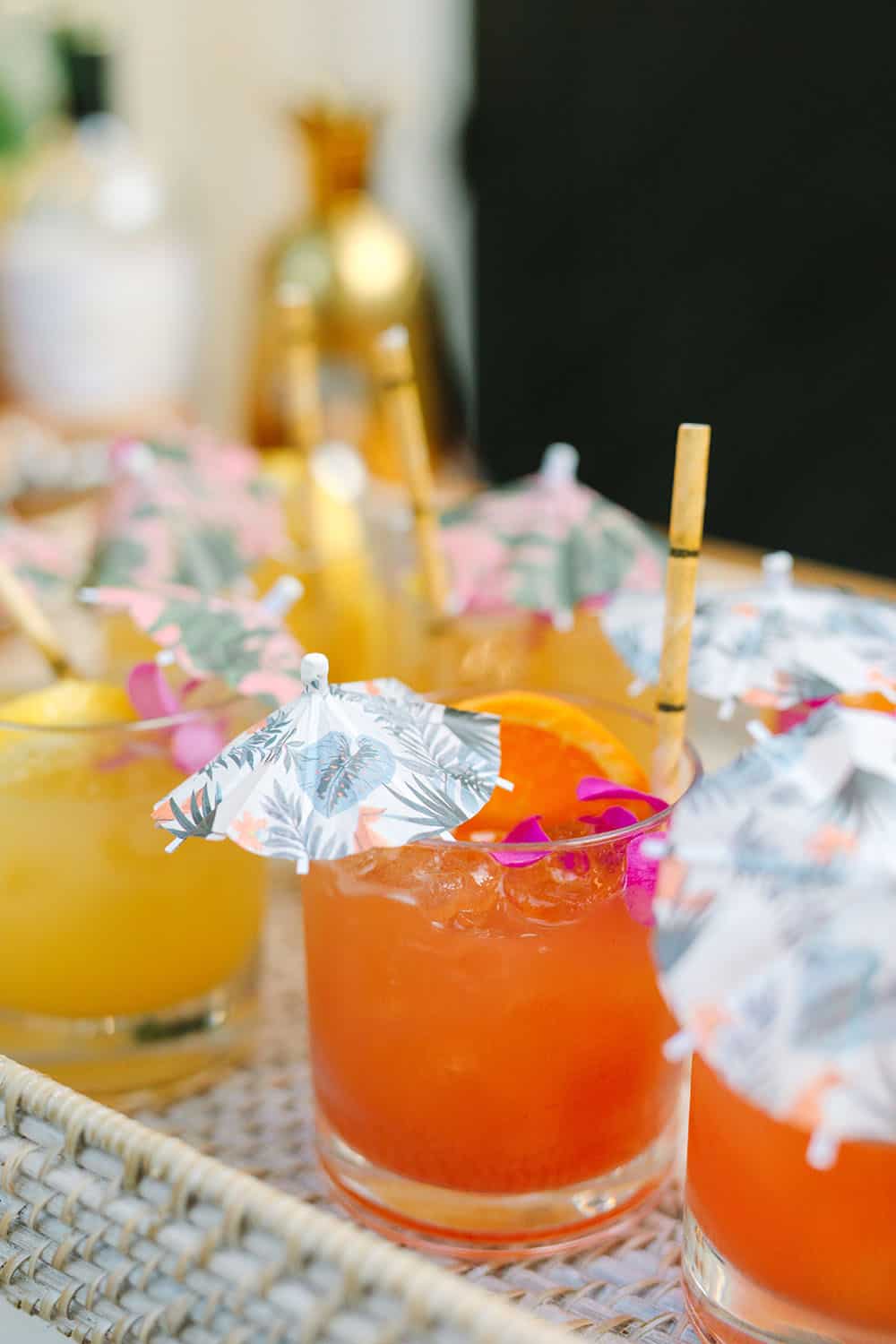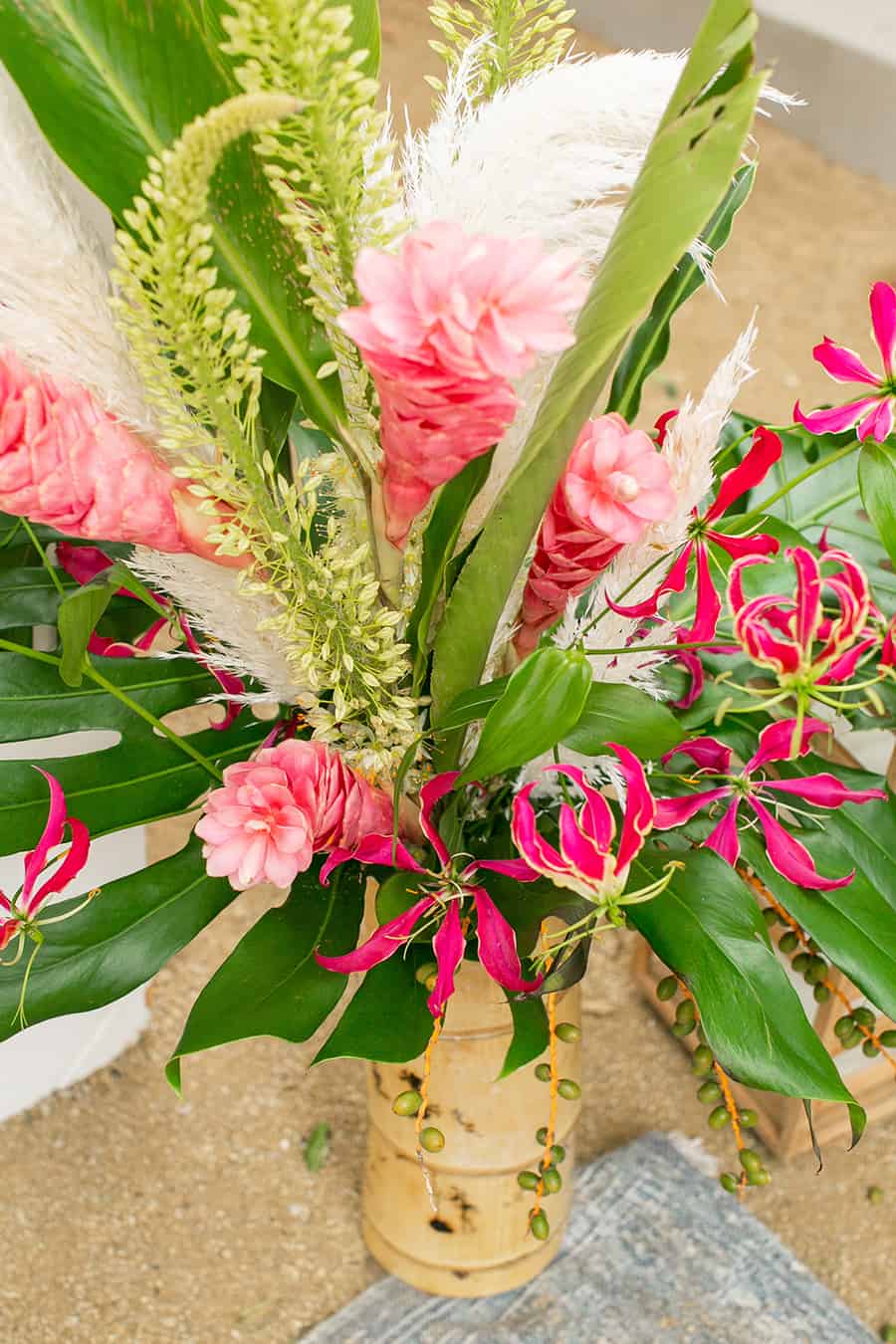 Tropical Party Decorations
Most of our party supplies and entertaining items came from Williams Sonoma. We also found smaller items like cocktail umbrellas on Etsy. It's all about the details, like paper bamboo straws, paper lanterns, mini pink pineapples and stunning flowers in bamboo vases that made our party come to life!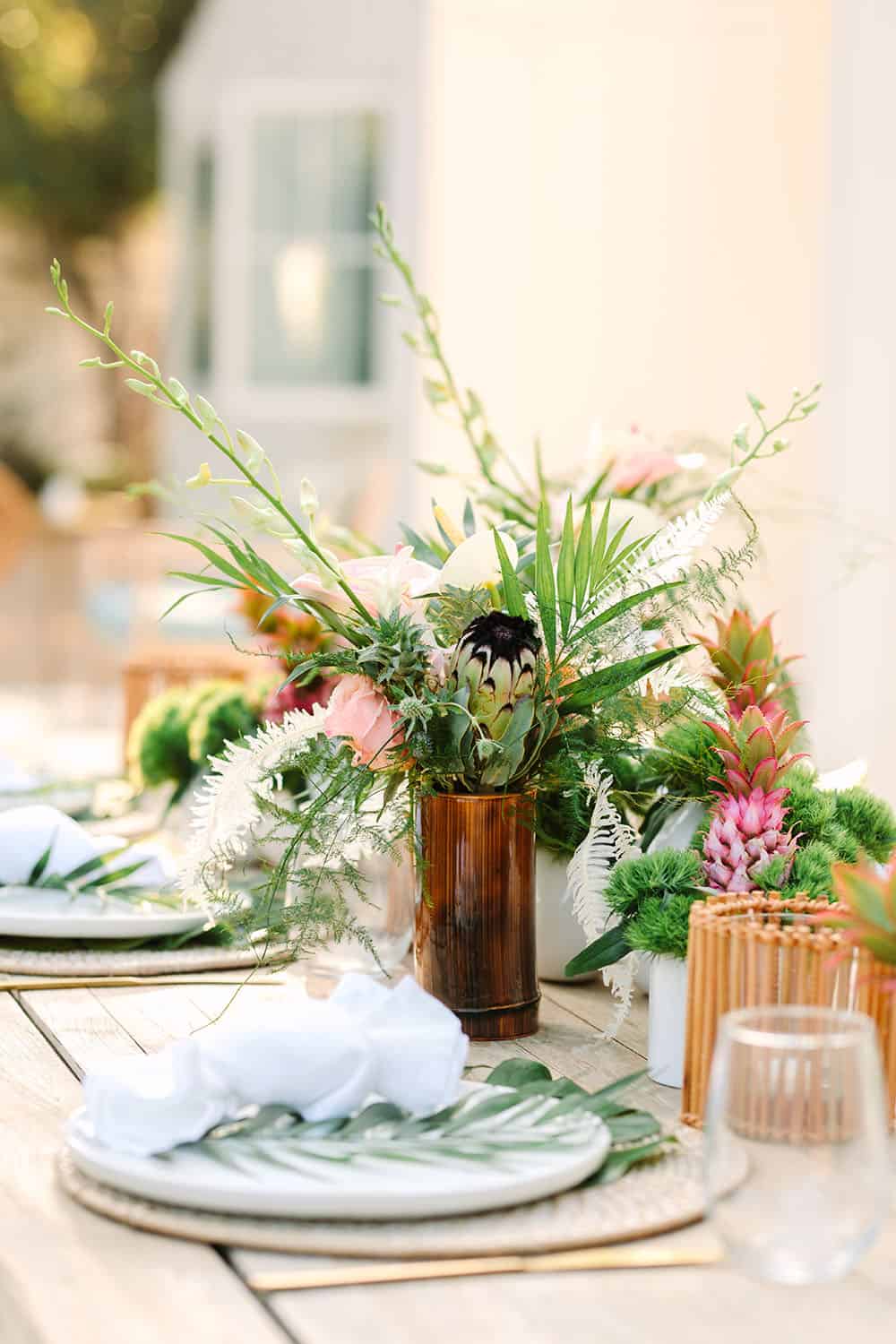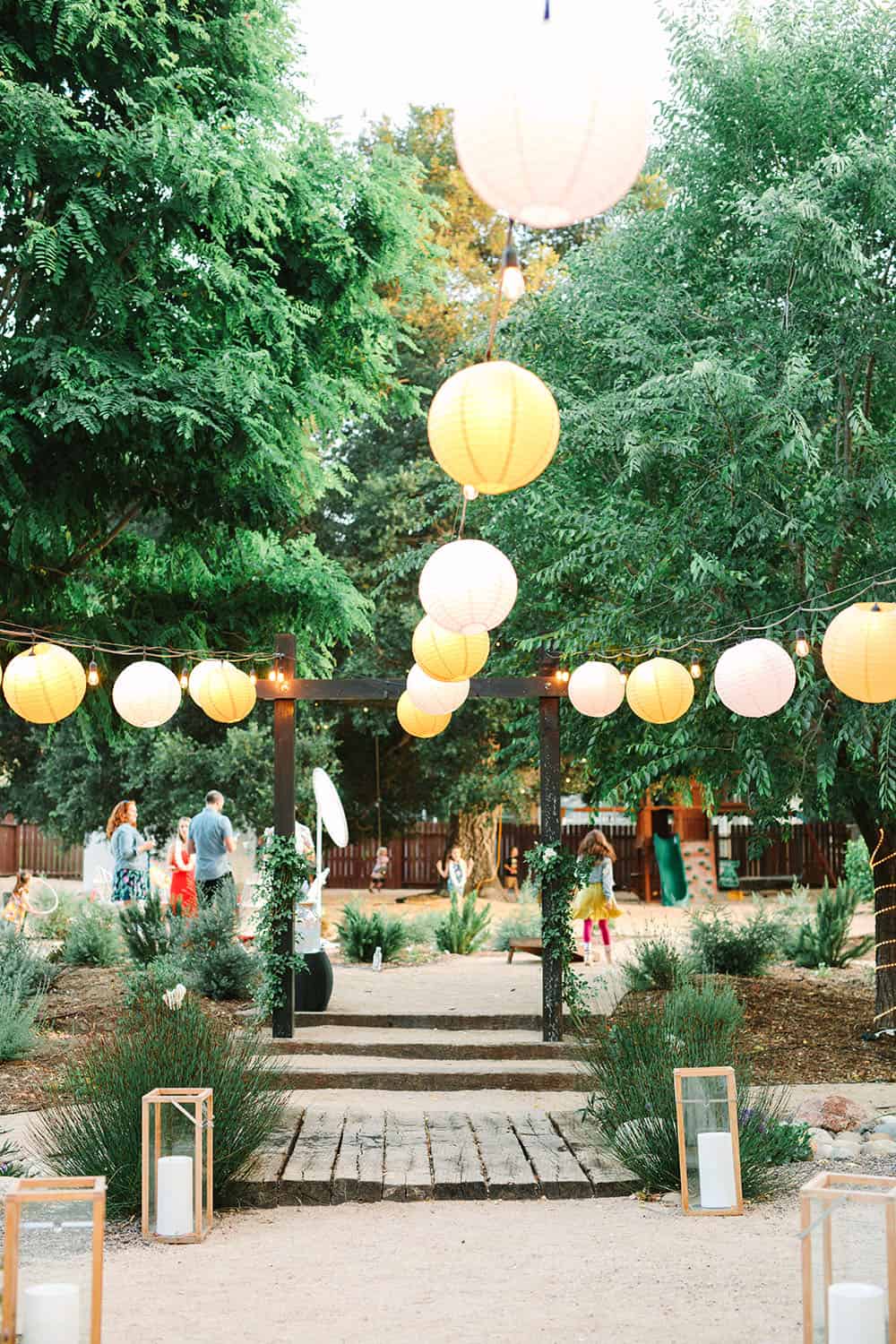 Hang paper lanterns for a magical look. They look even more fantastic at night when they're all lit up! Find different shapes and patterns at the Paper Lantern Store.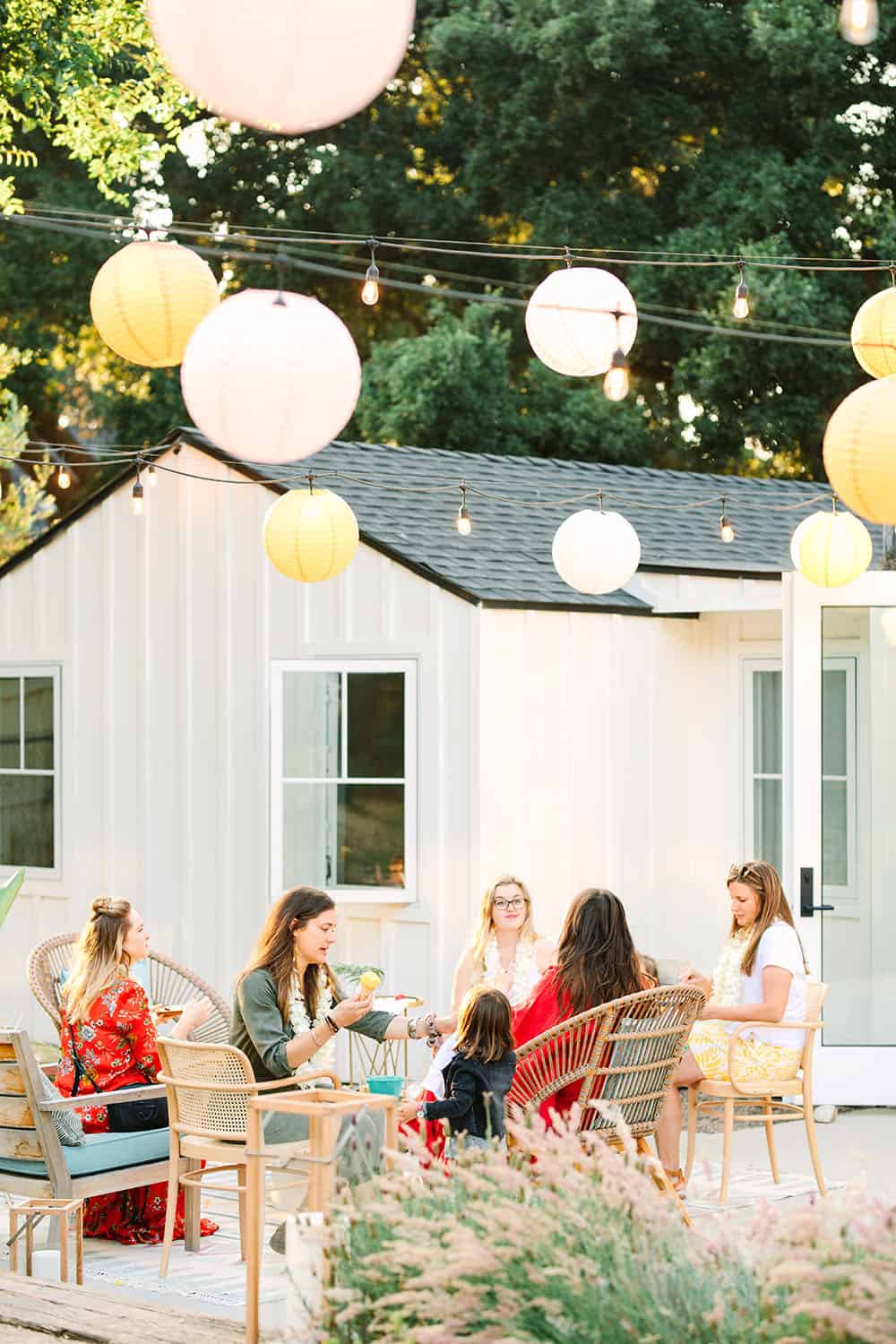 To really make your party feel special, have a basket of fresh leis when guests arrive! If fresh are hard to find, you can get faux white ones too.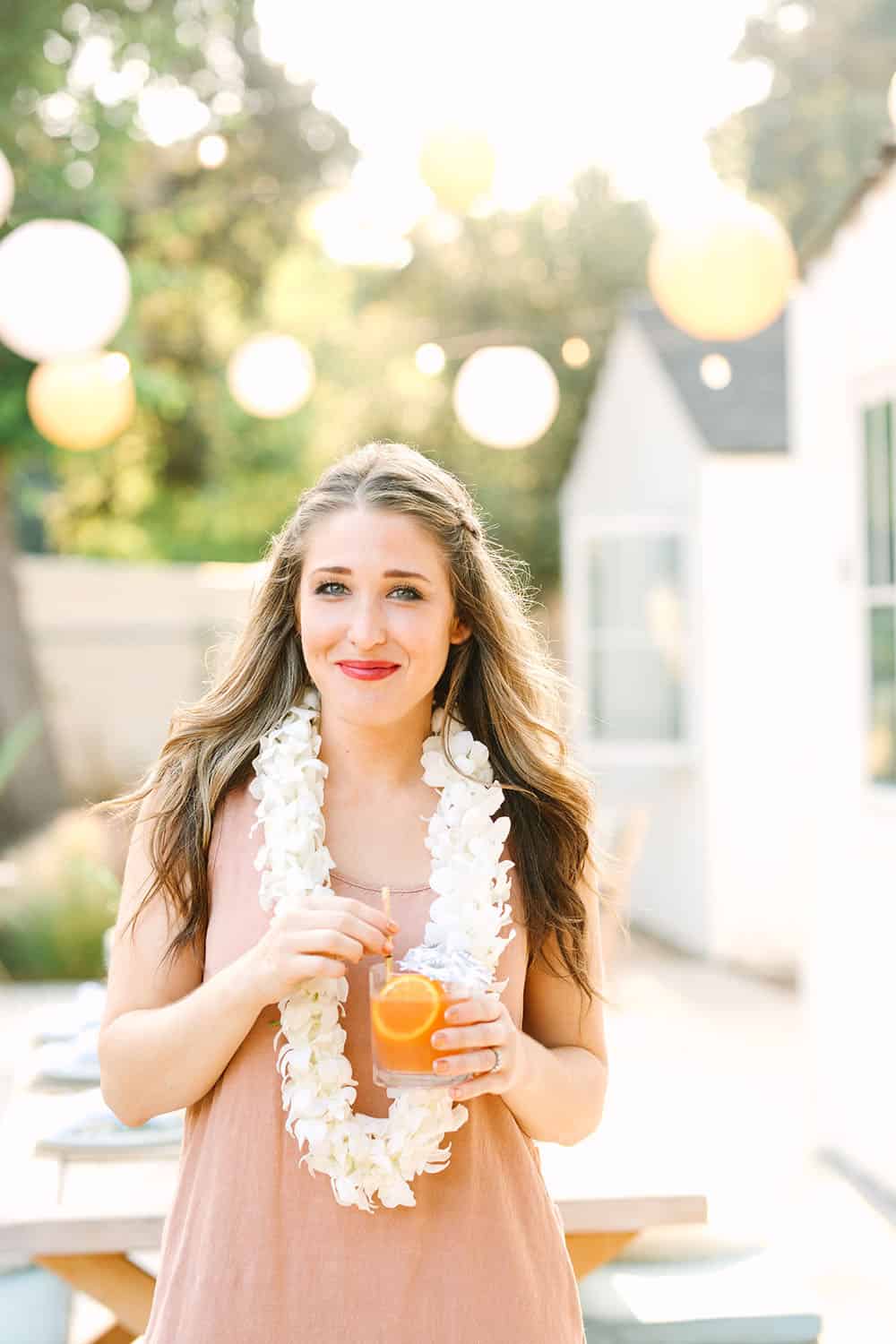 Tropical Table Setting
To set a tropical table, use palm leaves and tropical ferns for instant decor. Add tropical flowers down the center of the table and light tea lights contained in class votives.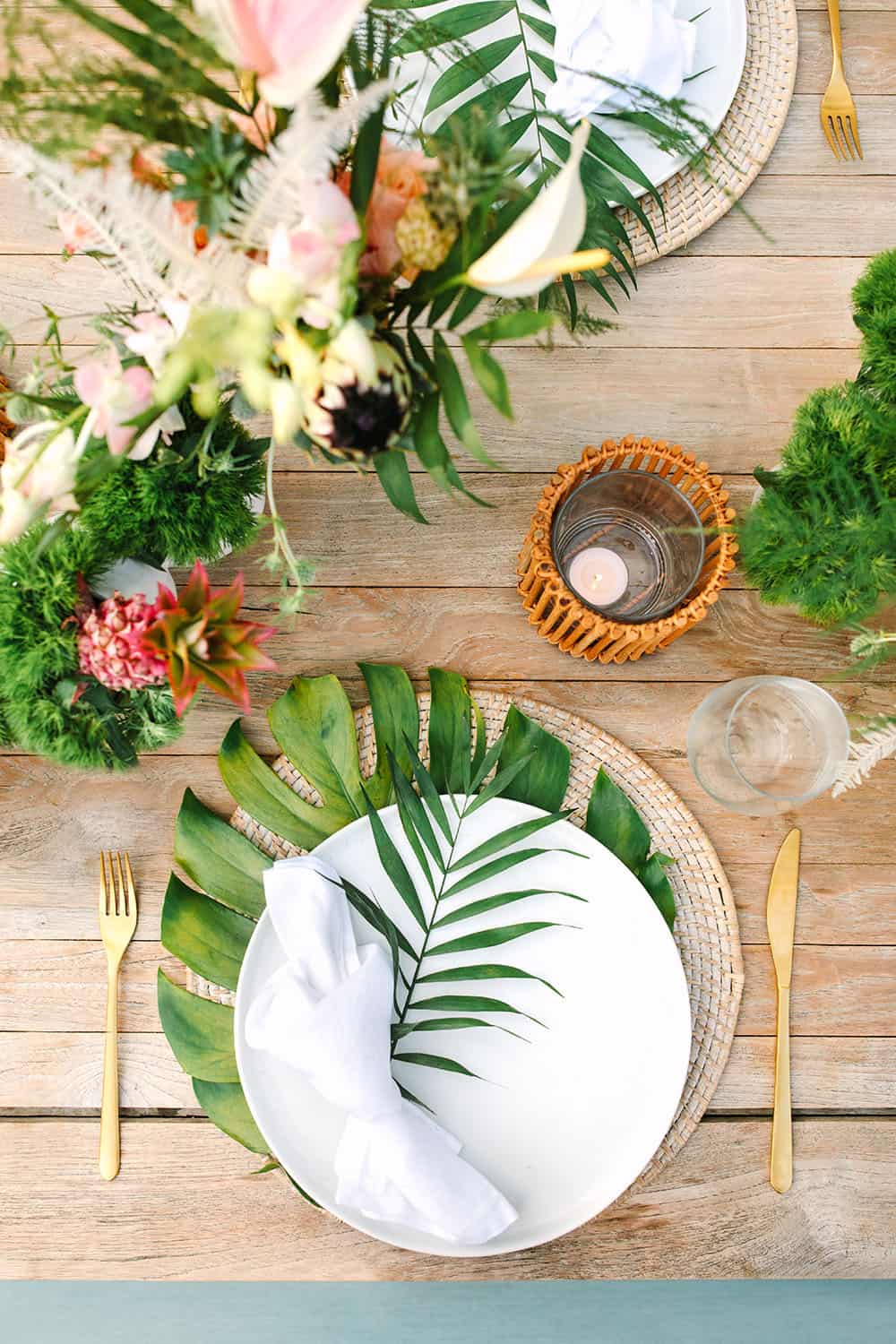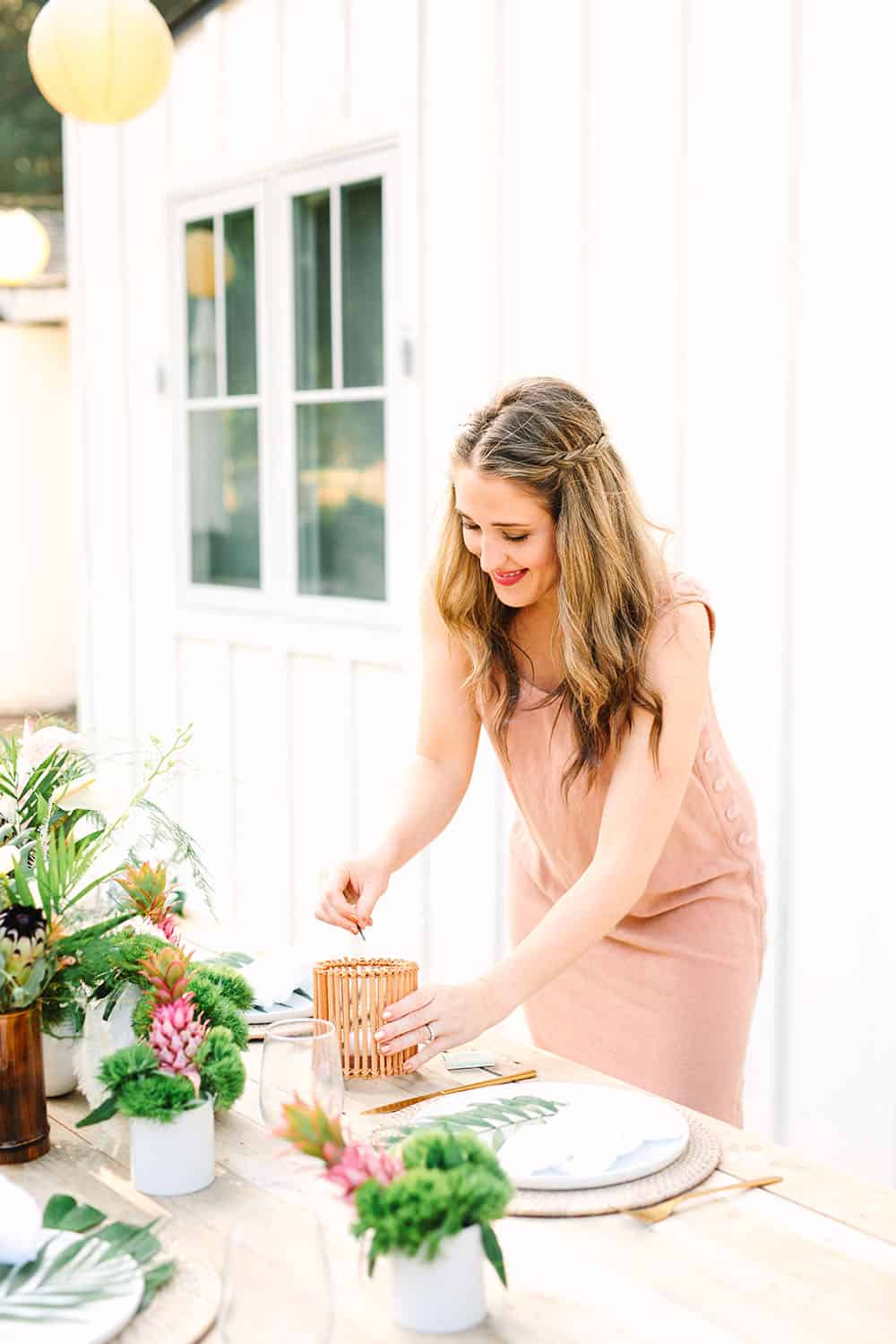 Flowers down the center of the table add a pop of color and look gorgeous! White Fig Designs created unique and beautiful tropical flowers for our party.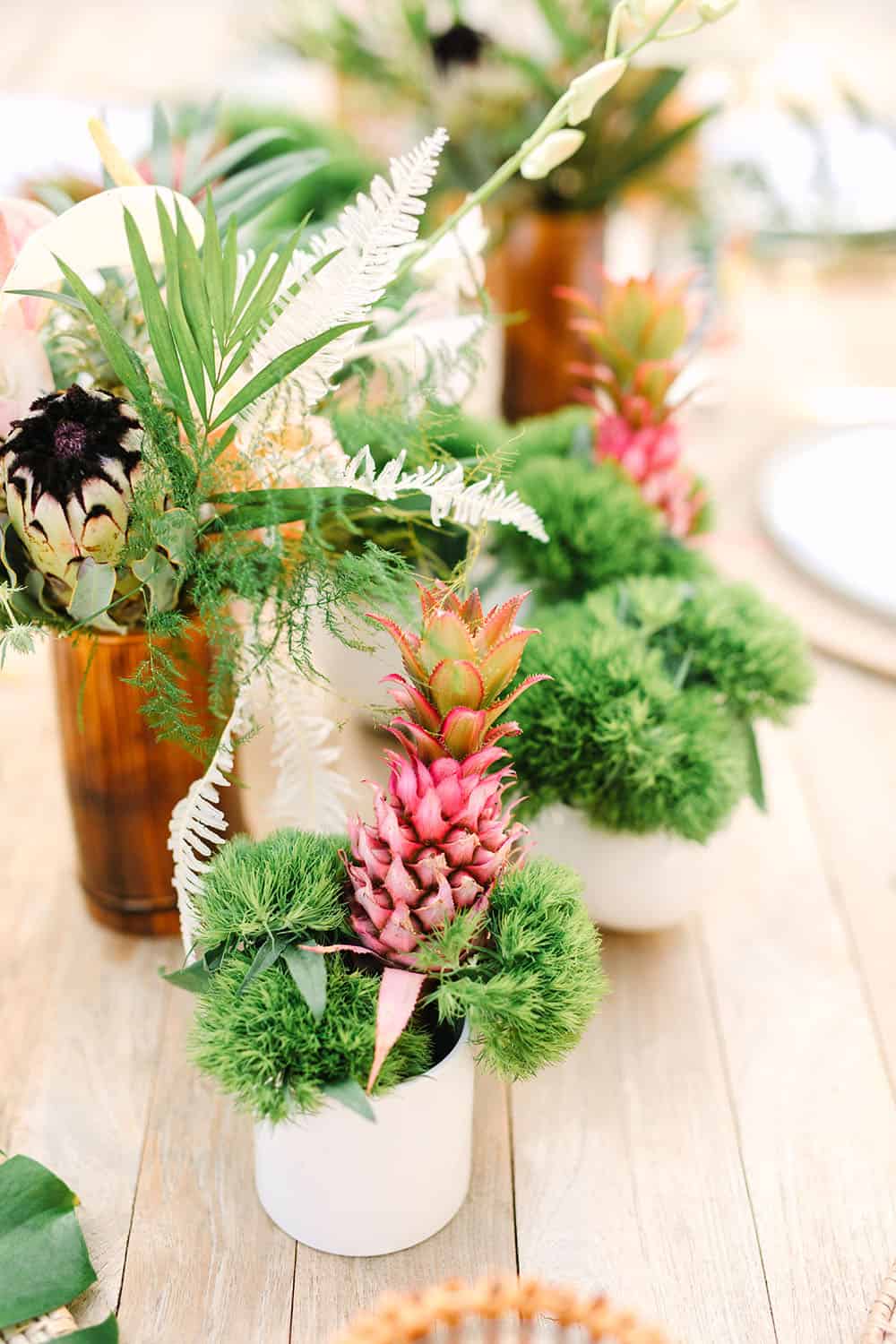 Tropical Party Food
Place all of the food around a dining table where guests can grab what they want throughout the event. The menu was full of tropical-inspired appetizers.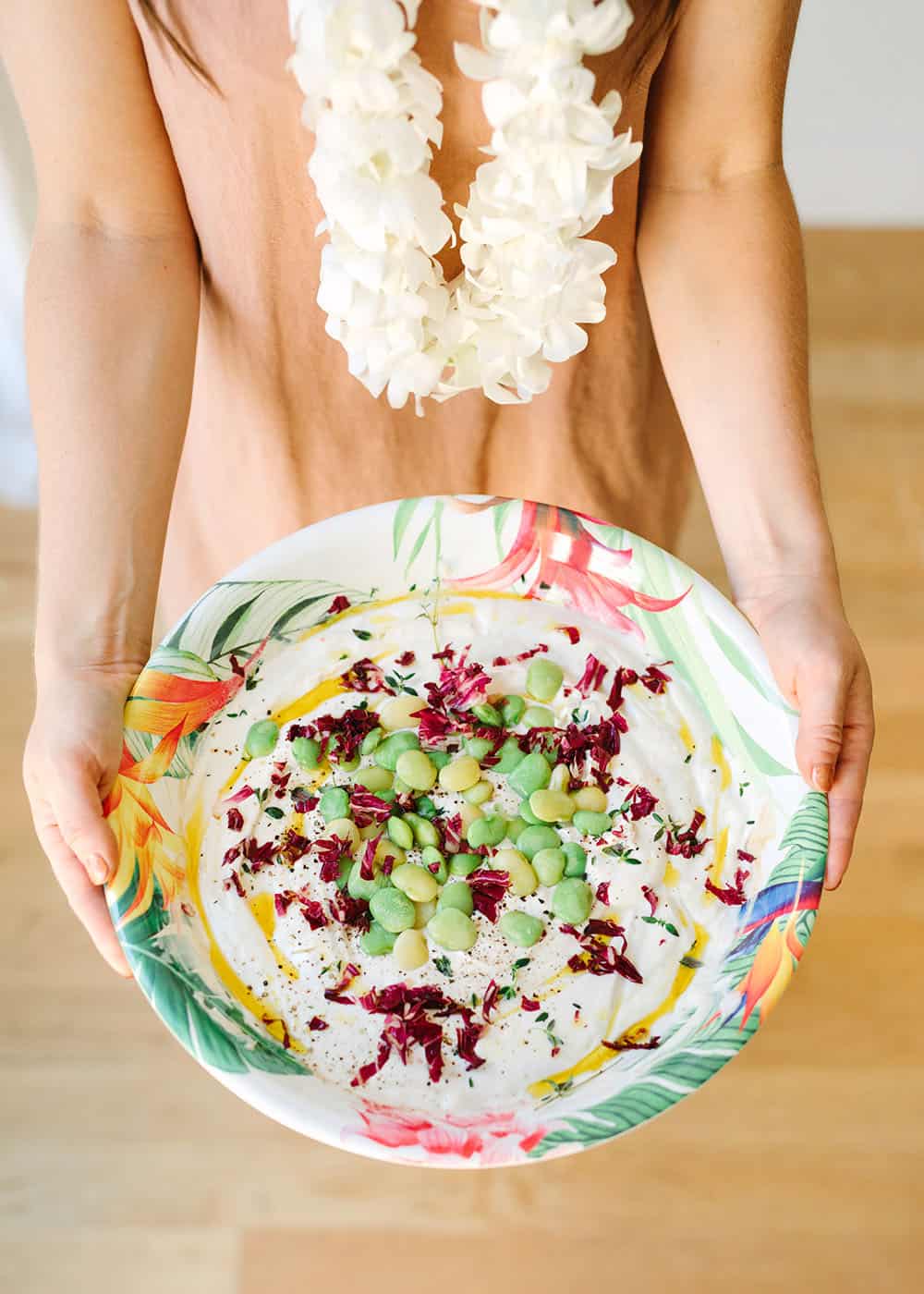 Here is the recipe for our favorite Yogurt Tahini Dip. It's fantastic and perfect with warm pita!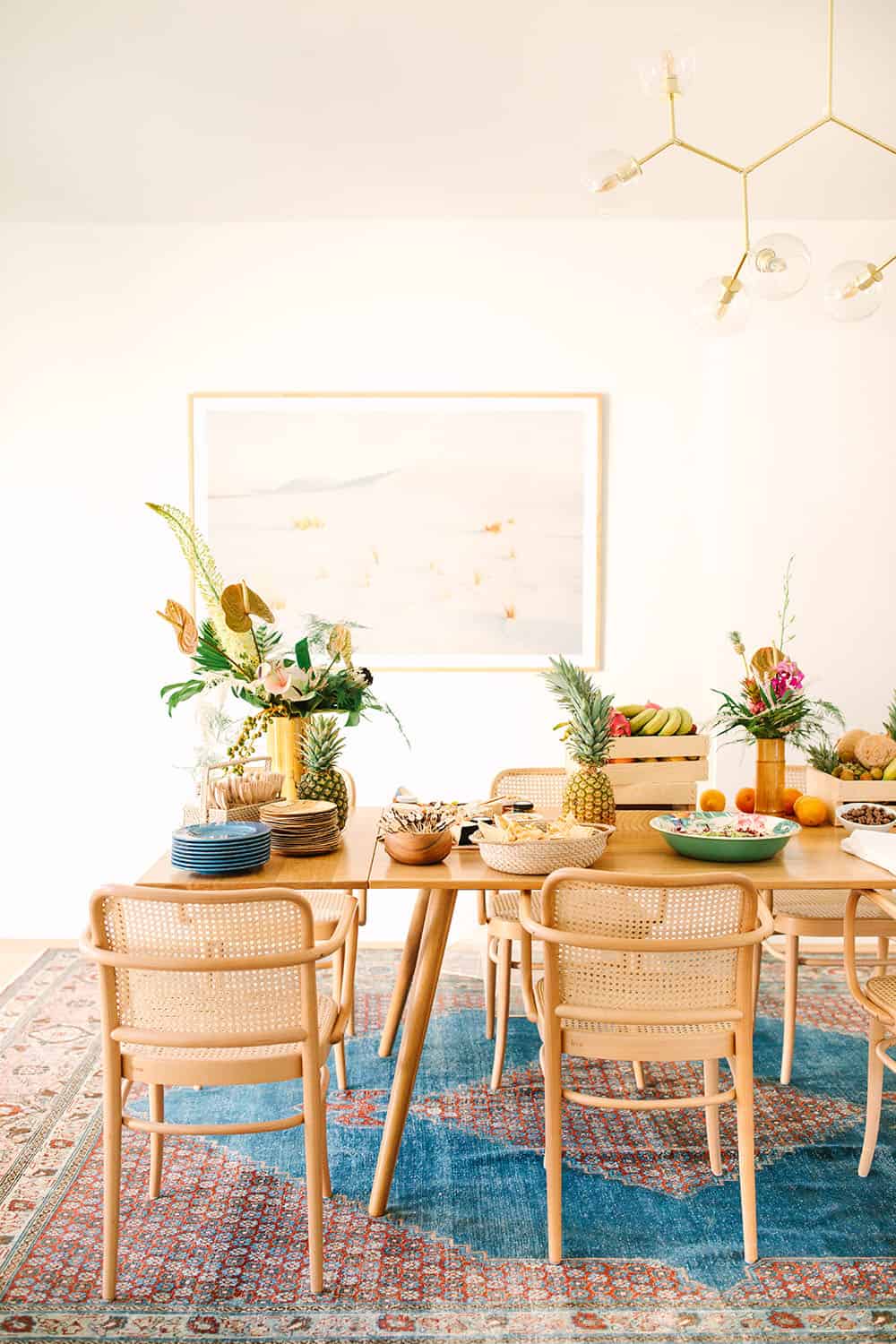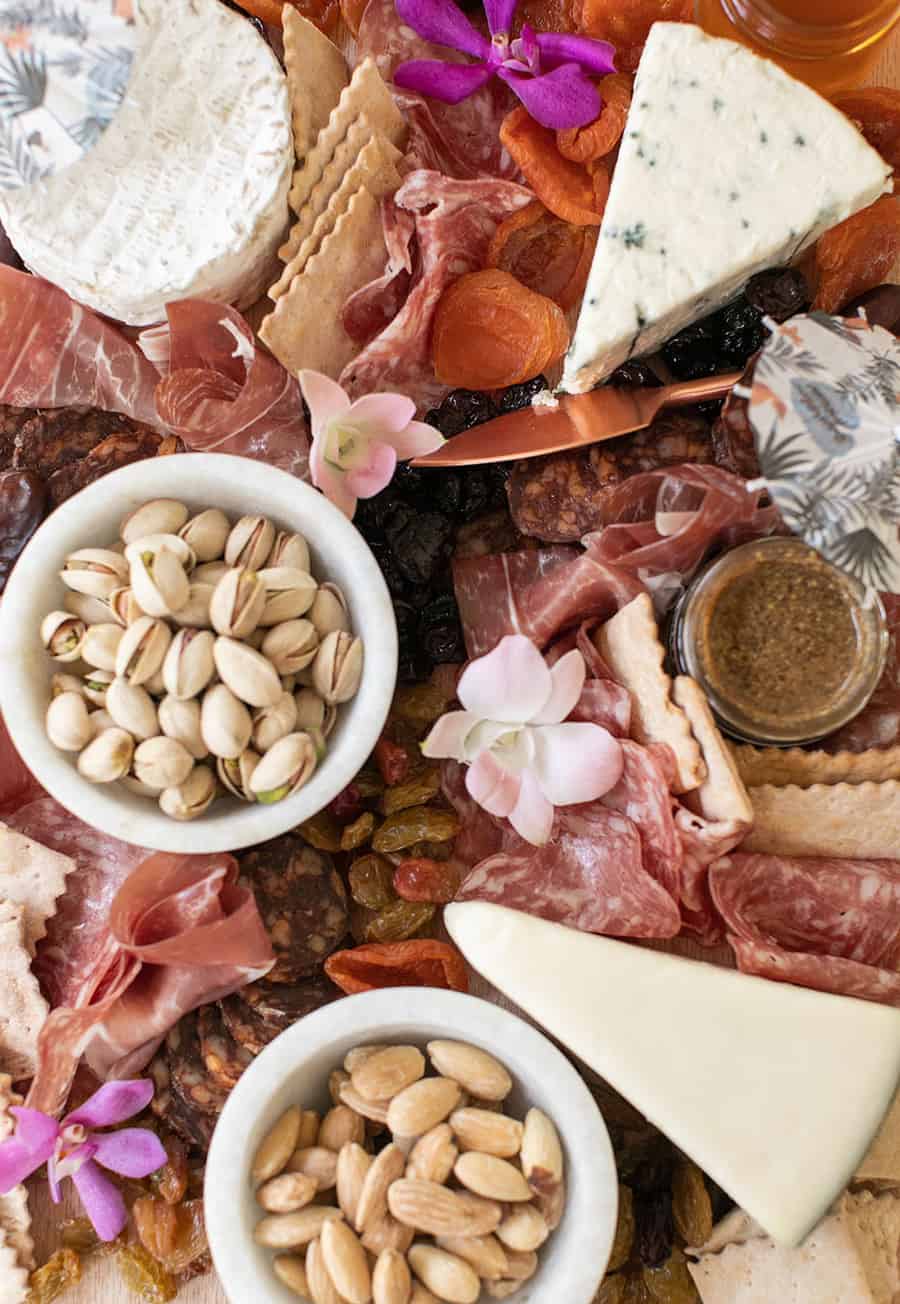 You can order cheese boards from Williams Sonoma and have them delivered a day or two before the party. They come in a charming box with the best ingredients and everything you need to create a board, including the board itself!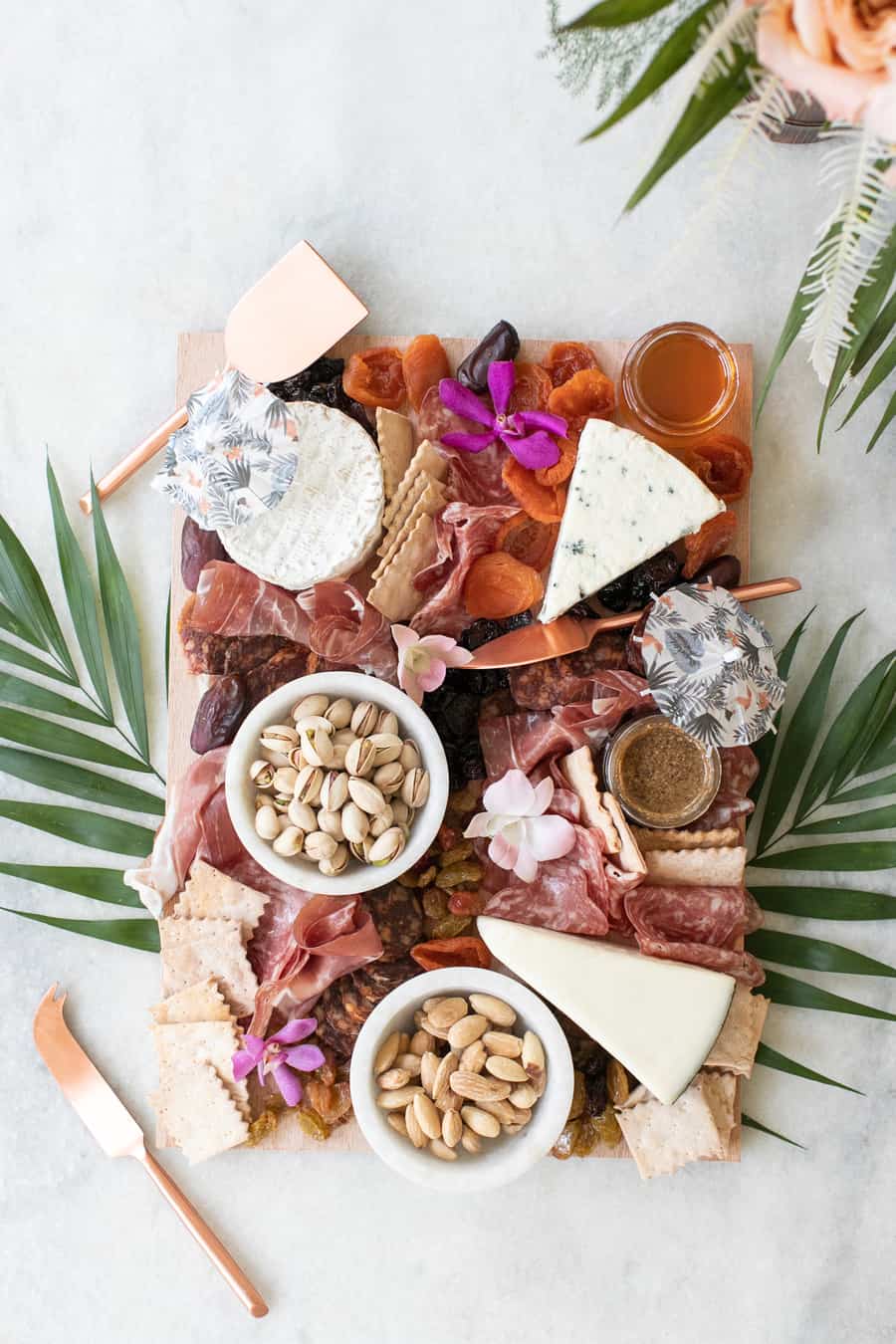 Tropical Party Dessert
You truly can't do it all when you're hosting a large party. Instead of making the dessert, hire a local company to hand out popsicles or scoops of ice cream. This way you don't have to worry about serving during the event.
However if you want to make some fun desserts, here are a few of our favorite recipes that are perfect for summer!
Ice Cream Bar – Guests can serve themselves.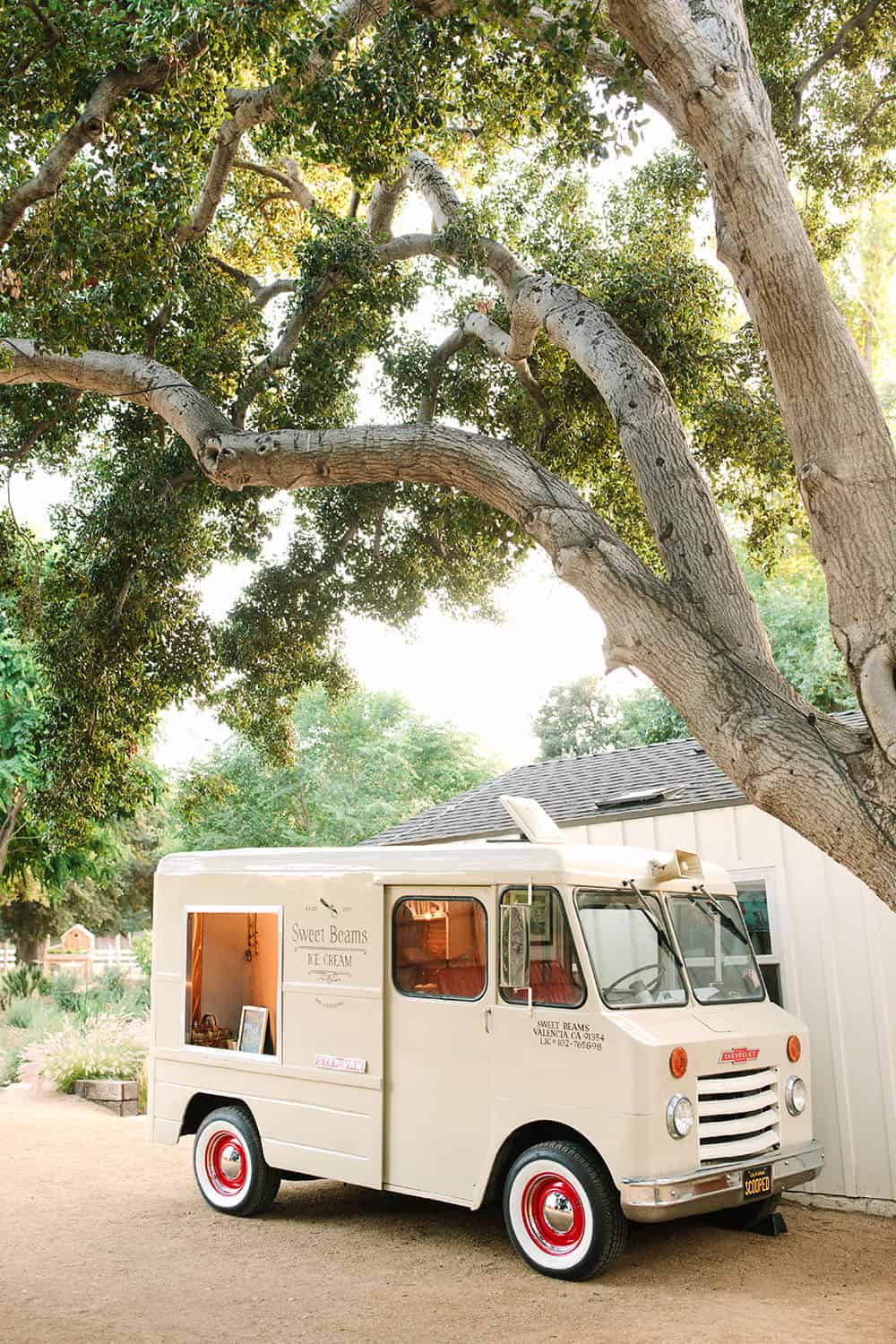 We had Sweet Beams, a charming ice cream truck, at the party. It was a huge hit and made my life, as the hostess, much easier. I chose tropical ice cream flavors to be served with tropical toppings.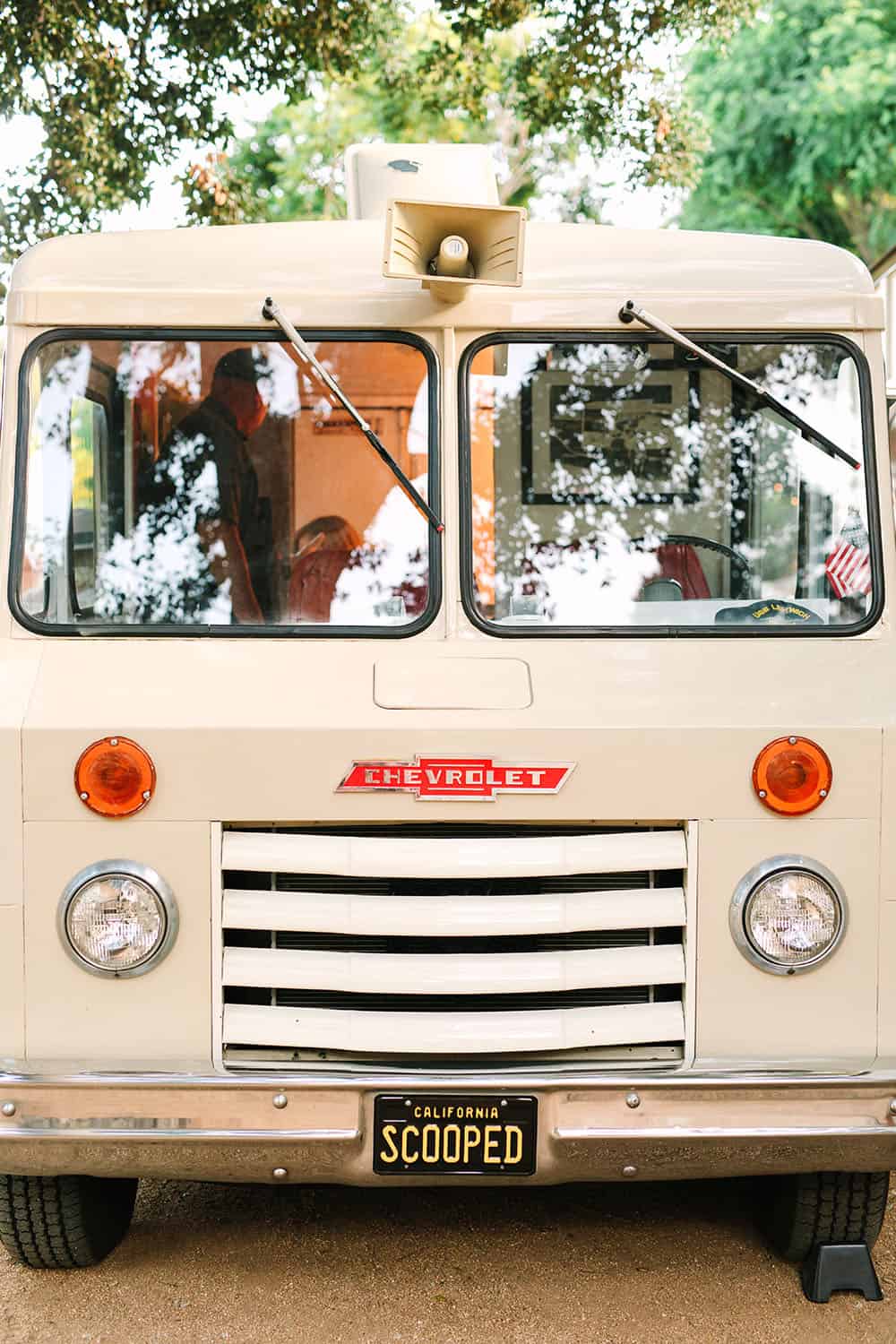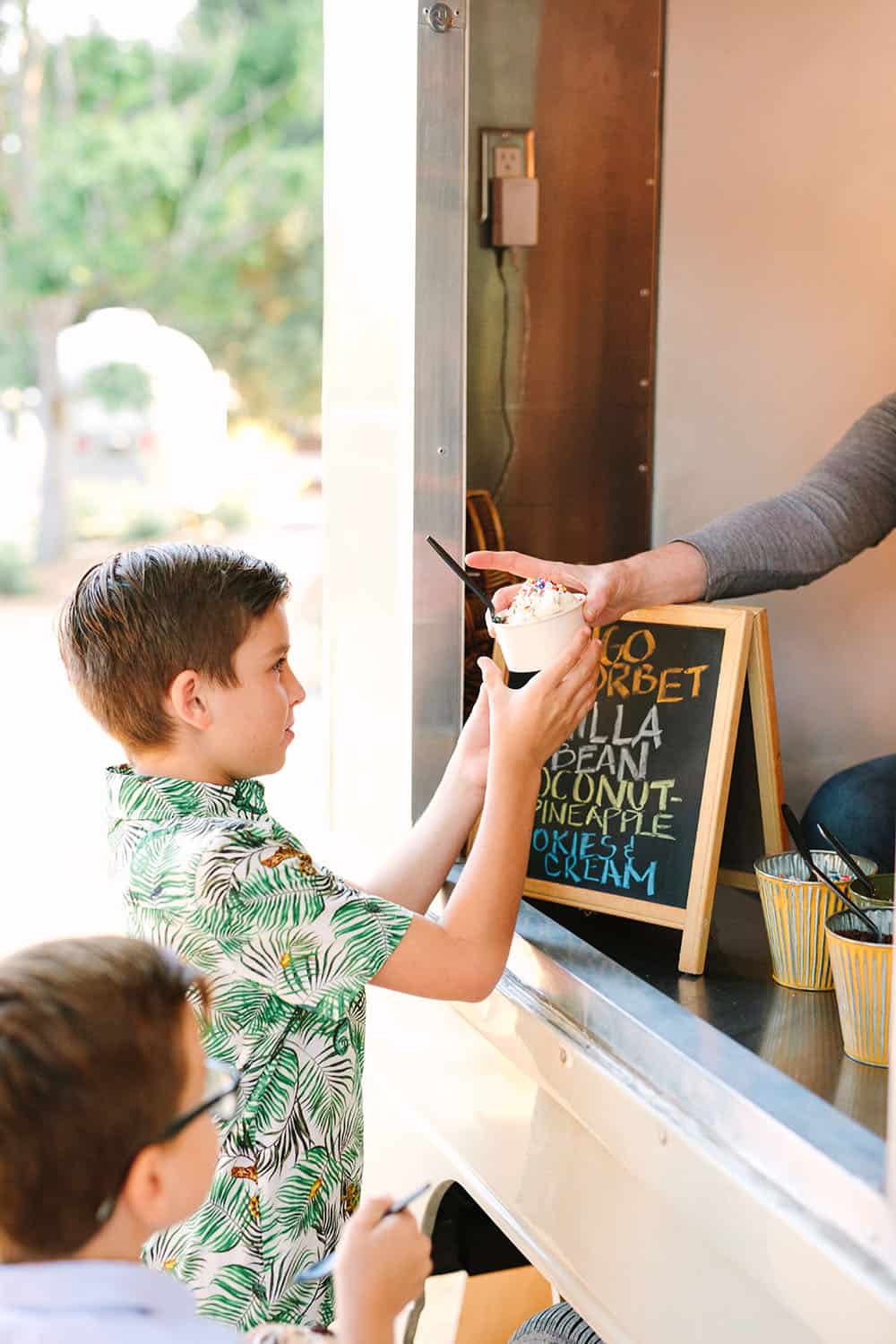 Kids and adults enjoyed unlimited scoops of ice cream!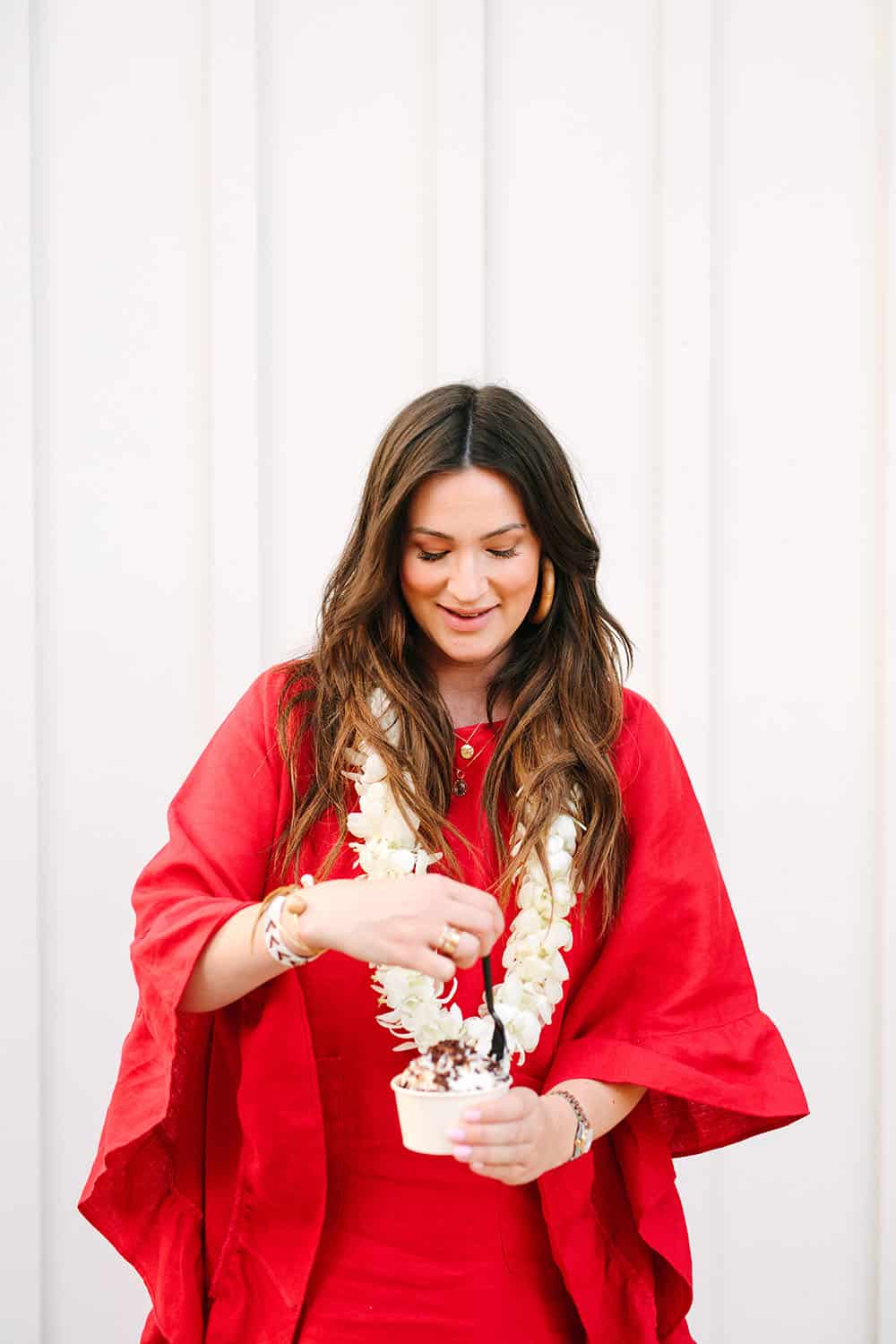 Pretty sure each kid had about 5 scoops of ice cream!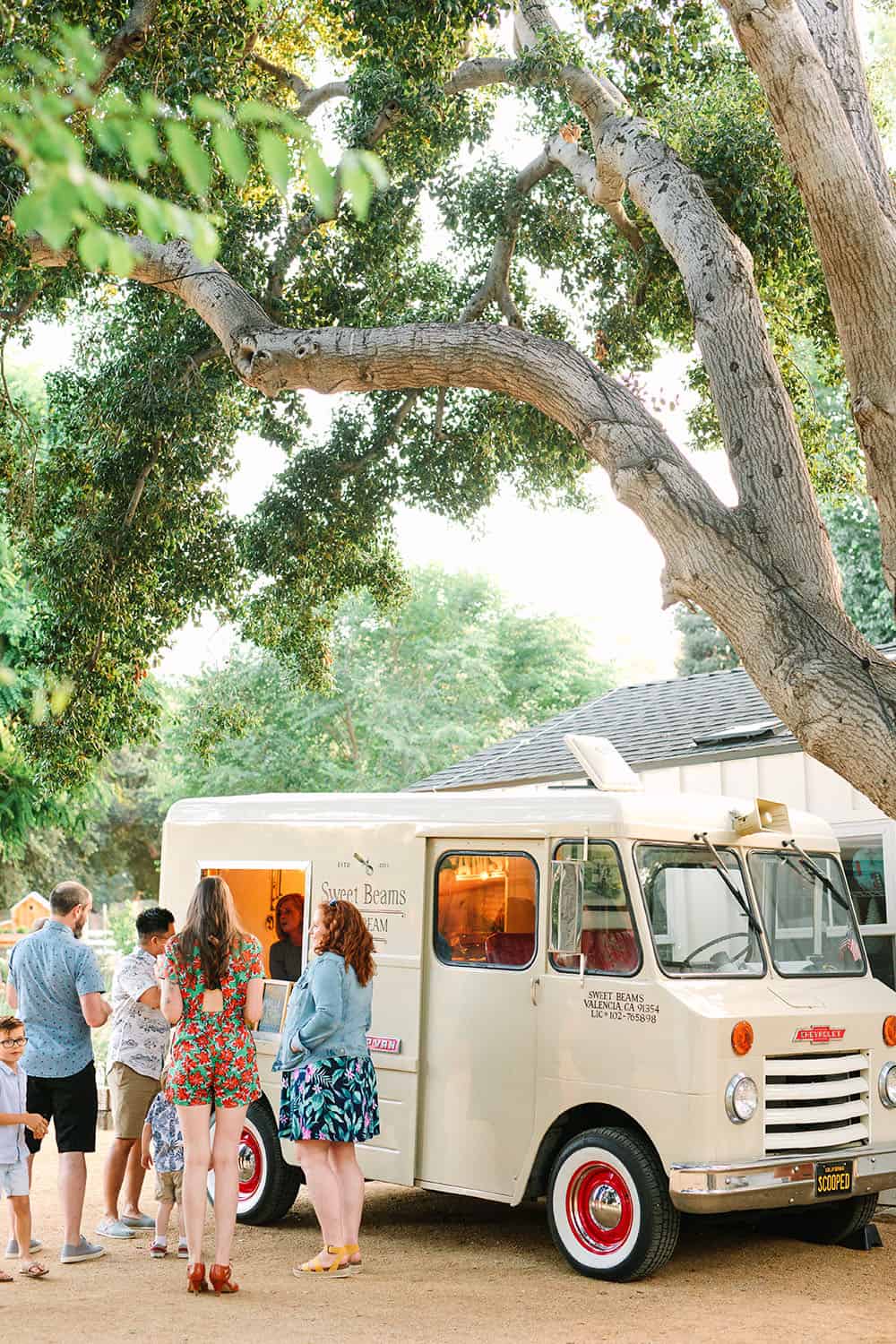 Water is probably one of the most important details of a summer party. There must be a lot of it and it has to be easily accessible. We had vintage coolers full of our favorite hint water for guests! If you haven't tried hint, it's lightly infused with fruit essences but has zero sugar, calories, etc. Our favorite!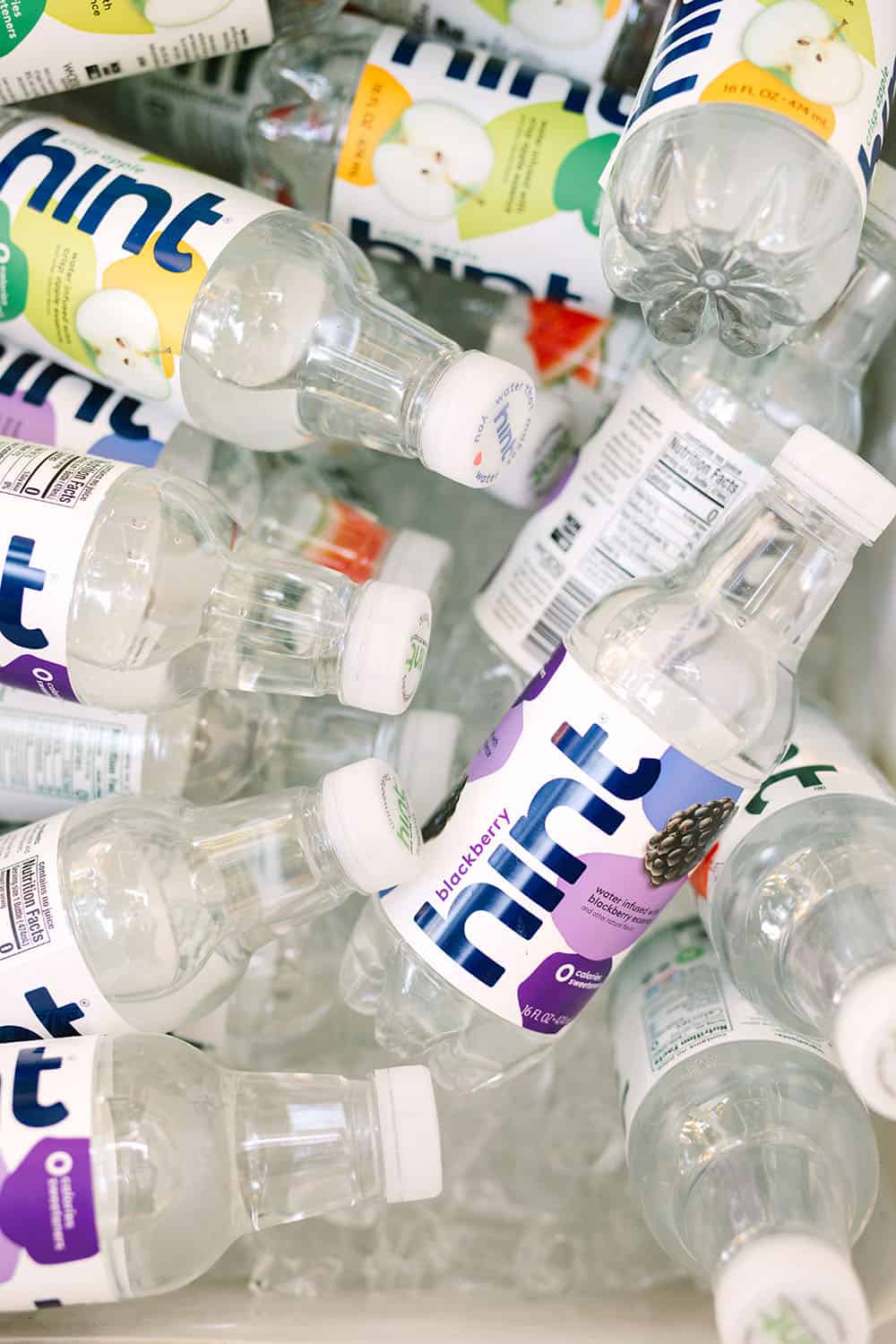 Tropical Party Favors
This party is all about fun in the sun, which also means protecting your skin! As a party favor, guests took home our favorite, tropical hint sunscreen! It literally smells like a pineapple!! It was fun introducing my friends to a beautiful line of sunscreen.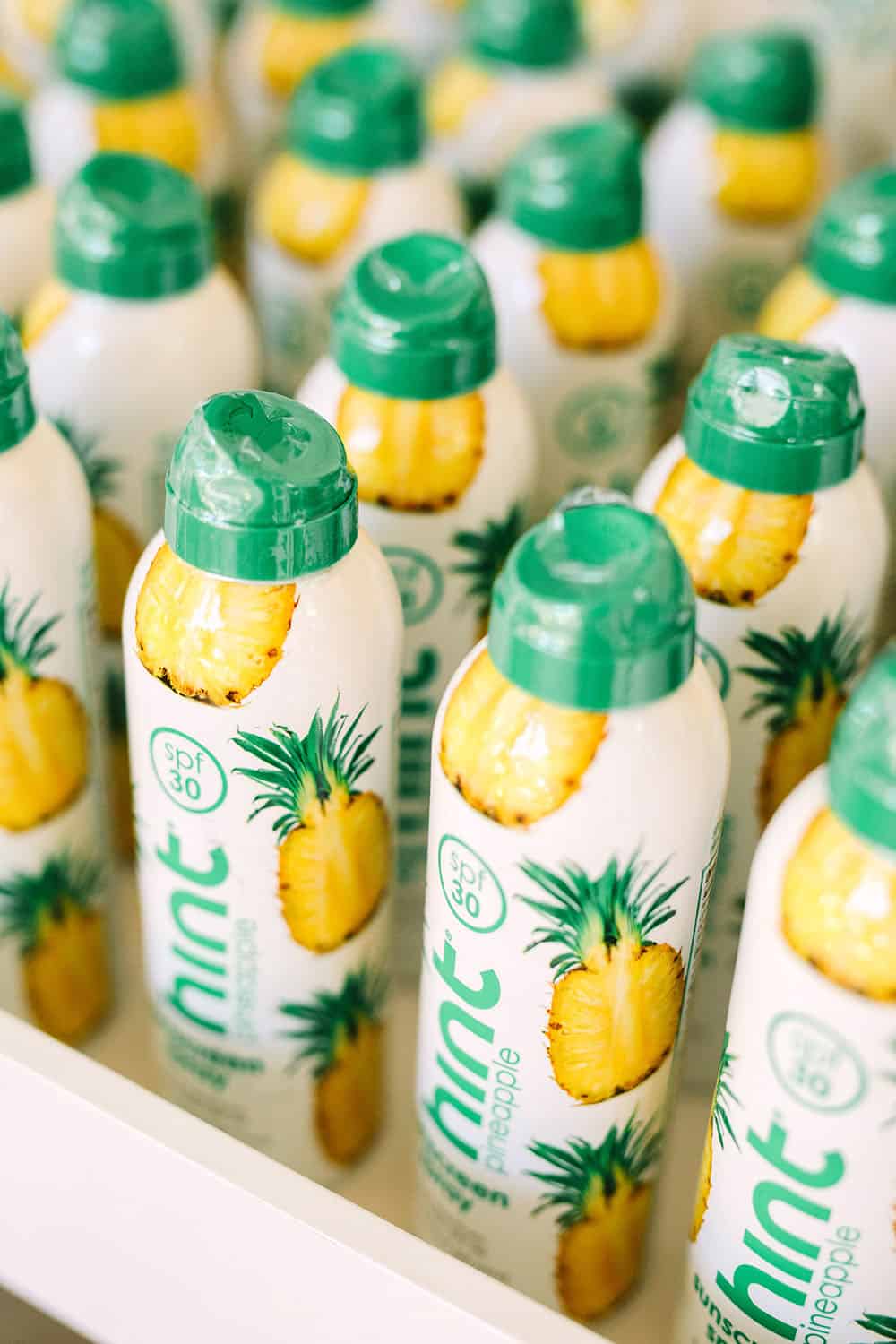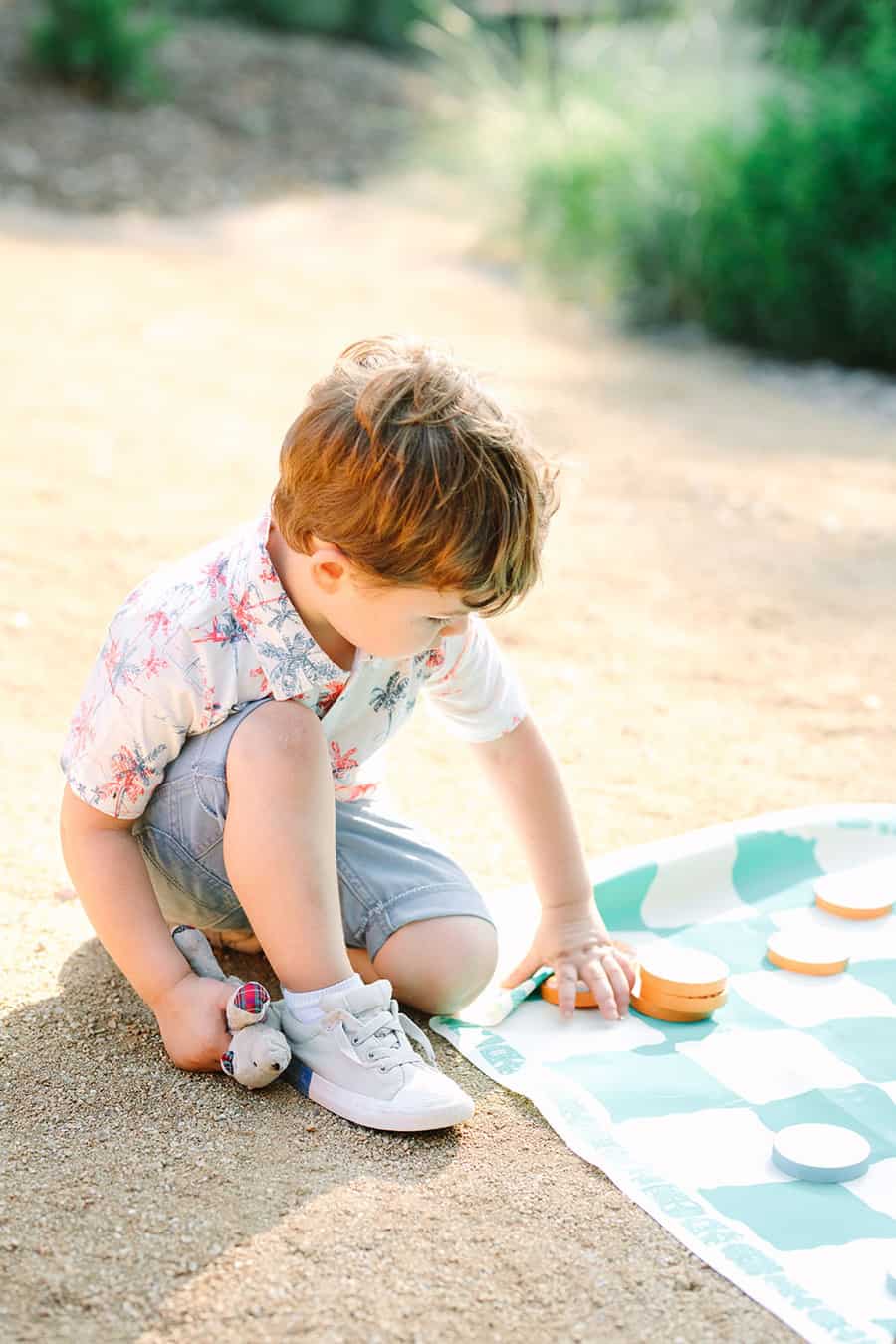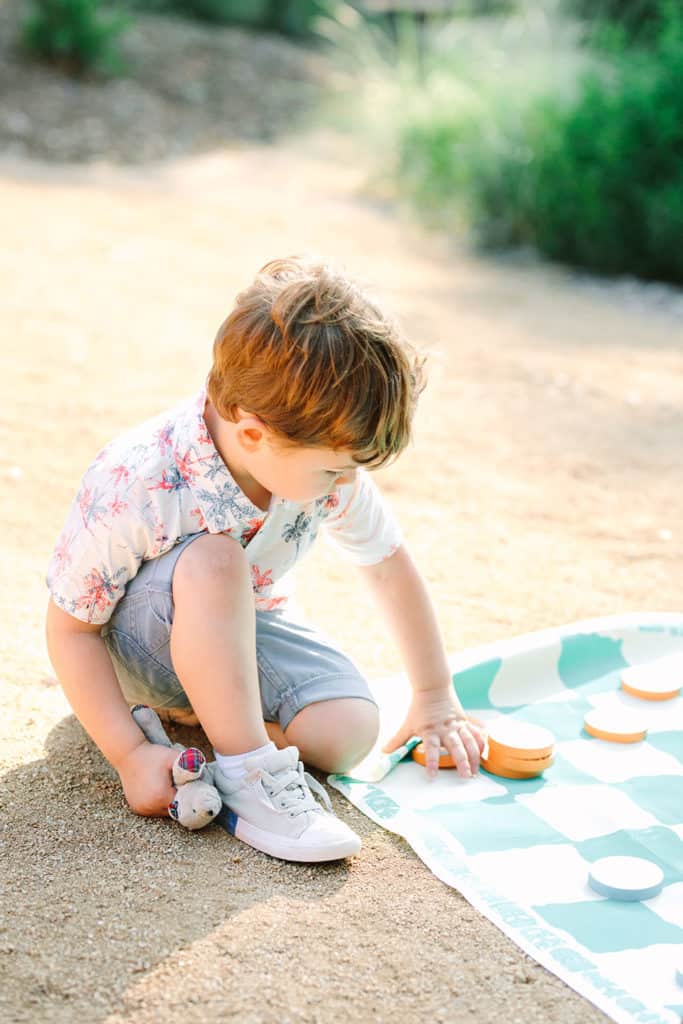 Tropical Kid Activities
Before I started planning this party, I knew I wanted it to be a family event. To keep the kids busy, I had a few different activities for them!
Coconut Hunt – I hid coconuts around the yard and gave away prizes, attached to the number on each coconut, to those who found them.
Popsicle Chalk – Kids love creating their own art on our back patio, so we had a few platters of popsicle chalk.
Outdoor Tiki Yard Games – World Market has a great line of summer games that fit the party theme perfectly.
Cornhole – No matter what theme it is, we always have our cornhole boards out for a summer party.
Hula Hoops
Giant Beach Balls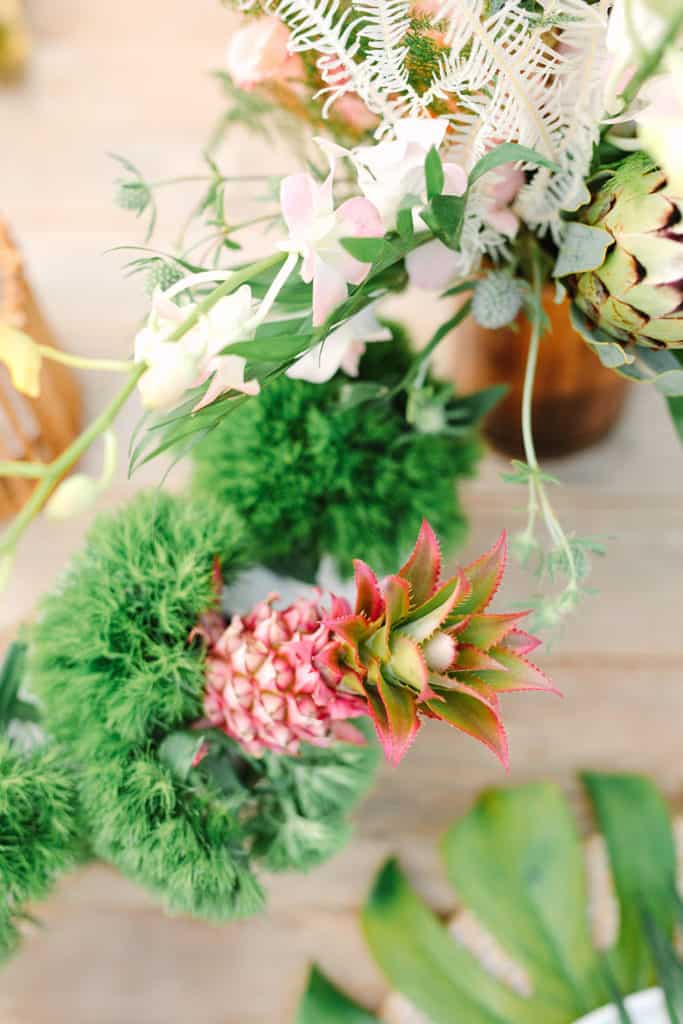 More Summer Party Themes!
Let us know if you host a tropical summer party! Tag us @sugarandcharm and share your photos!
Photos by Mary Costa Photography!