Looking for a refreshing drink to enjoy during the hot summer months? Look no further than the sea breeze cocktail recipe! This mixed drink is perfect for sipping on a porch or by the pool. It's easy to make and requires just 3 simple ingredients! It's one of the easiest cocktails to make!
There's nothing quite like a refreshing sea breeze cocktail on a hot summer day. The sweet and tart flavors of cranberry juice and grapefruit juice are the perfect pick-me-up, and the vodka gives the drink a little bit of a kick.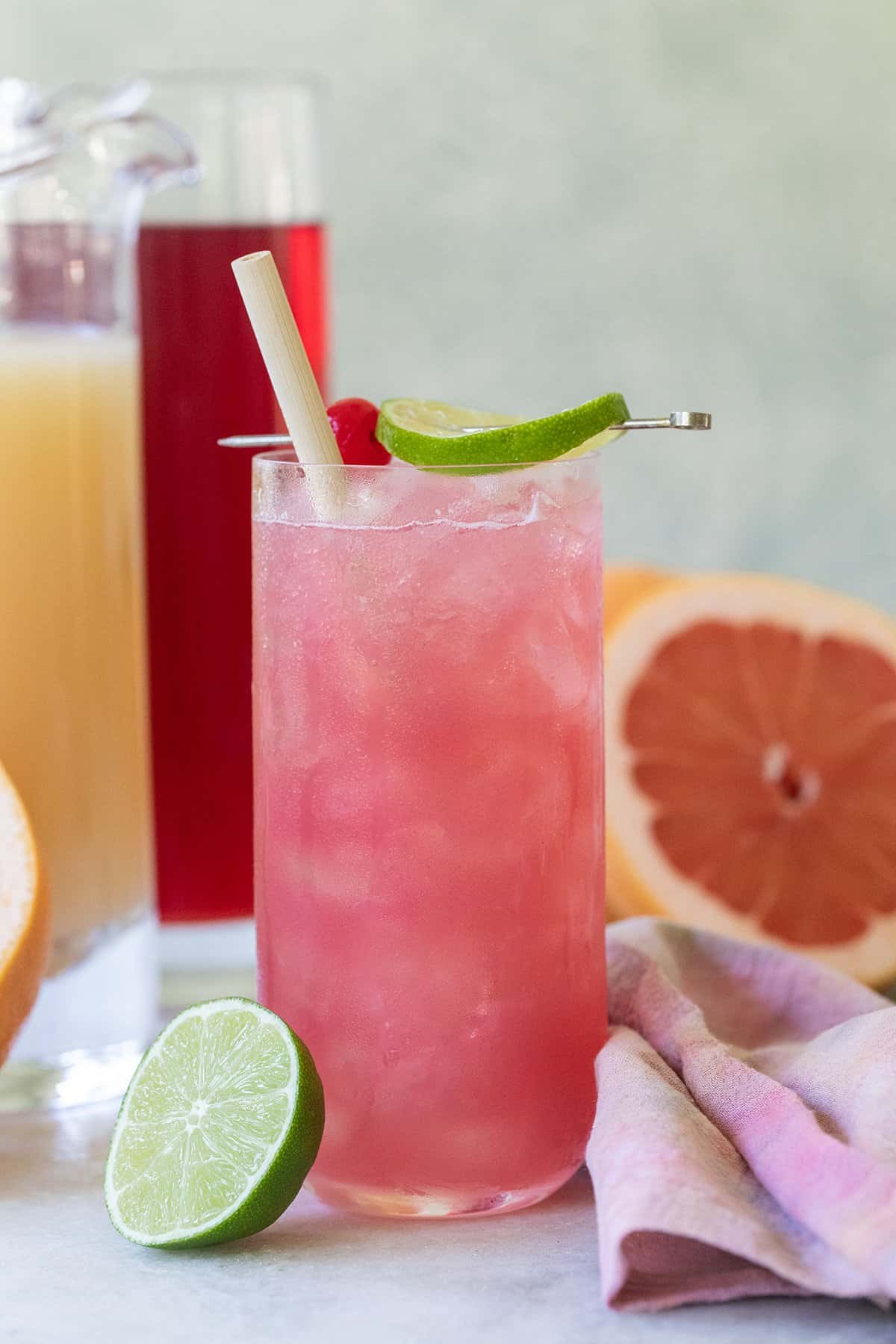 Where did this popular cocktail come from?
The sea breeze cocktail was first created in the 1920s, during the prohibition era. At that time, many Americans were looking for ways to enjoy their drinks without alcohol, and cranberry juice was often used as a non-alcoholic mixer.
However, some clever bartenders decided to add a shot of vodka to the mix, creating the perfect refresher for a hot summer day. The drink quickly became popular, and it has remained a staple of American bar culture ever since.
We're covering all the details you need to know about making a sea breeze cocktail, including the best recipe and some tips on how to serve it.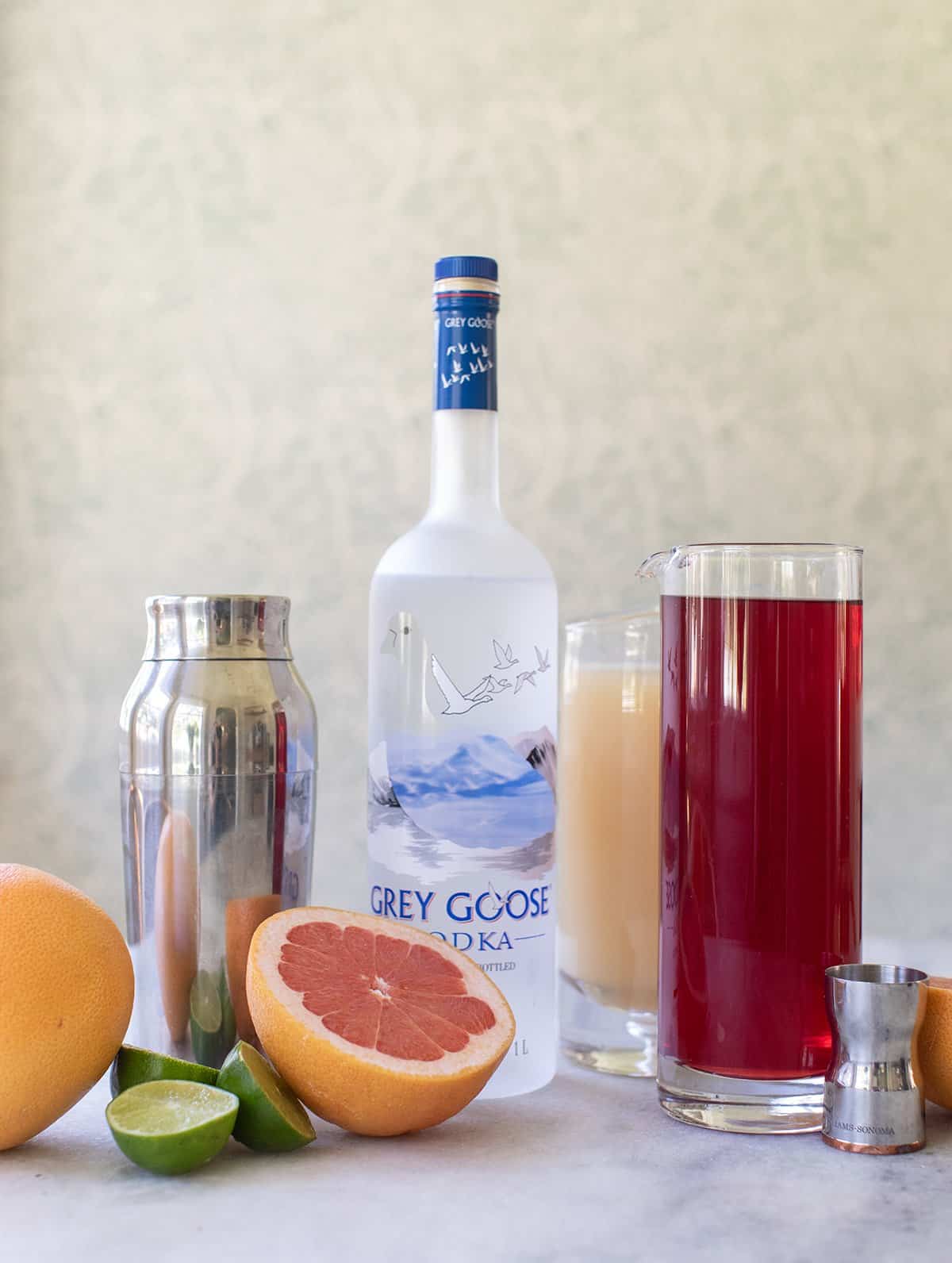 How to Make a Sea Breeze Cocktail
We cover everything you need to know to make this refreshing drink, answer frequently asked questions, and share our expert tips for making this drink. If you want to jump to the recipe, scroll to the bottom of the post where you'll find the recipe card.
This drink is made with two fruit juices and vodka. You can find all of the ingredients for this delicious cocktail at your local grocery store.
Ingredient Notes
Vodka – Vodka is a type of alcohol made from fermented grains or potatoes. It is usually distilled multiple times to remove impurities, and it is often flavorless or has a very mild flavor. See our vodka recommendations below.
Cranberry Juice – Use sweetened cranberry juice when making this recipe. This is a type of fruit juice made from cranberries. Cranberries are a small, red fruit that grows in wet, boggy areas. They are very tart and have a high acid content.
Cranberry juice is usually made from cranberries that have been crushed and then strained to remove the seeds and skin. It is often used as a mixer for cocktails, and it can also be enjoyed on its own.
Grapefruit Juice – Grapefruit juice is a type of citrus juice made from grapefruits. It is usually pink or red in color and has a tart, acidic flavor. Use fresh grapefruit juice if you can.
Lime Wheel or Lime Wedge – A lime wheel is a slice of lime that is used as a garnish for cocktails. It can also be used to add flavor to the drink.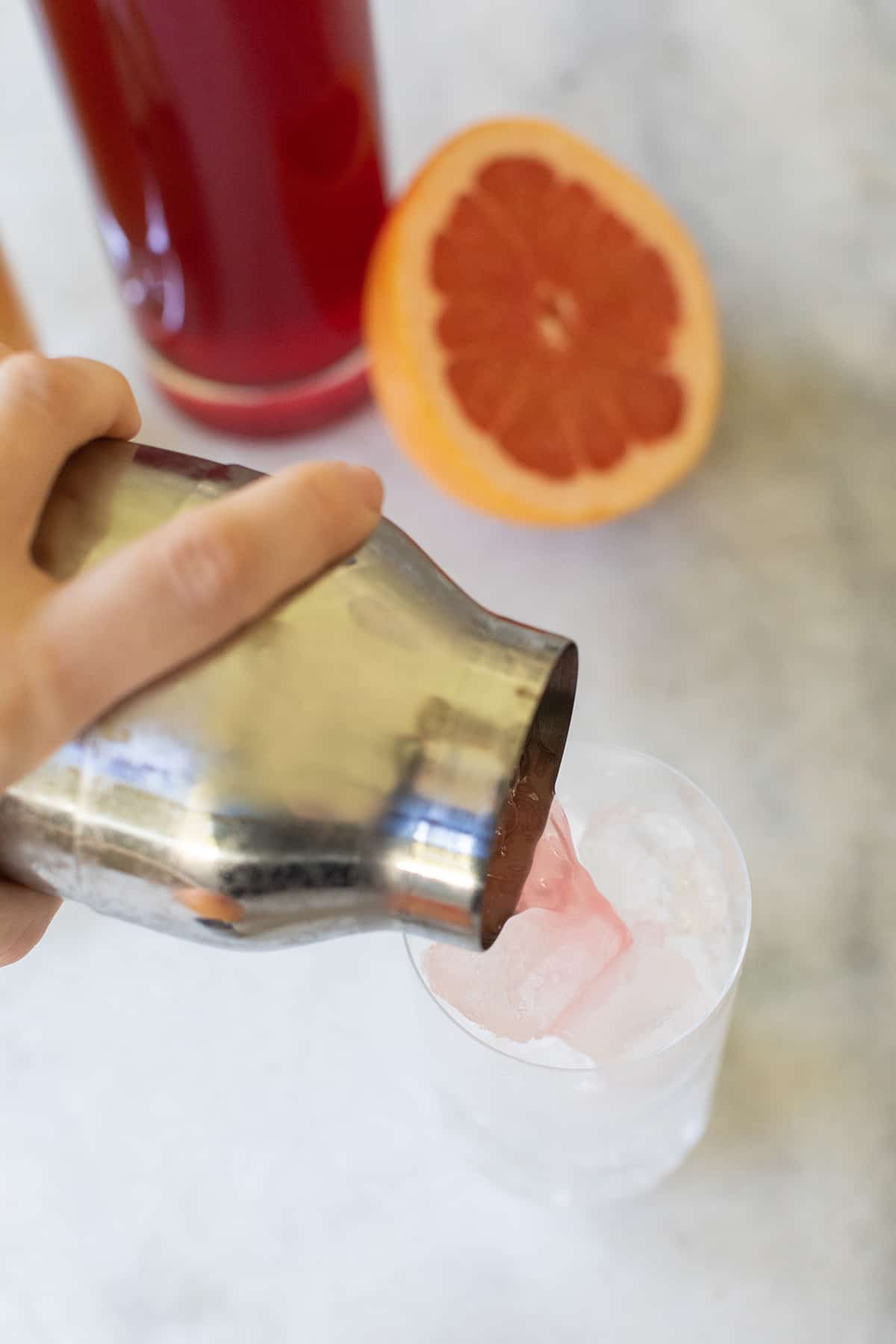 Instructions
Start by filling a cocktail shaker with ice.
Add vodka, cranberry juice, and grapefruit juice and shake for 20 seconds.
Garnish with a lime wheel and serve.
Sea Breeze Cocktail Recipe Variations
Here are some ways you can switch up this sea breeze cocktail recipe:
Cranberry Vodka – Use cranberry-flavored vodka for a sweeter, fruitier drink.
Pink Grapefruit Juice – If you can find it, use pink grapefruit juice for a prettier drink.
Cranberry Liqueur – Add a shot of cranberry liqueur for a sweeter drink.
Cranberry Bitters – Add a few drops of cranberry bitters for a tart, flavorful twist.
Flavored Vodka – Use any flavor of vodka that you like. Popular choices include citrus, strawberry, and raspberry.
Rosemary – Garnish your drink with a sprig of rosemary for a festive touch.
Winter Sea Breeze – To make a winter sea breeze, substitute cranberry juice for pomegranate juice and add a shot of cinnamon schnapps.
Hawaiian Sea Breeze – To make a Hawaiian sea breeze, substitute pineapple juice for grapefruit juice.
Apricot Brandy Sea Breeze – To make an apricot brandy sea breeze, add a shot of apricot brandy to the recipe.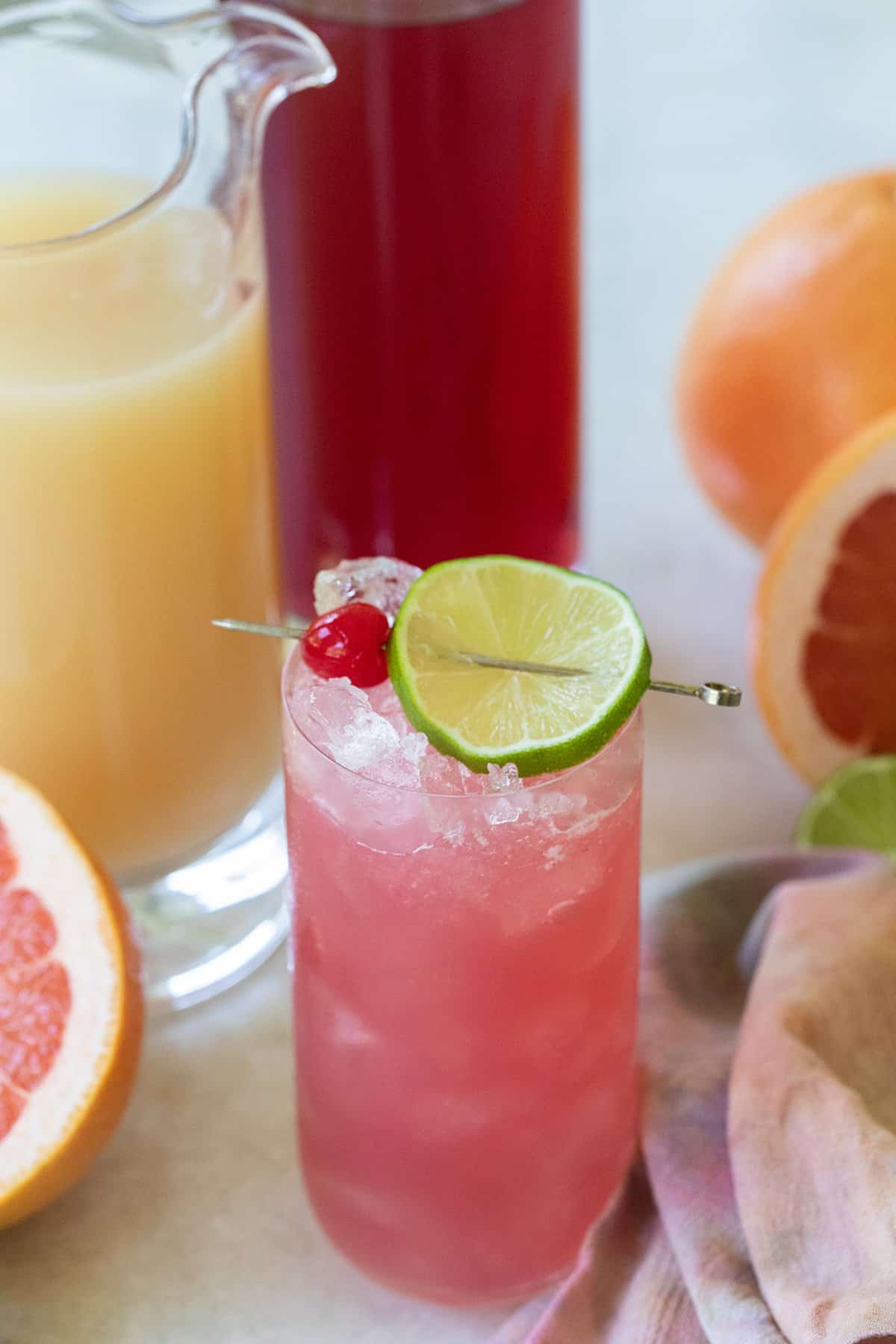 Recipe for a Large Batch
This cocktail makes a perfect party punch recipe.
If you're making this drink for a party, you can easily make a large batch ahead of time. Simply multiply the ingredients by the number of drinks you want to make.
For example, for 12 drinks you would need 18 ounces vodka, 36 ounces cranberry juice, and 18 ounces grapefruit juice.
Mix all of the ingredients together in a pitcher and store in the fridge until you're ready to serve.
Garnish each drink with a lime wheel just before serving.
Sea Breeze Cocktail Garnishes
Here are some ideas of what you can garnish your sea breeze cocktail recipe with:
Lemon wedge or Lime Wedge – Either one of these citrus fruits is perfect for a garnish.
Orange slice – Adds color and flavor to the drink. You can also use a dehydrated orange slice too.
Maraschino Cherry – Add a pop of color to the drink with a bright red cherry.
Cranberries – Fresh cranberries or sugared cranberries are a perfect topping for this drink.
Sea Breeze Mocktail
If you're looking for a non-alcoholic version of this drink, simply omit the vodka. You can also add a splash of club soda or sparkling water for a bit of fizz. Garnish with a lime wheel and enjoy.
Tips for Making The Best Sea Breeze Cocktail
Use fresh, quality ingredients for the best flavor.
Use high-quality vodka for the best results.
If you're making a large batch, mix all of the ingredients together in a pitcher and store in the fridge until you're ready to serve.
If you don't have a cocktail shaker, you can just stir the ingredients in a glass. However, we like the way it tastes when shaken with ice.
When to Serve a Sea Breeze Cocktail
The sea breeze cocktail is the perfect drink for any summer occasion. Whether you're hosting a pool party or just enjoying a sunny day, this refreshing cocktail will hit the spot. Here are some special occasions you can serve this pink cocktail:
Birthday Party it's also perfect for a last-minute birthday party!
Carnival Party or Garden Party 
Baby Shower and Bridal Showers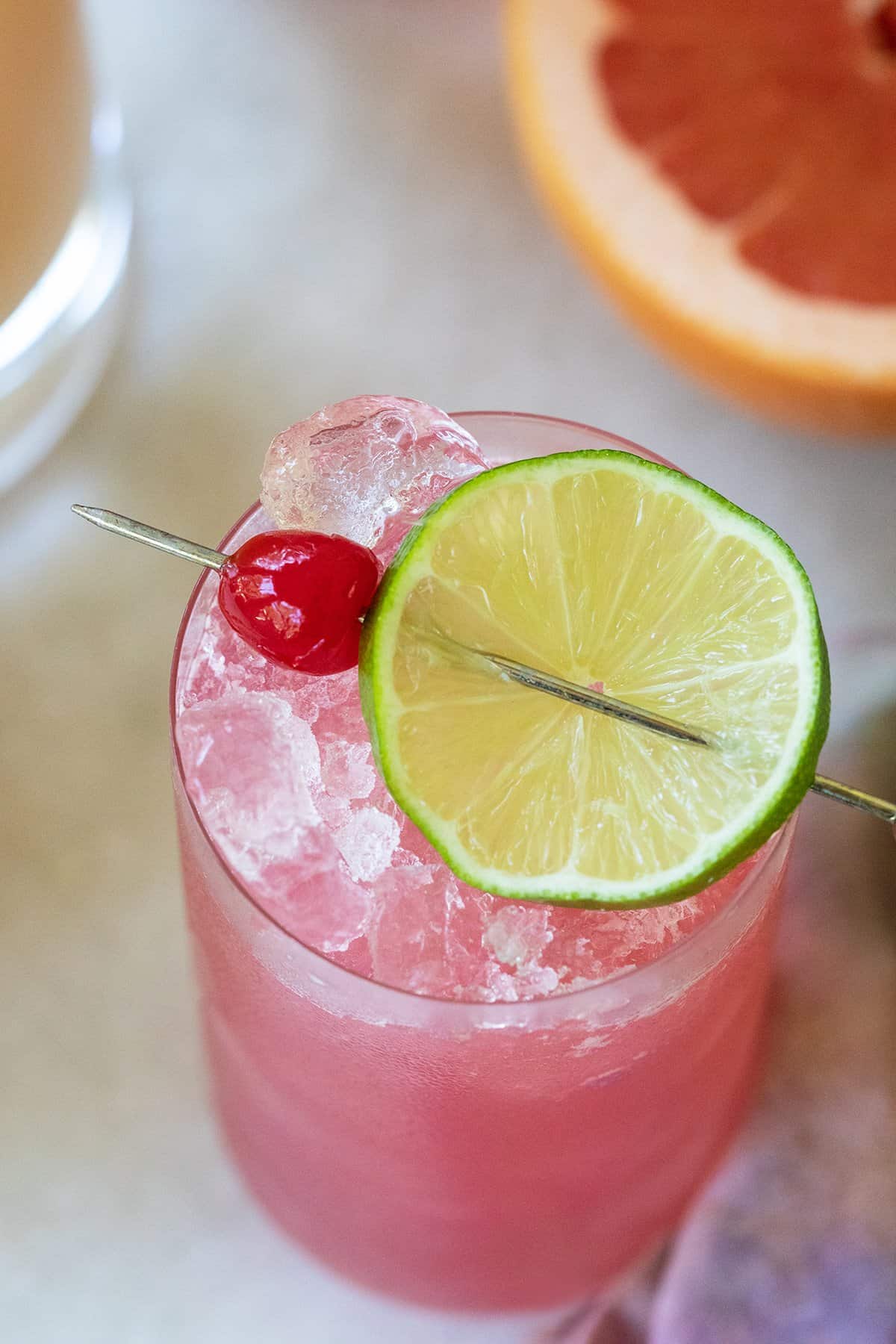 Vodka Brands
There are hundreds of different vodka brands you can use to make a sea breeze recipe. Here are a few of our favorites:
Grey Goose: Made from wheat and natural ingredients in France, this vodka uses naturally filtered water that runs through Grande Champagne limestone. It has a fresh, crisp taste that you can taste even in mixed drinks.
Ketel One: Prepared in small batches since the 1600s, this vodka has fruity and a smooth taste. Ten generations of the Nolet family have tested every batch. It elevates dirty martinis and other mixed drinks with its consistent production process.
Titos is also a good, affordable choice for Vodka.
Reyka Vodka – Reyka is a premium vodka that is hand-crafted in Iceland. It's very good quality for a great price. We recommend this vodka often. It was also awarded Gold at the International Spirits Challenge.
Frankly Vodka – Organic vodka that uses no refined sugars, no gluten, no GMO's, no synthetic pesticides, and no artificial colors.
Ocean Vodka – Another great organic vodka, sustainably produced in Hawaii.
Frequently Asked Questions
What do you serve a sea breeze cocktail in?
A sea breeze can be served in a tall glass, a highball glass, a Collins glass, or even a mason jar.
If you're serving a large batch, you can also use a punch bowl.
How much alcohol is in a sea breeze cocktail?
A standard sea breeze cocktail contains 1 1/2 ounce vodka (one and a half shots).
What is the difference between a Bay Breeze and a Sea Breeze?
The main difference between a Bay Breeze and a Sea Breeze is the type of alcohol used. A Bay Breeze uses rum, while a Sea Breeze uses vodka. Both cocktails are refreshing and perfect for summertime.
What's the difference between a Cape Cod and a Sea Breeze?
The Cape Cod is similar to the Sea Breeze, but it uses cranberry juice as its only mixer. The Sea Breeze also includes grapefruit juice.
How long does a Sea Breeze Cocktail Last?
A sea breeze cocktail will last one day stored in the fridge without ice. After that, the cranberry juice will start to turn brown and the flavors will start to change.
When is the best time to drink a Sea Breeze Cocktail?
You can serve this cocktail year-round. It's great in the summertime as it's a refreshing drink that is perfect for sipping by the pool or enjoying at a picnic. You can also serve it in the winter and garnish it with cranberries for a festive holiday drink.
Grapefruit is actually a winter fruit but can be found year-round. That makes this cocktail perfect for any time of the year.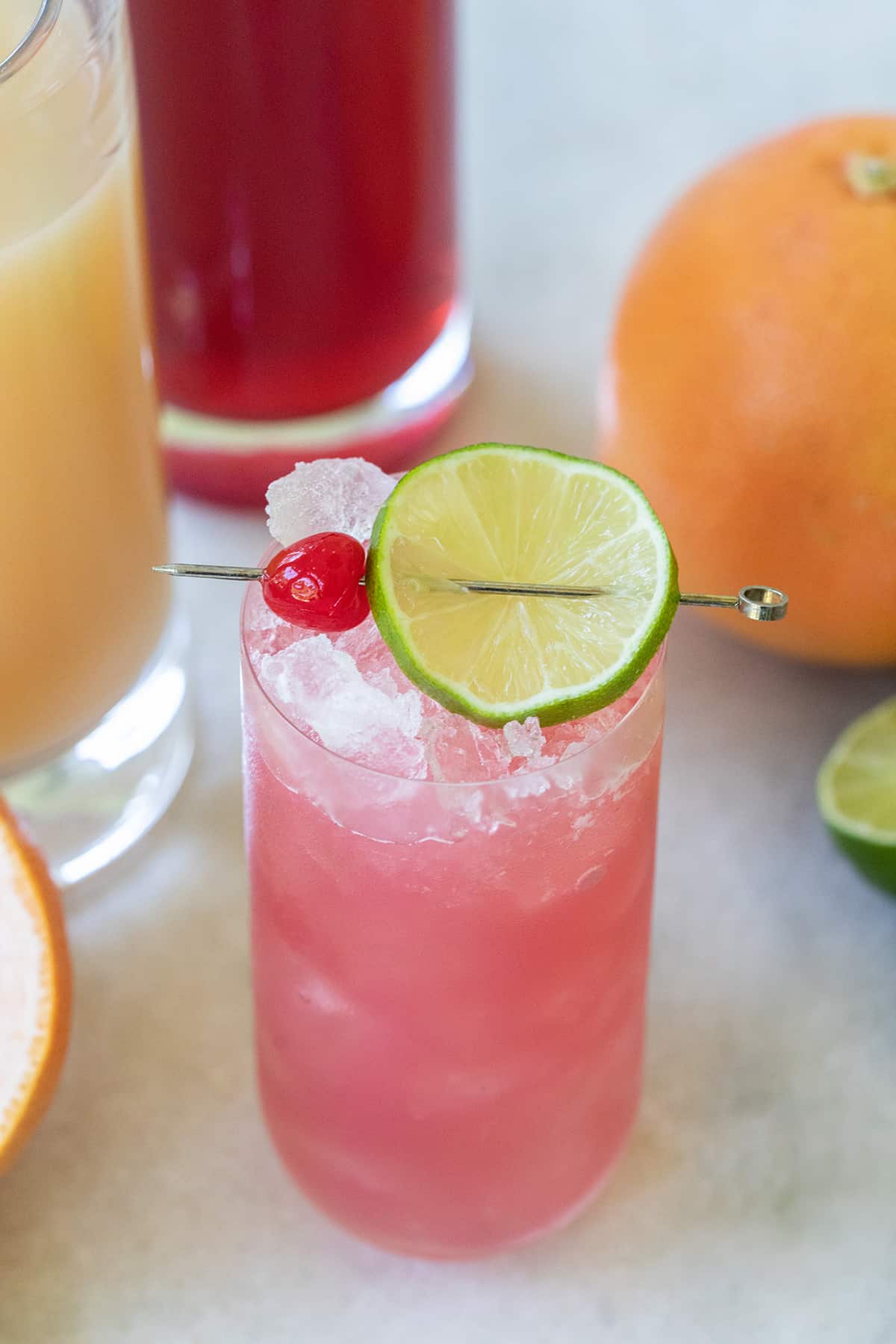 Cranberry Cocktail Recipes
If you love the flavor of cranberry, check out any of these cranberry juice cocktail recipes too!
Cranberry and Thyme Gin and Tonic
More Delicious Drinks You'll Love
Also, check out all of our perfect summer drink recipes, cheap drinks to make at home, and the best mixers for vodka.
Let us know what you think!
So next time you're looking for a tasty and easy cocktail, be sure to give this classic sea breeze cocktail a try. You'll love how easy this drink recipe!
Let us know what you think by leaving a comment below!
You can also FOLLOW US on FACEBOOK, INSTAGRAM, and PINTEREST to see more delicious recipes, cocktails, desserts, and parties!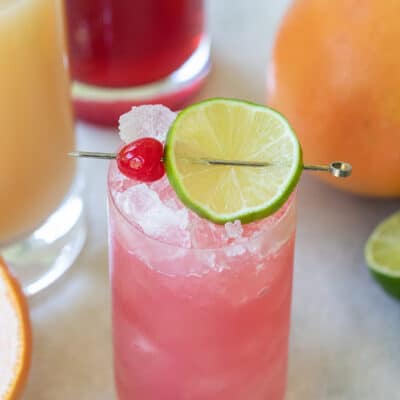 Sea Breeze Cocktail
An easy mixed drink made 3 simple ingredients. This pink cocktail is great for summer and super simple to make!
Print
Pin
Rate
Ingredients
1 1/2

ounce

vodka

3

ounces

cranberry juice

1 1/2

ounces

grapefruit juice

,

fresh squeezed if possible

1

wedge

lime
Instructions
Fill a cocktail shaker with ice.

Add the vodka, cranberry juice and grapefruit juice into the shaker.

Strain into a tall glass filled with ice.

Garnish with lime wedge and cherry.
Notes
Leave the vodka out for a mocktail version. 
Multiply this recipe to make a Sea Breeze punch. 
Always taste test and add more of any ingredient you like!
Nutrition
Calories:
162
kcal
|
Carbohydrates:
17
g
|
Protein:
1
g
|
Fat:
0.2
g
|
Saturated Fat:
0.01
g
|
Polyunsaturated Fat:
0.1
g
|
Monounsaturated Fat:
0.02
g
|
Sodium:
3
mg
|
Potassium:
153
mg
|
Fiber:
1
g
|
Sugar:
15
g
|
Vitamin A:
50
IU
|
Vitamin C:
25
mg
|
Calcium:
16
mg
|
Iron:
0.5
mg